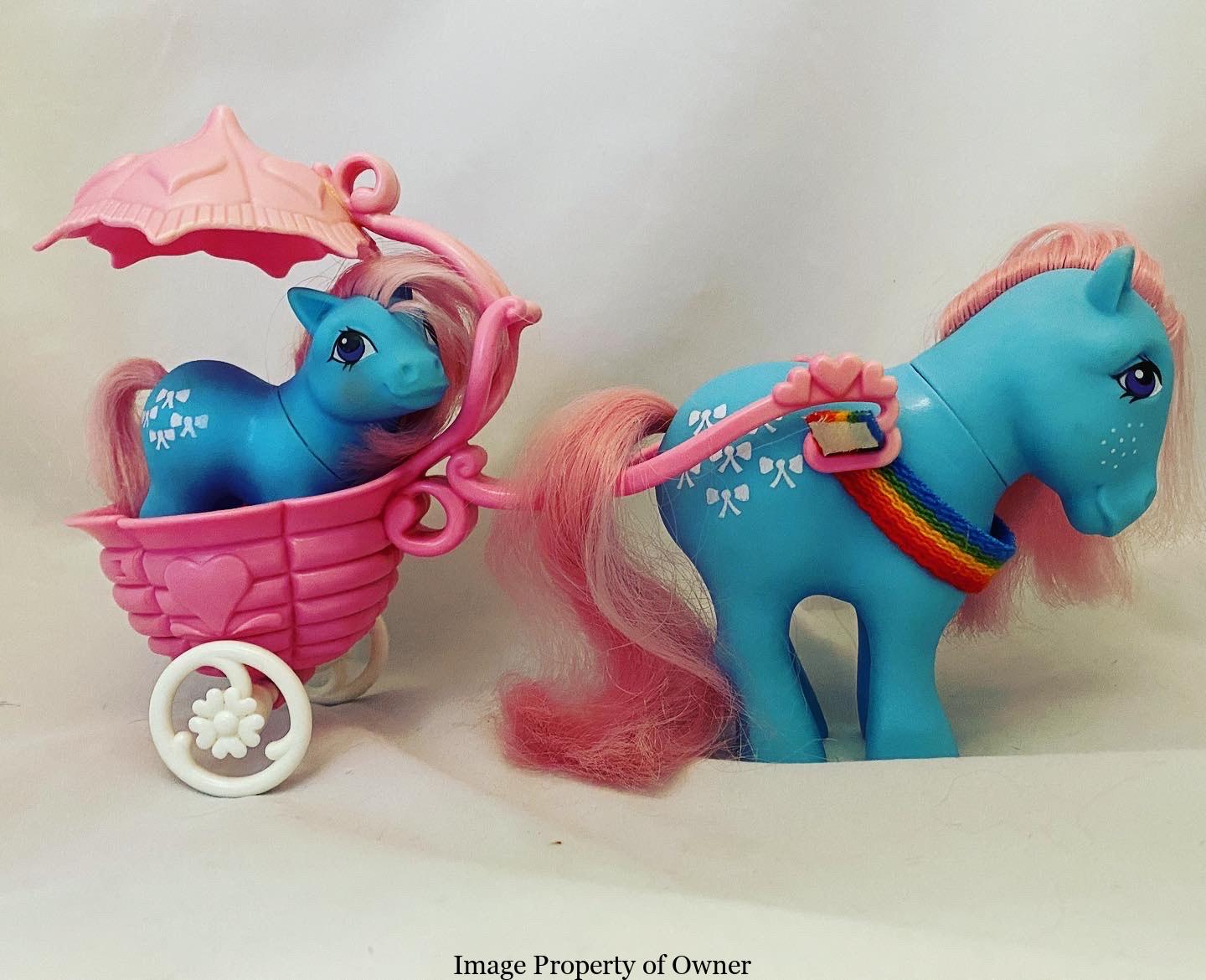 UK EXCLUSIVE PONIES
While there were many ponies issued in the U.S. and U.K., U.K. pony fanciers were treated to many U.K. -exclusive issues including a whole new set of Big Brother ponies. This page is concerned with both the UK-issued ponies of those also released in the US as well as those that were UK exclusive.
**Ponies have multiple images which sometimes include backcards and accessories. Make sure to click through the galleries! All other
My Little Pony pages may be accessed by the menu on the right sidebar.
Year 1  1982-1983
Snuzzle
Minty
Cotton Candy
Blossom
Blue Belle
Butterscotch
Year 2: 1983-1984
Earth Ponies
Bubbles
Seashell
Sea Ponies
Sea Spray
Surf Dancer
Wavebreaker
Year 3: 1984-1985
Groom and Style Ponies
Apple Jack
Bow-Tie
Earth Ponies
Posey
Cherries Jubilee
Tootsie
Lickety Split
My Little Pony set (UK/EURO exclusive)
Honeycomb
Gypsy
Hopscotch
Snowflake
Rainbow Pony (UK exclusive)
Wedding Bells (UK-issue Confetti, came with wedding dress outfit)
Play and Care Set (UK exclusive)
Baby Applejack
Baby Blossom
Baby Cotton Candy
Megan and Sundance
Plush Ponies (UK/EURO exclusive)
Honeycomb
Pony Wear  (US sets renamed for the UK Market)
Flashprance
Birthday Girl
Pom Pom Pony
Tennis Fun
Scarlet Sensation
My Valentine
Movie Star
Champagne and Lace
Fun Run
Ballerina
Rainy Day
Ice Dance
Beach Party
Pony Jewellery Box and Clip-On Jewellery (UK exclusive sets)
 Pink set
Blue set
Year 4: 1985-1986
Ponies (UK/EURO exclusive, these So Soft ponies had no flocking and none were in the rearing pose)
Wind Whistler
North Star
Magic Star (in Tootsie pose)
Gusty (non-glitter symbols)
Shady
Buttons (2 versions, 1 has 3 large buttons on her symbol, the other has smaller buttons and small blue stars on hers)
Baby Ponies
Baby Cotton Candy
Baby Lemon Drop -UK exclusive, issued with the purple Baby Pony Stroller
Baby Play and Care Sets (these UK exclusives each included non beddy-bye eye versions of BBE Baby Ponies in the US)
Baby Gusty
Baby Heart Throb
Baby Lickety Split
Baby Ribbon
Pretty 'n Pearly Baby Sea Ponies
Beachcomber 
Ripple -UK exclusive pose
Sea Star -UK exclusive
Sunshower- UK exclusive pose
Tiny Bubbles -UK exclusive
Water Lily -UK exclusive pose
Flutter Ponies
Forget-Me-Not
Lily
Honeysuckle
Rosedust
Peach Nlossom
Morning Glory 
Special Issues 
Birthday Party Pack (UK alternative to the US Party Gift Pack, included some of the same accessories)
Tuttie Fruity- UK exclusive
Baby Sleepie Pie -issued without Pony Purse
Pony Wear
Baby Pony Wear w/ Pocket Pals (US sets renamed for the UK market)
Clown Suit and Bathrobe
Bunny Suit and Dungarees
Sundress and Dragon
Snowsuit and Pinafore
Year 5: 1986-1987
Adventure Boy Ponies (Big Brother Ponies)
Trucker (4-Speed)
Quarterback
Tug (Salty)
First Base (Slugger)
Tracks (Steamer)
Tex
Mountain Boy Ponies (UK exclusives)
Fireball
Ice Crystal
Tornado
Lightning
Sunburst
Thundercloud
Princess Ponies  (US ponies renamed for the UK market, these came with a dragon rather than a bushwoolie)
Princess Ruby (Primrose) and Sparks
Princess Sapphire (Royal Blue) and Smoky
Princess Amethyst (Sparkle) and Spiney (lots of UK variants including those under the name Princess Crash)
Princess Amber  (Starburst) and Flash
Princess Aquamarine (Serena) and Prickles
Princess Pearl (Tiffany) and Fiery
Party Ponies (Twice as Fancy ponies)
Dancing Butterflies
Up, Up, and Away
Strawberry Fair (Sugarberry)
Lollipop (Sweet Tooth)
Love Melody
Milky Way
Milky Way variant (UK/EURO exclusive)
Twinkle Eye Ponies (came with UK exclusive stickers)
Locket
Tic Tac Toe
Fizzy
Sky Rocket
Speedy
Sweetie
First Tooth Baby Ponies
Baby Bouncy
Baby Fifi
Baby Lickety Split
Baby North Star
Baby Quackers
Baby Tic Tac Toe
Newborn Twin Baby Ponies
Dibbles and Nibbles
Sniffles and Snookums
Flutter Ponies
Morning Glory
Lily
Tropical Breeze
Cloud Puff
Wind Drifter
Wingsong
Year 6: 1987-1988
Big Brother Ponies
Barnacle
Chief
Wigwam
Brush 'n Grow Ponies
Bouquet
Curly Locks
Braided Beauty
Ringlets
Twisty Tail
Pretty Vision
Happy Tails Ponies 
Romper
Romper -UK/ EURO exclusive variant
Squeezer
Tabby
Tossles
Tall Tales – UK/UEURO "Bobby" exclusive variants
Woosie
Woosie – UK/EURO exclusive variant
Magic Message Ponies 
Cloud Dreamer
Floater
Mirror Mirror
Magic Hat
Teddi (Cuddles)
Magical Breeze (Windy)
Sundae Best Ponies
Chocolate Chip (Coco Berry)
Cherry Berry (Crunch Berry)
Peppermint Crunch
Banana Surprise
Sorbet Surprise (Sherbet)
Butter Kiss (Swirly Whirly)
Sweetberry Ponies
Blackberry Pie (Boysenberry Pie)
Cherry Treats
Raspberry Jam
Strawberry Surprise
Newborn Twin Baby Ponies
Tickles and Giggles (Jabber and Jebber)
Fleecy and Fluffy (Speckles and Bunkie)
Tuggles and Toddles (Sticky and Sniffles)
 Summer Wing Ponies
Buzzer
High Flyer
Sky Dancer
Little Flitter
Lady Flutter
Glow
Colour Change Baby Sea Ponies
Foamy
Sealight
Seashore
Wave Dancer
Year 7: 1988-1989
Candy Cane Ponies
Caramel Crunch
Sugar Sweet
Sugar Apple
Gingerbread (Molasses)
Dance 'n Prance Ponies
Songster
DJ
Player
Twirler
Tap Dancer
Swinger
Perfume Puff Ponies
Lavender Lace
Daisy Sweet
Dainty Dahlia
Sweet Suds
Red Roses
Sweet Lily
Merry Go Round Ponies
Brilliant Blossoms
Tassels
Flower Bouquet
Sunnybunch
Princess Brush 'n Grow
Star Gleamer
Skylark
Glittering Gem
Brilliant Bloom
Sparkle Ponies
Star Dancer
Sky Rocket
Napper
Star Hopper
Twinkler
Sunspot
Sunshine Ponies
Mainsail
Beach Ball
Sand Digger
Wave Runner
Loving Family Ponies
Mummy, Daddy and Baby Sister Apple Delight
Baby Brother Apple Delight (UK exclusive)
Mummy, Daddy and Baby Sister Bright Bouquet
Baby Brother Bright Bouquet (UK exclusive)
Mummy, Daddy and Baby Brother Sweet Celebrations
Baby Sister Sweet Celebrations (UK exclusive)
Playtime Baby Ponies
Baby Dots 'n Hearts (UK variation)
Baby Glider (UK variation)
Baby Splashes (UK variation)
Baby Starburst (UK variation)
Baby Drummer
Baby Paws
Newborn Ponies
Baby Yo-Yo
Baby Shaggy
Baby Dangles
Baby Squirmy
Baby Tappy
Baby Wiggles
Sweetheart Sister Ponies
Dainty
Flowerburst
Spring Song
Wild Flower
Windy Wing Ponies
Moon Jumper
Whirly
Cool Breeze
Sun Glider
Starry Wings
Flurry
Year 8: 1989-1990
Tropical Ponies
Sail Away (Hula Hula)
Summer Heatwave (Tootie Tails)
Surfing Days (Sea Breeze)
Hula Hula (Pina Colada)
Rainbow Curl Ponies
Rainbow Cloud (Raincurl)
Rainbow Storyteller (Stripes)
Rainbow Magic (Ringlet)
Rainbow Rider (Streaky)
Starlight Baby Ponies (UK/EURO exclusive)
Baby Mischief
Baby Explorer
Baby Stella
Baby Night Song
Baby Drink 'n Wet Ponies
Baby Flicker
Baby Rainflower (Baby Cuddles)
Baby Rainfeather
Baby Wellyboot (Baby Snookums)
Glittery Sweetheart Sister Ponies
Bright Night
Sunblossom
Starflash
Moonshimmer (Twinkler)
Prom Queen Sweetheart Sister Ponies
Cha Cha
Pretty Belle
Sweet Sundrop
Daisy Dancer
Sweetsteps Ballerina Ponies
Twinkle Dancer
Tip Toes
Posey Rose
Silky Slipper
Year 9: 1990-1991
Flower Ponies (UK/EURO exclusives)
Daffodil
Bluebell
Snowdrop
Tulip
Glowing Magic Ponies 
Dazzle Glow
Dazzle Glow UK/EURO variant
Happy Glow
Bright Glow
Star Glow
Pocket Friends Ponies
Wriggle Pocket (Bubblefish)
Hopping Pocket (Hopping Pocket)
Singing Pocket (Sweet Pocket)
Jingle Pocket (L'il Pocket)
Princess Ponies
Princess Pink
Princess Purple
Rockin Beat Ponies
Tuneful
Pretty Beat
Half Note
Sweet Notes
Schooltime Ponies (UK/EURO exclusives)
Musictime
Sportstime
Paintingtime
Playtime
Baby Ballerina Ponies
Baby Toe Dancer
Baby Soft Steps
Baby Sweet Steps
Baby Tippytoes
Rainbow Baby Ponies
Baby Starbow
Baby Brightbow
Baby Rainribbon
Baby Sunribbon
Playschool Baby Ponies (UK/EURO exclusives)
Baby Pictures
Baby Alphabet 
Baby Schoolbag
Baby Count-a-Lot
Teeny Weeny Ponies
Little Honey Pie
Little Giggles
Little Rattles (Little Whiskers)
Little Lullabye (Little Tabby) 
Pretty Ponies
Flower Dream
Beautybloom
Gardenglow
Rosy Love
Secret Surprise Ponies
Spangling Secret (Pretty Puff)
Shimmering Secret (Secret Beauty)
Shining Secret (Stardazzle)
Sparkling Secret (Secret Star)
Year 10: 1991- 1992
ColorSwirl Ponies
Lovebeam
Springy
Starswirl
Cookery Ponies (UK/EURO exclusive)
Vanilla Treat
Cherry Sweet
Nice 'n Spicy
Sweet Delight
Romance Ponies (UK/EURO exclusive)
Love-in-a-Mist
Love Story
Love Token
Love Letter
Sippin Soda Ponies
Chocolate Delight
Strawberry Scoops
Sundazzle Ponies
Sunbeam 
Sunglory
Sunsplasher
Sweet Kisses (UK/EURO exclusive poses)
Candy Kisses
Kiss & Make Up
Kiss & Tell
Sweet Talkin' Ponies (In the US these ponies had no names)
Chatterbox (pink pony)
Talksalot (purple pony)
Paradise Baby Ponies
Baby Beach Ball
Baby Pineapple
Baby Palm Tree
Teeny Pony Twins
Sniffles & Snookums
Bootsie & Tootsie
Rattles & Tattles
Year 11: 1992-1993
*The US line stopped in year 10, all ponies year 11-onward are UK/EURO issue only)
Hair-Do Ponies (UK/EURO exclusive)
Starlight
Bangles
Beautiful Bows
Rollerskate Ponies (UK/EURO exclusive)
Jazzie
Melody
Hip-Hop
7 Pony Friends (UK/EURO exclusive)
Starlight
Sweetheart
Patch
Clover
Melody
Bon Bon
Bright Eyes
Family Friends & Family Babies (UK/EURO exclusive)
Mummy, Daddy and Baby Berrytown
Mummy, Daddy and Baby Meadowsweet
Mummy, Daddy and Baby Sunbright
Bedtime Newborns (UK/EURO exclusive)
Baby Stargaze
Baby Moondream
Baby Sunset 
Best Friends (UK/EURO exclusive)
Baby Susie and Spot (puppy)
Baby Billie and Bunny (rabbit)
Baby Katie and Kitty (cat)
Year 12: 1993-1994
Great Hair Ponies (UK/EURO exclusive)
Hightlights
Ringlets
Nurse Ponies (UK/EURO exclusive)
Nurse Sweetheart
Nurse Loveheart
Nurse Tenderheart
Jewellery Babies (UK/EURO exclusive)
Baby Ruby
Baby Sapphire
Baby Diamond
Seaside Babies  (UK?EURO exclusive)
Baby Splish
Baby Splash
Baby Splosh
Surprise Newborns (UK/EURO exclusive)
Baby Cuddles
Baby Bouncy
Baby Snoozy
Sweetie Babies (UK/EURO exclusives)
Baby Candy
Baby Lollipop
Baby Licorice
UK/EURO exclusive playsets and special issues are on their own page.
****Information on the My Little Pony pages comes from multiple sources, including but not limited to: personal collection, private collections,
MyLittleWiki, Strawberry Reef, MLPForum, MyLittlePonyAccessories.weebly.com, the former Dream Valley, Ghost of the Doll, Facebook MLP collector groups, and auctions. Absolutely NO ITEMS on this site
are for sale. Pony images are generously shared by their owners as noted in image descriptions and may NOT be shared without express permission by their owners.