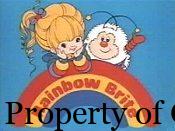 Also known as: Magical Girl Rainbow Brite / Maho Shojo Rainbow Brite (Japan), Estela, la Guardina del puentedel Arco Iris (Spain), Sateenkaari-Riti (Finland), Blondine au pays de l'arc-en-ciel (France), Iridella (Italy), Teczowa Kraina (Poland), Regina Regenbogen (Germany)
Rainbow Brite, in her multi-coloured moon boots and acid-tinged backstory couldn't be more 80s. If the 80s had birthed a baby it would have been Rainbow Brite, who flared and died in the memories of childhood and unlike just about every other adulterated, rehashed 80s cartoon, stayed pretty much pure in our memories. I myself wasn't a huge fan- the only thing I liked about Rainbow was her colourful friends and I dearly coveted a doll because she had that groovy little purple star on her cheek like a kiddie tattoo. 30 years later I realise someone clearly on huge amounts of kool-aid (the oh yeahhhhhhhhhhhhhhhh kind) came up with the character wardrobes based on Denise Austen's finest aerobics gear. But actually, the character art was beautiful. Hallmark artist G.G. Santiago is to be thanked for that.
One of Hallmark's biggest contributions to 80s nostalgia, Rainbow Brite debuted as a 13-episode cartoon series in 1984 centered around the title character and her adventures in battling gloom and bringing colour to the universe. With her friends the Colour Kids and their helper sprites, Rainbow Brite distributes colour crystals from the mines in Rainbowland to all places grey and dismal. Though the cartoon series was short-lived, Hallmark solidified Rainbow Brite's place in 80s history through merchandising and syndication.
Produced by DIC and Hallmark Cards and animated by Animation City with sound by Animation Sound Production and B&B Sound Studios, the show was distributed in the US by LBS Communications, and on VHS by Children's Video Library,  and Avid Home Entertainment. The cartoon was rebooted in 2009 by Animax Entertainment as a series of webisodes and again in 2014 as a video on demand series on Hallmark's own Feel'n network featuring Emily Osment and Molly Ringwald as voice actors.
The short and kinda 60s-sounding theme does have actual lyrics : 
Rainbow Brite, see the shining light,
Yes I'm gonna take you to Rainbow Brite!
Starlight Flies
Right before your eyes
And rainbow colours will cheer you up
Magic Light
Gonna take you for a ride…
There have been several reboots of the toys not always coinciding with the show reboots. For Rainbow Brite toys and collectibles click here.
Character
Sprite
Voice actors/Character Fact
Rainbow Brite (AKA Wisp) – US/UK
Blondine- France
Azurine – French Canadian
Renbue-Rita – Norway
Regina Regenbogen – German
Rubita-Spain
Arco Iris-Mexico
Iridella- Italy
AREA- RainbowLand, Earth
Twink -US/ UK
Gaspard- France
P'tit Malin – French Canadian
Blink-Spain
Spuky- Norway
Weißwirbel -Germany
Folletto Bianco- Italy


Bettina Bush / Robbie Lee
RB: Color Keeper of Rainbowland,
takes the Colour Sprinkles the
Sprites mine in the Colour Caves
and makes the earth bright and beautiful.
Twink: Head Sprite. Originally
red but lost his colour after
Murky Dismal threw him into the Pits.
Red Butler- US / UK
Romeo – France
Rougeard – French Canadian
Rod -Norway
Richard Rosenherz- Germany
Alerta Rojo – Spain
Billy Red – Mexico
Red Rosso – Italy
AREA- Red Regions
Romeo – US/UK/ France/Norway/Spain
P'tit Calin- French Canadian
Rotbart – Germany
Rocky – Mexico
Folletto Rosso -Italy
Mona Marshall
Red Butler is brave and 
daring.


Lala Orange – US/UK/France/ French Canadian
Maria Mandarina – Germany
Lala Naranja / Lizzy Orange -Spain/ Mexico
Lala Arancio -Italy
AREA- Orange Meadows
O.J. – US / Spain/ French Canadian
Mango, Saucy- UK
Orangino- Germany
Clementine – France
Sassy / Bucky – Mexico
Folletto Arancione – Italy


Robbie Lee
Lala Orange has a secret crush on Red Butler.
Canary Yellow– US/ UK
Capucine – France
Jaunelle – French Canadian
Sabine Sonnenstrahl- Germany
Canaria Amarilla- Spain
Sandy Canary -Mexico
Canary Gialla – Italy
AREA- Yellow Plains
Spark-US/UK/Mexico
P'tit Fou – France
Etincelle- French Canadian
Gelbwuschel- German
Canario Amarillo-Spain
Folleto Giallo-Italy

Mona Marshall
Canary Yellow is a laid 
back, happy little girl.
Patty O'Green – US/UK
Mentoline- France
Verdarine – French Canadian
Gronn -Norway
Katrin Kleeblatt -Germany
Verde Esmerelda – Spain/ Mexico
Patty Verde- Italy
AREA- Green Grange
Lucky -US/ UK/ French Canadian/ Spain/Mexico
P'tit Chou- France
Lykke -Norway 
Grunschnabel -Germany
Folletto Verde- Italy
Mona Marshall
Patty O'Green likes to
joke and play tricks.
Buddy Blue – US/UK
Bluet – France
Beau Bleu- French Canadian
Bla – Norway
Bubi Blauschuh- Germany
Chico Azul -Spain/Mexico
Buddy Blu – Italy
AREA- Blue Zone
Champ- US/UK/Spain/Mexico
P'tit Plum -France
Champion – French Canadian
Blaustern – German
Folletto Blu – Italy
Pat Fraley
Buddy Blue is fun and
fit and likes to jog with PattyO'Green.
Indigo – US/UK/ France/ French Canadian/ Norway
Nina Nachtogall – Germany
Anil – Spain
Indachella -Italy
AREA: Indigo Acres
Hammy -US/Spain 
Encore -UK
P'tit Miam -France
Cabotin- French Canadian
Tintentupf -Germany
Folleto Indaco-Italy 


Robbie Lee
Indigo likes to dance and sing.
Shy Violet – US/UK
Violine- France
Fiolett -Norway
Viola Veilchenscheu-Germany
Violeta-Spain / Mexico
Violetta – Italy
AREA- Violet Valley
I.Q. – US/UK /Spain
P'tit Crack -France
Violetto – Germany
Folletto Viola – Italy
Robbie Lee
Shy Violet is a genius girl who fixes things.
Stormy – US/UK
AREA: Storm clouds above Earth
unnamed sprite
Marissa Mendenhall
Stormy helps the Colour Kids,
brings rain to Rainbowland.
Moonglow – US/ UK 
Sandra Silbermond- Germany
Clairlune – France
Rayon de Lune – Canada (French Canadian)
Manestrale – Norway
Chiar de Luna – Spain
Raggio di Luna -Ialy
Area- Night Sky over Rainbowland
Nite Sprite
Rhonda Alldrich
Moonglow brings colour to the
night in Rainbowland.
Tickled Pink – US/ UK
Penny Popperpink -Germany
AREA- Mountains of Rainbowland
Dee Lite, Merrily, Flutter, Spritzie, Posie, Glee
Rhonda Alldrich
Tickled Pink is in charge of the
girl sprites. 
Baby Brite/ Sphere of Light
Mona Marshall / Pat Fraley
Guided Wisp by her voice in the beginning of Rainbowland.
Baby Brite's story book that came
with the doll's text can be read on the Rainbow Brite Wiki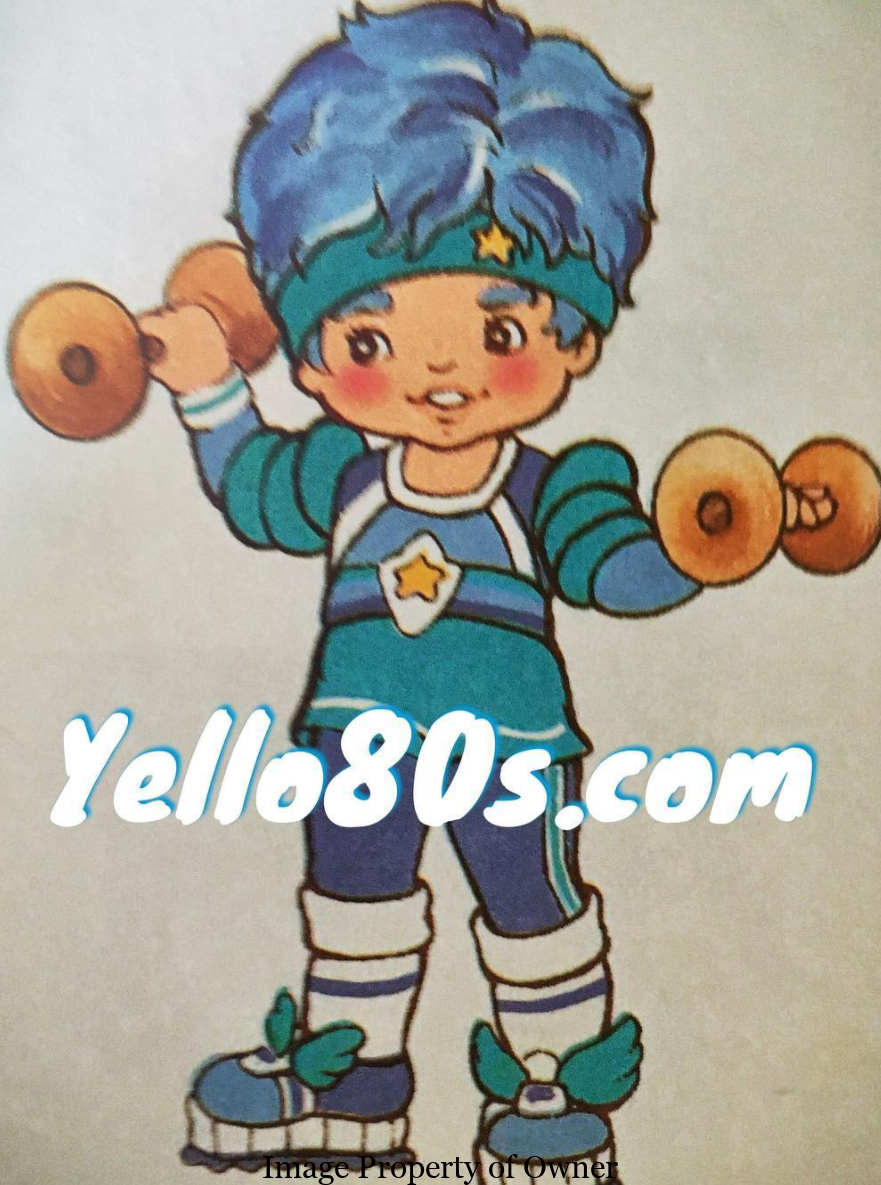 Other animal characters
Character
Matches to
Voice Actor
Starlight horse
Rainbow Brite
Andre Stokja
On-X mechanical horse
Krys
Pat Fraley
Shimmer horse
Moonglow (reboot)
Skydancer horse
(originally named Thunder)
Stormy
Peter Cullen
Sunriser horse
(originally named Flutter)
Tickled Pink
Puppy Brite
Rainbow Brite
Kitty Brite
Rainbow Brite
Bombo (Spectran sprite)
Les Tremayne
Popo (Spectran sprite)
Charles Adler
Spectran "lavender sprite"
Spectran "ice blue"sprite
Spectran "grey"sprite
Orin sprite
Les Tremayne
Baby Sprite Bitsy
Baby Sprite Isty
Baby Sprite Eensy
Baby Sprite Weensy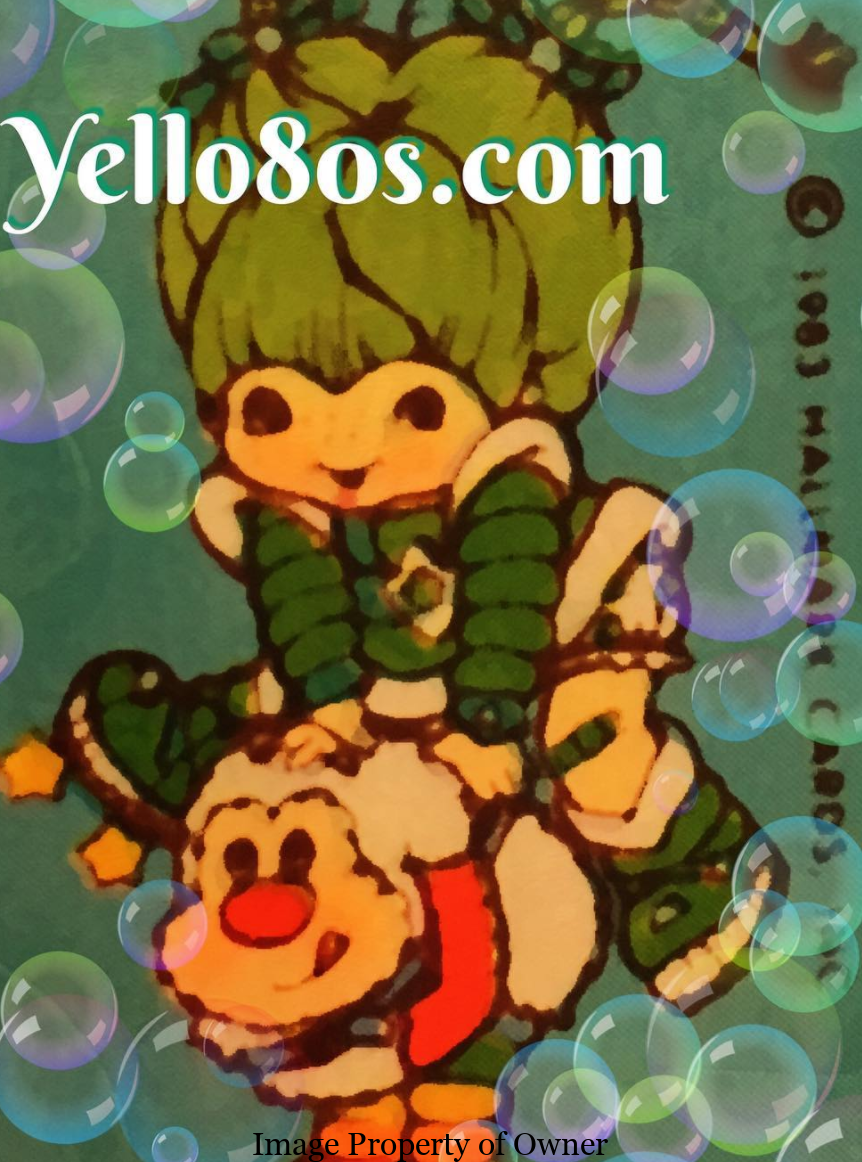 Other Characters
Character
Friend or Foe
Voice actor
Krys
Friend
David Mendenhall
Brian
Friend
Scott Menville
Dark Princess
Foe
Rhonda Aldrich
Count Blogg
Foe
Jonathan Harris
Wajja
Friend
Patrick Fraley
Sorrell the Wizard
Foe
Andre Stojka
Plock
Reformed Foe
Murky Dismal
Foe
Peter Cullen
Lurky
Foe
Pat Fraley
Monstromurk
Foe
Peter Cullen
King of Shadows
Foe
Patrick Fraley
Robot Brite
Foe tirme
Bettina Bush
Sargeant Zumbo
Foe
David Workman
Glitterbots
Foe
Pat Fraley/ Peter Cullen
Series Narrator
—————
Peter Cullen
Slurthic
Peter Cullen/ Pat Fraley
Sphere of Light / Baby Brite
Friend
Mona Marshall / Pat Fraley
Spectrans
Mona Marshall, Pat Fraley, Andre Stojka 
Wizard
Andre Stojka
Castle Creature
Foe
Mona Marshall, Rhonda Aldrich
Tangled Forest Monster
Foe
Peter Cullen/ Pat Fraley
The World of Rainbow Brite- areas in RainbowLand
| | | | |
| --- | --- | --- | --- |
| Area | Located/Associated with | Area | Located/Associated with |
| Rainbowland | Rainbow Brite and the Colour Kids  | Blue Zone | Buddy Blue/ Mines of the Blue Colour Crystals  |
| Colour Castle | Home of Rainbow Brite/ where Colour Kids create Star Sprinkles with their Sprites | Colour Caves | Located under the mountains around Rainbowland |
| Green Grange | Patty O'Green/ Mines of the Green Colour Crystals  | Indigo Acres | Indigo/ Mines of the Indigo Colour Crystals |
| Orange Meadows | Lala Orange/ Mines of the Orange Colour Crystals  | Prism Ponds | Underneath the Colour Caves/ where Colour Crystals are washed down and mining is refined |
| Red Regions | Red Butler / Mines of the Red Colour Crystals  | Prison Planet | Desert-like planet housing galactic prisoners |
| Spectra | Planet th a diamond-like brilliance that reflects the light of the universe | Storm Clouds | Stormy / Source of winter snow, storms, rains |
| Tangled Forest | Home of the Tangled Forest Monster | Violet Valley | Shy Violet / Mines of the Violet Colour Crystals |
| Yellow Plains | Canary Yellow / Mines of the Yellow Colour Crystals | Night Sky | Moonglow/ Source of Star Shine from Gold Star Shine Crystals |