Gathered here are recipes for 80s foods you loved- be they originals or clones- to help your tummy get in on the nostalgic fun.
Rice Krispies Treats
Ingredients
3 tablespoons butter or margarine
1 package (10 oz., about 40) regular marshmallows
— OR —
4 cups miniature marshmallows
6 cups Kellogg's® Rice Krispies® cereal
Directions
In large saucepan melt butter over low heat. Add marshmallows and stir until completely melted. Remove from heat. Add KELLOGG'S RICE KRISPIES cereal. Stir until well coated. Using buttered spatula or wax paper evenly press mixture into 13 x 9 x 2-inch pan coated with cooking spray. Cool. Cut into 2-inch squares. Best if served the same day.
MICROWAVE DIRECTIONS:
In microwave-safe bowl heat butter and marshmallows on HIGH for 3 minutes, stirring after 2 minutes. Stir until smooth. Follow steps 2 and 3 above. Microwave cooking times may vary.
Pizza Hut Pan Pizza
Dough Ingredients
1 1/3 cups Warm water (105F)
1/4 cup Non−fat dry milk
1/2 teas. Salt
4 cups Flour
1 Tbs. Sugar
1 pk. Dry yeast
2 Tbls. Vegetable oil (for dough)
9 Oz. Vegetable oil (3 oz. per pan)
Butter flavored Pam
Directions
Put yeast, sugar, salt, and dry milk in a large (2 qt.) bowl. Add
water and stir to mix well. Allow to sit for two minutes. Add oil
and stir again. Add flour and stir until dough forms and flour is
absorbed. Turn out on to a flat surface and knead for about 10 minutes.
Divide dough into three balls. In three 9″ cake pans, put 3 Oz. of
oil in each making sure it is spread evenly. Using a rolling pin,
roll out each dough ball to about a 9″ circle. Place in cake pans.
Spray the outer edge of dough with Pam. Cover with a plate. Place
in warm area and allow to rise for 1 to 1 1/2 hours
Sauce Ingredients
1 8 Ounce Can Tomato Sauce
1 Teaspoon Dry Oregano
1/2 Teaspoon Marjoram
1/2 Teaspoon Dry Basil
1/2 Teaspoon Garlic salt
Combine and let sit for 1 hour.
Baking Directions
Combine and let sit for 1 hour.
For Each Nine Inch Pizza:
Preheat oven to 475F
Spoon 1/3 cup sauce on dough and spread to within 1″ of edge.
Distribute 1 1/2 Oz. shredded mozzarella cheese on sauce.
Place toppings of your choice in this order:
Pepperoni or Ham
Vegetables
Meats (cooked ground sausage or beef)
Top with 3 Oz. mozzarella cheese
Cook until cheese is bubbling and outer crust is brown. Cut in six slices.
Nestle Tollhouse Cookies
Ingredients
2 1/4 cups all-purpose flour
1 teaspoon baking soda
1 teaspoon salt
1 cup (2 sticks) butter, softened
3/4 cup granulated sugar
3/4 cup packed brown sugar
1 teaspoon vanilla extract
2 large eggs
2 cups (12-oz. pkg.) NESTLÉ® TOLL HOUSE® Semi-Sweet Chocolate Morsels
1 cup chopped nuts
Directions
PREHEAT oven to 375° F.
COMBINE flour, baking soda and salt in small bowl. Beat butter, granulated sugar, brown sugar and vanilla extract in large mixer bowl until creamy. Add eggs, one at a time, beating well after each addition. Gradually beat in flour mixture. Stir in morsels and nuts. Drop by rounded tablespoon onto ungreased baking sheets. Bake for 9 to 11 minutes or until golden brown. Cool on baking sheets for 2 minutes; remove to wire racks to cool completely.
Hershey's Peanut Butter Blossoms
Ingredients
48 HERSHEY'S KISSES Brand Milk Chocolates
1/2 cup shortening
3/4 cup REESE'S Creamy Peanut Butter
1/3 cup granulated sugar
1/3 cup packed light brown sugar
1 egg
2 tablespoons milk
1 teaspoon vanilla extract
1-1/2 cups all-purpose flour
1 teaspoon baking soda
1/2 teaspoon salt
Additional granulated sugar
Directions
Heat oven to 375°F. Remove wrappers from chocolates.
Beat shortening and peanut butter in large bowl until well blended. Add 1/3 cup granulated sugar and brown sugar; beat until fluffy. Add egg, milk and vanilla; beat well. Stir together flour, baking soda and salt; gradually beat into peanut butter mixture. Shape dough into 1-inch balls. Roll in granulated sugar; place on ungreased cookie sheet. Bake 8 to 10 minutes or until lightly browned. Immediately press a chocolate into center of each cookie; cookie will crack around edges. Remove from cookie sheet to wire rack. Cool completely. Makes about 48 cookies.
McDonald's Egg McMuffin
Ingredients
1 English muffin
1 slice Canadian bacon
1 egg
1 slice real American cheese
Directions
Split the English muffin and brown each face in a hot pan. Set aside. Keep the pan on medium heat. In a frying pan of boiling water, cook the Canadian bacon for 10 minutes. Grease the inside of a can with shortening or nonstick spray. Place the greased can in the hot pan over medium heat and crack the egg into the centre. Break the yolk, lightly salt the egg.
When the surface of the egg begins to firm, cut around the inside of the can with a butter knife to free the edges. Pull the can off the egg; turn the egg over and cook for 1 minute more. Build the sandwich in the following stacking order from the bottom up:
English Muffin bottom
American cheese
Egg
Canadian Bacon
English Muffin top
Microwave for 15-20 seconds on high for uniform heating.
Arby's Jamocha Shake
Ingredients
1 c cold coffee
1 c low-fat milk
3 tbs caster sugar
3 c vanilla ice cream
3 tbs chocolate syrup
Directions
Combine the coffee, milk, and sugar in a blender and mix on medium speed for 15 seconds to dissolve the sugar. Add ice cream and chocolate syrup, then blend on high speed until smooth and creamy. Pour drink into 2- 16 oz glasses.
Arby's Sauce Recipe
Ingredients
1 c ketchup
2 tsp water
1/4 tsp garlic powder
1/4 tsp onion powder
1/4 tsp pepper
1/4 tsp salt
1/2 tsp Tabasco pepper sauce
Directions
Combine all ingredients in a small saucepan and cook over medium heat, stirring constantly until the sauce begins to boil, 5-10 minutes. Remove from the heat, cover and allow to cool. Pour into a covered container to store in the refrigerator. Makes 1 c.
Reese's Peanut Butter Cups
Ingredients
6 oz. Pkg semi sweet chocolate chips
4 Nestles milk chocolate bars
1 1/4 cups Peanut butter
Directions
In top of double boiler over HOT, not boiling water, stirring till smooth.
Use small muffin tin liners, or cut regular cupcake liners down to a
1″ depth. Spoon HALF of the chocolate mixture equally into the
liners. Melt the rest of the peanut butter over hot water, and spoon
this equally over the chocolate layer. Top with remaining chocolate.
Refrigerate to allow cups to set up before serving.
Makes: 24 tiny/12 large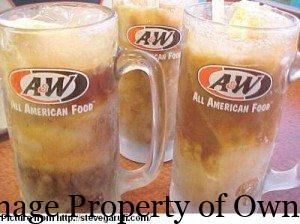 A&W Root Beer
Ingredients
1 1/3c granulated sugar
1 c very hot water
1 c corn syrup
1 tsp McCormick root beer concentrate
10 c cold soda water
Directions
Dissolve the sugar in the hot water in a small pitcher. Add the corn syrup and root beer concentrate and stir well. Cover and chill syrup until cold. When the syrup is cold, pour 1/4 c syrup into 1 c of cold soda water. Stir gently, add ice and serve. Makes 10 -10 oz servings.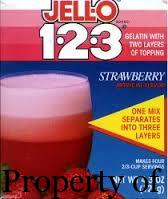 Jell-O 1-2-3
Ingredients
1 pkg. (4-serving size) JELL-O Strawberry Flavor Gelatin, or any flavor
3/4 cup boiling water
Ice cubes
1/2 cup cold water
1/2 cup thawed COOL WHIP Whipped Topping
Directions
Dissolve dry gelatin mix in boiling water in bowl. Add enough ice cubes to cold water to measure 1-1/4 cups; add to gelatin mixture. Add to blender; cover and blend 30 sec. Add whipped topping; cover. Blend until smooth. Pour evenly into 4 dessert dishes. Refrigerate at least 20 min. or until set. Store leftover dessert in refrigerator.
Kraft Deluxe Macaroni and Cheese
Ingredients
1 3/4 c uncooked elbow noodles
2 tbs butter
1/3 c cheddar cheese grated, lightly packed
1/2 c Kraft cheez whiz
2 tbs cream or half and half
pinch salt
Direction
Cook the macaroni in a large pot of boiling water until just tender (about 12 to 10 minutes) strain but DO NOT rinse.
Transfer the hot macaroni to a bowl then toss with 2 tablespoons butter; set aside.
For the cheese sauce (make this while you are cooking the macaroni) over lowest heat setting in a small saucepan combine the grated cheddar cheese, Cheeze Whiz, cream and salt; stir continuously until heated and smooth watching closely so that it does not burn.
Pour the smooth sauce over the cooked macaroni; mix until combined. Serve immediately.
Roasted Pumpkin Seeds
Ingredients
2 c pumpkin seeds
1/2 tsp salt
Butter-flavoured cooking spray
Directions
Rinse seeds; discard any stringy membranes. Spread seeds into single layer on baking sheet. Let stand 3 hours or until dried. Heat oven to 350°F. Spray seeds generously with cooking spray; sprinkle with salt. Bake 8 to 10 min. or until lightly browned, stirring after 5 min.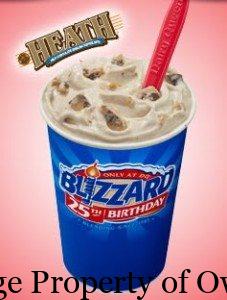 Dairy Queen Blizzard Recipe -Heath Bar
Ingredients
1 Heath Candy Bar
1/4 c milk
2 1/2 c vanilla ice cream
1 tsp fudge topping
Freeze the Heath Bar. Break the candy into tiny pieces with a knife handle before removing the wrapper. Combine all of the ingredients in the blender and blend for 30 seconds on medium speed. Stop and scrape down the sides of the blender; repeat until well mixed. Pour into a 16 oz glass.
Girl Scout Cookies – Trefoils
Ingredients
3/4 c (1 1/2 sticks) butter, softened (no substitutions)
1/3 c sugar
1 tbs sugar
1 1/2 c all-purpose flour
1/2 c finely ground semolina flour
Directions
Preheat oven to 300 degrees F. In large bowl, with mixer at low speed, beat butter and 1/3 cup sugar until blended. Increase speed to high and beat until light and creamy, occasionally scraping bowl with rubber spatula.
With hand, mix both kinds of flour into butter mixture just until crumbs form. (Do not overwork dough or shortbread will be tough.) Pat shortbread crumbs into ungreased 9-inch round tart pan with removable bottom or cake pan. With fork, prick dough all over in a decorative pattern. Sprinkle with remaining tablespoon of sugar.
Bake shortbread 1 hour 10 minutes or until lightly browned around the edge. Let cool in pan on wire rack 10 minutes. Remove shortbread from pan to cutting board. While still warm, cut shortbread into 16 wedges. Cool wedges completely on wire rack. Store cookies in tightly covered container up to 1 week.
Girl Scout Cookies- Samoas
Ingredients
1 cup butter, soft
1/2 cup sugar
2 cups all purpose flour
1/4 tsp baking powder
1/2 tsp salt
1/2 tsp vanilla extract
up to 2 tbsp milk
Topping
3 cups shredded coconut (sweetened or unsweetened)
12-oz good-quality chewy caramels
1/4 tsp salt
3 tbsp milk
8 oz. dark or semisweet chocolate (chocolate chips are ok)
Directions
Preheat oven to 350F.
In a large mixing bowl, cream together butter and sugar. Mix in flour, baking powder and salt at a low speed, followed by the vanilla and milk, adding in the milk as needed to make the dough come together without being sticky (it's possible you might not need to add milk at all). The dough should come together into a soft, not-too-sticky ball. Add in a bit of extra flour if your dough is very sticky.
Roll the dough (working in two or three batches) out between pieces of wax paper to about 1/4-inch thickness (or slightly less) and use a 1 1/2-inch cookie cutter to make rounds. Place on a parchment lined baking sheet and use a knife, or the end of a wide straw, to cut a smaller center hole. Repeat with remaining dough. Alternatively, use scant tablespoons of dough and press into an even layer in a mini donut pan to form the rounds.
Bake cookies for 10-12 minutes, until bottoms are lightly browned and cookies are set. If using a mini donut pan, bake for only about 10 minutes, until edges are light gold.
Cool for a few minutes on the baking sheet then transfer to a wire rack to cool completely.
Preheat oven to 300. Spread coconut evenly on a parchment-lined baking sheet (preferably one with sides) and toast 20 minutes, stirring every 5 minutes, until coconut is golden. Cool on baking sheet, stirring occasionally. Set aside.
Unwrap the caramels and place in a large microwave-safe bowl with milk and salt. Cook on high for 3-4 minutes, stopping to stir a few times to help the caramel melt. When smooth, fold in toasted coconut with a spatula.
Using the spatula or a small offset spatula, spread topping on cooled cookies, using about 2-3 tsp per cookie. Reheat caramel for a few seconds in the microwave if it gets too firm to work with.
While topping sets up, melt chocolate in a small bowl. Heat on high in the microwave in 45 second intervals, stirring thoroughly to prevent scorching. Dip the base of each cookie into the chocolate and place on a clean piece of parchment paper. Transfer all remaining chocolate (or melt a bit of additional chocolate, if necessary) into a piping bag or a ziplock bag with the corner snipped off and drizzle finished cookies with chocolate.
Let chocolate set completely before storing in an airtight container.
Makes about 3 1/2-4 dozen cookies.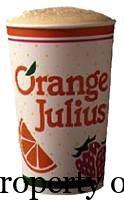 Orange Julius
Ingredients
1 1/4 c orange juice
1 c water
3 tbs egg white or egg substitute
1 tsp vanilla extract
1/4 c sugar
1 1/2 c ice
Directions
Combine all ingredients except the ice in a blender and blend on high for 15-30 seconds or until the sugar is dissolved. Add the ice and blend another 10-15 seconds or so, until ice is crushed but still a bit coarse. Makes 2 – 16poz drinks.
Crunch n Munch
Ingredients
Popcorn:
2 tbs canola oil
2 tbs unsalted butter
1/2 c raw popcorn kernals
large pinch kosher salt
Caramel Nut:
3 c nuts (peanuts, pecan halves, cashews, almonds, walnuts, etc)
1 1/2 sticks unsalted butter, divided
1 c light brown sugar, packed
1/2 c light Karo syrup
Directions
Preheat oven to 250F. Spray a large rimmed baking sheet with non stick baking spray; set aside. Melt half a stick 1/4 c unsalted butter for later; set aside.
Prepare the popcorn by heating the oil, then adding the 2 tablespoons of butter, along with the raw popcorn kernels. Pop, then salt and toss; set aside. Meanwhile, for the caramel, melt the stick (1/2 cup) of butter in a large saucepan, add the brown sugar and corn syrup, and using a wooden spoon, stir constantly, bringing mixture to a boil. Reduce heat to between medium and medium high and allow to boil, without stirring, for 5 minutes. Quickly and carefully pour the brown sugar mixture over the top of the popcorn and stir immediately to distribute, adding the 1/2 stick of melted butter while stirring. Turn out onto prepared baking sheet.
Bake at 250 degrees F for one hour, stirring every 15 minutes. Stir, transfer to a cool baking sheet to dry and set. Delicious served slightly warm. Store in an airtight container.
Chef Boyardee Beefaroni
Ingredients
1 lb. ground beef
2 14.5 oz cans tomato sauce
1/2 c. grated Parmesan cheese
1/4 c. water
1 T. sugar
1 t. each garlic powder, salt and Italian seasoning
1/4 t. black pepper
1 lb. cooked pasta (I used the new Barilla piccolini ziti, because of it's closeness in shape to the traditional beefaroni noodles, but any shape would be fine.)
Directions
Brown ground beef in a sauce pan and drain. Stir in remaining ingredients, except the pasta. Simmer for about 10 minutes, to let the flavors combine.
Stir in the pasta until coated. Enjoy!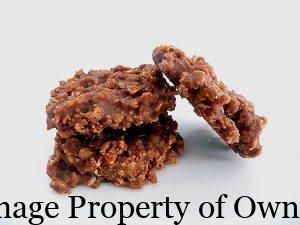 Chocolate Peanut Butter No-Bake Cookies
Ingredients
½ cup (1 stick) butter
2 cups granulated sugar
½ cup milk
4 tablespoons cocoa powder
½ cup peanut butter
2 teaspoons vanilla extract
3 cups quick-cooking oats
Directions
Add the first four ingredients (through the cocoa powder) to a 4-quart saucepan. Bring to a rolling boil and let boil for 1 minute. Remove from heat. Stir in the peanut butter and vanilla until smooth, then stir in the oats. Drop by heaping tablespoons onto wax paper-lined baking sheets. Let cool until set.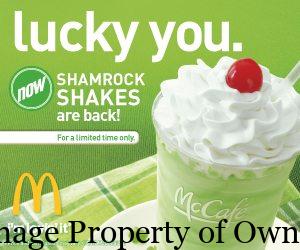 McDonald's Shamrock Shake
Ingredients
1 pint (2 cups) vanilla ice cream
1 cup milk
1/2 teaspoon McCormick® Pure Peppermint Extract
1/4 teaspoon McCormick® Green Food Color
Whipped cream and green sprinkles (optional)
Directions
Place ice cream, milk, peppermint extract and green food color in blender; cover. Blend on high speed until smooth.
Pour into glasses. Top with whipped cream and sprinkles, if desired. Serve immediately.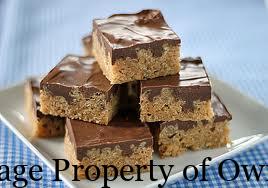 Nestle Scotcheroos
Ingredients
Nonstick cooking spray
1 1/2 cups creamy peanut butter
1 cup granulated sugar
1 cup light corn syrup
6 cups toasted rice cereal
1 2/3 cups (11-oz. pkg.) NESTLÉ® TOLL HOUSE® Butterscotch Flavored Morsels
1 cup (6 oz.) NESTLÉ® TOLL HOUSE® Semi-Sweet Chocolate Morsels
Directions
Coat 13 x 9-inch baking pan with cooking spray.
Combine peanut butter, sugar and corn syrup in large saucepan. Cook over medium-low heat, stirring frequently, until melted. Remove from heat. Add cereal; stir until thoroughly coated. Press onto bottom of prepared baking pan.
Microwave butterscotch morsels and semi-sweet chocolate morsels in large, uncovered, microwave-safe bowl on HIGH (100%) power for 1 minute; STIR. Morsels may retain some of their original shape. If necessary, microwave at additional 10- to 15-second intervals, stirring just until smooth. Spread over cereal mixture.
Refrigerate for 15 to 20 minutes or until topping is firm. Cut into bars.
McDonald's Hotcakes
Ingredients
2/3 cup 7−Up
1 egg
1 tablespoon sugar
1 tablespoon oil
1−1/2 cups Bisquick baking mix
Directions
Put all ingredients into blender on high speed for a few seconds until
smooth. Let stand 10 minutes befor using 1/4 cup batter for each pancake on
hot, oiled griddle, browning each side
Manwich Sloppy Joes
Ingredients
8 oz. can Hunt's tomato sauce
1 cup ketchup
1 Tbls. dried minced onion
1 Tbls. green pepper, diced fine
1 teas. salt
1/2 teas. dried minced garlic
1/4 teas. celery seed
1 teas. prepared mustard
1/2 teas. chili powder
Directions
Mix all ingredients in a bowl.
Brown 1 pound ground beef, drain fat, add sauce.
Bring to boil, lower heat, simmer for 10 minutes.
Serve with toasted hamburger buns.
KFC Original Style Chicken
Ingredients
1 frying chicken, cut into frying pieces
1 1/2 cups flour
1 Pkt. (dry) Good Seasons Italian Dressing (THE 11 herbs and spices!)
1 Envelope Lipton (or other brand) Tomato Cup of Soup
2 eggs, well beaten
2/3 cup milk
Vegetable oil to cover bottom of your skillet; about 1/2 inch deep.
Directions
Combine eggs and milk. Set aside.
Combine flour with the Italian dressing and soup mix.
Dip chicken pieces in milk-egg mixture and roll them in the
flour-seasoning mixture. Repeat procedure.
Fry pieces over medium heat for 25 to 30 minutes, turning often.
Remove from fire. Drain and serve.
Burger King Whopper
Ingredients
1 Sesame−seed hamburger bun
1/4 Pound Ground beef
1 d Salt
3 Dill pickle slices
1 Teaspoon Catsup
4 Onion rings
2 Tomato slices
1/4 Cup Chopped lettuce
1 Tablespoon Mayonnaise
Directions
Preheat a barbecue grill on high. Toast both halves of the bun, face down,
in a hot skillet. Set aside. Form the beef into a thin patty slightly larger
than the bun. Lightly salt the hamburger patty and cook on the barbecue
grill for 2 to 3 minutes per side. Build the burger in the following
stacking order from the bottom up: bottom bun, hamburger patty, pickles,
catsup, onion rings, tomatoes, lettuce, mayonnaise, top bun
Clausen Kosher Dill Pickles
Ingredients
2 dill flowers
2 garlic cloves, peeled & halved
1 1/4 lbs. (8−10) pickling cucumbers
6 long sprigs fresh dill
1 tbsp coarse kosher salt
Directions
Put dill flower and garlic in bottom of mason jar;
add the cukes, put sprigs of dill in center of
cukes, add salt, fill jar with half boiled water
that is now cool, and half vinegar to within 1/8th of top.
Put on seal and ring, shake to dissolve salt,
set upside down on counter away from sunlight
and heat. Let sit 4−5 days flipping the jar
either upright or upside down each day.
Let sit upright 2 more days then refrigerate.
Lasts about 6 months.
Hidden Valley Ranch Dressing
Ingredients
15 Saltines
2 cups Dry minced parsley flakes
1/2 cup Dry minced onion
2 tablespoons Dry dill weed
1/4 cup Onion salt
1/4 cup Garlic salt
1/4 cup Onion powder
1/4 cup Garlic powder
Salad Dressing:
1 tablespoon Mix
1 cup Mayonnaise
1 cup Buttermilk
Directions
Put crackers through blender on high speed until powdered. Add
parsley, minced onions, and dill weed. Blend again until
powdered. Dump into bowl. Stir in onion salt, garlic salt, onion
powder, and garlic powder. Put into container with tight−fitting
lid.
Store dry mix at room temperature for 1 year. Makes 42 1
tablespoon servings. To use mix−−Combine mix, mayonnaise,
and buttermilk.
Yield: 1 pint.
Cinnabon Rolls
Ingredients
ROLLS:
1/2 cup warm water
2 packages dry yeast
2 tablespoons sugar
3 1/2 oz. pkg. vanilla pudding mix
1/2 cup margarine, melted
2 eggs
1 teaspoon salt
6 cups flour
CREAM CHEESE FROSTING:
8 oz. cream cheese
1/2 cup margarine
1 teaspoon vanilla
3 cups confectioner's sugar
1 tablespoon milk
Directions
To make frosting, mix all ingredients until smooth.
In a bowl combine water, yeast and sugar. Stir until dissolved. Set aside.
In large bowl, take pudding mix and prepare according to package
directions. Add margarine, eggs and salt. Mix well. Then add yeast
mixture. Blend.
Gradually add flour; knead until smooth. Place in a greased bowl. Cover
and let rise until doubled. Punch down dough and let rise again.
Then roll out on floured board to 34 x 21″ size. Take 1 cup soft butter
and spread over surface. In bowl, mix 2 cups brown sugar and 4 teas.
cinnamon. Sprinkle over top. Roll up very tightly. With knife, put a notch
every 2″. Cut with thread or knife.
Place on lightly greased cookie sheet 2″ apart. Take hand and lightly
press down on each roll. Cover and let rise until double again. Bake at
350F for 15−20 minutes. Remove when they start to turn golden.
DON'T OVER BAKE.
Frost warm rolls with Cream Cheese Frosting.
Makes about 20 very large rolls.
Stouffer's Macaroni and Cheese
Ingredients
2 − 10 ounce packages Stouffer's Frozen Welsh Rarebit
(defrosted)
1 cup elbow macaroni
2 teaspoons salt
1 cup sour cream
1/4 cup grated Cheddar cheese
Directions
Preheat oven to 400 degrees.
Heat Welsh Rarebit in top of double boiler over rapidly
boiling water for 15 to 20 minutes just until hot.
Cook macaroni following package directions. Drain well.
Pour Welsh Rarebit into a 2−quart casserole; add cooked
macaroni, salt and sour cream. Stir to combine. Sprinkle with
grated cheese. Bake at 400 degrees for 20 minutes.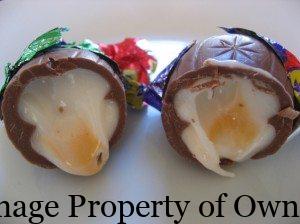 Cadbury Creme Eggs
Ingredients
1/2 C. light corn syrup
1/4 C. butter, softened
1 tsp. vanilla
1/4 tsp. salt
3 C. powdered sugar
4 Drops yellow food coloring
2 Drops red food coloring
1 Bag milk chocolate chips — (12 ounce)
2 tbs vegetable shortening
Directions
Combine the corn syrup, butter, vanilla, and salt in a large bowl. Beat well with an electric mixer until smooth. Add powdered sugar, one cup at a time, mixing by hand after each addition. Mix well until creamy. Remove about 1/3 of the mixture and place it into a small bowl. Add the yellow and red food coloring and stir well to combine.
Cover both mixtures and refrigerate for at least 2 hours, or until firm.
When mixtures are firm, roll a small, marble-size ball from the orange filling, and wrap around it a portion of the white filling that is roughly twice the size. Form this filling into the shape of an egg and place it onto a cookie sheet that has been brushed with a light coating of shortening. Repeat for the remaining filling ingredients, then refrigerate these centers for 3-4 hours or until firm.
Combine the milk chocolate chips with the shortening in a glass or ceramic bowl. Microwave chocolate on high speed for 1 minute, then stir and microwave again for 1 more minute, and stir. Use a fork to dip each center into the chocolate, tap the fork on the side of the bowl, then place each candy onto wax paper. Chill. After 1-2 hours of chilling, dip each candy once more and chill for several hours, or until completely firm. Makes 2 dozen candy eggs.
Reese's Peanut Butter Cups
Ingredients
1 cup peanut butter
3/4 powdered sugar
3 tablespoons butter (softened)
1 teaspoon vanilla
2 bags high quality milk chocolate chips
Directions
In a large bowl, beat together the peanut butter, powdered sugar, butter, and vanilla.
Pour chocolate chips into a large, microwave safe bowl. Microwave for 30 seconds, remove and stir. Microwave again for 30 seconds, remove and stir. Continue doing this just until the chocolate chips are melted. You don't actually want the mixture to become warm or hot to the touch because the chocolate will mottle when it re-hardens. So, make sure you are microwaving for no more than 30 seconds, then stirring very well just until the chocolate chips a smooth and melted. Spoon a small amount of melted chocolate into the bottom of a standard-sized foil cupcake wrapper.
Roll a tablespoon sized scoop of the peanut butter mixture into a ball, then flatten slightly. (I made sure my hands were just a little bit moistened to keep the mixture from sticking to my hands). Place the peanut butter disc on top of the chocolate layer, patting it gently into place in the center of the cup. The peanut butter mixture shouldn't touch the sides of the cupcake wrapper, that way, when you place the next layer of chocolate on top of the candy, it hides the peanut butter layer right in the middle.
Spoon a second scoop of melted chocolate over the peanut butter layer. Twirl your spoon around the top of the chocolate to create a pretty, swirl design. Allow peanut butter cups to harden in a cool, dry place for 15-20 minutes. Don't place them in the fridge to speed up the cooling time! Doing so can drop the temperature of the chocolate too quickly, making it dry with little white speckles. Yuck.
Entenmann's Louisiana Crunch Cake
Ingredients
3 cups cake flour (not self-rising)
1 teaspoon salt
1 teaspoon baking powder
1/2 teaspoon baking soda
1 cup butter, at room temperature
2 cups granulated sugar + 1/4 cup for sprinkling in pan
4 large eggs, at room temperature
1/4 cup sour cream
2 teaspoons vanilla extract
1 cup buttermilk
1/4 cup coconut flakes
Glaze:
2 cups confectioners' sugar
1/4 cup melted butter
2 – 3 tablespoons heavy cream or whole milk, as needed
1/2 teaspoon pure vanilla extract
1/4 cup coconut flakes
1/4 cup sliced almonds
Ingredients
Preheat the oven to 350 degrees F. Butter and flour a tube or bundt pan.
Sift together the flour, salt, baking powder and soda. Set aside. In a separate large bowl beat butter on medium speed until fluffy about 2 minutes. Add sugar and beat 3 more minutes until light and fluffy. Beat in eggs one at a time. On the lowest speed beat in sour cream and vanilla. On the lowest speed mix in 1/3 of the dry ingredients followed by 1/2 the buttermilk then repeat ending with the the last third of the flour. Don't over mix or your cake will be dense! Sprinkle the 1/4 cup of sugar over the bottom of the pan and shake so the sugar goes up the sides 2 – 3 inches. Sprinkle with the coconut flakes. Scoop the batter into the pan and spread evenly.
Bake 55 – 65 minutes or until a wooden skewer in center comes out clean.
Cool the cake in the pan on a wire rack 10 minutes, then carefully turn out onto a cake dish or platter. Cool completely.
To make the glaze whisk the confectioners' sugar, butter, milk and vanilla together. The glaze should run off your whisk when lifted. If needed add more milk to thin it out.
Poke holes all over the top of the cake 1/2-inch apart using a skewer or toothpick. Slowly spoon the glaze over the top. Sprinkle with coconut and almonds.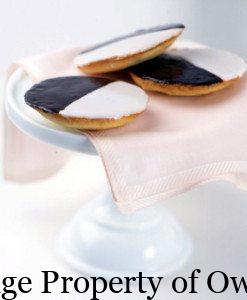 New York Black and White Cookies
Ingredients
1 1/4 cups all-purpose flour
1/2 teaspoon baking soda
1/2 teaspoon salt
1/3 cup well-shaken buttermilk
1/2 teaspoon vanilla
1/3 cup (5 1/3 tablespoons) unsalted butter, softened
1/2 cup granulated sugar
1 large egg
Icings
1 1/2 cups confectioners sugar
1 tablespoon light corn syrup
2 teaspoons fresh lemon juice
1/4 teaspoon vanilla
1 to 2 tablespoons water
1/4 cup unsweetened Dutch-process cocoa powder
Directions
Preheat oven to 350°F.
Whisk together flour, baking soda, and salt in a bowl. Stir together buttermilk and vanilla in a cup. Beat together butter and sugar in a large bowl with an electric mixer until pale and fluffy, about 3 minutes, then add egg, beating until combined well. Mix in flour mixture and buttermilk mixture alternately in batches at low speed (scraping down side of bowl occasionally), beginning and ending with flour mixture. Mix until smooth.
Spoon 1/4 cups of batter about 2 inches apart onto a buttered large baking sheet. Bake in middle of oven until tops are puffed and pale golden, and cookies spring back when touched, 15 to 17 minutes. Transfer with a metal spatula to a rack and chill (to cool quickly), about 5 minutes.
Make icings while cookies chill.
Stir together confectioners sugar, corn syrup, lemon juice, vanilla, and 1 tablespoon water in a small bowl until smooth. Transfer half of icing to another bowl and stir in cocoa, adding more water, 1/2 teaspoon at a time, to thin to same consistency as white icing.
To ice cookies, turn cookies flat sides up, then spread white icing over half of each and chocolate over other half.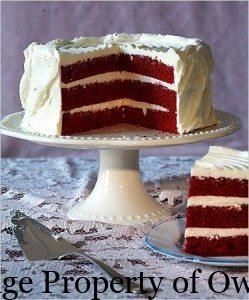 The Original Waldorf Astoria Red Velvet Cake
Ingredients
3 oz unsweetened chocolate, chopped
2 c granulated sugar
4 large eggs
1 1/2 c vegetable oil
1 1/2 teaspoons vanilla extract
2 c all-purpose flour
2 1/4 tsp baking soda
1/4 tsp salt
1 1/2 lbs sliced canned beets, drained and pureed
1 teaspoon red food coloring
Cream Cheese/Mascarpone Frosting
2 c heavy cream
12 oz cream cheese, room temperature
12 oz mascarpone cheese
1/2 tsp vanilla extract
1 1/2 c icing sugar, sifted
Directions
Pre-heat oven to 350 F
Butter three 9″ round cake pans and line them with parchment paper or waxed paper. To prepare cake: Melt Chocolate in a metal bowl set over a saucepan of boiling water or in the top of a double boiler (or melt in microwave for 20-25 seconds). Meanwhile, place the sugar, eggs, oil and vanilla in the bowl of an electric mixer fitted with a paddle attachment and mix on low speed for two minutes. In a mixing bowl, sift together the flour, baking soda and salt. Add the dry ingredients to the egg mixture and continue to mix on low speed, scraping down the sides of the bowl with a spatula so everything is well incorporated. Add the melted chocolate to this mixture and continue to mix on low speed. Add the pureed beets and food coloring. Continue to mix on low speed until everything is thoroughly combined.Evenly divide the batter between the three prepared pans and bake in the middle of the oven for 20 25 minutes or until center of cake springs back when touched, or when an inserted toothpick comes out clean. Remove the pans from the oven and transfer to a cooling rack. Let cool for ten minutes in the pans, then turn the layers out onto the rack and let cool completely.
To prepare Cream Cheese/Mascarpone Icing: Pour cream into a small bowl and whip to soft peaks. Set aside in the refrigerator. Place the cream cheese in the bowl of an electric mixer fitted with a paddle attachment and mix on low speed until it is soft and smooth. Add the mascarpone and continue to mix on low speed until the cheeses are well combined. Add the vanilla and powdered sugar and mix until everything is just combined. Turn off the mixer and fold in the whipped cream by hand with a spatula. Keep refrigerated until ready to assemble. To assemble: Using a serrated knife, trim the top of each layer of each layer of cake so that it is flat. Place the first layer on a cake plate or serving platter and top with some of the icing. Repeat until all of the layers are covered with icing, then ice the top and sides of the cake. Store cake in refrigerator until ready to serve.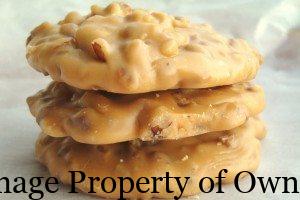 New Orleans Pralines
Ingredients
1 cup granulated sugar
1 cup packed brown sugar
1/2 cup evaporated milk
4 tbsp butter, cubed
2 tsp vanilla extract
1.5 cups toasted pecans, coarsely chopped
Directions
Prepare a baking sheet by lining it with aluminum foil and spraying the foil with nonstick cooking spray.
In a medium saucepan combine the brown sugar, granulated sugar, and evaporated milk over medium heat. Stir until the sugar dissolves, then insert a candy thermometer. Cook the candy, stirring occasionally, until the candy reaches 240F on the thermometer. Once the proper temperature is reached, remove the pan from the heat and drop the chunks of butter on top, but do not stir. Allow the pan to sit for one minute. After a minute, add the vanilla extract and the pecans, and begin to stir smoothly and constantly with a wooden spoon. Soon the candy will begin to get thicker and lighter in color.
Continue to stir until the candy starts to hold its shape. It should still be easy to stir, however. It is important not to stir too much, as pralines quickly go from fluid to rock-solid. Once it is a lighter, opaque brown and holds its shape, quickly begin to drop small spoonfuls of the candy onto the prepared baking sheet. Work quickly to form the candies, as the pralines will start to set in the saucepan. If the candy stiffens before you're done scooping, add a spoonful of very hot water and stir until it loosens, then continue scooping until you have formed all the pralines. Allow the candy to fully set at room temperature, for about 30 minutes. Store New Orleans Pralines in an airtight container at room temperature.
Wendy's Frosty (low fat version)
Ingredients
1 c skim milk
1/2 c Nesquik chocolate powder, no sugar added
4 c vanilla frozen yogurt, softened
Directions
Blend skim milk and Nesquik in a blender for ten seconds on the highest setting. Pulse in frozen yogurt until mixture is combined, but still very thick. Freeze for an hour or more before serving.
Chick-Fil-A chicken sandwich
Ingredients
2 skinless, boneless chicken breasts
Kosher salt and ground pepper
1 tsp paprika
Peanut oil, for frying
1 egg
1/2 c milk
3/4 c all purpose flour
1/4 c whole-wheat flour
1 tbs dry milk
1 tbs powdered sugar
1/4 tsp baking soda
1/4 tsp dry mustard
1 sour pickle, cut into eight slices
4 soft hamburger buns, split
3 tbs unsalted butter, softened
Directions
Cut the chicken breast in half horizontally, to make 4 thin pieces. Place each piece between heavy plastic, and pound to 1/8 thick with a mallet of skillet. Season the chicken with 1 teaspoon kosher salt, 1/2 teaspoon pepper, and 1/2 teaspoon paprika.
In a shallow baking dish, whisk together egg, milk, and 2 tablespoons water. In another baking dish, whisk together both types of flour, dry milk, powdered sugar, baking soda, dry mustard, and remaining 1/2 teaspoon paprika, and 1 teaspoon each salt and pepper. Meanwhile, heat about two inches of peanut oil to 325 degrees in a heavy-bottomed pot or cast iron skillet. While oil heats, slice pickle, and set aside.
Working in batches, dip chicken in the egg mixture, turning to coat, then dredge in flour mixture and shake off any excess. Fry the chicken in hot oil, using a candy thermometer to monitor oil temperature, until golden brown, about 4 minutes. Drain on paper towels.
Heat a large skillet over medium heat. Spread the cut side of the buns with some butter, and lightly toast in the skillet, buttered-side down. To assemble sandwiches, spread grilled buns with more butter, dip 2 pickle slices in jarred pickle juice to moisten and place on the bottom bun. Top with a piece of fried chicken and the bun top.
Twinkies
Ingredients
For the cake:
Nonstick spray
4 egg whites
one 16-ounce box golden pound cake mix
2/3 cup water
For the filling:
2 tsp very hot water
rounded 1/4 tsp salt
2 c marshmallow creme ( 1- 7oz jar)
1/2 c shortening
1/3 c icing sugar
1/2 tsp vanilla
Directions
Preheat oven to 325 degrees F.
Fold each piece of aluminum foil in half twice. Wrap the folded foil around the spice bottle to create a mold. Leave the top of the mold open for pouring in the batter. Make ten of these molds and arrange them on a cookie sheet or in a shallow pan. Grease the inside of each mold with a light coating of nonstick spray. Disregard the directions on the box of cake mix. Instead, beat the egg whites until stiff. In a separate bowl combine cake mix with water, and beat until thoroughly blended (about 2 minutes). Fold egg whites into the cake batter and slowly combine until completely mixed.
Pour the batter into the molds, filling each one about 3/4 of an inch. Bake in the preheated oven for 30 minutes, or until the cake is golden brown and a toothpick stuck in the center comes out clean.
For the filling, combine the salt with the hot water in a small bowl and stir until the salt dissolved. Let this mixture cool. Combine marshmallow creme, shortening, icing sugar, and vanilla in a medium bowl and mix well with an electric mixer on high speed until fluffy. Add the salt solution to the filling mixture and combine. When the cakes are done and cooled, use a skewer or chopstick to make three holes in the bottom of each one. Move the stick around inside of each cake to create space for the filling.
Using a cake decorator or pastry bag, inject each cake with filling through all three holes.
Makes 10.
Jell-O Chocolate Pudding Pops
Ingredients
1 pkg (3.9 oz.) JELL-O Chocolate Instant Pudding
2 c cold milk
1 c thawed COOL WHIP Whipped Topping
Directions
Beat pudding mix and milk in medium bowl with whisk 2 min. Stir in COOL WHIP.
Spoon into 6 paper or plastic cups. Insert wooden pop stick or plastic spoon in center of each cup. Freeze 4 hours or until firm. Remove from cups before serving.
Chocolate Angel Delight
Ingredients
12 oz chocolate chips
2 tbs water
3 eggs, separated
1 pinch salt
3 tbs sugar
1 1/2 c heavy cream
1 tsp vanilla
13 oz angel food cake, fresh or stale (broken into bite-sized chunks)
vanilla ice cream
Melt chocolate in water on top of double boiler; cool.
Stir in yolks and salt. Beat egg whites until stiff; add sugar and stir into cooled chocolate mixture, blending well. Whip heavy cream; add vanilla; fold into chocolate mixture. Place chunks of angel food cake into 9x13x2″ pan. Cover with chocolate mixture. Chill at least 6 hours before serving. Cut into squares and top with ice cream.
Spaghetti-O's
Ingredients
15oz no-salt-added tomato sauce
2 tbs milk of choice
1/2 tsp onion powder
1/4 tsp paprika
3/4 tsp to 1 tsp salt (depending on your preference. I like 1 tsp.)
2-3 tsp butter-type spread (such as Earth Balance or Smart Balance Light)
3-4 tbs nutritional yeast
pinch pure stevia, or 2 tbsp sweetener of choice (agave, sugar, whatever)
1 cup uncooked tiny pasta of choice (If using a larger pasta, such as elbows, increase to 2 cups)
Directions
In a small saucepan, stir together all ingredients except the pasta. Bring to a boil, then lower and cook on low until the butter spread melts completely. Meanwhile, bring a medium pot of salted water to a boil. Once boiling, throw in the pasta and cook until desired texture is reached. Drain, then pat dry with a towel. Pour the pasta into the sauce, and stir to combine. Serve. Before reheating any leftovers, stir and add a little milk of choice if needed.
Chef Boyardee Pizza
seafoam salad
nutter butter sandwiches
angel delight
blondies
smash mash mix
smores
Superman Ice Cream
cereal? – coco wheats
Coke Float
HushPuppy Slushies
jawbreakers
new york seltzer
crystal pepsi
Mississippi Mud Cake
tri colour pasta salad
fruit roll ups
pop tarts
capri sun
sunny delight
tab
marshmallow fluff
candied cherries
heinz beans- curry beans
astronaut ice cream
Sources:
TopSecretRecipes
Branded in the 80s
RecipeTrove.com
www.seriouseats.com