In keeping with Rainbow Brite's colourful world on TV, Hallmark licenced the characters to Mattel to create a line of 80s toys that recently had a reboot in Hallmark stores. The original line of yard-haired dolls in 80s-style garb included Rainbow Brite, the Colour Kids and all their Sprites in several sizes and spun out to include larger dolls and the accompanying horses. Miniatures can still be found on eBay though these are most common in the UK and rarer items such as Baby Brite's star baby carrier and the Colour Kids dune-buggy like car fetch a good price amongst collectors. Foreign issue dolls such as Moonglow and the Dress-up version of Rainbow Brite are treasures amongst show fans. In some cases the toys didn't quite follow the show or predated the show. For example, Tickled Pink was envisioned by Mattel with a horse named Flutter and once the show came out, the Tickled Pink/Flutter set wasn't produced; rather the horse was renamed as Sunriser. Tickled Pink also orignally had a tulip mark on her cheek and belt which were removed for production.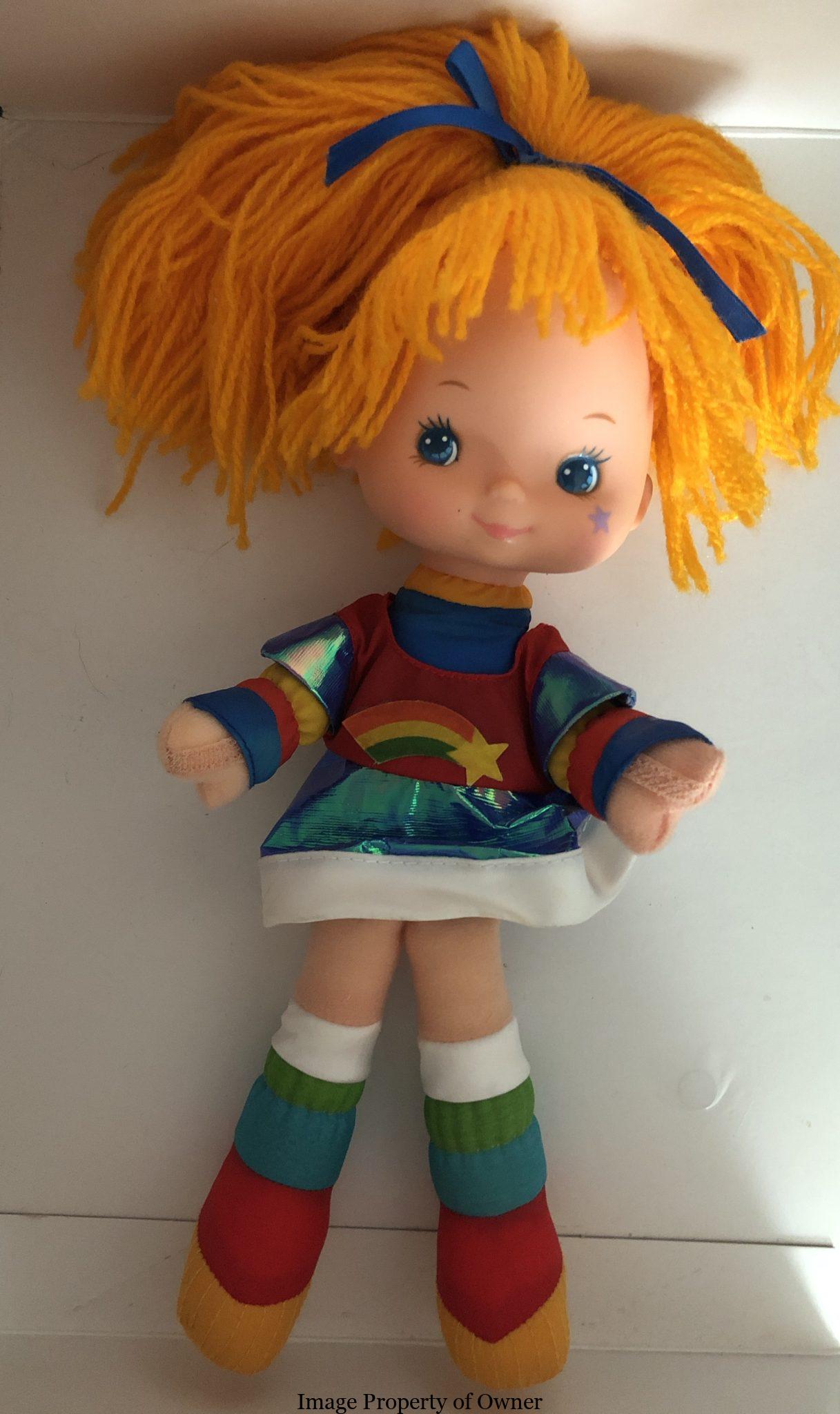 Original Hallmark doll issues 1983
Standard issue yarn-haired dolls with mini-sprites Series 1
Hallmark/Mattel
Rainbow Brite 12″
Lala Orange 12″ (hard to find)
Patty O'Green 12″
Red Butler 12″ (hard to find)
Canary Yellow 12″
Buddy Blue 12″ (hard to find)
Indigo 12″(hard to find)
Shy Violet 12″
Series 2 are identical but with sandal-like star shoes
Hallmark/Mattel
Dress -Up dolls
Hallmark/Mattel
Rainbow Brite 12″ Dress-up Doll (Rare, rainbow-haired)
Tickled Pink 12″ Dress-up Doll (Rare)
Moonglow 12″ Dress-up Doll
(Very Rare- Germany only)
Stormy 12″ Dress-up (Extremely rare- Australia only)
15″ Dolls
Baby Brite with bottle
Hallmark/Mattel
Rainbow Brite
Hallmark/Emotions
Red Butler
Hallmark/Emotions
Canary Yellow
Hallmark/Emotions
Patty O'Green
Hallmark/Emotions
18″Dolls
Hallmark/ Mattel
Rainbow Brite (also 18″ talking version)
Shy Violet
Patty O'Green
Animal friends dolls
Plush Starlite (Mattel)
Flocked plastic Starlite (Mattel)
Plush Starlite (Emotions)
Flocked plastic Sunriser (Mattel0
Plush Kitty Brite (Mattel)
Plush Puppy Brite (Mattel)
Villains
Murky Dismal (Mattel)
Lurky 10″ (Mattel)
Lurkey 14″(Emotions)
Lurky 16″ (Mattel)
Mattel Toy Prototypes/Never produced
Moonglow international release
Stormy international release
Newborn Star baby doll
Rainbowland Dress-up fashions: Cowgirl, Party Outfit, PJs, Rain Slicker, Riding Outfit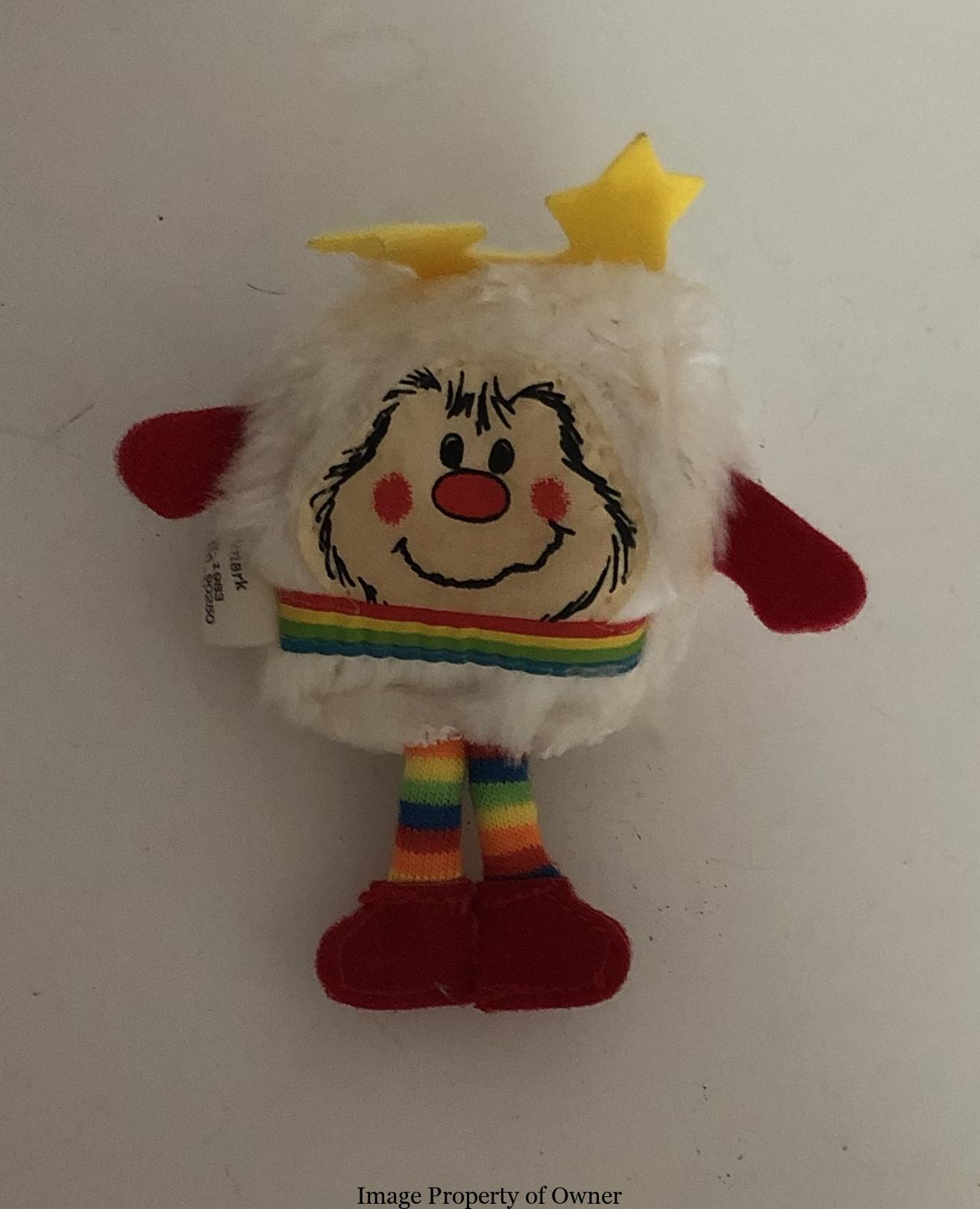 Sprite Dolls– Girl sprites can be told apart by the bow on their heads and larger eyes. US-issue sprites have more rounded noses than their international counterparts.
Mini Sprites that went with 12″ Colour Kids dolls
Hallmark/Mattel
Twink
Romeo
OJ
Spark
Lucky
Champ
Hammy – Hard to find
IQ -Hard to find
Baby Sprites that came in plastic capsules w/diapers
Hallmark/Mattel
All hard to find
Itsy
Bitsy
Eensy
Weensy
Taco Bell mini promotionals w/squeaker
Hallmark/Mattel
Hard to find
Twink
Romeo
Spark
Champ
Hatful Sprites 12″with hats
Hallmark/Mattel
All hard to find
Twink/ sleepy cap
Romeo /beret
Spark / feather headdress
Lucky /pirate hat
Champ /sun visor
Hammy /snow cap
Emotions Sprites
Hallmark/ Emotions
Twink
Romeo
Spark
Lucky
Champ
12″Sprites
Hallmark/Mattel
Twink
Romeo
OJ
Spark
Lucky
Champ
Dee Lite -rare
Merrily-rare
Flutter -hard to find
Spritzie – rare
Posie-rare
Glee -rare
Additional 80s merchandise
Miniature Poseable Figs (UK ): Rainbow Brite, Patty O'Green, Shy Violet, Twink, Baby Brite (all rare)
Colour Pockets doll hangers (hard to find): Bed design, Flower pot design, Balloon design, Star Design, Moon design
Rainbow Brite doll hammock
2.5″ PVC Hallmark figures: Rainbow Brite waving, Puppy Brite, Lurky (rare), Red Butler saluting (hard to find), Red Butler cape swishing (rare), Twink, Glee, Yellow Canary hands on hips (hard to find), Buddy Blue(rare), IQ (rare), Starlite, Rainbow Brite standing (hard to find), Romeo (rare)
2.5″ PVC Sclieich Land of Minikin figures (all rare): Canary Yellow, Buddy Blue, Twink, Rainbow Brite
Colour Cottage soft doll place / storage case with furniture. Furniture is very hard to find.
Spritecycle and visor for 12″Sprite (extremely rare)
Sailmobile doll boat (rare)
Colour Buggy Car (rare)
Rainbow Brite doll slumber set with Twink slippers (hard to find)
Rainbow Brite Baby Brite doll carrier(hard to find)
Rainbow Brite Cuddlestar carrier/backpack (hard to find)
Twinkets jewelry/hairwear: Starlite and ring (rare)

Twinkets jewelry/hairwear: Romeo and star barrette
(rare)

Twinkets jewelry/hairwear: Rainbow brite with rainbow necklace
(rare)

Twinkets jewelry/hairwear:Twink with moon necklace/ clipon
(rare)

Twinkets jewelry/hairwear: Rainbow Brite and Champ ponytail holders
(rare)

Twinkets jewelry/hairwear: Starlite with star barrette
(rare)
Rainbow Brite tin plate set 1983
(hard to find complete)
Rainbow Brite china tea set for 4
(rare)
Rainbow Brite wooden doll high chair
(rare)
Rainbow Brite Play House vinyl tent
(very rare)
Rainbow Brite talking toothbrush in Colour Castle base (rare)
Twink star-shaped bangle bracelet (rare)
Starlight sitting PVC coin bank (rare)
Rainbow Brite head / shoulders cake tooper 2″ (very rare)
Rainbow Brite and the Star Stealer comic adaptation DC Comics (rare)
Rainbow Brite cartoon eps BETA cassettes (very rare)
Rainbow Brite Colouring books- Rainbow Brite & Baby Brite, RB+Twink sipping on a soda, RB +twink riding starlite
Rainbow Brite Murray Persons mini banana bike seat (rare)
Rainbow Brite Skilcraft "Double-take" wall art (very rare)
Rainbow Brite bed set (fitted sheet, sheet, bed ruffle, pillow shams, duvet, wall curtains)- several designs
Rainbow Brite round glass Christmas ornament, white background glass overlay (rare)
Rainbow Brite white pig-shaped coin bank (rare)
DEKA Twink 5″ mug with straw, molded hair (very rare)
Rainbow Brite VHS release poster 24″x36″ (rare)
Twink Colorforms Toothpaste topper (very rare)
Rainbow Brite "logo" eraser
Rainbow Brite "rainbow" lead pencil
Rainbow Brite square handed coin purse w/starlite in heart cutout (rare)
Rainbow Brite and 3 sprites in treehouse tray puzzle (rare)
Rainbow Brite waving molded snap hair clip (very rare)
| | | |
| --- | --- | --- |
| Rainbow Brite, Starlight and Color Kids in Rainbowland 300 piece extra large puzzle (rare) | Starlight PVC jewelry charm (rare) | |
| Yellow plastic umbrella Rainbow Brite, Twink, Romeo and Spark, yellow handle (rare) | Spear's Games Rainbow Brite stencilling set w/crayons and paints (UK) | Spear's Games Rainbow Brite Lacing Craft set of lacing cards and threads (UK) |
| Lurky plastic Hallowe'en costume with mask | 18″ Shaped Rainbow Brite pillow | Golden Book Rainbow Brite Twink's Magic Carpet Ride (rare) |
| WESCO Pillow cut and sew fabric kit- Rainbow Brite and Starlight on front, Sprites pattern on back | Blue Rainbow Brite Nylon Briefcase (very rare) | Wilton Rainbow Brite shaped cake pan |
| Rainbow Brite Parcheesi Board (Spain) (very rare) | Yellow Rainbow Brite rotary play phone w/ Rainbow Brite and Twink figures (very rare) | Magnetix Magnetic Presto Magix Rainbow Brite playset (rare) |
| Rainbow Brite Viewmaster GIft set (3D viewer, 3 3D reels) | Rainbow Brite Dot to Dot coloring book, Golden Books. Rainbow Brite painting a rainbow on cover. | Rainbwo Brite Wrap-an-Egg Easter egg decorating kit, Easter Unlimited (very rare) |
| Rainbow Brite Hallowe'en costume with mask by Collegeville (rare) | Twink playing tuba enamel necklace charm | Rainbow Brite and Red Butler yellow Aladdin plastic lunchbox and thermos |
| Red foldover children's wallet, Rainbow Brite logo, Starlight on back | Holiday Gift Wrap stickers set of 4 sheets, assorted | Rainbow Brite white pencil with sprites, Rainbow Brite w/balloons, no eraser (Japan) |
| Rainbow Brite talking toothbrush in yellow Rainbowland stand | Molded plastic waving Rainbow Brite hairclip (very rare) | Laying Starlight PVC molded coin bank |
| Rainbow Brite red background fleece throw 50x 60″ (very rare) | Rainbow Brite Snazzy Sneakers sticker sheet on sneaker-shaped backcard (rare) | Round red PVC coin purse w/Rainbow Brite and wrist strap (rare) |
Rainbow Brite yellow AM/FM headset by ERTL(rare)
Jigsaw puzzles- Rainbow Brite and
sprites on roller coaster,
RB + sprites on Sailmobile,
RB+ Starlite, Red Butler & Yellow Canary with apple tree (hard to find)
Rainbow Brite and Twink Colorforms Dress-up set, 1983
Cross stitch pattern RB + Twink "Color the world with love." (rare)
Rainbow Brite playing card set by Cromy (Argentina) (rare)
Rainbow Brite plastic children's clothes hangers
Rainbow Brite edition Parcheesi board (Spain) (very rare)
Rainbow Brite girl's sprite accessorie set- Comb, Belt buckles, hair ties (Argentina) (very rare)
Red plastic lunchbox with Red Butler, Starlight, Rainbow Brite and Twink
Rainbow Brite Tray puzzle-RB+ Twink,Red Butler, Shy Violet,Patty O'Green and sunflowers in Rainbowland
Rainbow Brite round yellow child's clothing hangers (Canada) (rare)
Rainbow Brite shooting star-shaped AM/FM wireless microphon (very rare)
Rainbow Brite blue crossbody bag w/Rainbow Brite & starcutout, red strap (rare)
Rainbow Brite handled purse with Rainbow Brite, rainbow ribbon on blue background, red handles (rare)
Hallmark tray puzzle w/Rainbow Brite, Red Butler, Twink, Patty O'Green and Shy Violet
Rainbow Brite Lurky halloween costume, plastic mask and yellow plastic smock (very rare)
Rainbow Brite 3D Viewmaster reels
Starlight cut and sew fabric for pillow.
Rainbow Brite metal play kitchen set by Rite Hite- refrigerator, oven, sink (very rare)
Rainbow Brite Magnetix Magnetic Presto Magix set (rare)
6.5″ Rainbow Brite Purple canvas tote w/ red handles (rare)
Rainbow Brite 30 Valentines pack
Rainbow Brite 4 eraser set (RB logo, Twink, RB in heart, Starlite in star
Set of 16 yellow/white party napkins, Rainbow Brite and Romeo
Rainbow Brite 2 pencil pack, rainbow leaded, strawberry scented
Happy Birthday Buddy Blue Story and Cassette Set (very rare) Beuna Vista Records
Mini stickers on strip, Romeo, Twink, Spark and Champ
Rainbow Brite Saves Spring Story and Cassette Set Beuna Vista Records
Rainbow Brite square Happy Birthday cake candle
Rainbow Brite Color Kids Magic Mix Gel Soap Set w/ Buddy Blue, Rainbow Brite and Canary Yellow
| | | |
| --- | --- | --- |
| Rainbow Brite and the Brook Meadow Deer book and record set | Stick-R-Treats sheet of stickers: Rainbow Brite logo, Rainbow Brite, Starlight | Spark Sprite party napkins with rainbow border |
| Rainbowland Send-A-Sticker postcard (rare) | Rainbow Brite, Starlight and Sprites iron-on tshirt transfer | Rainbow Brite Dome Sweet Dome colouring book |
| Offray 7 ft ribbon 3/8′ wide:Pink/ Star Sprinkles pattern, Yellow/ Star design, Yellow/Sprites design Yellow/ Rainbow Brite and Twink design | 63 piece jigsaw, Rainbow Brite and Starlight pulling Color Kids in wagon by Golden | Rainbow Brite "Midnight Snack" purple striped white kids' nightdress, Twink and IQ |
| White baby onesie w/ red trim, Rainbow Brite and Starlight, star trees | Twin fitted sheet, pillowcaes and top sheet, White background, Rainbow Brite, Starlight and rainbow over Rainbowland | Rainow Brite kids' Valentines box of 30 |
| Rainbow Brite on rollerskates enamel charm on rainbow necklace cord | Rainbow Brite striped pink lunch case, white handle and clasp. Rainbow Brite and Puppy Brite (Germany, rare) | Rainbow Brite white lace baby socks |
| Rainbow Brite and the Color Kids Super Little Books (blank books) | Wilton Rainbow Brite on star cake pan | Rainbow Brite purple tote with rainbow stripe, molded doll head with rooted hair (very rare) |
| Rainbow Brite Paint Book | Rainbow Brite red-handled black canvas tote w/ heart coin purse, heart print | |
| | | |
| | | |
| | | |