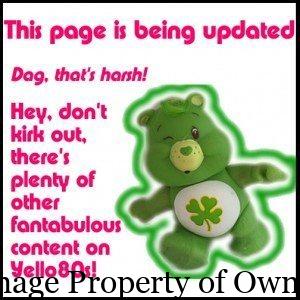 The holidays started and ended for 80s kids not with calendars but the premiers of regular holiday fare like Rudolph and the Thanksgiving Day parade in New York City (it's not Christmas until we see Santa usher it in at the end of the line!!) Here I am including specials that were first aired in the 80s but also all the annual classics 80s kids looked forward to.
New Years' Specials
Rudolph's Shiny New Year
Annual Torunament of the Roses Parade
Valentine's Day Specials
Smurfily Ever After
My Smurfy Valentine
St. Patrick's Day Specials
Darby O'Gill and the Little People
April Fools' Day Specials (US)
Easter Specials
It's the Easter Beagle, Charlie Brown
Easter Parade
Here Comes Peter Cottontail
The Easter Bunny is Coming to Town
The First Easter Bunny
Arbor Day Specials(US)
It's Arbor Day, Charlie Brown
4th of July Specials(US)
Hallowe'en Specials
All Hallows' Eve Smurfs' Halloween Special
It's the Great Pumpkin, Charlie Brown!
Mad, Mad, Mad, Mad Monsters
Thanksgiving  Specials (US)
A Charlie Brown Thanksgiving
Macy's Annual Thanksgiving Day Parade
The Mouse on the Mayflower
Christmas Specials
The Smurfs' Christmas Special
'Tis the Season to be Smurfy
Baby's First Christmas (Smurfs)
Yogi Bear's All-Star Christmas
Yogi' First Christmas
Disney's The Small One
Mickey's Christmas Carol
Nestor, the long-eared Christmas Donkey
The Year Without a Santa Clause
Rudolph the Red-Nosed Reindeer
Frosty the Snowman
Frosty Returns
A Charlie Brown Christmas
The Grinch who stole Christmas
Santa Clause is coming to Town
The First Christmas
The Leprechaun's Christmas Gold
Frosty's Winter Wonderland
The Life and Adventures of Santa Clause
The Little Drummer Boy
The Little Drummer Boy Book II
Pinocchio's Christmas
Twas the night before Christmas
Jack Frost
Misc. Specials
The Smurfic Games
The Smurfs' Springtime Special
The SMurfs and the Magic Flute
Cartoon All-stars to the Rescue
Yogi's Space Race
Yogi Bear and the Magical Flight of the Spruce Goose
The Cricket on the Hearth
The Wind in the Willows
The Hobbit
The Return of the King
Return to Oz
The Flight of the Dragons
sources: bluebuddies, wikipedia, rankinbass.com,