For a list of Little Golden Books from the 1980s click here.
For a list of Disney Little Golden Books, click here.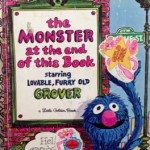 To me, Little Golden books define childhood- they're cheap, they're decent read aloud stories and they don't skimp on art. You see Little Golden Books you know they're going to have a great kid story. I would like to get into collecting these but frankly I don't have any more room… sigh!
Little Golden Shape books- Bambi, Cinderella's Castle, Tigger, The Clock Book
A Child's Garden of Verses– Robert Louis Stevenson
The Colour Kittens – Margaret Wise Brown
A Day on the Farm –
The Little Golden Book of Hymns – Elsa Jane Werner and Corinne Malvern
The Monster at the end of this Book starring Lovable, Furry old Grover
Old Mother Goose and other Nursery Rhymes
The Poky Little Puppy
The Saggy, Baggy Elephant
MGM Tom and Jerry's Party
Walt Disney's Santa's Work Shop
The Lord is my Shepherd
The Tiny, Tawny Kitten
Guess Who Lives here
The Little Golden Book of Jokes
Big Bird's Big Red Book
I Dont' Want to Go!
Little Cottontail
Rocket Raccoon & Groot
My First Counting Books
Things in My House
Hansel and Gretel
Jack and the Beanstalk
Little Brown Bear
The Big Enough Helper
Sesame Street Count all the Way to Sesame Street
Sesame Street I think that is Wonderful
Walt Disney's Three Little Pigs
Little Golden Picture Dictionary
Huckleberry Hound and the Christmas Sleigh
Winnie the Pooh meets Gopher
The Christmas Story
Where is the Bear?
Pick up Sticks
Animal Quiz
Kix Cereal Little Golden Book promo courtesy retrorocker

Baby's Birthday
Littlest Raccoon
Beany Goes to Sea
The Big Brown Bear
Counting Rhymes
Tom & Jerry's Christmas
Jingle Bells
Santa's Surprise Book
Baby's Christmas
Rupert the Rhinoceros
The Blue Book of Fairy Tales
Three Bedtime Stories
Baby's First Book
The First 12 set
Three Little Kittens
Bedtime Stories (misc. authors)
The Alphabet from A to Z
Mother Goose
Prayers for Children
The Little Red Hen
Nursery Songs
The Poky Little Puppy
The Golden Book of Fairy Tales
Baby's Book (Bob Smith)
The Animals of farmer Jones (Leah Gale)
Three Little Pigs and Other Counting Rhymes
Books By or Illustrated by Eloise Wilkin
A Day at the Playground
Baby Dear*
The Christmas ABC*
Baby Listens*
Baby Looks*
Baby's birthday*
The Christmas Story*
Baby's Christmas*
Birds*
Come Play House*
The Boy with a Drum*
Busy Timmy*
A Child's Garden of Verses*
Eloise Wilkin's Mother Goose
First Book of Bible Stories
Fix it, Please
Georgie Finds a Grampa
Good Morning, Good Night
Good Little, BAd Little Girl
Guess Who Lives Here
Hansel & Gretel
Hi! Ho! Three in a Row
Jamie Looks
Linda and Her Little Sister
The Little Book
My Dolly and Me
My Baby Brother
My Little Golden Book About God
My Kitten
My Teddy Bear
My Snuggly Bunny
My Puppy
The New Baby
New Brother, New Sister
Baby Dear
The Night Before Christmas
Noises and Mr. Flibberty-Jib
Play With Me
Prayers for Children
So Big
The Twins
We Help Daddy
We Help Mommy
We Like Kindergarten
Where Did the Baby Go?
Wiggles
Wonders of Nature

Books by or Illustrated by Garth Williams during the 1980s
Animals' ABC*
Animal Friends*
Baby Farm Animals*
Baby ANimals*
BAby's First Book*
Bunny's ABC*
My First Counting Book
Things I Like
Three Bedtime Stories
The Very Best Home for Me!
The Friendly Book
The Golden Sleepy Book
Home for a Bunny
The Kitten Who Thought He Was a Mouse

Books by or Illustrated by Richard Scarry during the 1980s
Albert's Stencil Zoo*
The Animals of Farmer Jones*
The Animals' Merry Christmas*
Best Balloon Ride Ever!*
Best Little Word Book Ever!*
The Bunny Book*
Busiest Firefighters Ever!*
Chicken Little*
The Chipmunk's Merry Christmas*
Chipmunk's ABC*
The City Mouse and the Country Mouse*
Naughty Bunny
My Little Golden Book of Manners
My Little Golden Dictionary
Prairie Bear
Rabbit and His Friends
Rudolph The Red-Nosed Reindeer
Smokey the Bear
The Snowstorm Surprise
Three Billy Goats Gruff
Timmy Visits the Doctor
Winky Dink
Polite Elephant
Danny Bear's Secret
Floating Bananas
The Gingerbread Man
Goodnight, Little Bear
Here Comes the Parade!
Hilda Needs Help!
Just for Fun
Little Benny Wanted a Pony
Mrs. Frumble's Coffee Shop Disaster
The Wolf and the 7 Kids
When Bunny Grows Up
Christmas Mice
First Little Golden Books
Busy Timmy
Big Bird's Busy Day (Sesame Street)
Barney's Sand Castle
Curious Kitten's First Christmas
The Christmas Pageant
A Day with My Dad
A Day in the Park
Dog Goes to Nursery School
Five Little Bunnies
The Friendly Beasts
Happy Easter, Mother Duck
How Big Are You?
Henry and Theresa's Race
I Can Dress Myself (Sesame Street)
I can Fly
I'll Share with You
It's Bedtime
It's Christmas (Sesame Street)
I Like to Help My Mommy
Good Morning, Magellan (Eureka's Castle)
Good Morning, Muffin Mouse
Katie the Kitten
Let's Go All Around the Neighborhood
Let's Play Peek-a-Boo
Little Squirt the Fire Engine
The Little Calf That Couldn't Moo
Little Duck and the New Baby
A Little Christmas Treasury R
Little Quack and Baby Ducky
Little Duck's Moving Day
The Little Red Hen
Martha's House
Max Helps Out
Mowgli and the Jungle Animals
Meet My Buddy (My BUddy, a Pen Pal)
Muffin Mouse on the Go
Muppet Babies Be Nice!
My Alphabet
Ny Book of the Seasons
My Book of Words
My 1st Book of Animal Sounds
My 1st Book of Sounds
My Little Book of Poems
My Little Book of Prayers
My Little Mother Goose
Natasha's Daddy (Sesame Street)
No Nap Today!
Over in the Meadow
Panda Bear's Paint Box
Panda Bear's Secret
The Perfect Lunch (Eureka's Castle)
Pinky's 1st spring Day
Pinocchio
Poky Little Puppy's Wonderful Winter
Saggy Baggy Elephant's Birthday
Shake a Leg! (Sesame Street)
Shut the Door!
Simon Visits the Doctor
A Sleepy Story
Sweet and Silly Muppet Poems (Muppets)
Stevie's Tricycle
The Sweetie Book of A,B,C (Tiny Toons)
A Stable in Bethlehem
The Tale of Chip the Teacup (Beauty and the Beast)
The Three Bears
The 3 Billy Goats Gruff
To Grandmother's House We Go
The 3 Little Pigs
The Truck That Drove all Night
Tommy's New Bed
The Tweety Trap!
The Very Best Picnic
A Visit from Grandma and Grandpa
Who am I?
We Like to Do Things
What Kind of Truck?
The Wheels on the Bus
When Dog Grows Up
Who Says That?
Where's Goldie?
When Dog Was Little
Yes, I Love You
Winnie The Pooh and the Pebble Hunt
Big Little Golden Books
Animals in the Woods
Be Kind to Animals!
The Best Nickname
Big Little Golden Book of Funny Poems
Bialosky and the Big Parade Mystery
The Big Little Golden Book of Planets
Big Little Golden Book of Knock-Knocks and Other Jokes
Bugs Bunny and the Health Hog
Dinosaur Discoveries
DuckTales: The Road to Riches
Garfield the Fussy Cat
The Grab-Bag Party
The House That had Enough
How Come You're So Lucky
It's How You Play The Game (Peanuts)
Jumping Jacky
King Mitch Had an Itch
Snoopy, the World's Greatest Author (Peanuts)
The Right House for Rabbit
The Secret Life of Walter Kitty
Pound Puppies: The Puppy Nobody Wanted
The Red Jacket Mixup
A Sleep-Over Visit
Lady Lovelylocks: Silkypup's Butterfly Adventure
Let's Go Fishing!
Little Raccoon Takes Charge
Little Sister
Little Raccoon's Nighttime Adventure
My Christmas Tree
Old Friends, New Friends
No Stage Fright for Me!
Ordinary Amos and the Amazing Fish
The Pandas Take a Vacation
The Perfect Picnic
Peter Pan and Tinker Bell and the Pirates
Little Little Golden Books
The Animals of Farmer Joones
Baby's Christmas
Baby Farm Animals
Baby Animals
Beauty and the Beast
Big Bird's Busy Days (Sesame Street)
Blueberry Bear Counts from 1-20
The Christmas Pageant
Bunny's New Shoes
Bunnies' ABC
Count to Ten
The Colorful Mouse
The Christmas Story
Christmas Mice
Curious Kitten Around the House
Curious Little Kitten's 1st Christmas
First Times
Fire Engines
Four Little Kittens
Four Puppies
Frosty the Snowman
The Fuzzy Duckling
Grover's Own Alphabet (Sesame Street)
I can Dress Myself (Sesame Street)
Jack and the Beanstalk
The Little Red Hen
Little Red Riding Hood
The Littlest Christmas Elf
Monsters Come in Many Colors (Sesame Street)
My 1st Book of Sounds
Poky Little Puppy's Special Day
The Nutcracker- Rita Balducci
The Merry Christmas Mystery (Winnie the Pooh)
The Prince and the Pauper
Rudolph the red-Nosed Reindeer – Richard Scarry
Saggy Baggy Elephant
The Sleepy Book – Margaret Wise Brown
Theodore Mouse Goes to Sea
Tootle – Gertrude Crampton
The 3 Bears
Tale of Peter Rabbit
Scruffy the Tugboat
Shake a Leg!
Tawny Scrawny Lion
3 Little Pics
The Velveteen Rabbit
The Very Best Home for Me!
Walt Disney's Alice in Wonderland
Walt Disney's Bambi
Walt Disney's Dumbo
Walt Disney's Mickey's Christmas Carol
Walt Disney's Cinderella
Walt Disney's Peter Pan
Walt Disney's Snow White and the 7 Dwarves
Walt Disney's Little Mermaid
We Help Daddy
We Like Kindergarten
We Help Mommy
Welcome to Little Golden Book Land
When Bunny Grows Up
12 Storybook Treats Sets: #s 1-12, 13-32
40 Little Little Golden Books Set
Little Golden Books Land Series
Poky Little Puppy's Special Day
Saggy Baggy Elephant: No Place for Me
Shy Little Kitten's Secret Place
Tawney Scrawny Lion Saves the Day
Tootle and Katy Caboose: A Special Day
Little Golden Books Land
Little Golden Book Sets
6 Little Golden Books from Sesame Street
10 Religious Little Golden Books
Little Golden Book Christma Collection
Mickey Mouse and Friends
Walt Disney Classics
Happy 60th Birthday, Mickey Mouse!
A Billion Golden Memories
Sesame Street Families
Bugs Bunny and Friends
Little Golden Books for Springtime
All-Time Favourite Little Golden Books
Little Golden Books for Christmas
1st 12 Little Golden Books Published on the Occasion of the 50th Anniversary of Little Golden Books
50 years of Little Golden Books
10 Best loved Little Golden Books
10 Disney Little Golden Books
Little Golden Books Keepsake Set
Little Golden Books Promotional Titles
Crispy Critters Cereal Special edition books:
Crispy's Bedtime Book
Crispy in the Birthday Band
Cleo Storybook Greetings
Hardee's Series 1,2,3
Mattel Disney Classics Little Golden Books
McDonald's Happy Meal Little Golden Books
Wienerschnitzel Hot Dog Little Golden Books Giveaways
Mattel Barbie Love to Read Gift Set w/ Little Golden Book
If you love Little Golden Books or want to see how much yours could be worth, be sure to get Warman's Little Golden Books Identification and Price Guide by Steve Santi!!