See Also: Action Figures, Building Toys, Lego, He-Man, Playmobil, Crayola, Play-Doh, Toys that Go!, Video Games, Viewmaster, Smurfs, Fisher Price, GI Joe, Creativity/ Art Sets, Duplo, Fast Food Toys, Playmobil, Learning Toys, Stuffed Toys, Board Games, TV & Movie Tie-In Toys, Baby Toys, , McDonald's Toys,, Trolls, Girls Toys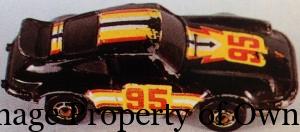 80s toys for boys were a little more defined than today's less gender-specific playthings. That's not to say the boys' aisles at Target aren't still full of matchbox cars still or superhero action figures but they seem to have migrated a little towards the pink aisles.
I don't personally see this as a good or bad thing, play with what you want. But when I was a kid it was considered 'weird' for boys to play with dolls or girls to play with G.I. Joes. In fact I absolutely loved playing with G.I. Joe – the kids of my parents' friends had a huge stash of them with aircraft carrier and helicopter and those guys had guns and every other cool thing you could think of. My dad wasn't so thrilled about my enthusiasm, this was still a time of 'girls don't play with that stuff.' But Barbie's accessories left some to be desired in the 'action' department.
The biggest attraction for me from Barbie was her sparkly jewelry on the Peaches 'n Cream doll. Somehow I thought if I got that doll I'd be able to wear those tiny jewels. But I admit I toted a cap gun all over the place and made like a cowboy with my hat and hobby horse, toys I was much more comfortable with.
Boys in my school had no problem getting down with Legos, WWF action figures, He-Man, Transformers and every kind of car Matchbox and Hotwheels could dream up. They crippled their fathers in the middle of the night with Micro-Machines a la Home Alone-style and terrorized their sisters with Mad Ballz. And who could forget dolls for boys like My Pet Monster, My Buddy, E.T. the Extraterrestrial, Teddy Ruxpin, Pillow Pals, and Cabbage Patch Kids?
Other 80s action figure type toys were heavily tied to cartoons such as Voltron, He-Man, Thundercats, Centurions, Silverhawks, TMNT, Star Wars, M.A.S.K., Snorks, and Boglins, and all kids made their own play with such classic favourites as Spirograph, Slip 'n Slide, Pogoball, Fisher Price toys, Sit 'n Spin, Etch a Sketch and the hundreds of board games and video games.
Come on in, welcome to the world of 80s Toys!
Images are all property of their prospective owners