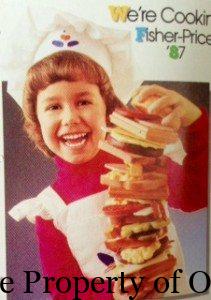 Popular Fisher Price toys from 1980-1990. 1990 Marked a change in FP's history with the acquisition of company Kiddicraft, a UK toy company and a new line of infant toys debuted.
Fun facts about some classic FP toys from the 80s-
The Bubble Mower's designer got the idea when he took a break from cutting his grass one day and his kids snuck out and poured bubble liquid into the lawnmower.
The Puffalumps started out as mini versions that attached to a doll's wrist- when the designer decided to chuck the doll and make the little puff larger the Puffalumps were born!
The Little People we all know and love were originally included in the Play Family Playsets that were renamed the World of Little People in 1985.
For Fisher Price Toys from before 1980 click here.
1980
#213 / #214 Baby Soft Sounds / Black Baby Soft Sounds
#262 Clock and Rocker
#357 Firestar 1
#325 Alpha Probe
#961 The Woodsey's Store
#962 The Woodsey's Airport
#392 The Adventure People Action Figure Assortment
#928 Play Family Fire Station
#952 Play Family House (Tudor style)
#992 Play Family Car and Camper
1981
#280 Dollhouse with Lights
#245 Bobbie, a child's first doll
#397 Little Truck Rigs Assortment
#248 Mama Bear, Baby Bear
#441 Yellow Security Bunny
#827 Storytape and Book Assortment
#236 Doll Cradle
#360 Adventure People Alpha Recon
#890 Miss Piggy Dress up Muppet Dolls
#450 Music Box Teddy Bear
#826 Tape Recorder
#827 Storytape and Book Assortment
#249 Baby Ann and her Care set
#170 Change a Tune Carousel
#933 Play Family Jetport
#236 Doll Cradle (soft)
#337 Rescue Rig
#345 Boat Rig
#793 When you wish upon a star Tote-a-Tune Music Box Radio
#333 Wheelie Dragster
#334 Sea Shark
#359 Land Speed Racer
#331 Farm Set
#332 Police Patrol Squad
#265 Doll House Family
Little Helper Grocery Basket
1982
#338 Power Tow
#392 Action Figure Assortment
#367 Turbo Hawk (Adventure Kits)
#368 Alpha Interceptor (Adventure Kits)
#369 Ground Shaker (Adventure Kits)
#371 Opticon (Adventure Kits)
#372 Supersonic Pilot (Adventure Kits)
#786 Wood Kit Assortment
#704 Wood Airplane Kit
#705 Wood Sailboat Kit
#706 Wood Bird Feeder Kit
#777 Berenstein Bear Assortment
#286 My Friend Doll Assortment
#934 Western Town
#999 Magic Show
#285 Forget Me Not doll Assortment
#205 My Friend Mikey
#215 My Friend Mandy
#217 My Friend Jenny
#218 My Friend Becky
#858 The Great Gonzo Dress Up Muppet
#201 Suzie Soft Sounds
#830 Storytape and Books Assortment
#636 Farm Fun
#285 Forget-Me-Not Babies Assortment (Rosie, Posie, Honey)
1983
#394 Action Figure Assortment (Adventure People)
#335 Motor Cross Team
#370 Trail Boss
#326 Alpha Star
#336 Fire Pumper
#560 Construction Vehicles Assortment (Construx)
#575 Sea/ Land Adventure Set (Construx)
#576 Action Vehicles Set (Construx)
#577 Bridges and Towers Set (Construx)
#578 Land / Air Adventure set (Construx)
#579 Super Set (Construx)
#657 Crazy Clown Brigade
#726 Wood Racer Kit
#815 Sky Talker Walkie-Talkies
#832 Spellbinders Tape Assortment
#577 Bridges and Towers Set
#561 Airplane
#562 Spacecraft
#565 Dragster
#566 Hovercraft
#346 Fire Truck Rig
#347 Indy Race Rig
#339 Power and Light Service Rig
#901 Magic Trick Assortment
#904 Sweet Illusion
#905 Wizard's Crate
#906 Disappearing Treasure
#982 Hot Rod Roadster
#680 Little People Assortment
#675 Circus Clowns Little People
#677 Farm Family Little People
#578 Jetport Crew Little People
#676 Westerners Little People
1984
#916 Zoo
#114 Sesame Street Music TV
#995 Sesame Street Music Box Record Player
#818 Sesame Street Tape and Book Assortment
#819 Sesame Street Record and Book Assortment
#816 Sesame Street Phonograph
#583 Spacecraft Assortment (Construx)
#584 Z-2 Fighter (Construx)
#585 Lunar Rover (Construx)
#586 Stellar Exploration (Construx)
#587 Star Force Command Set (Construx)
#810 Fisher-Price Camera (110)
#4500 Husky Helper Figure Assortment
#327 Load Master Dump Truck
#4520 Highway Dump Truck
#4521 Dozer Loader
#4523 Gravel Hauler
#4524 Fire Pumper
#4580 Power Tow
#2700 Pick Up and Peak Puzzle Wood Puzzle Assortment
#2710 Teaching Clock Puzzle
#838 Gremlins Tape and Hardcover Book
#839 Indiana Jones Temple of Doom Tape and Hardcover Book
#872 Star Wars Trilogy Tape and Three Hardcover Books
#351 Chevy Stepside Pickup (Speed Commanders)
#352 Jeep CJ-7 Renegade (Speed Commanders)
#209 My New Friend Jenny
#216 My New Friend Mandy
#206 My New Friend Nicky
#266 Doll House Accessory Assortment
#504 Castle Pick Up and Peak (Deluxe Puzzle Assortment)
#184 Take Apart Racer
#178 Buttons and Toes doll
#831 Color Me Happy Tape and Book Assortment
#833 Disney Songbook and Tape Assortment
#834 Disney Storyteller Tape Assortment
#837 Disney Christmas Songbook and Tape Assortment
1985
#1402 Music Box Moon
#1404 Security Bear blankie
#241 My Bathing Baby
#242 My Comb and Care Baby
#243 My Very First Baby
#1401 Teddy Beddy Bear
#1402 Music Box Moon
#4009 Special Birthday Mandy
#4400 Deluxe Lighted Dollhouse
#2004 Firefighter Set
#2350 Little People Action Vehicle assortment
#2351 Little People Mini Sets Srrotment
#2449 Little People Sir Lift
#2352 Little People Construction Set
#4550 Chevy S-10 4×4 (Husky Helper)
#4551 Pontiac Firebird (Husky Helper)
#4552 Jeep C-7 Renegade (Husky Helper)
#4581 Power Dump (Husky Helper)
#6205 Alien Fighter Assortment (Construx)
#6210 Phantom Assortment (Construx)
#6215 Battlestrike (Construx)
#6003 Construx Trial Pack
#7000 Disney Gummi Bear Assortment
#7015 Disney Gummi bear Bounces Assortment
#4300 Doll House (Victorian)
#4400 Deluxe Lighted Doll House with Furniture
#3148 Cassette Storage Case
Bubble Mower
1986
#2201 Grand Piano
#2360 Little People Jetliner
#2501 Little People Farm
#2502 Little People Airport
#2354 Little People Mini Schoolbus
#2526 Little People Swimming Pool
#2500 Little People Main Street
#2525 Little People Playground
#2504 Little People Garage
#1405 Soft Sounds Teddy Beddy
#1403 Teddy Betsy Bear
#8000 Puffalumps Assortment (White Cow, Yellow Kitten, Blue Puppy, Pink Bunny, Purple Lamb, Peach Bear Cub)
#6460 Lunar Command Station (Construx)
#6310 Military Vehicle Assortment
#6330 Thundering Tracks
#6331 Mobile Missles
#6022 CX22 Intercepter
#6203 Terradrone
#7030 Gummi Bears Poseable Figure Assortment
#7076 Bubbles the Baby Dragon
#3010 Cartoon Viewer Assortment
#3139 Deluxe Hardcover Book and Tape Assortment
#3145 Gummi Bear Shape Books and Tape Assortment
1987
#2580 Little People Little Mart
#2581 Little People Express Train
#2582 Little People Floating Marina
#993 Little People Family Play Castle
#2299 Classics Assortment
#8050 Wild Puffalumps (panda, rhino, elephant, lion, toucan, monkey)
#1355 Baby Puffalumps (puppy, mouse, bear cub, bunny)
#3305 PXL 2000 Deluxe Camcorder System
#3321 PXL 2000 Action Strap
#3325 PXL 2000 Tape Twin Pack
#3175 Just Ask Tape and Book Assortment
#3070 Sonic Rangers (Kidtronics)
#6225 Laser Demon (Construx)
#6316 Marine Amphibian Force (Military Series)
#6541 Saucercraft
#6455 Galaxy Voyager
#2309 Funny Freddy
#2125 Fun with Food Play Food Assortment
#2127 Bacon and eggs (Play Food)
#2128 Waffles and Syrup (Play Food)
#2129 Bread and Milk (Play Food)
#2130 Soup and Sandwich (Play Food)
#2132 Chicken Dinner (Play Food)
#2133 Steak Dinner (Play Food)
#2134 Hot Dog Lunch (Play Food)
#2135 Burger Deluxe (Play Food)
#7200 Critter Cuddlers (Smooshees)
#72065 Cuddler Cuties (Smooshees)
#7210 Cuddlers on the Go (Smooshees)
#7220 Cuddler Companion Assortment (Smooshees)
#7225 Country Cuddlers (Smooshees)
#8016 Puffalumps Christmas Mouse
Magic Glow toaster Oven (Fun with Food)
#2114 Mixing Mixer Center (Fun with Food)
#2115 Super Skillet Breakfast Set (Fun with Food)
$3200 Terrific Trips Video Software Assortment
#3070 Sonic Ranger (KidTronics)
#1406 Teddy Beddy Bear in the Box
1988
#7300 Smuggler Clip on Assortment (Smooshees)
#7350 Smuggler Charms Assortment (Smooshees)
#7360 Smuggler Styles Assortment (Smooshees)
#7370 Smuggler Schoolmates Assortment (Smooshees)
#7380 Smuggler Secrets Assortment (Smooshees)
#7214 Smuggler Collectors Case (Smooshees)
#7214 Cuddler Tales Assortment (Smooshees)
Pocket Rockers
#8700 Mini Tape Player Assortment (Pocket Rockers)
#8701 / #8702 Boys / Girls players (Pocket Rockers)
#8710 Tape Storage Assortment (Pocket Rockers)
#8740 Deluxe System assortment (Pocket Rockers)
#8745 Player and Purse Set Assortment (Pocket Rockers)
#8750 Assortment I (Pocket Rockers)
#8800 Assortment II (Pocket Rockers)
#8400 Purr-Tenders Assortment
#6216 Clawdius Rex (Construx)
#6609 Discovery Globe (Funstarters)
#2323 Crazy Camera
#2310 Fun Flyer
#2102 Magic Scan Checkout Counter (Fun with Food)
#2204 Music Box TV
#2205 Music Box Record Player
#8036 Puffalumps Christmas Mouse
#2524 Little People Cruise Boat
#2550 Little People Play School
#8070 Enchanted Puffalumps (not mass-produced)
1989
#7400 Super Smooshees Assortment
#8705 Pocket Rockers Mini Tape Player Assortment
#8715 Pocket Rockers Mini Tape Clip-ons
#8732 Pocket Rockers Tape Storage Case
#8743 Pocket Rockers Deluxe System
#8746 Pocket Rockers Player and Purse set
#2118 McDonald's Soda Fountain (Fun with Food)
#2154 McDonald's Crew Uniform (Fun with Food)
#2155 McDonald's Happy Meal (Fun with Food)
#2160 McDonald's Food Assortment (Fun with Food)
#2161 McDonald's Big Mac (Fun with Food)
#2162 McDonald's Chicken Nuggets (Fun with Food)
#2163 McDonald's Garden Salad (Fun with Food)
#2164 McDonald's Breakfast (Fun with Food)
#2551 Little People Neighbourhood
#2361 Little People Fire Truck
#5150 Precious Places Shop Assortment
#5160 Precious Places Deluxe Cottage Assortment
#5166 Precious Places Key Mansion
#5170 Precious Places Furniture Assortment
#5185 Precious Places Outdoor Scene Assortment
#5200 Precious Places Figure and Accessories Assortment
#5240 Precious Places Mother and Babies Assortment
#5100 Crash Zone Ejectors Assortment
#5120 Crash Zone Challengers Assortment
1990
#1102 Lights and Sounds Piano
#2214 Rock n Roll Xylophone
#5616 Kiddicraft Hickory Dickory Dock Clock
#2228 Play a Song Trumpet
#2021 Record and Playback Telephone
#2357 Little People Village Assortment
#2552 Little People McDonald's Restaurant
#8102 Christmas Baby Puffalump
#8112 Christmas Puppy Puffalump
Puffalump Kids