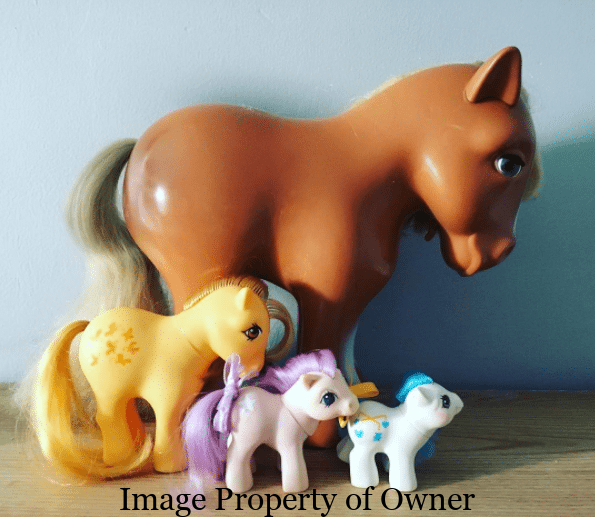 Not just a childhood fascination faded with the passage of the 1980s, I would argue that My Little Pony was instrumental (along with Strawberry Shortcake) in bringing women of the new millennium into the traditionally male hobby of toy and model collecting with more and more ladies buying, selling, customizing and attending trade shows and conventions of their favourite toy lines.
Women have proven to be just as meticulous and discriminating in their pony collections as men with their Star Wars sets and die cast compilations and have traversed the globe to find others who share their passion. Today, My Little Pony delights the children of those little girls of the 80s and welcomes in "Bronies" to the stable; male fans who also love the magic of those colourful little horses. And it all started right here in the USA with a not-so-little pony called My Pretty Pony from Hasbro's preschool Romper Room toy line.
While designer Bonnie Zacherle is widely considered the Mother of My Little Pony (and is also the creator of Nerfuls) and the sole designer of the My Pretty Pony forerunner, Hasbro widened the task of designing its spin-off line, the smaller My Little Pony to other designers. A humerus and informative look at the background of this can be seen in The Toys That Made Us episode centering on My Little Pony. Zacherle's original plan was to reproduce the smaller ponies in more life-like colours and patterns but Hasbro felt "girl" colours such as pastel pinks and purples would be better sellers and thus the iconic look we all remember was born, though I would LOVE to have some natural coloured ponies and there are many customizers out there who do indeed make these.
MY PRETTY PONY
A loveable pony with a long and beautiful mane and tail to brush, comb and tie with ribbon! She can wiggle hear ears, swish her tail, and even give you a wink!  *from brown pony box.
My Pretty Pony has silky hair to brush, comb and tie with ribbons! Braid her pretty pink tail and tie it with ribbons. Groom hair with the curry brush. Tickle her chin (__?) the secret lever and she'll wiggle her ears, wink her eye and swish her tail. Pastel pink and so pretty! *from pink pony box.
My Pretty Pony was not only a whopping 10″ of very hard plastic meant to take a beating from active preschoolers, she also had a lever under the chin to make her eyes blink and ears wiggle. Her accessories included Western-style tack and she had no symbol on her bum. Collectors go back and forth on the official name of these- some prefer "symbol," others go with the newer lines' "cutie mark." My Pretty Pony is tough to find now to collect (especially with her original blanket, bridle, comb and cowboy hat) and goes for a high price but the follow-up My Pretty Pony with her peach body, pink hair and heart symbol/cute mark is even harder to get and looks like an overgrown version of Peachy, who would later come with the Pretty Parlour playset.
And while My Little Pony as a toy line was marketed exclusively to girls, there were many male designers who brought us our favourite ponies and playsets over the years, making My Little Pony an everybody toy, which they have happily grown to be as they now enter their 5th generation from Hasbro some almost 40 years later and are beloved by pony girls and bronies round the world.
The Pony Pages here at Yello80s.com focus mainly on the Generation 1 line and wouldn't be possible without the many pony fans who have shared their information and personal collections on the web. In particular, @WhitneyMLP whom I think of as Pony Princess Whitney, has graciously lent many photos of her vast collection to these pages and is a wonderful source of knowledge on international versions. Follow her on Instagram @WhitneyMLP to see more of her awesome stuff. But I also have to thank Instagram g1 collectors @mlpbykaroline, @my.little.ponyland, @6_lau_6, @cannibalcow_, @mybropony, @mlpcollector22, and @sparkleponymama for sharing their collections and photos! 
Otherwise, unless specifically marked, all ponies and artwork belong to Yello80s.com.
***NO PONIES ON THIS SITE ARE FOR SALE.