Idents and bumpers- in the States we don't have so much of the Christmas versions of tv logos, it's more themed-commercials unless you count the kids' networks. But in the
UK
the holidays bring out the excuse for more animation! Check out this neat- albeit shaky- compilation of BBC1, BB@ and
ITV
holiday
idents
and continuity bumpers.
Courtesy sdaonline
Known as either
Jesus' Rocking Carol, Little Jesus Sweetly Sleep, The Rocking Carol,
or just
Rocking
, it is a Czech hymn best sung by little ones like these adorable kiddies from Holy Cross Primary School: Little Jesus, sweetly sleep, do not stir We will lend a coat of fur We will rock you, rock you, rock you We will rock you, rock you, rock you See the fur to keep you warm Snugly round your tiny form. Mary's little baby, sleep, sweetly sleep Sleep in comfort, slumber deep We will rock you, rock you, rock you We will rock you, rock you, rock you We will serve you all we can Darling, darling little man.
Courtesy nsotd4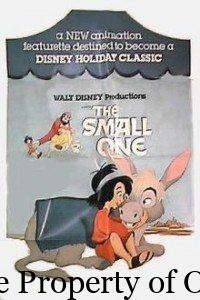 I had a real thing for donkeys as a kid (no idea) and as you will see, they figure in quite a few times in my Advent countdown this year. I don't know if they still show
Disney
's
The Small One
on tv as there aren't many Christian Christmas specials on anymore on the major stations but the special is included on the
Walt Disney Animated Classics: Vol. 7: Mickey's Christmas Carol
 dvd (another
great
80s special to come out of Disney's last good days and directed by
Don Bluth
which tells you just how awesome it's going to be!). It makes me cry everytime I hear the songs, not of sadness but just of, you know, all the
feels
. This is the opening number, sung by Christalee Abreu, who is on YouTube-
subscribe to her channel!
(I don't have lyrics to this one, just the chorus -) Small one, small one, don't look so blue Somewhere's a friend who's waiting for you Someone who need you to brighten his day There's a place for each small one, G-d planned it that way.
Courtesy TheOrangeDonkey
It's so hard for me to pick a favourite Christmas carol but being that today is my birthday, I'm going with the most possible top favourite (the favourite of the favourites?) and as I am a picky carol-fan, this is the ONLY version I have ever liked (though I admit, this isn't one I've heard too many recordings of, but both
James Taylor
and
Kenny Loggins
did their own versions). Double greatness: this is sung by my most favourite of classic Christmas crooners:
Andy Williams
. Some children see him Lily white The baby Jesus Born this night Some children see him Lily white With tresses soft And fair. Some children see him Bronzed and brown The Lord of heav'n To Earth come down Some children see him Bronzed and brown With dark And heavy hair. Some children see him Almond-eyed This Savior whom We kneel beside Some children see him Almond-eyed With skin Of yellow hue. Some children see him Dark as they Sweet Mary's son To whom we pray Some children see him Dark as they And, ah They love him, too. The children In each diff'rent place Will see The baby Jesus' face Like theirs But bright With heav'nly grace And filled With holy light. O lay aside Each earthly thing And with thy heart As offering Come worship now The infant king 'Tis love That's born tonight.
Courtesy blazedbuddha
The story of
King Wenceslas
is an old one and an allegory of the LORD G-d's humbling Himself to come to humankind disguised as an infant (different denominations believe variations on the deity / human duality but I'm going to use the term disguised here). He was an actual 10th century Bohemian duke who was sainted and considered a martyr. He was given the title as king after death by Roman
Emperor Otto I
and people of the
Middle Ages
would have understood this to be a title of 'righteous kingship.' There was an actual King Wenceslas in the royal sense several centuries after the one mentioned in the carol.  My favourite bit is the very end of the last verse: 
Therefore, Christian men, be sure, wealth or rank possessing,  Ye who now will bless the poor, shall yourselves find blessing.  
I actually favour the
Mormon Tabernacle
Choir version but stumbled across Judy Collins' recording last year and wanted to include that here.  BTW, the feast of St. Stephen is on December 26, also celebrated as Boxing Day. Good King Wenceslas looked out On the feast of Stephen When the snow lay round about Deep and crisp and even Brightly shone the moon that night Though the frost was cruel When a poor man came in sight Gath'ring winter fuel "Hither, page, and stand by me If thou know'st it, telling Yonder peasant, who is he? Where and what his dwelling?" "Sire, he lives a good league hence Underneath the mountain Right against the forest fence By Saint Agnes' fountain." "Bring me flesh and bring me wine Bring me pine logs hither Thou and I will see him dine When we bear him thither." Page and monarch forth they went Forth they went together Through the rude wind's wild lament And the bitter weather "Sire, the night is darker now And the wind blows stronger Fails my heart, I know not how, I can go no longer." "Mark my footsteps, my good page Tread thou in them boldly Thou shalt find the winter's rage Freeze thy blood less coldly." In his master's steps he trod Where the snow lay dinted Heat was in the very sod Which the Saint had printed Therefore, Christian men, be sure Wealth or rank possessing Ye who now will bless the poor Shall yourselves find blessing
Courtesy Cleopatra Records