Fisher Price music box radio

McDonald's fry Kids

9″ Rainbow Brite and sprite

Coleco headmold #9 AA

TAF yum yum

Pony Friend Kingsley Lion
Calling all toy fans in the Pittsburgh area! This Saturday October 13th in Munhall Yello80s will be selling lots of 80s goodness along with many other vendors of vintage toy awesomeness at the Too Groovy Toy Show! Check out the times below and make sure to visit the Facebook page! See you there!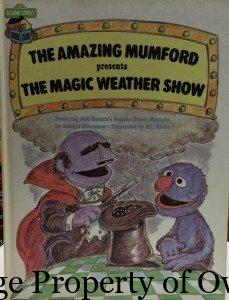 Stumbled onto an Amazing Mumford book at Too Groovy Toys (
who, btw, will be having another toy show in the spring so check out the details here
): The Amazing Mumford Presents The Magic Weather Show. Remember this guy from
Sesame Street
? He was voiced by
Jerry Nelson
and started the show in 1971 but still makes appearances on the Street. His catchphrase, rather than abracadabra, was
"A'la peanut butter sandwiches!"
Grover was often the assistant. Courtesy Bob Blahloblaw
Yello80s attended the 2nd annual 2015 Too Groovy Toy Show on 2nd May at Messiah Lutheran Church in
Munhall, PA
. Doors opened at 10am and the show went on til 4pm. Though the main 80s attractions seemed to revolve around
TMNT
and Care Bears, there was enough variety to entertain visitors of all ages with Lego sets and pieces from C. Todd Brick, plenty of diecast  and model sets vintage and new from South Hills Modelers Assocation, vintage and new
Star Wars
a'plenty from Too Groovy Pop Culture Toys , Jason Shorr and JMA Toys and Collectibles,
GI Joes
of all years from D & E Collectibles,  Japanese robots and collectibles from Materialist Zen, original art and character jewelry by local artist Nicole Tibbit, original soft toys by Lucky Squid Studios, video games and consoles from Warp Zone and the Atari Guy, and  local writers and members of
Indie Authors of Mon Valley,
J.P. Bidula and Spike Bowan.  Many thanks to organizers Bobby Novotny of Too Groovy Pop Culture Toys, Patrick Senatro, and Steve Appleby of Materialist Zen. Additional thanks to kitchen help and organisers Janet, Betsy and Ben Novotny.
video game
knowledge on board.
This year had a sort of sophomore atmosphere- which makes sense seeing that it was the 2nd show for Too Groovy Pop Culture Toys! The show was small enough to allow for less established vendors to have a first-time chance but has grown enough from last year to hint at possibly a bigger venue next time around. Informality ruled the day with plenty of families milling about but also a lot of technical toy talk going on as well. Authors Spike Bowan and J.P. Bidula were on hand to talk grass roots publishing and some Star Trek cosplayers and Junior Members of Star Fleet were spotted on the grounds making sure all abided by the Prime Directive. It's not clear right now if there will be another show this year or if there will be a larger show next year around this time but Munhall community needs to get behind the event which is bringing new visitors to the area. In the meantime take a look at some of the goodies I found: