When I was a kid we went to late service on Christmas Eve and usually stayed up at least until midnight to watch either A. Midnight Mass at St. Peter's, B. A Christmas Carol (the Alistair Sims version) or C. Whatever special PBS was replaying after the earlier schedule. One year that stands out to me was when we watched The Snowman, the animated production based on British author/ illustrator Raymond Briggs' picture book of the same name. Here it is, complete with original intro. If you're still up, sit down with some cocoa and the family and enjoy this timeless 1982 special.
Courtesy Xbeps's Channel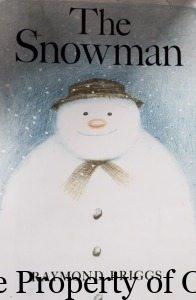 The Snowman
, written and illustrated by
Raymond Briggs
in 1978 came to televisions as a silent film short in 1982.  Aired on British Channel 4 and seen in later years on
public television stations
in the US, it's available on DVD and in numerous toy/book combos in book shops every year around this time and 1984 followed by a video game for Sinclair ZX Spectrum, C64 and MSX. The special is unique in its animated style – the book coloured pencil book illustrations seem to come to life and introductions with both the author and David Bowie were filmed. One of the modern Christmas classic songs, the tune 
Walking in the Air
, came from this special, sung by English tenor Peter Auty as a child. The animated special perfectly echoes the soft tone of the picture book in which only illustrations tell the story of a boy who flies away with the snowman he makes one winter's day. Now past it's 30 year anniversary, the Snowman has inspired a sequel, The Snowman and the Snowdog, aired on Channel 4 in 2012.
Dec 21, 2013  Happy Birthday Mr. Boo!! Raymond Briggs' The Snowman w/ original intro <iframe width="420″ height="315″ src="//www.youtube.com/embed/ZE9KpobX9J8?rel=0″ frameborder="0″ allowfullscreen></iframe> courtesy xBeps