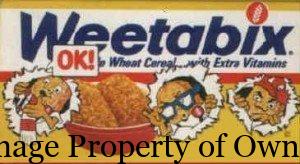 Weetabix has to be the only cereal that can take cakes of sawdust and make you almost look forward to eating them. In the 80s Weetabix even went so far as to come up with 'skinhead' weeties slinging phrases such as 'neet weet mate' that didn't hurt sales at all, just made sure it would be another 20 years before America was in any way going to entertain such a cereal. The characters are adorable and frankly the cereal isn't that bad if not bland as paste. Like any wheat-y cereal it sucks up milk like a sponge but popped in the microwave with a little brown sugar and–well you may as well have gone with the more economical oatmeal.
Little Debbie is real- I swear! At four years old, Debbie McKee, granddaughter of McKee Foods founder O.D.McKee became the namesake of McKee Foods' new family snack cake packs in 1960. Down to the straw hat and checkered shirt, little Debbie McKee was portrayed by artist Pearl Mann and made to look slightly older for the finished product. Oatmeal Creme
Pies
,
Nutty Bars
, Swiss Cake Rolls….om nom nom. All these favourites came in multi-pack family sized boxes under the Little Debbie name and went on like wildfire. And seriously, who didn't blow a quarter of lunch money here or there on one of those giant
Zebra Cakes
after school? In high school I remember completely subsisting on these through the week from the school store (erasers? who needs erasers?).
Did any of these make it into your lunchbox? Fudge Brownies
Cosmic Brownies
Devil Cremes Fancy Cakes Zebra Cakes Swiss Rolls Chocolate Chip Cakes Banana Twins Devil Squares Cloud Cakes Strawberry Shortcake Rolls Banana Pudding Rolls
Boston Creme Rolls Frosted
Fudge Cakes
Cocoa Cremes Marshmallow Supremes Oatmeal Creme Pies Star Crunch Raisin Creme Pies
Fudge Rounds
Chocolate Chip Creme Pies Marshmallow Pies- banana or chocolate Gingerbread Cookies Donut Sticks Bagged Mini Donuts Honey Buns
Pecan Spinwheels Mini Pies- Lemon, Chocolate, Apple or Cherry Nutty Bars (a personal favourite) Fig Bars Peanut Butter Crunch Bars Easter Basket Cakes – vanilla or chocolate Be My Valentine cakes Be My Valentine iced brownies Fall Party Cakes Fall Tree Cakes Christmas Spice Cookie Wreaths Christmas Tree Cakes Christmas Tree Brownies
Now for the Fun Stuff:
Some varieties of Little Debbie Snacks aren't sold nationwide-
Huffington Post
has a review of some of the rarer types. Little Debbie has featured in the lyrics of a couple of songs – Camel Walk by
Southern Culture on the Skids
, and the 
Little Debbie Snack Cakes
Song by Larry Weaver Little Debbie was a sponsor of the
NASCAR Sprint Cup Series
. Between sundown on Fridays and sundown on Saturdays the pit crew covers the Little Debbie logo and wears non company clothing as  part of their contract with parent company McKee Foods who are founded and run by
Seventh-Day Adventists
. Seventh-Day Adventists are a Christian Protestant denomination who venerate the Sabbath during that time and refrain from work/secular forms of recreation. Fan of Cosmic Brownies?
LifeMadeSimpleBakes
can show you how to make these fabulously authentic clones in your own home.
Sources
:
Little Debbie
Wikipedia 
McKee Foods
Hostess, makers of 80s lunchbox favourites
Twinkies
, Ding Dongs,
HoHos
, Fruit Pies, Pudding Pies, Snowballs (white and pink), Suzy Qs,
CupCakes
(chocolate, vanilla and orange), and Zingers amongst others, has had quite a rebranding in recent years when America as a whole clutched its chest when the biggest news to hit snack food history since WWII sugar rationing shook us to the core:
Twinkies were being discontinued. 
Hostess Captain Cupcake and Twinkie the Kid courtesy PhakeNam
Let's back up a bit: Hostess started in 1919 manufacturing those beloved little CupCakes. Their parent company,
Continental Baking Company
, began way back in 1849 under the name Ward Baking Company after founder Robert Boyd Ward and was later renamed Continental by his grandson in 1925. You'll know Continental as the bakers who brought the world Wonder Bread which would forever make best friend out of Transformers lunch boxes and balogney sandwiches. Though the Hostess division only made CupCakes to start, they branched out obviously into other goodies up until 1995 when Contintental was taken over by
Interstate Bakeries Corporation
and by 2009 became Hostess Brands.
2012 was that terrible year Hostess disappeared from grocery stores following workers strikes, factory closings, bankruptcy, and rising prices on ingredients. Rumour was that other companies might buy and remarket individual Hostess favourites but the company pulled it together in time for a triumphant return to the shelves in summer 2013 now run by Apollo Management and C. Dean Metropoulous (with a collective sigh of relief across the land). The controversial but beloved Twinkie is seen across the world as everything that's wrong with American cuisine (besides chicken nuggets) and seen in the US as everything that's right. Sounds good- "golden sponge cake with creamy filling" and apparently Canada and Mexico think so too- they have their own dedicated production plants. Invented in 1930, Twinkies were originally made with banana cream filling and got their name when baker
James Alexander Dewar
saw a St. Louis billboard for "twinkle toed shoes." O–kaaaaaaaaaaaay.
Just what is  Twinkie?  courtesy Truemajik777
In WWII bananas were rationed and consequently yanked from the cream recipe leaving us with the vanilla goodness that survived to this day. 80s kids will recall a fruit and cream version from 1988 with strawberry swirled into the cream. Yeah, that didn't do so well.
Popular legend states that Twinkies were created from a happy accident in the
Ready Brek
plant after explosion #2,246 and thus can survive nuclear holocausts (No, I made that Ready Brek part up- not the other)- or something like that because of their fabulous shelf life. Hostess says, "Um, no." (official quote) and let's be honest, we'd still be scarfing them anyway, bragging to our pals about how we glow in the dark now. However, officially Twinkies' shelf life did increase from 26 days to 45 days in 2012 when Twinkies were planning their comeback to world domination. And let's do the math -Chernobyl happened in 1986 and tours began in 2002 so you figure out how that shelf life got so long- uh huh? Is there a giant Twinkie cooking up in Reactor 4? Other snack giants under the Hostess label are Dolly Madison (joined in 2013) whose claim to modern fame are Zingers (chocolate, vanilla and those wierd red ones with the shredded coconut coating) and Flower Foods whom you've probably never heard of but they've heard of you and have sold you some of their famous wares most surely- Little Debbie, Sunbeam,
Nature's Own
,
Mrs. Freshley's
, Bluebird, Mi Casa, and Tasty Cake. Try not to drool when I say Kandy Kakes- oh I caught ya.
Sources
:
CNN
USAToday
Did you know
Betty Crocker
was actually a real woman? Not named Betty Crocker unfortunately because in hindsight doesn;t that seem like the perfect cake-baking name? Nope, she was a businesswoman who named
Marjorie Husted
who ended up as a product icon for
General Mills
back in 1921. Okay so why Betty Crocker and not Marjorie Husted on all those
cake mix
boxes? Beats me and why Pudding Roll-Ups ever bit the dust beats me too. I loved these things- like, rolled them up in a big wad and sucked on them like they were seriously high-quality candy or something to actually be savoured. Thinking about this now I can't even imagine what was in them to make
pudding
stretch into something the same consistency of
Fruit Roll-Ups
which are scary in themselves. And I'm a person who cannot ABIDE skin on my pudding.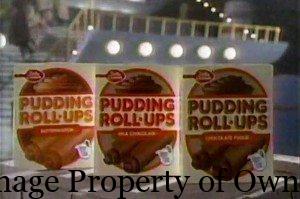 Pudding Roll-Ups came in a box nearly identical to Fruit Roll-Ups and came in 3 flavours:
Milk Chocolate
, Chocolate Fudge and
Butterscotch
. (For those who think Pudding Roll-Ups were a terrible idea, I point to
Jell-O Pudding
bites- what the hell is that, the lumps from not mixing it up all the way? It seems they think we'll eat anything with the word
pudding
in the product name. I expect something like Pudding Mayonnaise next- that's
not
a suggestion, Helmann's.) In fact the big selling point of Pudding Roll-Ups was that they were 'pudding in disguise' as evidenced by the kid detectives who were trying to figure out just WTF was in them. No spoon required, just unroll and chew. Unfortunately this secret has gone down in history as I can't find either an actual ingredient listing for them, a scan of the back of the box to check or any mock recipes out there in internet land which is really surprising. So as it stands, what's really in Betty Crocker's Pudding Roll-Ups may just be more than we want to know.
 Pudding Roll-ups Detectives courtesy RetroTy: The Pulse of Nostalgia
I can't say that I ever had the pleasure of chomping on the tortilla
crisps
from
Keebler
that were Keebler Suncheros but I sure remember the adverts with an
American
Indian gentleman singing away as he crunched on a bag that Suncheros were light and crispy cause they're made by pequeños Keebleros! Goofball. Introduced in 1988, Suncheros were part of Keebler's answer to
Frito-Lay
's millions-maker
Ruffles
chips along with O'Boises and Ripplins to round out it's foray out of sweet stuff and into salty snacks. Suncheros came in 3 flavours: original, salsa and nacho and were billed as being 'cholesterol free' and 'lighter' and 'thinner' than regular
tortilla chips
on the market. In 1988 a 7oz bag cost $1.49.
Suncheros ad courtesy Gary Flavin
Sources
:
Chicago Tribune
Sun-Sentinel