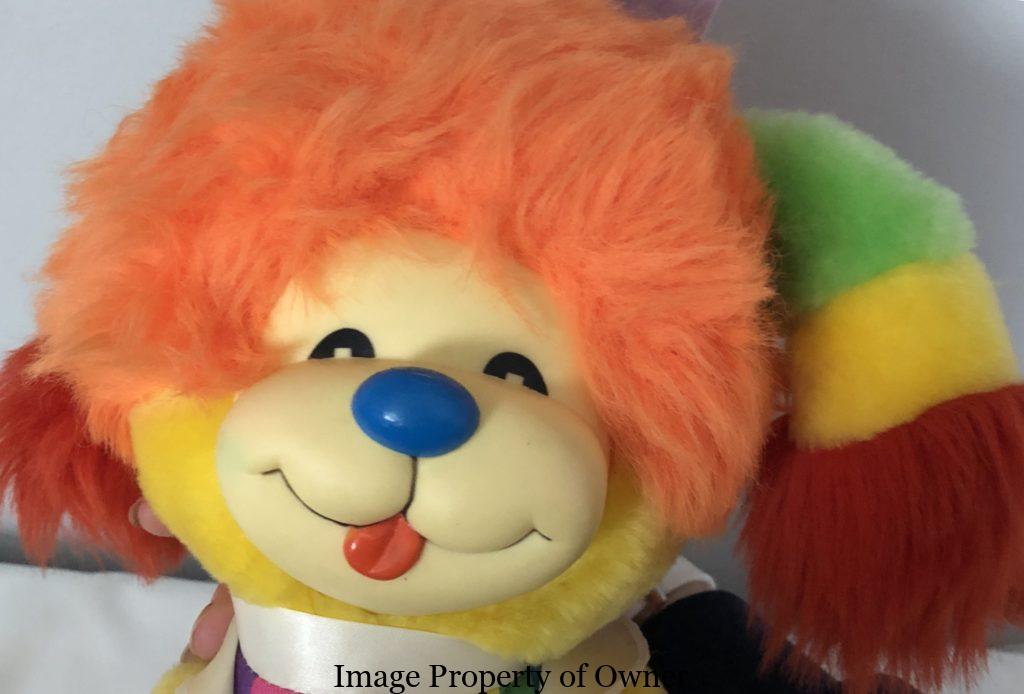 It's so sad to part with toys but the time comes and I have a great vintage Puppy Brite for sale that you can view full pics for on ebay under: Seller
aeru2
Puppy Brite.
Puppy Brite:
"This vintage Puppy Brite plush doll is from the beloved 80s cartoon Rainbow Brite. Manufactured by Hallmark, Puppy Brite first appeared in the Rainbow Brite movie "Rainbow Brite and the Star Stealer" and is friends with Kitty Brite. He even had to work with Rainbow's magnificent horse Starlight to bring the Color Sceptor to her to restore Rainbow Land in "Return to Rainbow Land." Puppy has a soft plushie body and sweet moulded face to brighten anyone's day. From a smoke-free home."
Who could make a more colourful Christmas than Rainbow Brite?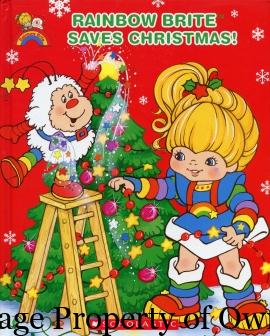 Well fellow 80s kids, 2017 was yet another bumper year for 80s throwback so let's get to the best of the best for your 80s-themed Christmas hauls and here's this year's big Yello80s Wish List for everybody on your list:
They're pretty roomy and very soft and you can still pick them up through Hot Topic.
Care Bears Polite and Perfect Panda Kidrobot dolls. Very sweet "dunny" renditions of the lost care bears Perfect and Polite Panda
as well as some of their friends can be ordered direct from KidRobot
. Rainbow Brite complete collection on DVD. I can't believe it's taken so long but finally the whole series is in one place!
Catch it at Hallmark.
Rainbow Brite dolls. To date, Rainbow Brite, Tickled Pink, Stormy and their respective sprites and horses are available in full size from Hallmark along with a ton of new paraphanelia including books and ornaments.
All available at Hallmark.
Super Mario Brothers ugly sweaters from Target.
Target has done us proud with a ton of 80s stuff this year but these so-ugly-they're-cute sweaters will do you office-Christmas-party-proud.
Find em at Walmart.
Fat-Bottomed Girls still make the world go round with an ultra deluxe box set of Queen's hits, Queen: News of the World.
Pick it up at Amazon.
Cabbage Patch Kids are back all over the place but for handstitched originals you've got to go right to the patch at
Babyland Ge
neral.
Hallmark took a couple of years off between G1 My Little Pony ornaments after their Cotton Candy issue, but they're back with a real classic-
you can pick up this sweet Moondancer ornament at Kohl's.
Last year the My Little Pony G1 pegasus Firefly mini and book box set was out at Barnes and Noble and featured some nice backcard artwork but was a little skimpy on the likeness of the actual horse.
This year you can get a much nicer Glory and hopefully some more of that awesome artwork in the accompanying book at Barnes and Noble.
Colorforms are out again this year and we've seen Holly Hobbie and Snoopy so far at Target but
you can pick them up at Land of Nod too.
Fisher Price was a huge part of most kids' Christmases from the 1950s and still today.
Pick up some 80s favs at Target including the classic tape recorder, chatter phone and music box record player
.
Best Buy comes out of left field with every boys' favourite stocking stuffer redone by KidRobot: MAD BALLS!
Your kids can still rise to the top of playground-envy with several styles of
BMX bikes found at Dicks Sporting Goods.
If you loved toting around your shackled My Pet Monster on the schoolground, you can be a hit at your next 80s party
with the complete Animated Series on DVD at Amazon.
Those legendary battles between the folks over
Trivial Pursuit can live on in your own home with the Classic Edition from Walmart.
Christmas trees will rejoice with several 80s themed keepsake ornaments including the wacky
Beetlejuice
and
Skeletor from He-Man: Masters of the Universe available in stores and online through Hallmark.
Fans of the 80s old and new who have latched on to Stranger Things will love pulling an all-nighter with
Hasbro's Stranger Things Monopoly Edition at Walmart a
nd rocking out in
Dustin's very own trucker hat available from multiple Ebay sellers.
And last but not least, this year has been inundated with plug and play 8 bit consoles celebrating the glory days of the arcade. Choose from Pacman Connect and Play, Frogger Plug and Play, Space Invaders TV Game, Ms Pacman Plug and Play, Jakks Atari Classics 10 in 1, Commodore 64: 30 Games in 1 Joystick, ColecoVision Flashback,
Atari Flashback 5 and so many more on Amazon.
These adorable Color Kids (Shy Violet and Patty O'Green) and Murky Dismal are from a 1980s Hallmark commercial debuting the dolls in the Rainbow Brite line of toys.
Yello80s Rainbow Brite page
for info on the show and characters!
Try your hand at our 80s quizzes!  Make your best guess- no Googling! More will be coming in future 🙂
Hallmark
is still celebrating its successful re-run of
vintage Rainbow Brite reboot toys a
nd now brings us a new book starring Twink the Sprite. Help Me Save the Rainbow by Matt Gowen and illustrated by Jack Pullen is available at Hallmark stores in hardback. If you've missed these other new vintage toys check out what else is available –
Just for the record, Hallmark, I'd love to see either pose able like the original Care Bears toys like such: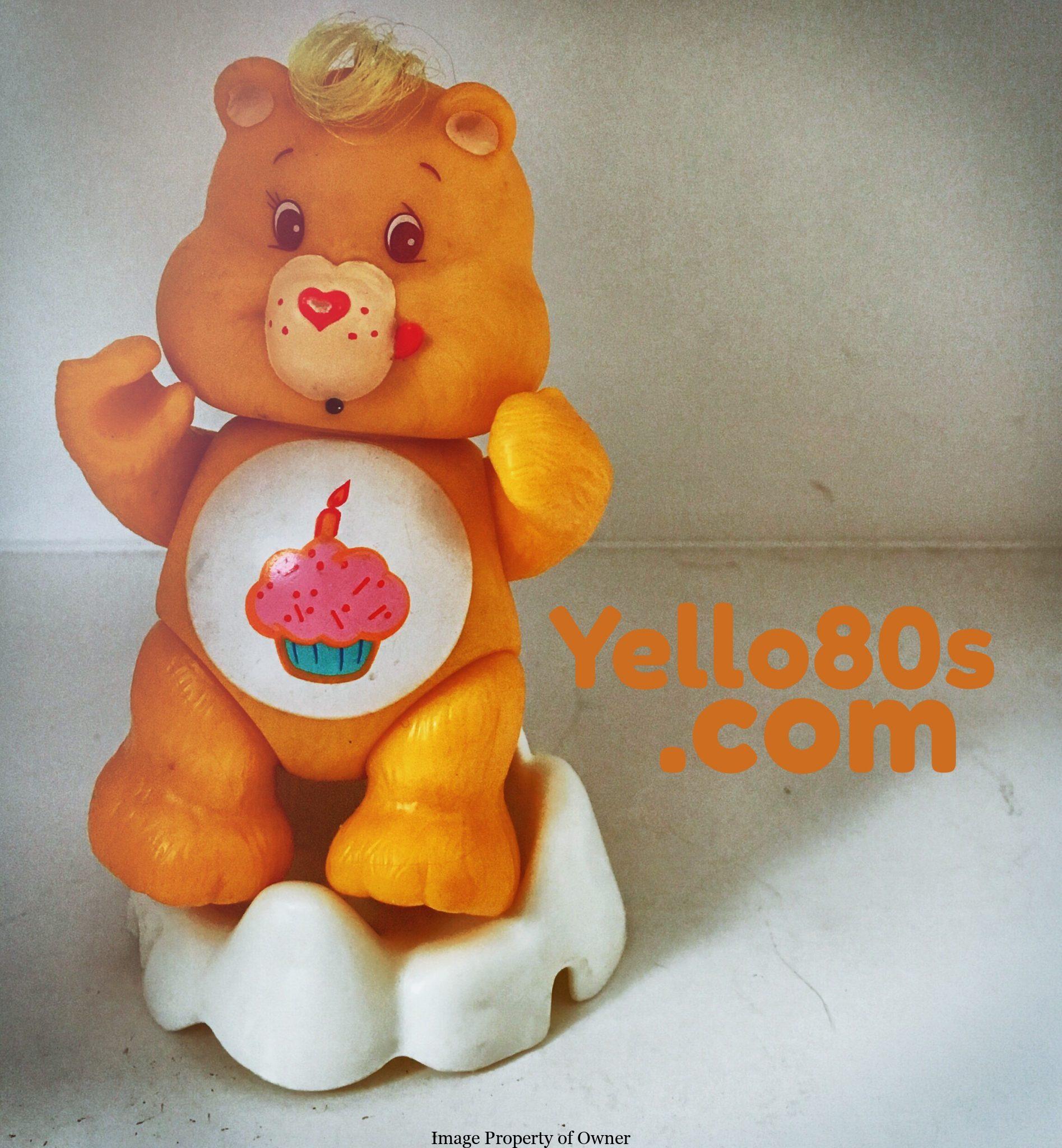 Or collectible PVC or vinyl figures. Just saying. The level of detail in the dolls was never that great to do justice to the art.
Rainbowbriteco
(of Rainbowbrite.co, the international resource for all things Rainbow ) fills my
Instagram feed
with joy and rainbows- truly a
Rainbow Brite
aficionado! Make sure you check out the site for tons of info, images, trivia and more but in the meantime check out the Rainbow Brite Alphabet we've been treated to over the past few weeks.
You can follow Rainbowbriteco on Instagram,
like on Facebook
,
subscribe to on Youtube
,
tweet to on Twitter
and
stumble upon on Tumblr
. All images property of owner Rainbowbrite.co
Man, whoever said everything old is new again was some wise dude. I mean, I can picture him now, sitting in Rome on a stump surrounded by grandkids looking out at a new Colosseum populated by Caesar and ladies of the court in the newest of fashions- bedsheets. He shakes his head. "These girls think bedsheets were just invented. Do you know my grandmother wrapped herself in bedsheets before I was even born? White ones; 300 thread count Egyptian cotton. Oh well, everything old is new again." Actually thought the sentiment is found in many cultures throughout history, everything old is new again verbatim is attributed to Australian songwriter Peter Allen. Which has nothing to do with this post- this post is about Rainbow Brite, whose cartoon is now 30 years old this year.
AND SLATED TO MAKE A COMEBACK STARRING EMILY OSMENT AS RAINBOW BRITE!!!
What do we know? Not too much. Episode one is titled Cloudy With A Chance Of Gloom according to a script image leaked on Twitter by the actress and featured on
Metro
 UK. And.  That's. All. So, where do you know
Emily Osment
from? Well you know her big brother Haley Joel (he's that kid who saw dead people in the 90s) and you may have seen Disney-kid Emily in either
Lizzie McGuire
, Spy Kids 2, R.L. Stine's The Haunting Hour, Cyberbully, the Cleaners, Beverly Hills: Chihuahua 2&3, Dadnapped, Soccer Mom or recently in Young & Hungry. She also sings and designs clothes.
So how's she going to stack up next to
Bettina Bush
, the original Rainbow? If that name looks familiar to 80s kids it should- Bettina also recorded her own hits and started her own recording company but was a veteran voice actor in her own right. She played Dottie Dog on the Get-Along Gang and did voices for My Little Pony, Rugrats, All Grown Up!, Stargate Infinity, Ben10 and acted in Journey to Spirit Island in 1988 as well as sang the
McDonald's
I'm Lovin' It jingles. Not comparing one to the other but … And another thing I just notice because it's there to notice – Her name might be Rainbow Brite but she's as white, blonde and blue eyed as they come. Her voice actress is multi-racial. Indigo, who always struck me as east Indian because of her costume, is voiced by white, brunette Robbie Lee. Robbie also voiced Twink, Lala Orange and Shy Violet btw). Then there;'s Red Butler- he's voiced by a girl. That's Mona Marshall,  though women portraying young boys in animation isn't uncommon. Mona has also done a ton of voiceover work in english-dubbed anime. This just made me giggle.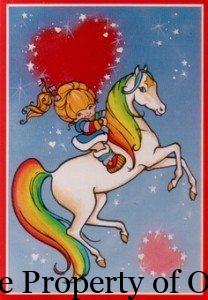 Cosplay- it's like
Halloween
on 'roids. I don't mean hide em in your locker 'roids either, I mean " my
insurance company
allowed me to mail order 3 months at a time from
Canada
" 'roids. In the 80s kids pretty much had the option of those plastic 'ventilated' masks in which someone stuck a couple of pinholes somewhere in the area of the face after pouring the plastic with a garbage-bag like covering printed in the image of
Scooby Doo
or whomever. They were a ton of fun, you couldn't see or breathe in them and if you lived in any climate in which the temperature dipped below 100F at night you were forced to wear a sweater or God forbid a full on goose down duffle on top of this so the enture night was spoiled. Like, bummer.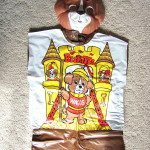 Now for most children that was it, there was no more 'good' dressing up until
Easter
and let's face it, you weren't going to church as
Skeletor
. The masks might have lived on in the toybox for a while but almost guaranteed
the garbage bag
was done the night you wore it. Happiness is fleeting… Then came along cosplay and suddenly there didn't need to be an excuse to be a guy and dress up as
My Little Pony
or be mum and dress up with your kid as – well, Skeletor. That one shot a year at costume greatness melded into anytime, anywhere for the sake of fandom. But the costumes- man they look like something! They cost serious money! Someone is out there stuck in a Halloween time warp chained to their
Singer sewing machine
pumping out the coolest of
Rainbow Brite
moonboots like it's 1986. I've seen some seriously detailed characters come to life particularly in regards to
Japanese anime
characters but buzzfeed brings us some classic
80s and 90s characters
that make me want to find my nearest convention!