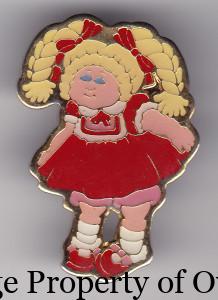 If you're interested in those quirky
Cabbage Patch Kid
names throughout the years head no further than Yello8s very own master list but here's a couple I ran across this week (and let me clarify,  I am not a fan. I think of them more like a train wreck I just can't look away from. You named your baby
that
?!): Linda Ami Lorraine Nealie Lamont Dwight Cora Helma Lance Marlin Gail Camilla & Justinn Dianne And thanks
so
much for everyone's comments on the names page and sharing of their CPK babies' names, I have added them to the names list too.
Does anybody remember these?
Cabbage Patch Kid
3D puzzles- they're little boy and girl dolls made of 7 magnetic puzzle pieces. Manufactured in 1983 by Illco Toys (bought out by
Tyco
in 1992), these cuties are on
eBay
presently for auction by 
800machz800.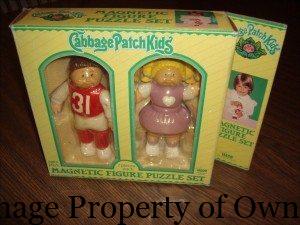 Calling all Yello80s Cabbage Patch Kid fans -and I know there's a ton of your out there- Yello80s has just put up the
Official Yello80s Cabbage Patch Kid board on
Pinterest where you'll find tons of 'Kids, accessories, Koosas, Furskins and of course more of those crazy CPK names!
Dec 11, 2013 The
Cabbage Patch Kids
First Christmas clip courtesy warnerarchive
Babyland General
has rolled out the
Vintage Limited Edition dolls
for the 30th Birthday Celebration and like CPKs always were, these are a little pricey at $49.99. A little digging found out that
Toys 'R Us
has the
Strawberry Blonde Girl Brunette Girl
for
$34.99
in store and online.  They've also got these
sweet little guys with glasses
also selling for
$34.99
at
Toys 'R Us:
If you'll recall during the late days of
Cabbage Patch Kids
before the current revival,
QVC
manufactured a number of 'Kids for sale and for the
30th Anniversary year
they've put out an exclusive Family Portrait set in limited edition of
15,500
. These sets are boxed and include a 'Kid
doll
, Newborn doll and a puppy doll with birth certificates and adoption papers. Not all of the sets are still available but
QVC has got a a few left on sale
for
$49.98 + shipping
down from $55.00.