For the main Cabbage Patch Kids page click here.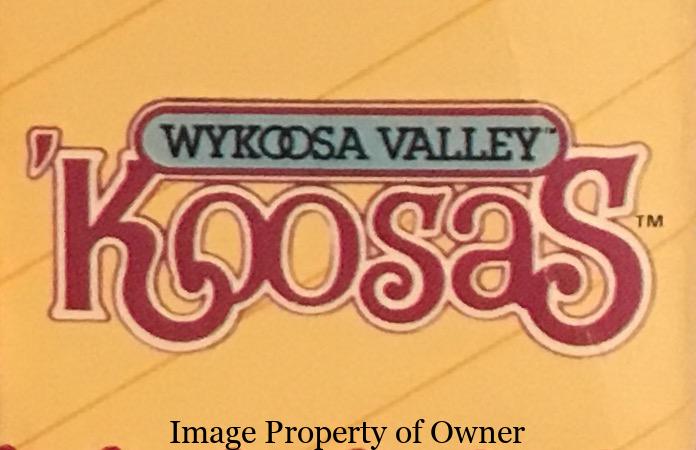 The Koosas of Wykoosa Valley were 'pets' for the Cabbage Patch Kids and came in 3 varieties- cats, dogs and lions (lions? Why yes, of course lions- what kid doesn't have a lion in the back yard?). They were issued in 1984, and being pets, Koosas did not come already named; you could send in the included certificate to get a name sticker for your Koosa to attach to the tag on his/her collar. They had cloth, moulded bodies and moulded vinyl heads with shaped ears and various 'fur'-dos ranging from topknots to full yarn manes around the face. Rare, later Koosas sport a 'patch' around one eye. Some of these dolls have red and white striped bodies and some have more plushy-style, plump bodies. There were also pets for the pets- smaller Koosa Playmates the same size as the CPK Playmates dolls. And of course, like their 'Kid counterparts, Koosas came in rubber poseable figures with yarn hair and smaller PVC collectible figures.
According to the official story on a poseables box, "The 'Kids had heard tales of unusual creatures who lived in the Wykoosa Valley, and were thought to bring good luck. When Colonel Casey, the kindly stork, rescued these enchanted creatures from the big flood, the 'Kids called them 'Koosas.' As more and more arrived, the 'Kids set out to find special friends like you to share the 'Koosas love. Each poseable 'Koosa has arms, legs and a head that turns, so you can have lots of fun posing them in many ways. You'll want to add these cuddly and mischievious poseable 'Koosas to your own special Cabbage Patch Kids family."
Well I desperately wanted a Koosa for years but I think my parents figured since I had a decidedly unfeminine obsession with animals and wouldn't touch the 7 Cabbage Patch Kids I already had, they weren't wasting any money on anything else from the big Patch. Koosas can be found from the Coleco or Panosh Place (who manufactured the posables and figurines) in the following varieties:
Koosa Cats
Koosa Dogs
Koosa Lions
Koosa Playmates (small cat, dog, lion)
Koosa Care Centre
Koosa Poseable Figurines
Koosa Plastic Figurines (some of these had amazing detail)
Koosa Ad 1984 courtesy Jason Harder

Koosa Ad 2 courtesy wwwgjackca

Furskins: "Meet the Furskins…the cutest country critters you ever did see! Each one has a removable outfit includin' a hat and hickin' boots! All eight of these softly flocked and fully poseable Furskins bears are ready fur playin', collectin', or just plain havin' fun!"
Created by Xavier Roberts and produced by Panosh Place/ Coleco / Original Appalachian Artworks in the 1980s, Furskins were the country cousins to the Cabbage Patch Kids who lived in Moody Hollow. There were 16 plush characters total, smaller plush versions and also poseables issued through Wendy's. I think I had Cecelia and while now I think they're adorable, as a kid the only thing I thought they were good for was swiping those solid little boots off of to put on other toy animals 🙂
Coleco 1st 8 issue:
Orville T (aviator)
Jedgar (sheriff)
Selma Jean (possum queen)
Fannie Faye (school marm)
Boone (bee keeper)
Farrell (postmaster)
Dudley Furskin (store manager)
Hattie (baker)
Coleco 2nd 8 issue:
Bubba (potato farmer)
Cecelia (handywoman?)
Hank "Spitball" (baseball player)
June Mae (squaredancer)
Lila Claire
Persimmon (baker's assistant)
J Livingstone Clayton "Scout" (scout)
Thistle (the baby)
Wendy's Furskin D0lls
Farrell, Hattie, Boone, Dudley
American Graphics Furskin dolls 6″
Jedgar, Orville T., Selma Jean, Fannie Fay
Panosh Place Furskin dolls 4″
Dudley, Boone, Farrell, Hattie, Bubba, Cece, Lila Claire, Thistle, Persimmon, Hank Spitball, Jedgar, Junie Mae, Scout, Orville T., Selma Jean
KidWorks PVC Miniatures
Hattie, Lila Clair, Cece, Thistle, Persimmon, Junie Mae, Scout, Bubba, Hank Spitball, Boone, Farrell, Dudley
Hide and Seek Furskins (Baby Furskins)
Molasses, Jam, Flour, Sugar, Candy, Honey
Other Furskin Merchandise
Calendars
Greeting Cards, Christmas Cards
Hallowe'en Costume
Posters
Jigsaw Puzzles
Shaped Moneybanks
Shoulder Bag, Collapsible Travel bag, Tote bags
Moody Hollow General Store Playset w/ doll
Moody Hollow Express Train w/3 figures
CPK Ponies
There were 2 types of equine friends for the Cabbage Patch Kids who had everything else on earth- Show Ponies who came on their own with ribbons and show accessories or with western-themed 'Kids (there was even a circus pony). The 1990s, Crimp n Curl Ponies who were closer to their My Little Pony Cousins. The former were stuffed horses with yarn hair, bridles and saddles which you could balance your 'Kid on to ride and the latter were more plastic-y but still sturdy with lots more accoutrements and colours.
Show Ponies courtesy tracy80sgirl

Crimp n Curl CPK Ponies courtesy ghostofthedoll

Later Pets
Coleco CPK cloth dog and cat
CPK plush bear with collar and lead
Crimp 'n Curl Petsw. yarn hair – dog, cat
Mattel furry pets w/ plastic moulded faces- dog, cat
Sources: see main Cabbage Patch Kids page