Seems like just about everbody in the 80s put out a holiday single or even a full album- that's a ton of 80s Christmas cheer and we've got so much of it here on yello80s we just had to share with you! Check out the Yello80s Christmas jukebox and jingle bell like it's 1985. We've got Sting, Sheena Easton, Run-DMC, Tom Tom Club, Cocteau Twins, NKOTB, The Jets, Dan Fogelberg, Grace Jones, Dead or Alive, Stevie Nicks and SO MANY MORE!
And while you're at it, follow us on Youtube @Yello80s for all the 80s you can handle!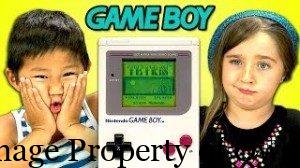 I don't know if you've seen the (seems like) 10 million 'Kids React' videos in which modern kids are shown some sort of video and then filmed giving their innocent, hope-filled reactions to the obviously more open and better mind set we have today than 30 years ago or are given Ataris and tell us how ridiculous we were to EVER use rotary phones. Anyway. The first few were cute but now it feels a little forced to me. In any case, Mr. Boo sent this one to me –
Kids React to… Game Boy  courtesy TheFineBros
And seriously, they can't figure out how to put a cartridge in the Game Boy?
Really????
I'm calling shenanigans!
Face it, 80s kids were completely raised on telly- some more than others and I was definitely more than others. So I remember a Heeeeeeeeeeeeeeeeeeeeeeeeeeelll of a lot of TV shows from the 80s (I even remember SOAP). But this one from NBC in 1984 that aired during Webster and
Dukes of Hazzard
(ah,
that's
why I never saw itr) definitely escapes my memory, though looking at the title I can imagine my parents construing some clever reason it would have been too adult for me to watch based solely on the word
slept
. So what the heck was this about? Well this was actually about a house haunted by Jennifer (
Ann Jillian
)- a movie actress who died from an ice cream truck backing over her (that's unique, if not stupid). Years later a family moves into Jennifer's old house and she haunts them but the catch is that the son of the family, Joey, is the only one who can see her. So you can imagine the comedic yet poignant adventures that ensued. I can't find a legit DVD copy of this but there are eps on
Youtube
. Here's the title sequence which is actually pretty cool I think.
Jennifer Slept Here opening credits NBC sitcom courtesy Gilmore Box
You might know Scott Winn from the
Stormtrooper Twerk
video but he's pulled his amazing talents into a video the 80s would be proud to call their own. 80s Aerobics Dance Battle Guys vs Girls 4K features everything from
leotards
and
spandex
to meatheads and high school rivalry not to mention
muscle cars
and mullets. Check it out and make sure to follow him on
FB
and
Twitter
.
80s Aerobics Dance Battle Guys vs Girls 4K courtesy ScottDW
Hey it's easy to keep up on Yello80s content wherever you are!
You can follow Yello80s
on
Facebook
Twitter
Pinterest
Tumblr
Youtube
And remember, sharing is like, totally radical so if you see something you like, share with your friends so they too can experience the oozing mass of cheesy goodness which was the 1980s. Or maybe that was grilled cheese sandwiches.  Either way.
Cute vid on what happens when you take
Generation Z
's toys away and make them stick it out with
Generation X
's? See for yourself:
Kids of Today vs 1980s Technology courtesy JeremySeanA
I can't really recall a lot of fat kids in my school (other than myself!) and every one I knew guzzled down
Coke II
,
Crystal Pepsi
and New York Seltzer. Then again maybe all that guzzling messed up our genes somehow and created the current crop of kids keeping the
medical industry
in business. Who knows but I sure do miss these
16 drinks you will never drink again from the 80s on Urlesque.
 Well maybe that's not totally true- I've definitely seen Crystal Pepsi being hawked on ebay and check out what happens to this guy when he chugs down an original bottle on
YouTube
–
warning, graphic images (vomit)
Enjoying a 20 year old Crystal Pepsi courtesy skippy62able
It's that time of year again when everything we hold dear is slapped with some red and green and sold to millions of adoring fans as extra special '
Christmas
' something-or-other. So yeah,
Christmas Crunch
just showed up at our local
Giant Eagle
 but I see it's on
Amazon
as well. Cap'n Crunch Christmas Crunch actually debuted in 1988 but seems to skip a year here and there to be reincarnated with a new box design every cycle round. I just barely remember it as a kid though I can't recall being the biggest Cap 'N Crunch fan to begin with.
 Mr. Breakfast
has a good collection of the boxes if you're curious. Otherwise, it's a white box with the Cap'n in
Santa
gear and red and green Christmassy-shaped crunch. I think it was about as overpriced as every other cereal on the shelf so go on out and grab a box- or 20, because people get as fanatical about those holiday
cereals
as crack and this is one of those impossible to find after the day products. If you hate it, don't fret- that's what
eBay
is for. In fact hawking some crunch on eBay may be my new business plan for 2014….