The Puffalumps were a soft toy for young children made in the 80s by Fisher Price. The Christmas Mouse was one of the last Puffalumps released.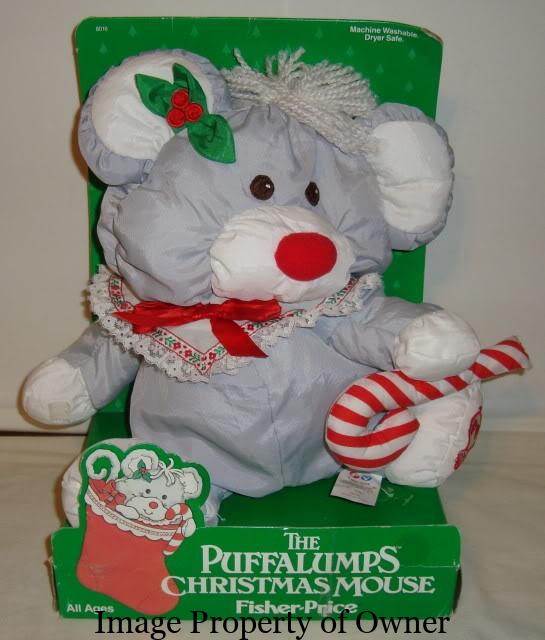 There were only three holiday pony issues in the G1 line; the adults being Merry Treat (pictures) and an earth pony named Stockings and the smaller being the Kellogg's Rice Krispies mail in baby pony which was unnamed but is generally referred to as "Baby Stockings."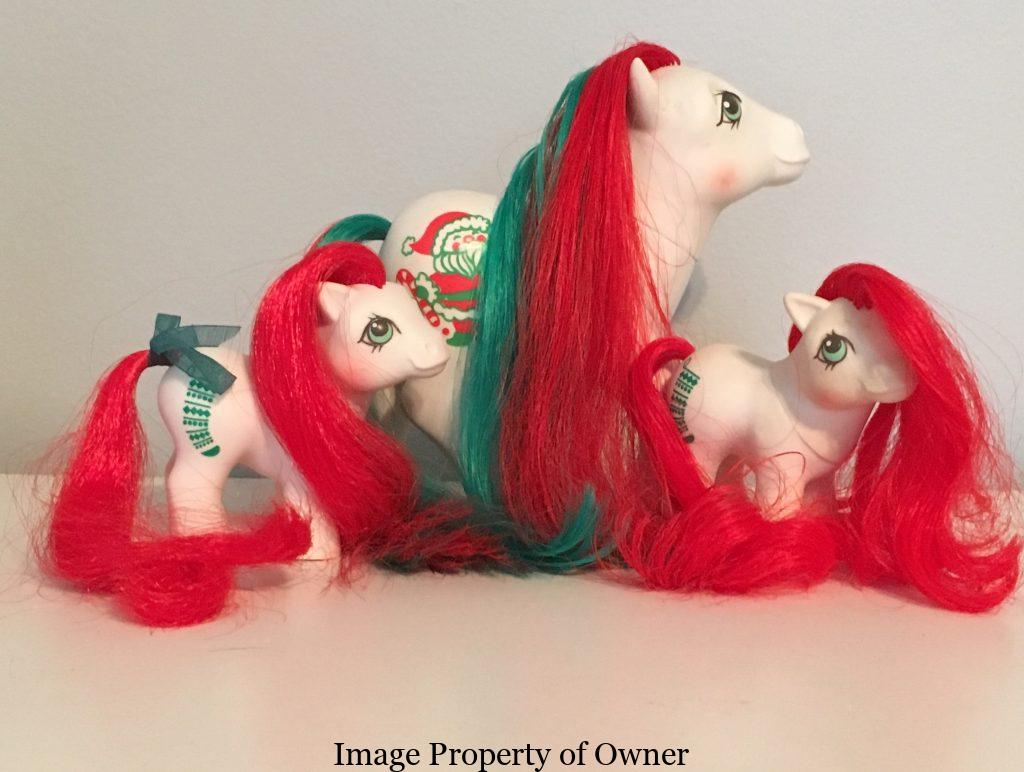 These Christmas Muppet Baby dolls were sold as Christmas premiums at McDonald's in the 1980s.
This Russ Berrie brand troll is the perfect Christmas elf.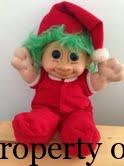 Merry Treat was a special holiday edition G1 My Little Pony.
Christine as Bunny, the fourth Powerpuff Girl courtesy Cartoon Network
She did voiceover for these memorable characters:
1988  David and the Magic Pearl (David) 1992 Tottoi (Tottoi) 1992 Raw Toonage (Gosalyn Mallard) 1991 Darkwing Duck (Gosalyn Mallard/ Gosalyn Waddlemeyer) 1992 Gramps (Alien Kid #2) 1993 Bobby's World (Kevin) 1989-1993 ABC Weekend Specials (Ritchie Raccoon) 1991-2002 Rugrats (Chuckie) 1993 A Flintstone Family Christmas (Stony) 1993 Recycle Rex (Knock / Ping) 1994 Beethoven (Rosebud) 1993-1994 Sonic the Hedgehog (Bunnie Rabbit) 1995 Dexter's Laboratory (Dexter) 1994-1995 The Critic (Marty Sherman) 1995 Babe (film- Babe) 1995 Aladdin- additional voices) 1995 Balto (uncredited voice) 1995-1996 The Cartoon- Cartoon Show (Dexter, Alien Kid 2) 1996 The Spooktacular New Adventures of Casper (Badger Boy) 1996 Cave Kids (Bamm-Bamm) 1996 The Flintstones Christmas in Bedrock (additional voices 1997 P.J. Bunny: a very cool Easter (Ritchie Raccoon / Fox Boy) 1997 Adventures from the Book of Virtues (Frog Boy) 1994-1997 Aah! Real Monsters (Oblina, Business Woman, Son) 1996-2003 Dexter's Laboratory (Dexter, student #1) 1997 Unbeatable Harold (additional voices) 1997 A Rugrats Vacation (Chuckie) 1997-1998 101 Dalmations (tv series- Wizzer, Dumpling) 1998 The Wacky Adventures of Ronald McDonald: Scared Silly (Birdy) 1998 Rugrats Movie (Chuckie) 1999 The Wacky Adventures of Ronald McDonald: The Visitors from Outer Space (Birdie) 1999 The Wild Thornberries (Short Tail Macqaque) 1999 Dexter's Laboratory Ego Trip (Dexter) 1999 Sing me a story with Belle (Carole the book worm) 1998-2000 Recess (Library Kid, Sue Bob Murphy, Digger #2) 1999-2000 The Powerpuff Girls (Bunny,Bud Smith, Prisoner #1) 2000 Cartoon-Cartoon Fridays (Dexter) 2000 Rugrats in Paria the Movie (Chuckie) 2000 Rugrats: Acorn Nuts and Diapey Butts (Chuckie) 2000 The Weekenders (Tasha) 2001 The Wacky Adventures of Ronald McDonald:Birthday World (Birdie) 2001 The Rugrats All Growed Up and The Rugrats Kwanzaa Special (Chuckie) 2001 The Wacky Adventures of Ronald McDonald: Have Time, Will Travel (Birdie) 2003 The Wacky Adventures of Ronald McDonald: The Legend of McDonald-Land Loch (Birdie)
Christine in Salute Your Shorts, Now that's Amore courtesy whythefamidoingthis
But she also acted onscreen in many shows–
Out on the Edge (tv movie) – girl Cheers – Terry Gardner Salute Your Shorts – Mona Tibs Empty Nest – Kimberly Herman's Head – Martha Fitzer Bob – Veda Wings – fan Bakersfield, P.D. – Operator #2 Wild Oats (tv movie) -Kathee Mixed Nutss- Police Night Stand – Kathy Down, Out & Dangerous (Tv Movie) – Leslie McCoy Star Struck- Mona Little Surprises- Pepper Jerry McGuire- Mrs. Remo The X-Files – Amanda Nelligan Soulmates – Anna Weisland Everybody Loves Raymond – Erin Delivery – Bridgette You Lucky Dog (Tv movie) -Bernice Hercules- Alcides Fashionably L.A.- Madge-Simone's Fanclub E.R. – Gloria
To our fans all over the world, Yello80s wishes you a very merry, bright, safe and holy Christmas celebration in 2014.
Luke 2: 9-15  NIV translation: 
8 And there were shepherds living out in the fields nearby, keeping watch over their flocks at night.
9 An angel of the Lord appeared to them, and the glory of the Lord shone around them, and they were terrified.
10 But the angel said to them, "Do not be afraid. I bring you good news that will cause great joy for all the people.
11 Today in the town of David a Savior has been born to you; he is the Messiah, the Lord.
12 This will be a sign to you: You will find a baby wrapped in cloths and lying in a manger."
13 Suddenly a great company of the heavenly host appeared with the angel, praising God and saying,
14 "Glory to God in the highest heaven,     and on earth peace to those on whom his favor rests."
15 When the angels had left them and gone into heaven, the shepherds said to one another, "Let's go to Bethlehem and see this thing that has happened, which the Lord has told us about."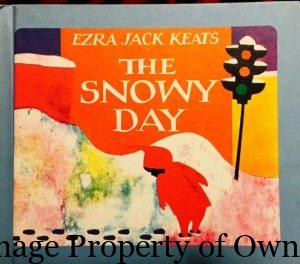 The Snowy Day
is a classic among classics; a book with few words, vibrant illustrations and innovative techniques to make a simple story indispensable to any book collection. It's a simple story, boy home from school, boy plays in snow, boy tries to save a snowball in his pocket. But so much more is going on when you really sit and take in the textures and variety in the backgrounds and characters. The distinctive style of
Ezra Jack Keats
 carried over to other bestsellers such as Pete's Chair,
Whistle for Willie
,
Hi, Cat
! and
Pet Show
. But my favourite of Keats' is The Snowy Day; the perfect depiction of a little boy's day in the snow.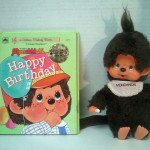 I'm pretty sure I had a girl Monchhichi when I was about 3 and somehow I grew up thinking Monchhichis were a product of our crazy cousins in France who brought us Chapi Chapo and Barbapapa. But alas I was way off- Monchhichis hail from Japan (by way of Monchia of course) and were a sequel by the Sekiguchi Corporation to an already successful Japanese monkey toy,
Kuta Kuta Monkey
. Moncchichi dolls debuted in 1974, their characteristic thumb in mouth cuteness made it round the world in 1975, coming to America in the 80s through Mattel. They are known mainly as boys or girls of a particular style such as boy chiccaboo or 40th anniversary Bebichhichi boys or girls and have outfits and pacifiers to be found as well. Ebay of course is a great place to find vintage Monchhichi but
Monchhichiland.com
has all the latest if you'd like an anniversary edition.
Mattel US Monchhichi doll advert courtesy TheToyVideos
There were 3 tv shows were produced of the Monchhichi characters; the American
Monchhichis
from Hanna Barbera, the Japanese
Monchhichi Twins (Futago no Monchhichi)
and the rehash Japanese
Monchhichi
in 2005. Other countries have their own names for the cute little monkeys: France:
Kiki
Italy
: Mon Cicci
UK:
Chiccaboo
Denmark:
Bolle
The US animated show ran in 1983 on ABC network; its characters the Monchhichis living in Monchia  in a little tribe led by the wizzard Wizzar. They did little monkey things mainly and made people happy until their once-an-episode clash with enemies Grumplins from Grumplor who frankly seemed like the Monchhichis who got kicked out of the cloud forest and didn't have little Monchhichi mothers to dress them right and put up their pigtails properly. Must have sucked to be them. While the
Monchhichi
Twins
show ran in 6 minute episodes and focused on twins Monchhichi-kun (boy) and Monchhichi-chan (girl),  US
Monchhichis
 ran a full 28 min length episode and characters included: Wizzar, Patchit, Kyla, Tootoo, Thumkii, Horrg, Moncho, Snogs, Shreeker, Snitchitt, Gonker, Yabbot, Scumgor, Fassit.
Monchhchichis US intro courtesy Dollar Ben
US Lyrics
: Way up in the trees live the Monchichis.
Monchichi Monchichi
They love to laugh and play and have a happy happy day.
Chi chi chi chi Monchichi Monchich
i Monchichi mean happiness!
Oh oh!
But the Grumplins very mean to the Monchichis. Everyday they tease, try to catch and squeeze. So back up in the trees go the Monchichis.
Chi chi chi chi
Monchichi means happiness!
Japanese Monchhichi Twins opener courtesy ninidudi
Sources
:
Monchhichiland
Wiki
IMDB
BorkWeb
AnimeNews Network
Disney's
Ducktales
ran from 1987-1990 and I do wish they'd start re-running it (though maybe somewhere it is, I have one of those too-many-channels-nothing-on packages and I watch Hulu or Youtube :$  If you'll recall,
DuckTales
was about Donald Duck's wealthy Uncle Scrooge who takes in Donald's nephews
Huey, Dewey and Louie
after Donald gets drafted to the Navy. Other memorable characters were Mrs. Beasley the housekeeper, Launchpad McQuack, Webby Vanderquack,
Duckworth the Butler
, daffy Gyro Gearloose and Scrooge's accountant, wussy Fenton Crackshell.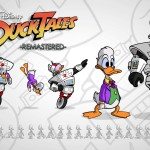 Fenton was a former bean counter who who lives with his mother in a trailer, he comes to work as

Scrooge McDuck

's accountant and if there's anything that boy can  do, it's count. It's too bad he's always getting into trouble and trying to make amends because he's also great at making a mess worse; his favourite phrase of frustration being "

blathering blatherskite". Fenton becomes GizmoDuck by wandering into GYro Gearloose's workshop (probably not the best thing to do on your own) and by mistake uttering his favourite phrase which is just what's needed to activate a particular mechanical, Robo-cop– like suit on the workbench Fenton's dumb enough to try on without supervision. With the magic phrase the suit comes alive and Fenton becomes Gizmo Duck.

As Gizmo Duck, Fenton is the personal bodyguard of Scrooge and guard to the vast moneybin (that suit must also have magic powers because if he's the accountant by day and bodyguard by night, whew,I don't have

that

sort of devotion at work!). As Gizmo Duck of course Fenton is brave and coordinated- everything he's not outside of the suit. A few know his true identity – his mother, Scrooge and Launchpad. However, in New Ducktales the nephews know and of course also want to be Gizmo Duck but Fenton chooses Webby to take on the business after him.

GizmoDuck Zero to Hero courtesy imdb88

Gizmo Duck was originally planned as Robo Duck and the name stuck in  Japan and the Netherlands. Fenton also appeared in other Duck Tales versions and franchises- DuckTales the TV show, the Disney Adventures comics,

Darkwing Duck

tv show, Darkwing Duck comics, DuckTales Remastered game for NES, New DuckTales, tv movie Super DuckTales (Magical World of Disney). Also check out

Timbone on DeviantArt

for a beefed up Steampunk rendition of GizmoDuck.

Sources

:

Wiki Ducktales Nerdapproved.com Disney Wikia

A little late on the draw but still wanted to take a minute to salute the great talent of Christine Cavanaugh who passed away Dec 22, 2014 at the age of 51. Best known as a voice actress starting in 1988, she also played in a few onscreen roles before retiring to focus on family. Let's take a look at her career: