In 1982 a gentle picture book by Raymond Briggs about a boy's nighttime adventure with his snowman was brought to life to become a beloved 80s animated classic:
the Snowman
. This wordless animation introduced a new classic Christmas tune
Walking in the Air
to the world. When the special aired in the UK it originally had an introduction by Briggs himself speaking about his own boyhood Christmas but in subsequent airings had alternative openers including one with David Bowie, which is the one which aired in the US. For the film's 20th anniversary DVD release yet another, animated opener was recorded. Here is the original special with the Raymond Briggs operning as it was intended to be viewed:
The Snowman courtesy xBeps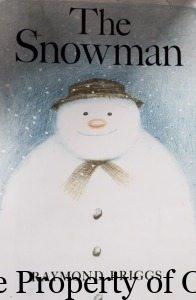 The Snowman
, written and illustrated by
Raymond Briggs
in 1978 came to televisions as a silent film short in 1982.  Aired on British Channel 4 and seen in later years on
public television stations
in the US, it's available on DVD and in numerous toy/book combos in book shops every year around this time and 1984 followed by a video game for Sinclair ZX Spectrum, C64 and MSX. The special is unique in its animated style – the book coloured pencil book illustrations seem to come to life and introductions with both the author and David Bowie were filmed. One of the modern Christmas classic songs, the tune 
Walking in the Air
, came from this special, sung by English tenor Peter Auty as a child. The animated special perfectly echoes the soft tone of the picture book in which only illustrations tell the story of a boy who flies away with the snowman he makes one winter's day. Now past it's 30 year anniversary, the Snowman has inspired a sequel, The Snowman and the Snowdog, aired on Channel 4 in 2012.