If you liked our last post on Brush n Grow ponies you'll love to get to know their big sisters in year 7 of G1- Princess Brush n Grows! Check em out on the updated page!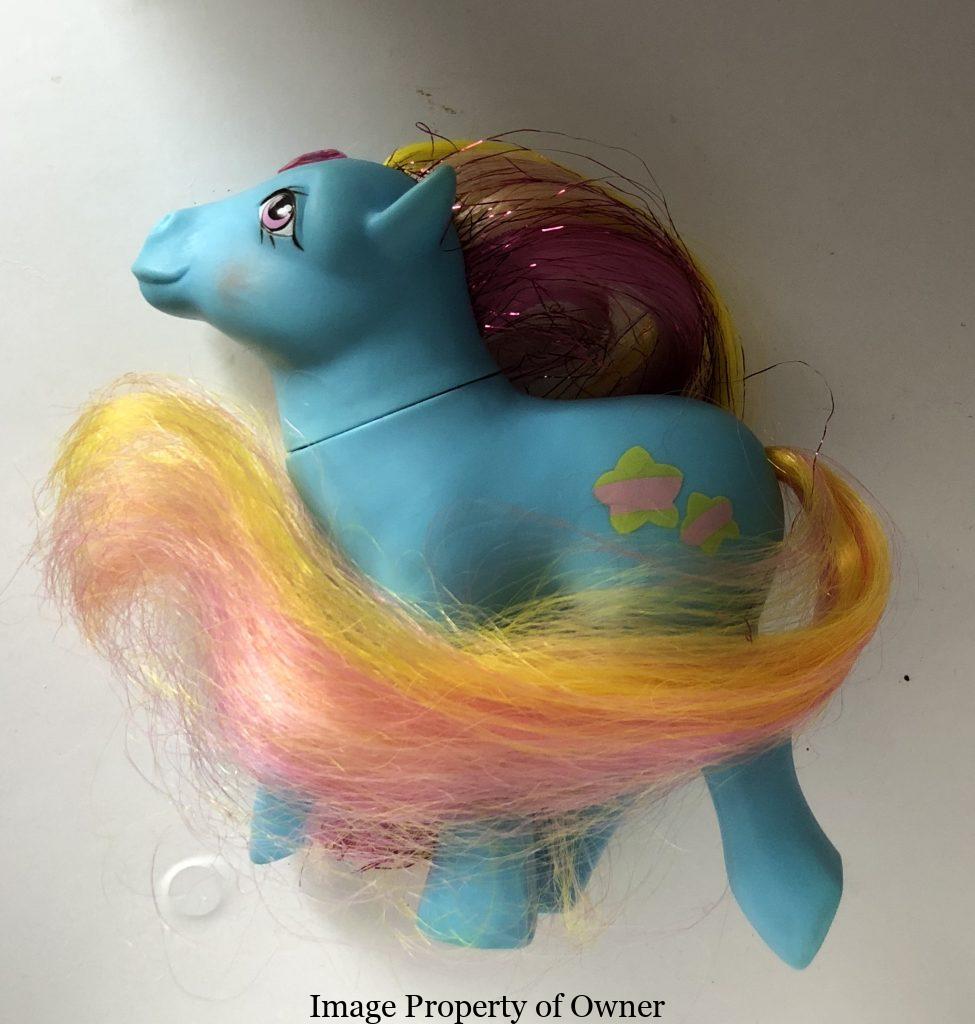 With all these 80s reboots coming out its tempting to write them all off to "they've ruined it" but in some instances new isn't a total wash. While I love the Kenner Care Bear poseable figures I always felt they did Bright Heart Racoon a little bit of an injustice. While really cute, he looks like he's got hip dysplasia. The 2012 reboot of the Care Bears saw Bright Heart redone with several other characters and Just Play's blind bag series captured the spunk of that character. I'm selling off my Kenner and Just Play Bright Hearts as a set, see full pics at the listing on ebay: Seller aeru2 Bright Heart Kenner/ Just Play set.
Bright Heart Raccoon: "You are bidding on a set of 2 Bright Heart Raccoon collectibles from the original Kenner poseable run and the current Just Play release. You can see how much Bright Heart has changed in 35 years yet still stayed the same loveable Care Bear Cousin. Please see photos to compare belly symbols, colour and pose. Kenner Bright Heart features a "real hair" topknot and is fully poseable. Just Play Bright Heart is a smaller figurine from the Care Bears and Cousins series 4 blind bag set and is not poseable but much more expressive. Both feature tummy symbols and the Care Bear tushie heart on their backsides. It's a neat little set for collectors."
One of the best parts of the 80s was the absolute gold mine of toys and toys that were detailed, well-thought out and tied to our favourite cartoons and movies. An 80s Christmas came with an 80s-size Christmas wish-list and where did we get all our lofty ideas for Santa? TV of course! Have a sit and watch the big Yello80s Toy Playlist- find some old favourites and discover some "new" items for that fantasy 80s wish-list.
Calling all Yello80s Cabbage Patch Kid fans -and I know there's a ton of your out there- Yello80s has just put up the Official Yello80s Cabbage Patch Kid board on Pinterest where you'll find tons of 'Kids, accessories, Koosas, Furskins and of course more of those crazy CPK names!
Dec 11, 2013
The Cabbage Patch Kids First Christmas clip

courtesy warnerarchive
If you'll recall during the late days of Cabbage Patch Kids before the current revival, QVC manufactured a number of 'Kids for sale and for the 30th Anniversary year they've put out an exclusive Family Portrait set in limited edition of 15,500. These sets are boxed and include a 'Kid doll, Newborn doll and a puppy doll with birth certificates and adoption papers. Not all of the sets are still available but QVC has got a a few left on sale for $49.98 + shipping down from $55.00.