Did all your 80s dreams come true this Christmas? If not, there's plenty of new-old favourites already in stores and slated to come out this year such as these Cabbage Patch cuties from Toys R Us.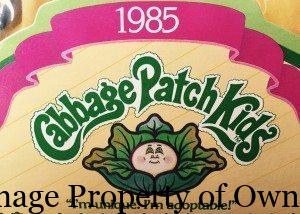 I realise the Superbowl is on in the US tonight so this is going up early- Because I get a
ton
of visits to the
Cabbage Patch Kid
pages and many, many questions about identifying 'Kids, I have updated the CPK page to reflect what I can tell you about how to go about doing this.
As such, I do not know of ANY database, official or not, that one can check to identify their vintage Cabbage Patch Baby  under any
maker/ distributer such as Little People, Appalachian Artworks, Coleco, Jesmar,  Tsukuda, Tri-Ang Pedigree, Lili Ledy, Hasbro, Mattel, Toys 'R Us, Target, Play Along Toys, Danbury Mint, Jakks Pacific or any special editions.
Yello80s cannot identify Cabbage Patch Kids on any basis, simply 
not qualified to do so
and so the page was updated to reflect this. Unless you are looking for the worth of a 'Kid from a certain time period (and I say
worth
loosely because with any collectible there is no set worth- it all depends on who wants to buy and how much they will pay) to sell, I would suggest you keep your baby and reflect on its worth in terms of good memories it gave you as a kid and if you want to pass that doll down to someone else. There are many people online who refurbish and re-hair dolls or guides to help you do so yourself. If you're just curious about dolls from different eras and makers, I have provided links to sources to help you with that. It's a bit of detective work. So even if you're not looking to identify a doll- have a look at the
Cabbage Patch Kids
pages , learn a little history, discover some facts I bet you didn't know, meet some new dolls and have a little stroll in the patch!
Cabbage Patch Kids mainpage 
Cabbage Patch Friends: Koosas, Ponies and Furskin Bears
Cabbage Patch Kids merchandise
Cabbage Patch Kids Names List 1/2
Cabbage Patch Kids Names List 2/2