With all these 80s reboots coming out its tempting to write them all off to "they've ruined it" but in some instances new isn't a total wash. While I love the Kenner Care Bear poseable figures I always felt they did Bright Heart Racoon a little bit of an injustice. While really cute, he looks like he's got hip dysplasia. The 2012 reboot of the Care Bears saw Bright Heart redone with several other characters and Just Play's blind bag series captured the spunk of that character. I'm selling off my Kenner and Just Play Bright Hearts as a set, see full pics at the listing on ebay: Seller aeru2 Bright Heart Kenner/ Just Play set.
Bright Heart Raccoon: "You are bidding on a set of 2 Bright Heart Raccoon collectibles from the original Kenner poseable run and the current Just Play release. You can see how much Bright Heart has changed in 35 years yet still stayed the same loveable Care Bear Cousin. Please see photos to compare belly symbols, colour and pose. Kenner Bright Heart features a "real hair" topknot and is fully poseable. Just Play Bright Heart is a smaller figurine from the Care Bears and Cousins series 4 blind bag set and is not poseable but much more expressive. Both feature tummy symbols and the Care Bear tushie heart on their backsides. It's a neat little set for collectors."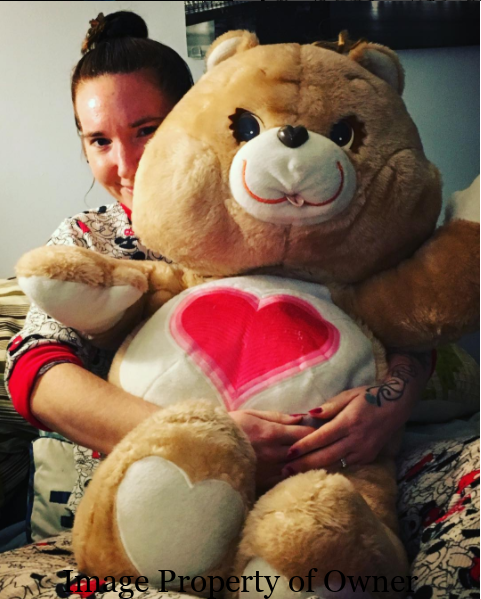 What 80s kid didn't want a room full of cuddly, colourful care bears? Who doesn't want some of that love and caring in this scary world we live in now? Well if you are a collector of vintage Kenner bears, Yello80s Care Bears page is for you. You'll find a listing of plush bears and cousins, as well as poseables and prototypes out there in the wild just waiting to be collected. If you're on the hunt for Care Bears, come on over and check it out!
When I would get a toy as a kid I loved to pull the box apart and find the little leaflet of other toys the company made and make out my Christmas list on those (I kept the Kenner booklet with the Care Bear cloud car for years but never got it). I haven't seen one of these in a while because when I buy toys these days I give them unopened to the godkids but recently came across a Play-Doh booklet from the 80s that made me feel like I'd better get some Rainbow Brite stationary out and get listmaking. It was partially water-damaged so I just got the end papers but I'm putting them up for our Play-Doh fans to make their toy-shop lists from…..my apologies the photo quality isn't great.