With all these 80s reboots coming out its tempting to write them all off to "they've ruined it" but in some instances new isn't a total wash. While I love the Kenner Care Bear poseable figures I always felt they did Bright Heart Racoon a little bit of an injustice. While really cute, he looks like he's got hip dysplasia. The 2012 reboot of the Care Bears saw Bright Heart redone with several other characters and Just Play's blind bag series captured the spunk of that character. I'm selling off my Kenner and Just Play Bright Hearts as a set, see full pics at the listing on ebay: Seller aeru2 Bright Heart Kenner/ Just Play set.
Bright Heart Raccoon: "You are bidding on a set of 2 Bright Heart Raccoon collectibles from the original Kenner poseable run and the current Just Play release. You can see how much Bright Heart has changed in 35 years yet still stayed the same loveable Care Bear Cousin. Please see photos to compare belly symbols, colour and pose. Kenner Bright Heart features a "real hair" topknot and is fully poseable. Just Play Bright Heart is a smaller figurine from the Care Bears and Cousins series 4 blind bag set and is not poseable but much more expressive. Both feature tummy symbols and the Care Bear tushie heart on their backsides. It's a neat little set for collectors."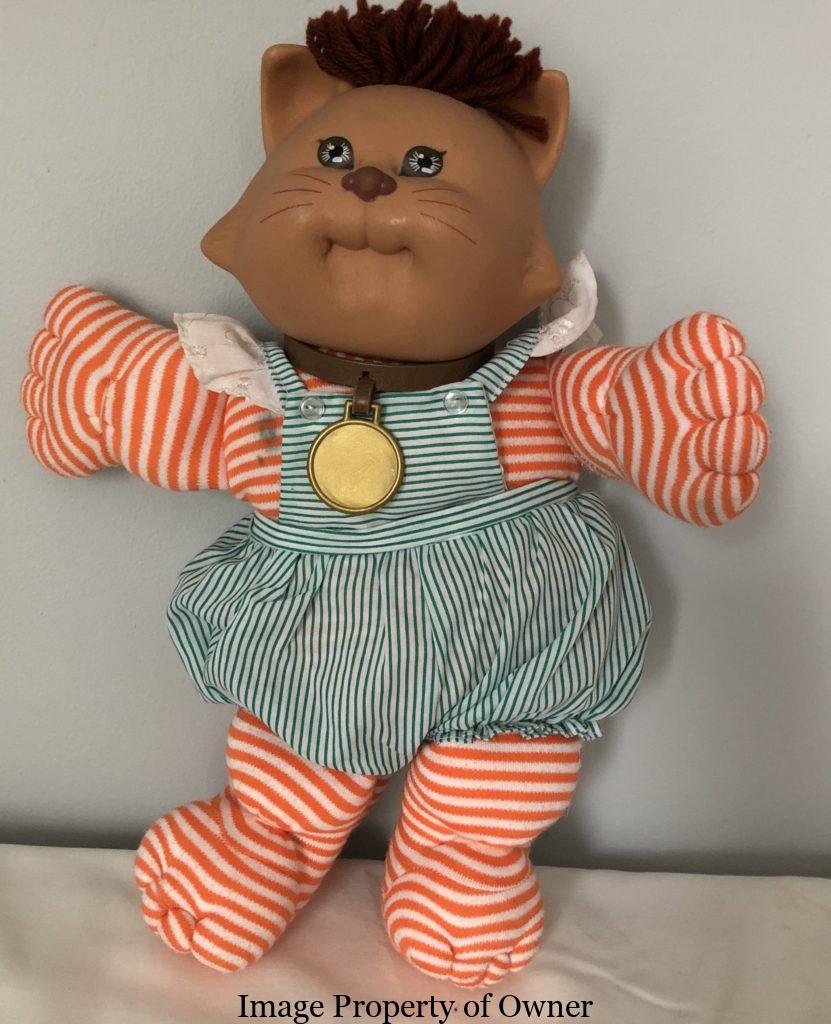 It's gotten a little crowded in the kennel so this little kitten must go! Please see her sale page on ebay for additional info and pictures: Seller aeru2 Koosa Kitten for sale.
Koosa Kitten: "Koosas were manufactured by Coleco from 1985-1986 as "pets" for the Cabbage Patch Kids and came as kittens, puppies and lion cubs. This sweet girl has bright grey eyes and bright whiskers with a chubby striped body (solid or plushy bodies are more common). She has her original collar and tag and she is dressed in a pretty romper made just for those who have tails! Please inspect all photos- she has one flaw on her left shoulder in the front which looks to be an ink stain.
Thanks so much for stopping by! Serious bidders only. For more bodacious 80s toys please check out my other auctions!"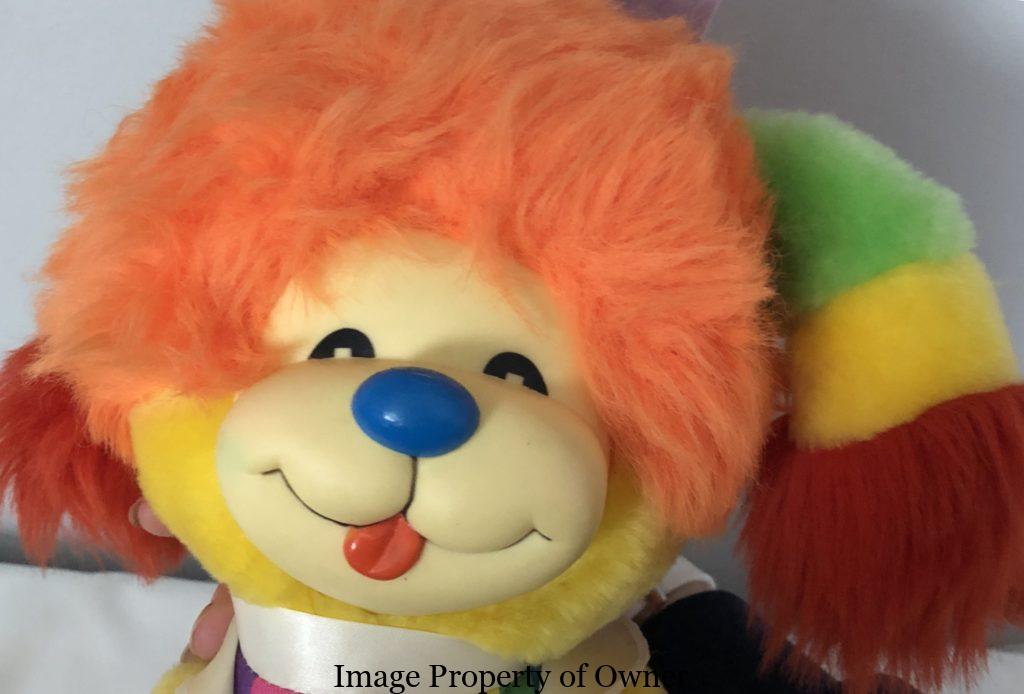 It's so sad to part with toys but the time comes and I have a great vintage Puppy Brite for sale that you can view full pics for on ebay under: Seller aeru2 Puppy Brite.
Puppy Brite: "This vintage Puppy Brite plush doll is from the beloved 80s cartoon Rainbow Brite. Manufactured by Hallmark, Puppy Brite first appeared in the Rainbow Brite movie "Rainbow Brite and the Star Stealer" and is friends with Kitty Brite. He even had to work with Rainbow's magnificent horse Starlight to bring the Color Sceptor to her to restore Rainbow Land in "Return to Rainbow Land." Puppy has a soft plushie body and sweet moulded face to brighten anyone's day. From a smoke-free home."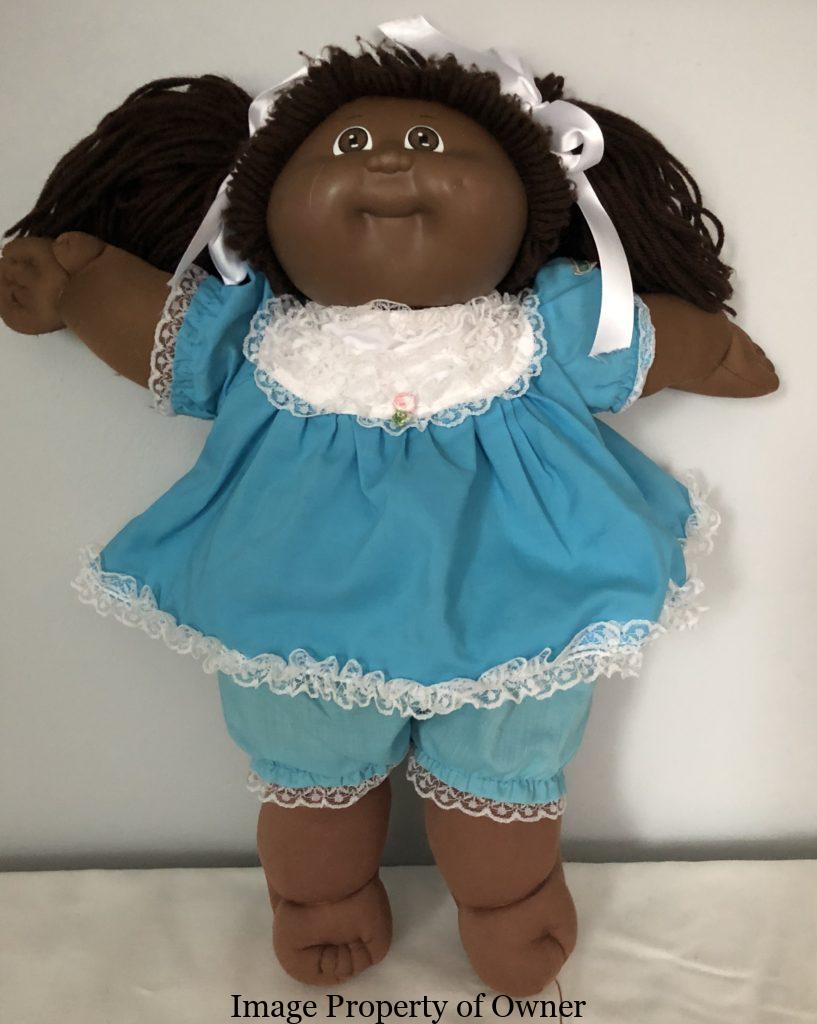 I don't sell my toys often but it's time to part ways. Over on ebay I have auctions going for a sweet African American 2-pony girl from OK factory who needs a little TLC and a tall, short-haired KT girl with handmade sailor outfit. You can view full pics on the listing: Seller aeru2 AA girl for sale, KT girl for sale.
AA OK Girl: "Has long ponytails and her original blue dress and bloomers. She comes from the Coleco OK factory and has the typical round face, big eyes and very chubby legs of an OK 'Kid. Her face is clean and she has one sweet little dimple.
Some notes on her clothing and condition: The bloomers' elastic is stretched so they could use a stitch or two to tighten. She does not have a diaper; she is wearing a pair of plain white handmade bloomers underneath her dress. Her hair-ribbons are new and she is a doll who needs a little body TLC just in the foot, her toe thread has come unraveled, nothing a novice sewer can't manage. An excellent pre-loved playdoll or addition to a less-than-mint collection. Thanks so much for looking and for more awesome 80s toys please check out my other auctions!"
KT Girl: "Blonde girl is from the KT factory in China (Kam Yeun Toys) which manufactured for Coleco. KT Kids are a little bigger than average CPK so this little blondie is a bit tall for her age. She's in excellent condition with her original hair ribbon and diaper. Her clothes are not the originals- she is wearing a handmade sailor suit with matching bloomers and tam and she has some pretty kicking infant hitops to complete her ensemble. She has been out of her box for about a year in a smoke-free home and has no visible flaws (box is unavailable).
Thanks so much for looking; serious bidders only. For more awesome 80s toys check out my other actions please!"