In 1988 Hasbro released the Loving Family sets including Mummy, Daddy and Baby Brother or Sister with themed cutie marks. All are printed with Twice-as-Fancy style markings, Mummy and Daddy's combining to make Baby's. Baby pony also has striped hair colouring combining both parents'. U.S. sets included one baby but Euro exclusives had both Brother and Sister. All three U.S. sets released are for sale on my eBay page under Seller ID: Aeru2 . Most of the time collectors sell the individual ponies- take this opportunity to pick up a whole family 🙂 All ponies are in played-with condition, see listings for all photos. Lots more ponies and 80s greatness so check it out!
Apple Delight Loving Family (U.S.)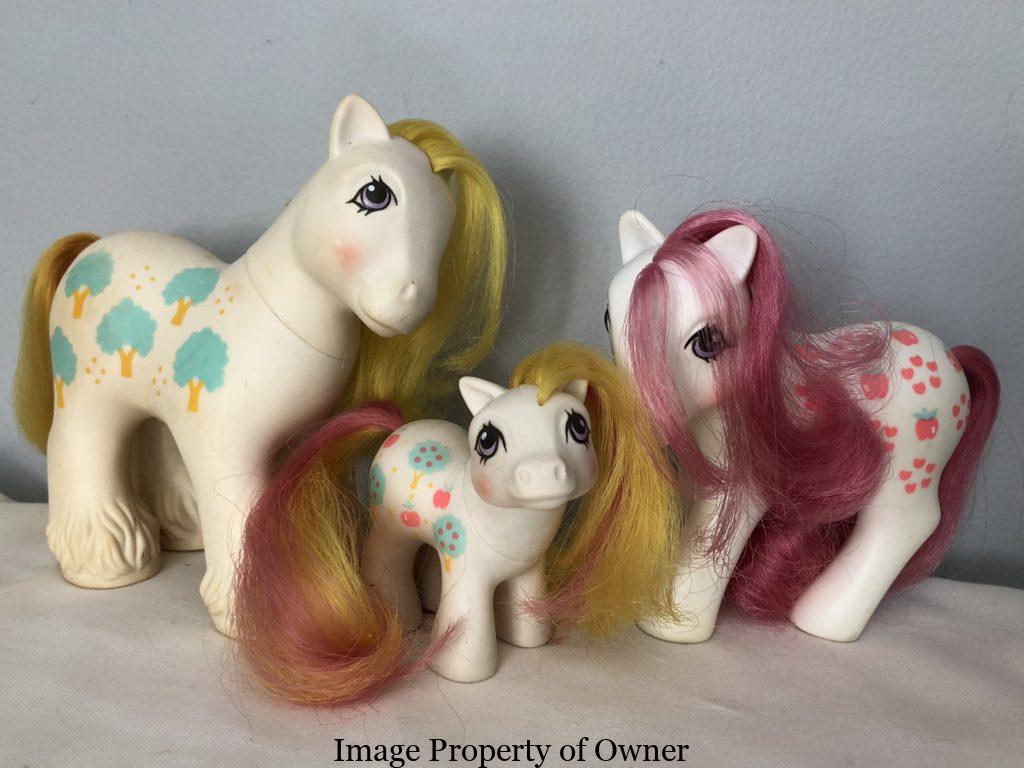 Bright Bouquet Loving Family Euro set
Sweet Celebrations Loving Family U.S. set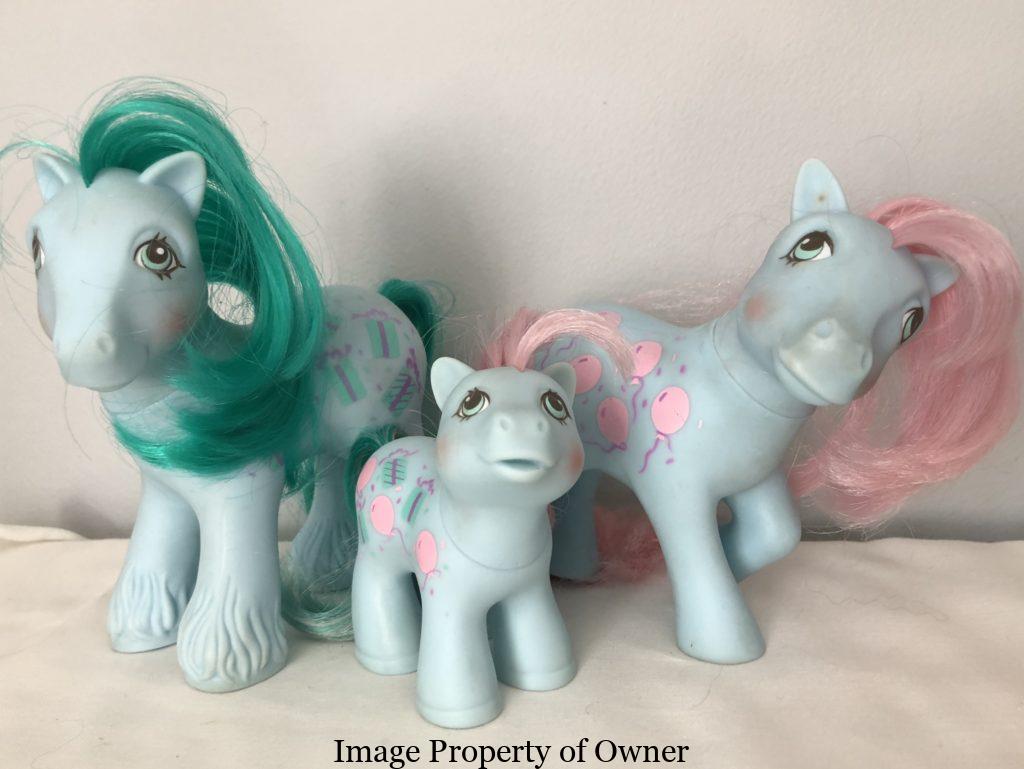 For the many CPK fans who visit Yello80s every month I have some CPK items up on eBay for sale under Seller ID: Aeru2 (individual links to auctions by photos). Check out these vintage poseable cuties from Panosh Place/ Coleco, many more photos on listings:
Football boy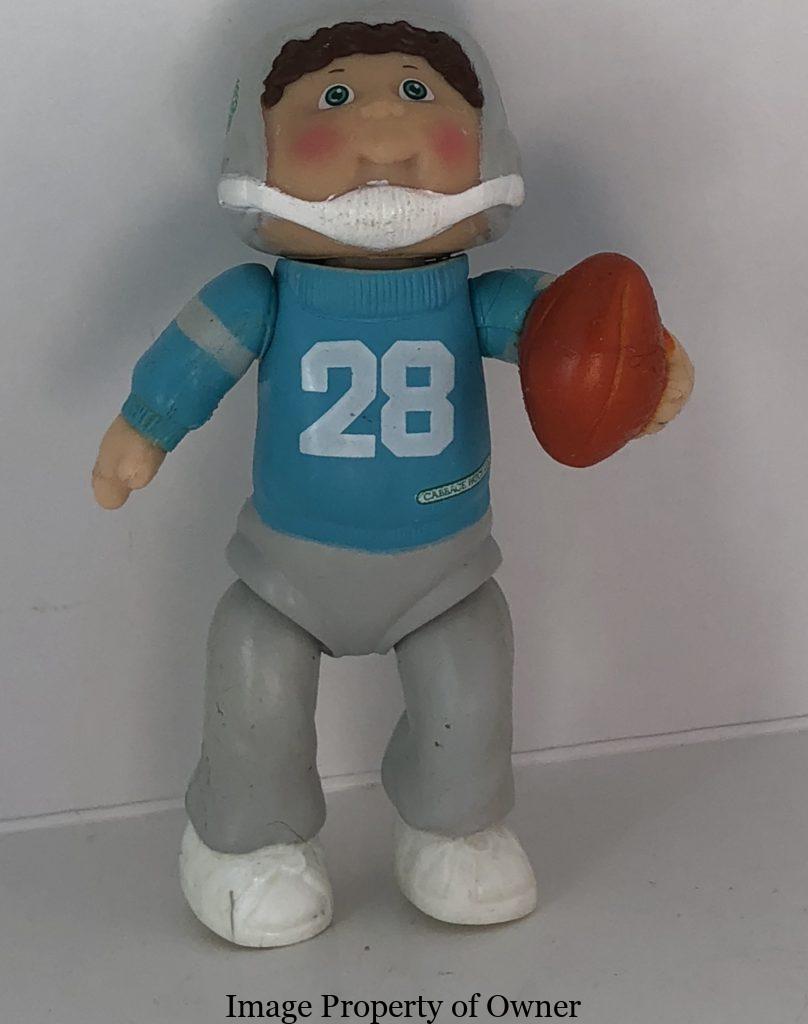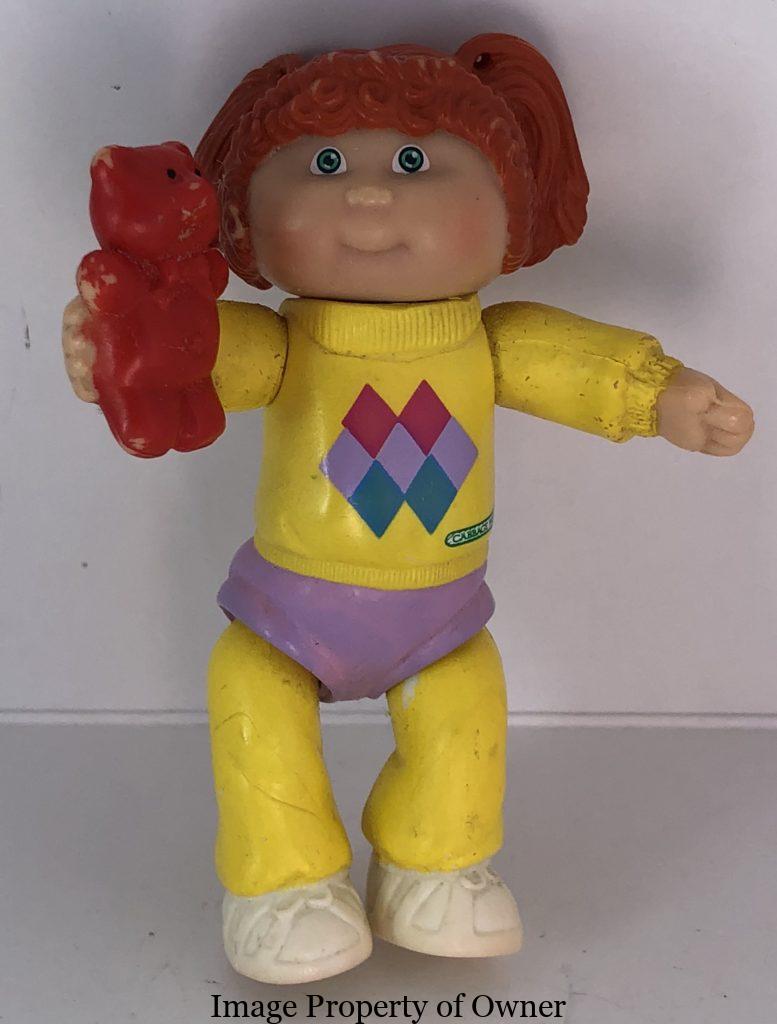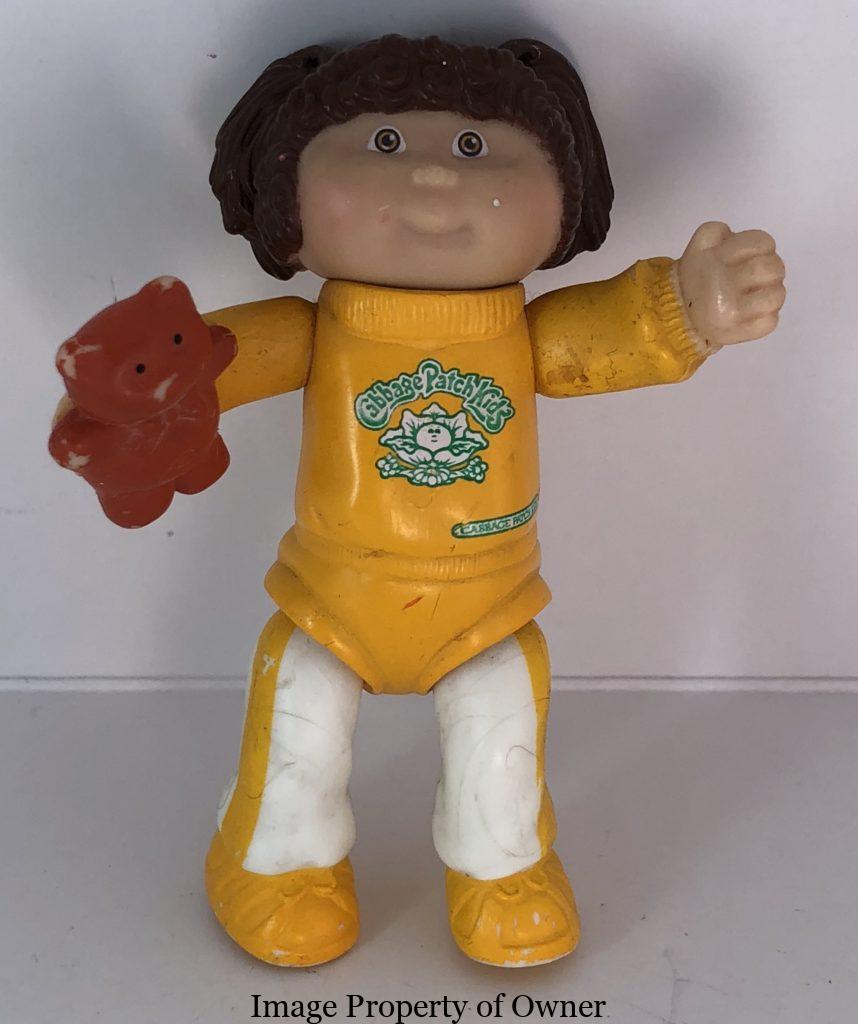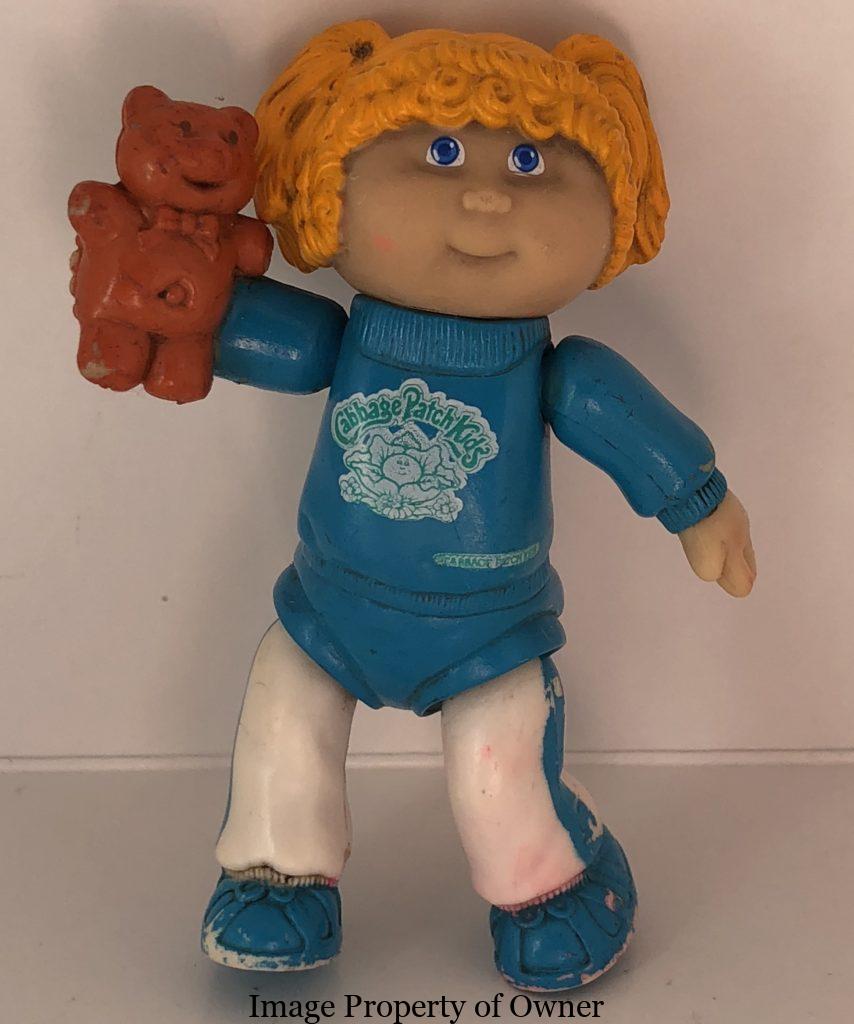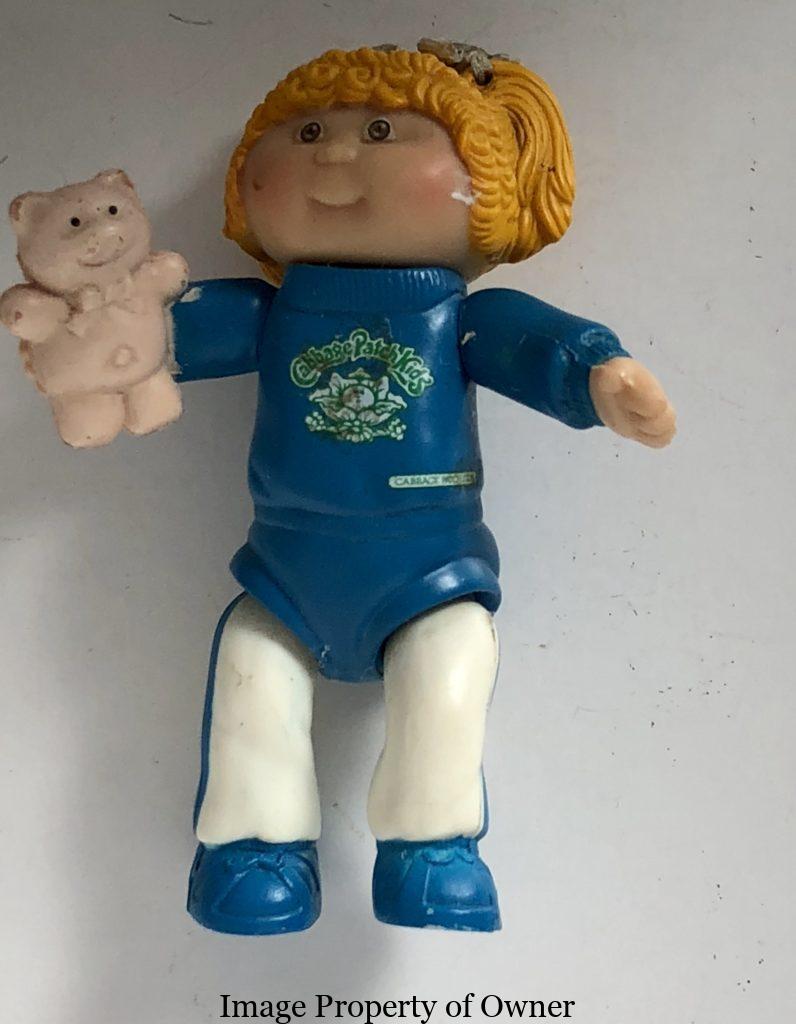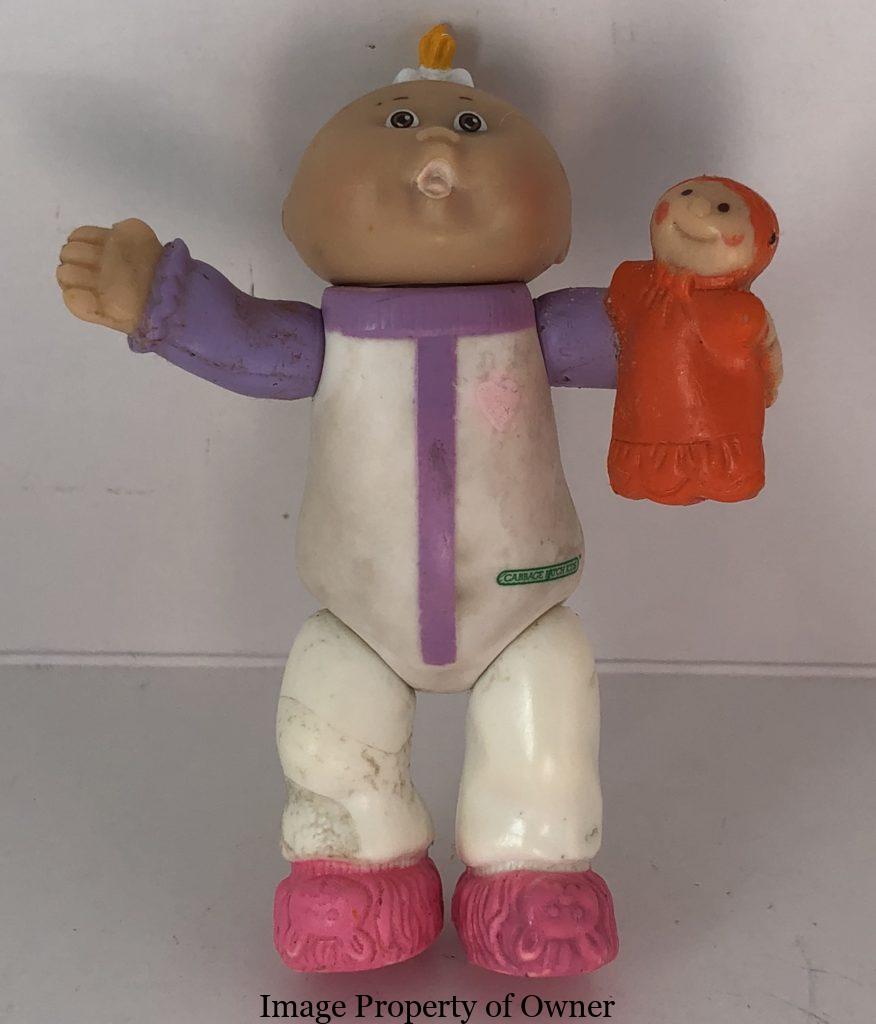 Looking for something to round out your G1 collection or are you a customizer? Head over to eBay under seller Aeru2 for some cool pony finds such as:
Sea Winkle seapony and shell holder
Baby Explorer Euro exclusive Starlight Baby pony
With all these 80s reboots coming out its tempting to write them all off to "they've ruined it" but in some instances new isn't a total wash. While I love the Kenner Care Bear poseable figures I always felt they did Bright Heart Racoon a little bit of an injustice. While really cute, he looks like he's got hip dysplasia. The 2012 reboot of the Care Bears saw Bright Heart redone with several other characters and Just Play's blind bag series captured the spunk of that character. I'm selling off my Kenner and Just Play Bright Hearts as a set, see full pics at the listing on ebay: Seller aeru2 Bright Heart Kenner/ Just Play set.
Bright Heart Raccoon: "You are bidding on a set of 2 Bright Heart Raccoon collectibles from the original Kenner poseable run and the current Just Play release. You can see how much Bright Heart has changed in 35 years yet still stayed the same loveable Care Bear Cousin. Please see photos to compare belly symbols, colour and pose. Kenner Bright Heart features a "real hair" topknot and is fully poseable. Just Play Bright Heart is a smaller figurine from the Care Bears and Cousins series 4 blind bag set and is not poseable but much more expressive. Both feature tummy symbols and the Care Bear tushie heart on their backsides. It's a neat little set for collectors."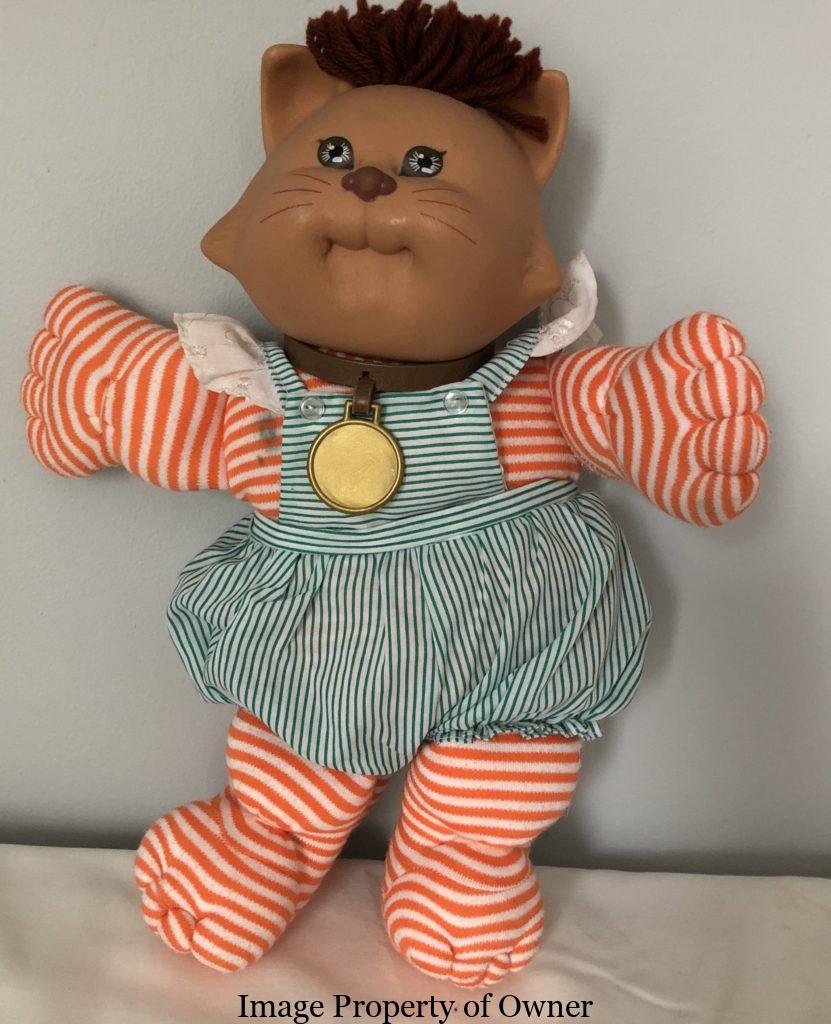 It's gotten a little crowded in the kennel so this little kitten must go! Please see her sale page on ebay for additional info and pictures: Seller aeru2 Koosa Kitten for sale.
Koosa Kitten: "Koosas were manufactured by Coleco from 1985-1986 as "pets" for the Cabbage Patch Kids and came as kittens, puppies and lion cubs. This sweet girl has bright grey eyes and bright whiskers with a chubby striped body (solid or plushy bodies are more common). She has her original collar and tag and she is dressed in a pretty romper made just for those who have tails! Please inspect all photos- she has one flaw on her left shoulder in the front which looks to be an ink stain.
Thanks so much for stopping by! Serious bidders only. For more bodacious 80s toys please check out my other auctions!"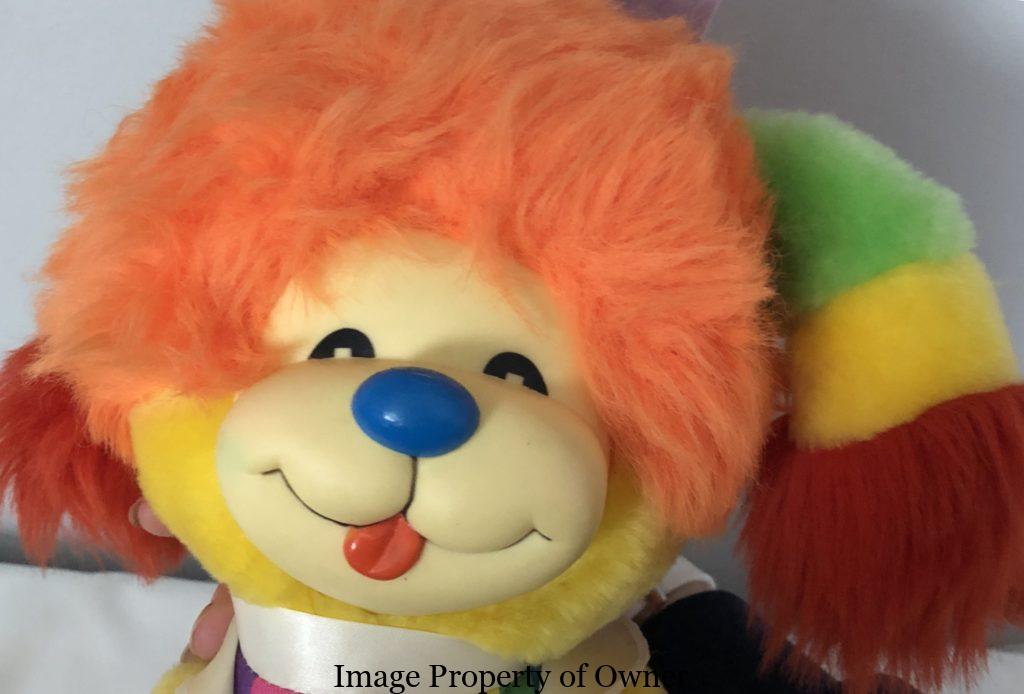 It's so sad to part with toys but the time comes and I have a great vintage Puppy Brite for sale that you can view full pics for on ebay under: Seller aeru2 Puppy Brite.
Puppy Brite: "This vintage Puppy Brite plush doll is from the beloved 80s cartoon Rainbow Brite. Manufactured by Hallmark, Puppy Brite first appeared in the Rainbow Brite movie "Rainbow Brite and the Star Stealer" and is friends with Kitty Brite. He even had to work with Rainbow's magnificent horse Starlight to bring the Color Sceptor to her to restore Rainbow Land in "Return to Rainbow Land." Puppy has a soft plushie body and sweet moulded face to brighten anyone's day. From a smoke-free home."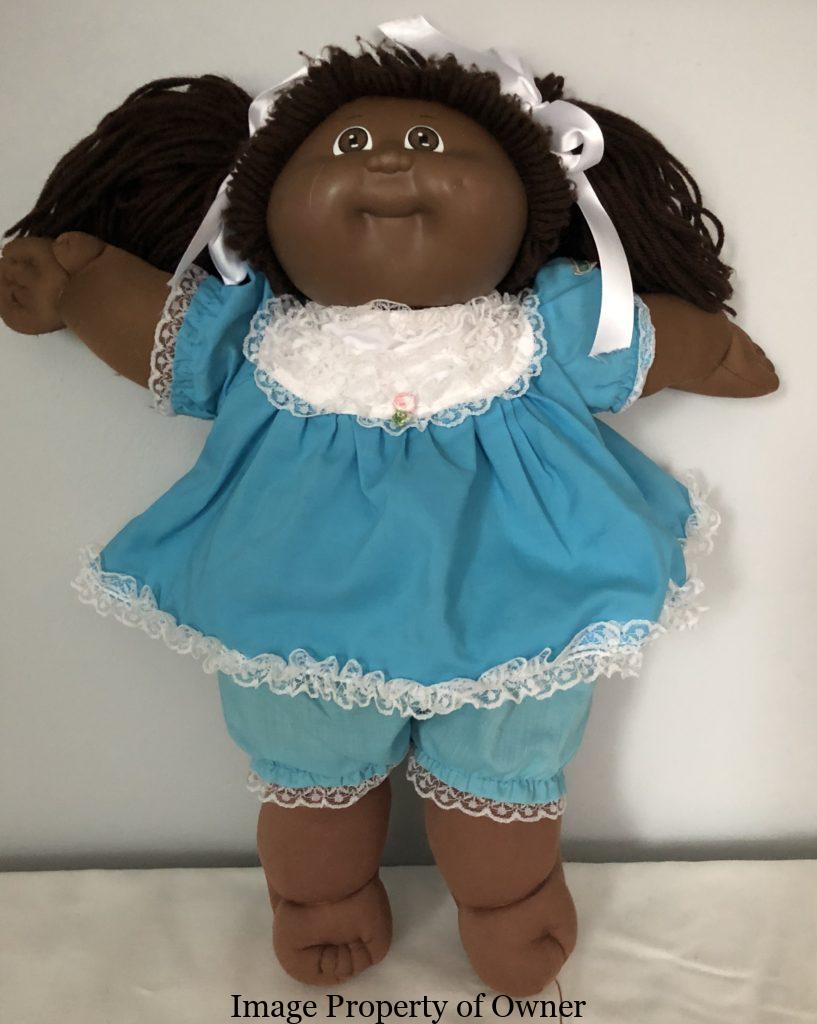 I don't sell my toys often but it's time to part ways. Over on ebay I have auctions going for a sweet African American 2-pony girl from OK factory who needs a little TLC and a tall, short-haired KT girl with handmade sailor outfit. You can view full pics on the listing: Seller aeru2 AA girl for sale, KT girl for sale.
AA OK Girl: "Has long ponytails and her original blue dress and bloomers. She comes from the Coleco OK factory and has the typical round face, big eyes and very chubby legs of an OK 'Kid. Her face is clean and she has one sweet little dimple.
Some notes on her clothing and condition: The bloomers' elastic is stretched so they could use a stitch or two to tighten. She does not have a diaper; she is wearing a pair of plain white handmade bloomers underneath her dress. Her hair-ribbons are new and she is a doll who needs a little body TLC just in the foot, her toe thread has come unraveled, nothing a novice sewer can't manage. An excellent pre-loved playdoll or addition to a less-than-mint collection. Thanks so much for looking and for more awesome 80s toys please check out my other auctions!"
KT Girl: "Blonde girl is from the KT factory in China (Kam Yeun Toys) which manufactured for Coleco. KT Kids are a little bigger than average CPK so this little blondie is a bit tall for her age. She's in excellent condition with her original hair ribbon and diaper. Her clothes are not the originals- she is wearing a handmade sailor suit with matching bloomers and tam and she has some pretty kicking infant hitops to complete her ensemble. She has been out of her box for about a year in a smoke-free home and has no visible flaws (box is unavailable).
Thanks so much for looking; serious bidders only. For more awesome 80s toys check out my other actions please!"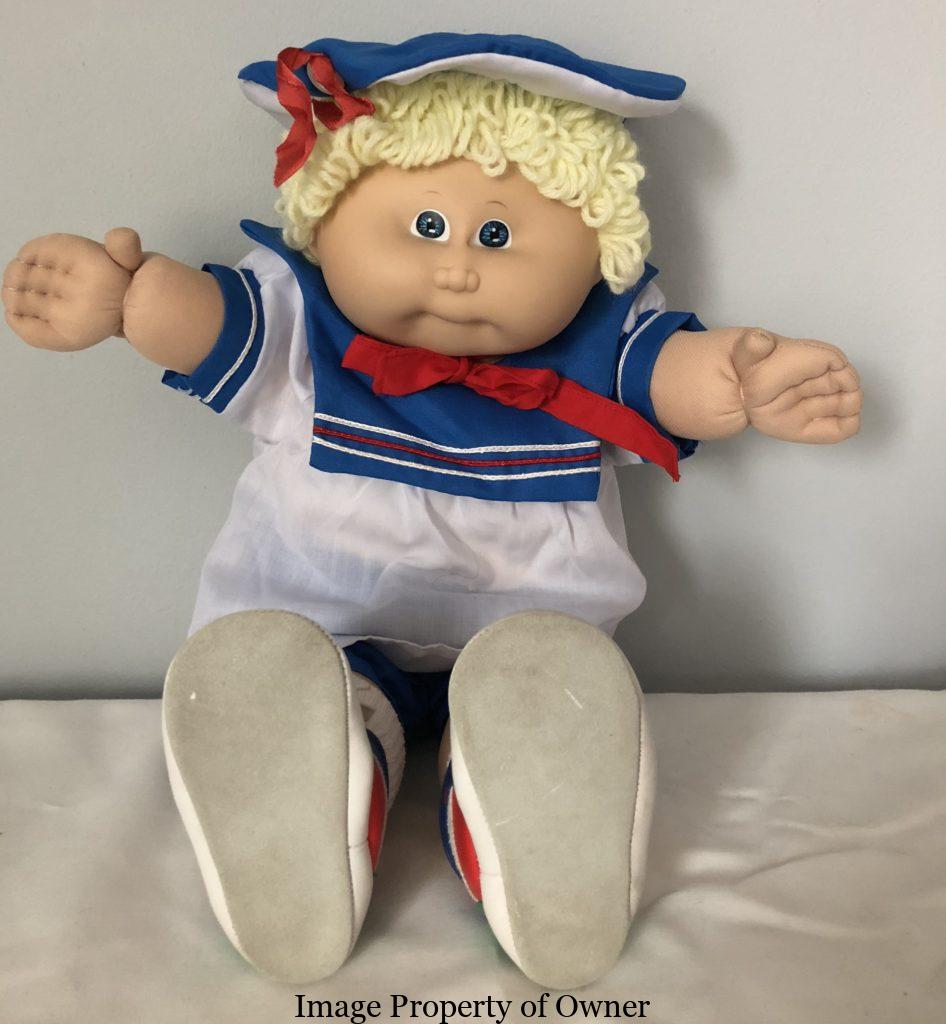 Back to the Future II courtesy movieclips

I came across this fan-squee worthy post on Buzzfeed– put together Nike and Back to the Future II and what do you get? The Nike Air MAG. Must. have. these.  Making a very limited appearance in 2011, you can TRY to pay an arm and a leg for a pair on eBay to get that Marty McFly look. However, Nike says in 2015 the MAG will return with actual self-tying power laces- right on schedule. Running in theatres in 1989, Back to the Future II was set in the year 2015. HOLY CRAP THE FUTURE IS NOW!
Nike Air MAG review by sneakerologyapp

It's that time of year again when everything we hold dear is slapped with some red and green and sold to millions of adoring fans as extra special 'Christmas' something-or-other. So yeah, Christmas Crunch just showed up at our local Giant Eagle but I see it's on Amazon as well.
Cap'n Crunch Christmas Crunch actually debuted in 1988 but seems to skip a year here and there to be reincarnated with a new box design every cycle round. I just barely remember it as a kid though I can't recall being the biggest Cap 'N Crunch fan to begin with.  Mr. Breakfast has a good collection of the boxes if you're curious.
Otherwise, it's a white box with the Cap'n in Santa gear and red and green Christmassy-shaped crunch. I think it was about as overpriced as every other cereal on the shelf so go on out and grab a box- or 20, because people get as fanatical about those holiday cereals as crack and this is one of those impossible to find after the day products. If you hate it, don't fret- that's what eBay is for. In fact hawking some crunch on eBay may be my new business plan for 2014….