Easter's coming and since the minute before Valentine's Day was over, the shelves in all your favourite retailers have been shoved full of eggs, easter grass, candy, toys and baskets (and of course some weird items coated in pastel to pass off as necessities to celebrate the Resurrection…).
Target
, I've noticed, has taken this to another level with the Trolls from last year's
Dreamworks
film and they're not holding back on the Target Exclusives. If you're a troll fan, get going over to the Bullseye and clean up!
Another cute Cadbury Creme Eggs ad from 1984 featuring that most Easter of places to hang out- the roller rink.
courtesy Robatsea2009
buk buk buk buk buk buk
– when they were actually only around til Easter.
Cadbury Creme Eggs ad courtesy haikarate4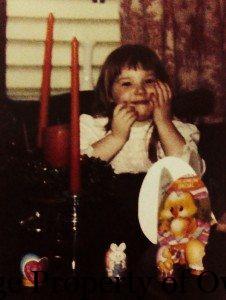 Hello 80s fans! We had plenty of Easter goodness back in the 80s from the
Cadbury Bunny
to M&Ms in our
Easter Baskets
(pastel! Woo!) and Reece's Eggs. We're going to do a little countdown this week to get in the spirit so make sure you check back on the blog and relive some sweet memories. Because Easter is a
Christian holiday
, the countdown will go from today,
Palm Sunday,
until
Maundy Thursday
, which is 3 days prior to Easter and then return to our regularly scheduled posts to allow a break out to celebrate. If you are not familiar with Easter, here's a quick primer: Lent: Lent is the 40 days before Easter which start with Ash Wednesday (The day before this is Mardi Gras /  Shrove Tuesday) and commemorates the passage in the Bible about
Christ spending 40 days in the wilderness being tempted by Satan. 
Palm Sunday
is the Sunday before Easter in which we honour the passage of the Bible which describes
Christ riding into Jerusalem on a donkey.
To respect Him as a king, people placed palm branches before Him on the ground, which is where we get the name Palm Sunday.
Maundy Thursday
is the first day of the
Paschal Triduum
/ Passiontide (the most important part of Holy Week). Most Christian churches have special services on this evening as we recall that traditionally this would have been when
Judas the apostle betrayed Christ at the Last Supper.
Good Friday:
The day Christ was crucified.
 There is often not a service on this day as it is a mourning day.
Holy Saturday:
The proper last day of the Lent season, Easter Vigil services are held at night and are often very long and very late.
Easter
: the most important day of the Christian calendar in which we celebrate the
reason for our faith, the resurrection of Christ.
The Lent/ Easter season is the most important in the Christian church, a higher holiday even than Christmas. During this season every denomination participates in at least some of the following observances: fasting, praying, almsgiving, stations of the Cross, mass or service, confession, reconciliation, self-scrutiny, sacrifice (giving up or taking on for Lent), giving up meat/sweets/bad habits, attending passion plays, acts of charity, visiting relatives and friends, taking on extra church roles, vespers, veneration of relics or holy objects, reading of specific Biblical passages, covering the cross on Good Friday or removal or Eucharistic host, refraining from Communion on Good Friday, observing the 12-3pm hours on Good Friday, taking the Easter dinner items to be blessed, taking pets and animals to be blessed, greet each other by saying Christ is Risen! (answer: He is risen, indeed), dye red eggs or make braided Easter bread. But most also: Make Easter baskets, candy and dye eggs, take the kids to see the Easter Bunny at the mall, attend community pancake breakfasts, Easter egg hunts, Egg Rolls and school Easter parties, have Easter dinners with families and friends, buy new Easter clothes for church service, watch the Easter cartoon specials on tv.
It's so hard for me to pick a favourite Christmas carol but being that today is my birthday, I'm going with the most possible top favourite (the favourite of the favourites?) and as I am a picky carol-fan, this is the ONLY version I have ever liked (though I admit, this isn't one I've heard too many recordings of, but both
James Taylor
and
Kenny Loggins
did their own versions). Double greatness: this is sung by my most favourite of classic Christmas crooners:
Andy Williams
. Some children see him Lily white The baby Jesus Born this night Some children see him Lily white With tresses soft And fair. Some children see him Bronzed and brown The Lord of heav'n To Earth come down Some children see him Bronzed and brown With dark And heavy hair. Some children see him Almond-eyed This Savior whom We kneel beside Some children see him Almond-eyed With skin Of yellow hue. Some children see him Dark as they Sweet Mary's son To whom we pray Some children see him Dark as they And, ah They love him, too. The children In each diff'rent place Will see The baby Jesus' face Like theirs But bright With heav'nly grace And filled With holy light. O lay aside Each earthly thing And with thy heart As offering Come worship now The infant king 'Tis love That's born tonight.
Courtesy blazedbuddha
The story of
King Wenceslas
is an old one and an allegory of the LORD G-d's humbling Himself to come to humankind disguised as an infant (different denominations believe variations on the deity / human duality but I'm going to use the term disguised here). He was an actual 10th century Bohemian duke who was sainted and considered a martyr. He was given the title as king after death by Roman
Emperor Otto I
and people of the
Middle Ages
would have understood this to be a title of 'righteous kingship.' There was an actual King Wenceslas in the royal sense several centuries after the one mentioned in the carol.  My favourite bit is the very end of the last verse: 
Therefore, Christian men, be sure, wealth or rank possessing,  Ye who now will bless the poor, shall yourselves find blessing.  
I actually favour the
Mormon Tabernacle
Choir version but stumbled across Judy Collins' recording last year and wanted to include that here.  BTW, the feast of St. Stephen is on December 26, also celebrated as Boxing Day. Good King Wenceslas looked out On the feast of Stephen When the snow lay round about Deep and crisp and even Brightly shone the moon that night Though the frost was cruel When a poor man came in sight Gath'ring winter fuel "Hither, page, and stand by me If thou know'st it, telling Yonder peasant, who is he? Where and what his dwelling?" "Sire, he lives a good league hence Underneath the mountain Right against the forest fence By Saint Agnes' fountain." "Bring me flesh and bring me wine Bring me pine logs hither Thou and I will see him dine When we bear him thither." Page and monarch forth they went Forth they went together Through the rude wind's wild lament And the bitter weather "Sire, the night is darker now And the wind blows stronger Fails my heart, I know not how, I can go no longer." "Mark my footsteps, my good page Tread thou in them boldly Thou shalt find the winter's rage Freeze thy blood less coldly." In his master's steps he trod Where the snow lay dinted Heat was in the very sod Which the Saint had printed Therefore, Christian men, be sure Wealth or rank possessing Ye who now will bless the poor Shall yourselves find blessing
Courtesy Cleopatra Records
Also filed under
Sing Lullaby
, this beautiful lullaby is one I used to catch myself singing when putting toddlers down for naps when I worked in a daycare. While the words reflect the real tone of
Advent
to
Easter
cycle, the sweet tune is from a
Basque
carol. 1. Sing lullaby! Lullaby baby, now reclining, Sing lullaby! Hush, do not wake the Infant King. Angels are watching, stars are shining Over the place where he is lying. Sing lullaby! 2. Sing lullaby! Lullaby baby, now a-sleeping, Sing lullaby! Hush, do not wake the Infant King. Soon will come sorrow with the morning, Soon will come bitter grief and weeping: Sing lullaby! 3. Sing lullaby! Lullaby baby, now a-dozing, Sing lullaby! Hush, do not wake the Infant King. Soon comes the cross, the nails, the piercing, Then in the grave at last reposing: Sing lullaby! 4. Sing lullaby! Lullaby! is the babe a-waking? Sing lullaby! Hush, do not stir the Infant King. Dreaming of Easter, gladsome morning, Conquering Death, its bondage breaking: Sing lullaby!
Choir of King's College courtesy drwestbury
A blessed
Easter
to you and yours from
Yello80s!
These photos taken from an 80s classic, The Nelson Children's Bible, illustrations by Lyndon Evans
Christ the Lord is risen today, Alleluia! 
Earth and heaven in chorus say, Alleluia! 
Raise your joys and triumphs high, Alleluia! 
Sing, ye heavens, and earth reply, Alleluia! – from Christ the Lord is Risen Today
And here's another 80s Christian classic cartoon-
The Greatest Adventure: Stories from the Bible, the Easter story courtesy Coptic Love
Easter in the
UK
is a slightly different deal than
the US
celebration of the Resurrection of Jesus the Christ. For one, kids manage to wrangle off a fortnight (that's 14 days) from school compared to our once Good Friday to Easter Monday that's dwindled down in some schools to
Easter Sunday
itself (can you say complete jip? Nobody goes to school on Sunday! Except for…ahem…
Sunday School
and try arguing having a holiday
off
Sunday School on Easter.)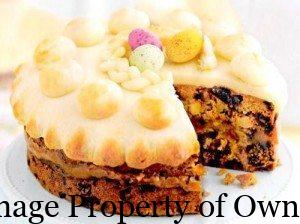 Christian British families of course attend church and just like in America, if you haven't made it to church all year for anything other than funerals and weddings you tend to get there for the holiest day of the year. There a couple of slight differences in the Lent/Easter calendar to observe: Lent, the 40 day period before Easter is kicked off by
Pancake Day
or Shrove Tuesday in the UK where over here we get it going with Mardi Gras. They eat pancakes (more like crepes to the American palate), we eat King Cake. They break Lent up with
Mothering Sunday
and a Simnel Cake (a sort of fruit cake with 11 balls of marzipan on top representing the Apostles minus Judas), we leave Mother's Day until after Easter and take Mum to
Dairy Queen
for an ice cream cake.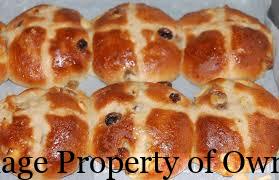 We both agree on Hot Cross Buns which aren't so widely eaten outside the Catholic/ Lutheren/ Episcopal churches here but if you haven't had one they're basically little spiced buns with raisins or currants and an icing cross over the top representing The Cross- yes, that one unless you know of another. And of course the UK has an Easter Bunny though he very well may have an accent. Not growing up in the UK I rely on my husband's eloquence about the grand old Easters of yore (read: 80s) when they congregated around a table full of Easter eggs and
Cadbury's
made up any yearly deficits in profits within the 48 hours between Good Friday and Easter Sunday. Let's face it, Hallmark invented Valentine's Day for the Americas and Cadbury's cornered Easter- they got the bunny, and the eggs. I'm not talking a table full of little Creme Eggs, I'm talking big monster eggs from the major candy manufacturers- hollow eggs in special boxes containing small versions of popular candy bars either in the eggs themselves or in the packaging. So you may have an Aero egg with a couple of small Aero bars or a Smarties Egg filled with Smarties or this year I saw a Smarties egg box shaped like a barn with a cow-shaped chocolate filled with mini Smarties. At any rate this is what British children are hoping to score from the Big Bun. Getting them here is a challenge and a large expense but we always manage- these are a couple I have on authority from the Rabbit himself are going to be found in the Quayle
Easter baskets
this year…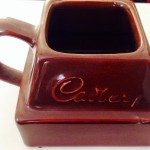 Cadbury's Caramel Bunny ad courtesy HallOfAdvertising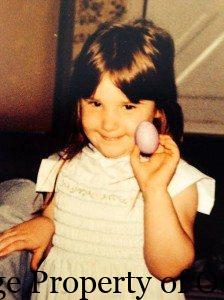 Let's be honest, Easter in the 80s was pretty much like Easter in every other decade except perhaps for the amount of candy and junk available for the bunny to tote along and perhaps the loss of those pre-70s REALLY SCARY TO HELL
Easter Bunnies
mothers insisted scarring their children for life with for an Easter photo at the mall everyone would remember. The reason for the season hadn't changed; people still piled in the car on
Easter Sunday
Best to go to church, stole candy from their brothers and sisters; hunted for their basket on Easter morning and dyed eggs with those PAAS kits. What the 80s could claim solely, however, was the
Cadbury
Easter Bunny (known as the "Clucking Bunny') hopping onto screens everywhere to lay Cadbury Creme Eggs in 1982 (the
Cadbury Creme Egg
itself as we know it today debuted in 1971 but he bunny ads are only shown in North America- lucky us!).
Cadbury Bunny Tryouts courtesy McGuireLindsey
Decorating for Easter has always been a favourite pastime; getting those cheap plastic eggs strung up over the bushes, placing panoramic sugar eggs and crosses on the dining table just so, dying real eggs and buying pysanka eggs because who has time for that? I recall most houses getting those cheapo plastic blowup bunnies holding a carrot from Kmart and tying them to the porch or just to poles outside in the yard like some kind of warning that the Big Bunny better bring chocolate and none of those RainBlo eggs or else. Our own particular colouring tradition came from my Grampa J- he always dipped the last egg into all of the colour pots to make a nasty looking grey egg for some reason. I dunno but we still do it every year!
Russel Stover
coconut creme egg and a white chocolate cross. My mum was partial to those malted Robin Eggs and the little chocolate baskets with chocolate eggs (that one bought at an actual candy store and not through the checkout of
Dollar General
) and my dad was partial to those 1 lb chocolate eggs with the peanut butter filling and a sugar flower on top though he usually ended up getting something like a Pizza Hut juice glass. One year he got Grumpy Bear and I got
Tenderheart Bear
although he'll argue to the death the Grumpy Bear glass was in my basket. Nice try pops. And I think I was the only kid in school who hated Peeps.
The particular draw about church at Easter was taking home a lily from the altar and showing off my new little purse with a clasp (extremely
haute couture
) that fit all of a golf pencil, string of mardi gras beads and possibly half of a mini New Testament. I didn't always understand that portion of the Gospel and after I'd shown off my stuff and bragged about my
Easter basket
I was just trying to get home
to it
because frankly, Easter clothes itch and we didn't have any of those Resurrection Rolls or cool crafts they have now to keep kids quiet during Sunday School because of course this is the most important holiday in the
Christian year
. And there was no getting out of Easter Service- my mother was the pianist and choir director.
Sources
:
Kitchen Daily
Wikipedia