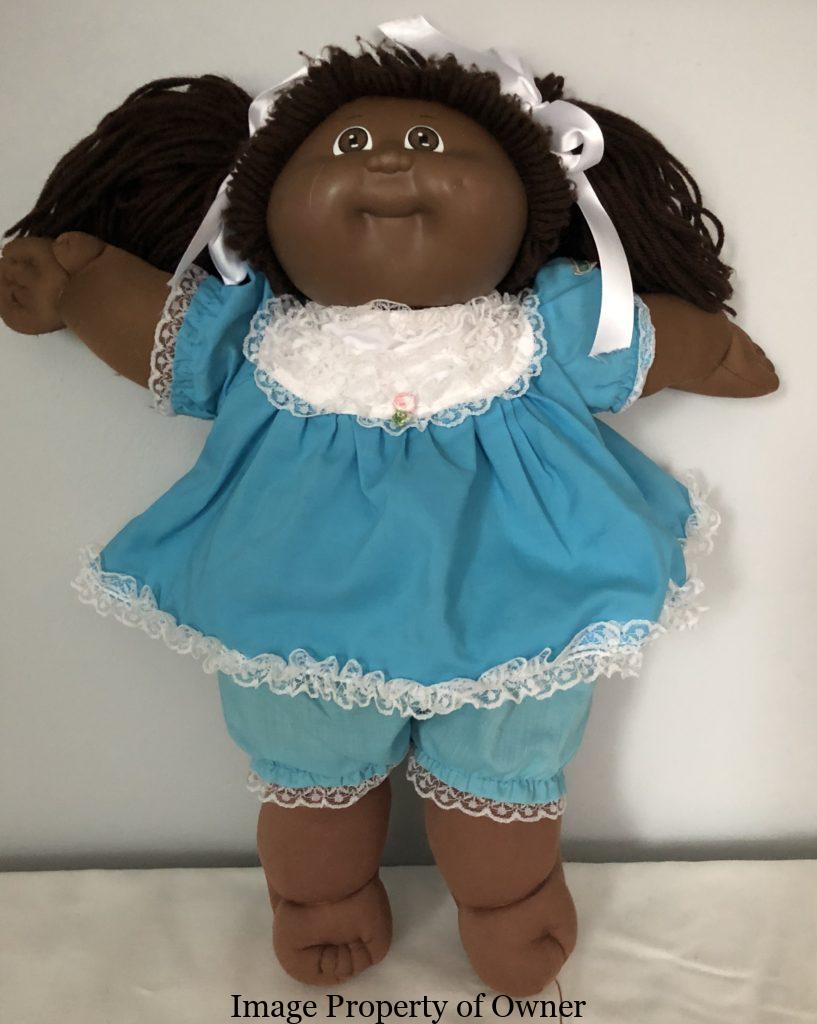 I don't sell my toys often but it's time to part ways. Over on ebay I have auctions going for a sweet
African American
2-pony girl from OK factory who needs a little TLC and a tall, short-haired KT girl with handmade sailor outfit. You can view full pics on the listing: Seller
aeru2
AA girl for sale,
KT girl for sale.
AA OK Girl
:
"Has long ponytails and her original blue dress and bloomers. She comes from the Coleco OK factory and has the typical round face, big eyes and very chubby legs of an OK 'Kid. Her face is clean and she has one sweet little dimple.
Some notes on her clothing and condition: The bloomers' elastic is stretched so they could use a stitch or two to tighten. She does not have a diaper; she is wearing a pair of plain white handmade bloomers underneath her dress. Her hair-ribbons are new and she is a doll who needs a little body TLC just in the foot, her toe thread has come unraveled, nothing a novice sewer can't manage. An excellent pre-loved playdoll or addition to a less-than-mint collection. Thanks so much for looking and for more awesome 80s toys please check out my other auctions!"
KT Girl
:
"Blonde girl is from the KT factory in China (Kam Yeun Toys) which manufactured for Coleco. KT Kids are a little bigger than average CPK so this little blondie is a bit tall for her age. She's in excellent condition with her original hair ribbon and diaper. Her clothes are not the originals- she is wearing a handmade sailor suit with matching bloomers and tam and she has some pretty kicking infant hitops to complete her ensemble. She has been out of her box for about a year in a smoke-free home and has no visible flaws (box is unavailable).
Thanks so much for looking; serious bidders only. For more awesome 80s toys check out my other actions please!"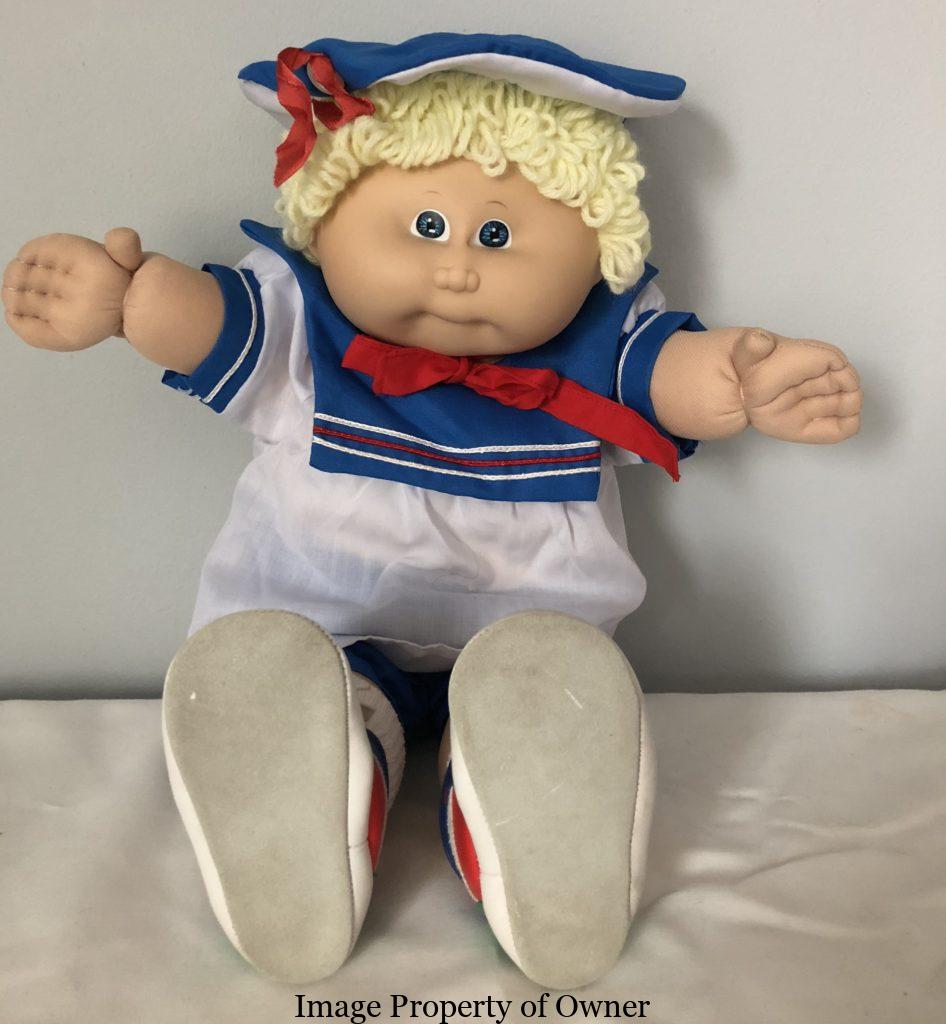 Found another one of these adorable new 'Kids!  Just look at that little tooth!    
Although a little less deluxe than some of the other current 'Kids, these Target Exclusives are nice for younger CPK fans and I've seen them on clearance as low as $14.99. All wear tutus and have their own little tiaras.
I wasn't a Barbie girl. I didn't play with any of the dolls you had to snap tiny little snaps to dress- too much work and my fat fingers weren't doing it. But I certainly appreciated their costumes (Crystal Barbie? I wanted that dress and earrings for myself!) and it wasn't until I was too old for Barbie that the Dolls of the World collection came out and made me want Barbie's clothes all over again. These dolls are actually from the mid-90s and Too Groovy Toys let me take some snaps. Check em out:
Calling all Yello80s Cabbage Patch Kid fans -and I know there's a ton of your out there- Yello80s has just put up the
Official Yello80s Cabbage Patch Kid board on
Pinterest where you'll find tons of 'Kids, accessories, Koosas, Furskins and of course more of those crazy CPK names!
FAO Schwarz
is in on the CPK birthday this year with
FAO exclusive 20″ dolls
in several cute pink outfits.  Selling for
79.99
with
free shipping.
I want one!
Babyland General
has rolled out the
Vintage Limited Edition dolls
for the 30th Birthday Celebration and like CPKs always were, these are a little pricey at $49.99. A little digging found out that
Toys 'R Us
has the
Strawberry Blonde Girl Brunette Girl
for
$34.99
in store and online.  They've also got these
sweet little guys with glasses
also selling for
$34.99
at
Toys 'R Us: