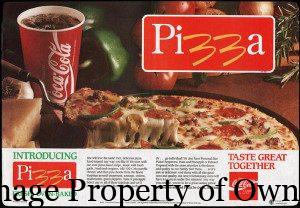 Fast food is a big part of our culture, like it or not, and if you grew up in the 80s you betcha it was. I think I knew all the McDonalds jingles and my mania hit its fever pitch when my grandmother retired and went to work in the drive through of the local McDonalds. She was never a fan; she started her day with a black small coffee and I can only count on one hand in her 15 year career how many times she came out with a bag of fries. But if you're like me and I suspect you are, the menu items you once knew and loved at your favourite fast food joint have now hit their 20-30 yr missing mark and have gone on to cult status. Here's a look at some greats we may never see again: 1.
Wendy's Original French Fries
-replaced in 2010 with 'natural' fries over the old, tasty, 'un-natural' ones 2.
McDLT
– the McDonalds 'Light'. These were packed in a styrofoam container with the bottom bun and burger in one side and the top bun and toppings on the other side to keep it like….unsquished and melty. Too bad it used so much environmentally unfriendly styrofoam.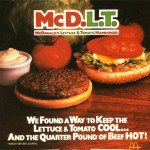 3.
McDonald's Supersize option-
well we all know who killed that one, cough, Morgan Spurlock. 4.
 Diary Queen Breeze –
A Blizzard made with froyo 5.
Burger King
Mozarella Sticks 6.
Taco Bell's XXL Chalupa and Bacon Club Chalupa
– Basically a taco with a deep fried shell and one with bacon and ranch sauce 8.
McDonald's Chicken Selects
– chicken tenders with sauces 9.
Wendy's Wraps –
which weren't like a wrap we think of now but more like a cross between a taco and pita wrap filled with salad 10.
KFC's Chicken Little Sandwich
– a little original recipe chieken sandwich 🙂 11
. Burger King Yumbo
– ham and cheese sandwich served on a hamburger bun 8.
Long John Silver's Peg Leg
– fried chicken drumsticks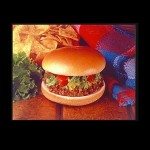 9.
Wendy's Superbar
-all you can eat salad bar buffet 10.
Taco Bell Cheesarito
– basically a mexican pizza with a ton of melted cheese. 1
1. Taco Bell Beefer Burger
– Hamburger with taco fixin's 12.
Burger King- Chicken Fries, Chicken Tenders
13
. McDonalds Pizza
– yep, actual pizza, nothing fast food about that 14.
McDonalds McPizza
– basically pizza Hot Pockets. 14.
KFC Snackers-
more little chicken sandwiches but on a longer bun 15.
Pizza Hut Priazza
–
Chicago-style deep dish pizza
16.
Arby's Roastburger
– something like a combo of the regular thin sliced beef and an actual hamburger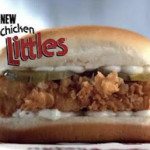 17
. McDonalds Fried Apple pie
– same as what they've got now (and that Little Debbie sells in gas stations and drugs stores everywhere) but hot and fried. Mmmm. 18
. McDonalds Angus Third Pounders
– one the few menu items that was 'too much' for someone 19
. McDonalds Chicken Fajita Wrap
– with its own picante sauce packet 20.
Rax's Desert Bar
– two words no -one can argue with
Rax Roast Beef advert "Little Big Man" 1988 courtesy MattArchives
Sources
: Business Insider
1
,
2
The Mighty Rib
Wikipedia 
I can't say that I ever had the pleasure of chomping on the tortilla
crisps
from
Keebler
that were Keebler Suncheros but I sure remember the adverts with an
American
Indian gentleman singing away as he crunched on a bag that Suncheros were light and crispy cause they're made by pequeños Keebleros! Goofball. Introduced in 1988, Suncheros were part of Keebler's answer to
Frito-Lay
's millions-maker
Ruffles
chips along with O'Boises and Ripplins to round out it's foray out of sweet stuff and into salty snacks. Suncheros came in 3 flavours: original, salsa and nacho and were billed as being 'cholesterol free' and 'lighter' and 'thinner' than regular
tortilla chips
on the market. In 1988 a 7oz bag cost $1.49.
Suncheros ad courtesy Gary Flavin
Sources
:
Chicago Tribune
Sun-Sentinel