In 1982 a gentle picture book by Raymond Briggs about a boy's nighttime adventure with his snowman was brought to life to become a beloved 80s animated classic:
the Snowman
. This wordless animation introduced a new classic Christmas tune
Walking in the Air
to the world. When the special aired in the UK it originally had an introduction by Briggs himself speaking about his own boyhood Christmas but in subsequent airings had alternative openers including one with David Bowie, which is the one which aired in the US. For the film's 20th anniversary DVD release yet another, animated opener was recorded. Here is the original special with the Raymond Briggs operning as it was intended to be viewed:
The Snowman courtesy xBeps
Few things garnered as much Christmas excitement in the early 80s than Atari!
Courtesy haikarate4
Who could make a more colourful Christmas than Rainbow Brite?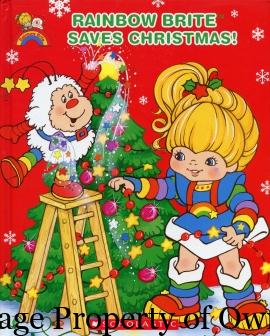 Seems like just about everbody in the 80s put out a holiday single or even a full album- that's a ton of 80s Christmas cheer and we've got so much of it here on yello80s we just had to share with you! Check out the Yello80s Christmas jukebox and jingle bell like it's 1985. We've got Sting, Sheena Easton, Run-DMC, Tom Tom Club, Cocteau Twins, NKOTB, The Jets, Dan Fogelberg, Grace Jones, Dead or Alive, Stevie Nicks and SO MANY MORE!
And while you're at it, follow us on Youtube @Yello80s for all the 80s you can handle!
These Christmas Muppet Baby dolls were sold as Christmas premiums at McDonald's in the 1980s.
Did all your 80s dreams come true this Christmas? If not, there's plenty of new-old favourites already in stores and slated to come out this year such as these Cabbage Patch cuties from Toys R Us.
From Yello80s.com may you have a blessed and joyous Christmas this year- no matter how you celebrate it, your specific traditions or lack thereof, we hope the love of Christ envelopes you and G-d makes His presence known in your life on this holy day. This year I've wrestled with Christmas for perhaps the first time in my life. It's been a year of loss and re-defining and discovery. 2016 has challenged everyone I know in various ways but over the past several years I've become very dissatisfied with the trappings of this season. I still love the music and the cheesy tv specials; the giving and the decorating and all the miracles… but this year I understood in a whole new, grown up light those frustrated words of Charlie Brown in my favourite Christmas special: "Isn't there anyone who knows what Christmas is all about?!" The show-stealing reply of Linus is a tear-jerker for me every year. But I was always Linus in the crowd- thinking to myself, of course Christmas isn't about Santa and trees and presents. How trite to make it *only* about those things. How one -dimensional. Then my grandmother passed suddenly in August and Christmas, all it's symbolism both Christian and secular, all came from her. And now I find myself as Charlie Brown, asking not in frustration but seriously, can't anyone tell me what Christmas is all about? And luckily, the little Linus voice inside me, maybe my ancestors speaking over me, is answering:
Courtesy Sval777
The text is from the Gospel of Luke, chapter 2, verses 8 through 14,
King James Version
. "8 And there were in the same country shepherds abiding in the field, keeping watch over their flock by night. 9 And, lo, the angel of the Lord came upon them, and the glory of the Lord shone round about them: and they were sore afraid. 10 And the angel said unto them, Fear not: for, behold, I bring you good tidings of great joy, which shall be to all people. 11 For unto you is born this day in the city of David a Saviour, which is Christ the Lord. 12 And this shall be a sign unto you; Ye shall find the babe wrapped in swaddling clothes, lying in a manger. 13 And suddenly there was with the angel a multitude of the heavenly host praising God, and saying, 14 Glory to God in the highest, and on earth peace, good will toward men." This iconic scene so replayed and so remembered by America almost didn't make it in. Station executives didn't like the special to begin with and only aired it because they were pushed to fill up the airtime with no other alternatives so close to Christmas. Charles Schulz was advised he couldn't write in something so religious, it wouldn't make it to television but he is remembered as saying, "If we don't, who will?" And that's what Christmas is all about, Charlie Brown. As an 80s kid, that message got to me through TV. Today's kids might hear that message of joy in a text- whatever, however, peace to you in the name of the LORD and joy to your family and friends this day. love, Yello80s.com