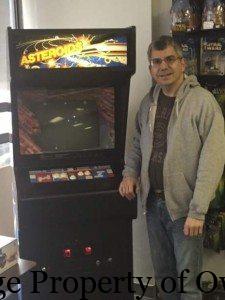 Yello80s favourite vintage toy shop, Too Groovy Pop Culture Toys, home of
TooGroovy.com
, is being featured in Pittsburgh newspaper The
Tribune-Review
in an article by columnist Eric Heyl. Be sure to check it out and if you're in the Pittsburgh area, stop in to the store to have a turn on the store's very cool Asteroids arcade game.
Yello80s attended the 2nd annual 2015 Too Groovy Toy Show on 2nd May at Messiah Lutheran Church in
Munhall, PA
. Doors opened at 10am and the show went on til 4pm. Though the main 80s attractions seemed to revolve around
TMNT
and Care Bears, there was enough variety to entertain visitors of all ages with Lego sets and pieces from C. Todd Brick, plenty of diecast  and model sets vintage and new from South Hills Modelers Assocation, vintage and new
Star Wars
a'plenty from Too Groovy Pop Culture Toys , Jason Shorr and JMA Toys and Collectibles,
GI Joes
of all years from D & E Collectibles,  Japanese robots and collectibles from Materialist Zen, original art and character jewelry by local artist Nicole Tibbit, original soft toys by Lucky Squid Studios, video games and consoles from Warp Zone and the Atari Guy, and  local writers and members of
Indie Authors of Mon Valley,
J.P. Bidula and Spike Bowan.  Many thanks to organizers Bobby Novotny of Too Groovy Pop Culture Toys, Patrick Senatro, and Steve Appleby of Materialist Zen. Additional thanks to kitchen help and organisers Janet, Betsy and Ben Novotny.
video game
knowledge on board.
This year had a sort of sophomore atmosphere- which makes sense seeing that it was the 2nd show for Too Groovy Pop Culture Toys! The show was small enough to allow for less established vendors to have a first-time chance but has grown enough from last year to hint at possibly a bigger venue next time around. Informality ruled the day with plenty of families milling about but also a lot of technical toy talk going on as well. Authors Spike Bowan and J.P. Bidula were on hand to talk grass roots publishing and some Star Trek cosplayers and Junior Members of Star Fleet were spotted on the grounds making sure all abided by the Prime Directive. It's not clear right now if there will be another show this year or if there will be a larger show next year around this time but Munhall community needs to get behind the event which is bringing new visitors to the area. In the meantime take a look at some of the goodies I found:
Yelloooo 80s kids- This year's Munhall Halloween Parade will be on Saturday 25th October from 3-4 pm. Our good friend Bobby Novotny over at TooGroovyToys will be donating 200 small toys for the yearly treat bags put together by Munhall VFC #4 (Station 203) for the kids when they end their costumed parade through Main Street. See, Bobby's mother taught him to share his toys 🙂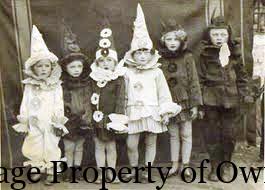 I took a trip to the Too Groovy Pop Culture Toys toy show on Saturday to see what was what with my buddy Bobby Novotny and was really pleased with how things turned out. The tables were chock full of vintage and new; Ben and Janet Novotny were working the kitchen and keeping watch over Too Groovy's table (and beating Penn Hills Game Exchange in a friendly Nintendo DS competition) and the hosts Patrick, Bobby and Steve worked the crowd. There were Klingons, there were Minifigs, there were hot dogs! And I admit, there was a box of My Little Ponies that almost came home with me… shhh! So the highlights- at $2 admission and kids under 9 free there was no excuse not to come out. It was even cold and rainy out so no better way to spend the day than with toys. The atmosphere was friendly, there was a decidedly 80s tv theme vibe about the music (woohoo! I put my head up long enough to catch snatches of Doogie Howser, the Smurfs and the
Greatest American Hero
) and all the dealers were ready to talk toys. I had a very good chinwag with Penn Hills Game Exchange (very knowledgeable people) on Nintendo's Famicom and a very interesting base for Gamecube which allows one to play Gameboy on a television. Really neat stuff, ok I'm a video nerd lol. Atari Guy was also nearby who I am told is *the* authority on Atari. I particularly liked his pacman themed table decor. At the very end of the middle tables Paul had some interesting Japanese movie figures with plenty of accessories and original boxes. Jason's collection of die cast was impressive, Warp Zone brought about every classic GI Joe playset there could possibly be, and D and E Collectibles' Star Wars spread would have made Darth Vader jealous. Nicole Tibbitt was in full regalia with a very original anime and toy-themed collection of jewelry, stickers and badges, Melissa and Jason's wall o'80s and 90s got a fan squeal out of me and Kevin brought not only boxes of DVDs but some really interesting and HUGE Batman vehicles. The My Little Ponies were courtesy Harlyn, C. Todd Brick had enough Lego sets to build a whole new building for next year's toy show and lastly,
Laser Tag
. Laser Tag! STEVE!!!!!
Penn Hills Game Exchange:
Retron 5 Nintendo clone
Atari Guy:
Possibly every 2600 cartridge, ever
Too Groovy Toys:
Benji Detective and Charlie's Angels Board Games
Kevin
: Mammoth Batmobile!
Paul
: Gaijin Figures
Harlyn
: Huge Pee Wee Herman doll
Steve Appleby
: LASER TAG!!
Melissa & Jason:
Wrinkles dog (when did you last see one of these??)
C. Todd Brick:
Lord of the Rings Lego sets
J.P. Bidula:
novel Unlucky Seven
Spike Bowan:
novel War in the Backyard
D and E Collectibles:
Ewoks Village playset
Jason
: Corgi double decker bus models
Warp Zone:
GI Joe Cobra Terror Drome
Nicole Tibbitt:
Plastic Army men earrings
Fruitimals
who nay be joining the show next year. There's talk of a follow up show possibly in 6 months so make sure you're going to be around in the spring to come out, talk toys and bring a couple of favourites home for your collection.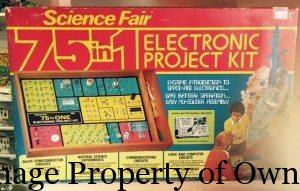 The Christmas I got the My Little Pony Paradise Estate was the same Christmas I got a much later version  of this Science Fair Electronic Kit. I had got my parents up at 1 in the morning that year and my mother usually let me open 1 thing before sending me back to bed so that year I had chosen badly and opened something lame and had to wait til morning to find the rest of my loot. Of course bu then my dad was in no humour to put together anything, He handed me the tools and took a nap and after I was done putting the Estate together I somehow was sick of pink and much more appreciative of my parents' know-how and turned to put together the radio kit. Well I got it together but it didn't pull in any signals. Oh well, the fun was taking it apart and trying again. In my opinion these are the best sorts of toys for kids over 8 hands down!  Photo property
Too Groovy Toys
.
Tables are going fast so if you'd like to show your collection or sell toy-related merchandise please contact
Bobby Novotny at 412-339-4812.
Just looking to peruse and add to your collection? Come on down, we've got a little something for everyone. ans we need
YOU
to help make this the grooviest toy fair ever! See you at the Too Groovy Toy Fair October 4 10-6pm, see flyer for additional details.
*Cash preferred.
TooGroovyToys.com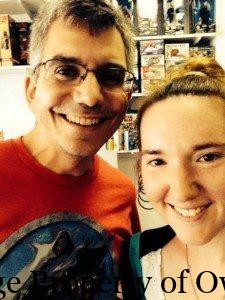 Yellllllo 80s toys fans!
Today I was talking with Bobby Novotny, owner and toy collector with Too Groovy Pop-Culture-Toys in
Munhall, PA
which is right outside of
Pittsburgh, PA
. Located at 3905 Main Street, Munhall PA 15120, Too Groovy is about 2 miles from the Homestead Waterfront for local toy fans who want to stop in but anyone is welcome. More contact info after the interview. Too Groovy is the sequel to the Groovy Emporium which Pittsburghers will recall from Carson Street on the South Side. Not as big and mainly focused on toys, Too Groovy struck me as a boy's playroom; lots of action figures, video games, comic books and cars with the occasional pile of
Fisher Price
, dolls and ephemera to round it out. Familiar faces are Smurfs, Transformers, Hot Wheels, Fisher Price, Star Trek, STar Wars, Nintendo, Sega, Coleco, Superheroes, Disney, Barbie, Corgi, GI Joe, Indiana Jones, Lego, as well as puzzles, board games, comic books, lunchboxes and much more. My favourite are the
Strawberry Shortcake dolls
which still have those fruity scents 30 years later. Bobby is an awesome guy, laid back, friendly, and knowledgeable about his product.
Q. How did Too Groovy get started?  
Bobby says that the name
Too Groovy
is sort of an omage to the Groovy Emporium which had been open about 18 years when he came along to volunteer fixing toys (he's pretty good with vintage game consoles, he figures up til about
Sega Dreamcast
). Three years later when the store closed he decided to bring his own passion to the area and opened his own toy and pop culture store. A dedicated toy fan, Bobby thinks he just never grew out of his love for toys. He tells the story that once he came home from college and had spent money on a battery-powered water gun. His mother got upset over his spending the money on toys, thinking by college he should have moved on to other things. His retort? "You're right. I'll start spending my money on drugs and abortions."  For a short time he considered that his mother may be right, it might be time to move on. But the next time he came home, as he walked into the kitchen his mother silently slid a small Batman toy across the table towards him. He thinks this was her acceptance of his lifelong love.
Q. How did Too Groovy come to this location?
He originally scouted out 8th Avenue in Homestead to situate the store but the rent was high and the Munhall location fits perfectly as he is a resident and can run to the store off -hours if needed. Bobby says he has visitors from all over the country and as far away as Mexico City. The only drawback? Visitors are often interested in the area of Munhall and he loves to help support other area small businesses by keeping up a wall of business cards and letting visitors know where else they can patronize. However, parking is on-street and it seems that local government could be more proactive in bringing small businesses into the limelight.
Q. I know you're from the area- what was it like growing up here?  
Bobby grew up in
West Homestead
, right down the hill from where he lives now. He says that it was good, there was a sort of 50's, conservative feel to his childhood. He and his friends played outside all day, came home as the street lamps came on. He liked bikeridiing, playing in the woods. And of course, TOYS. He says some of his favourite reading were the Alder's catalogue, and the Sears and
J.C. Penney's
Wish Books. I agree!
Q. Obviously you love all your toys so I'm not going to ask for a favourite But do you recall something you asked for over and over and never got as a kid?
Bobby is quick to say an Atari 2600. He says his sister wanted ski lessons which cost a few hundred dollars and their father told him when his sister got ski lesson he could get an Atari. Suffice to say neither got their wish. He does point out that a toy special to him was one he had as a kid – a Battleground playset which he has 2 versions of in the store
.
Q. You don't just sell toys you also buy them. Any particular criteria or items you accept?
He said he tends to look for things he's interested in but he's trying to expand. The bulk of what he carries are items from around 1963-1985 but he also has current toys on sale. He says for video games and consoles he's interested mainly in items pre-1999.
Q. Do you sell online at all?
For the most part he says no. Bobby would prefer his customers come to the store, pick up, examine, play with and get to know the items for sale. Two reasons for this- 1. Things can get damaged in shipping. 2. He says he would feel terrible if he mailed out a toy and the customer found something either defect with it or blemished that he may not have noticed and thus it would not meet customer expectations. He says he has shipped in a very few cases and these were very special purchases, though he doesn't rule it out entirely in the future.
Q. When I first came into the shop we discussed a trend you'd noticed with mothers in their 30s coming in to buy the original Strawberry Shortcake dolls for their girls because they didn't like the newer dolls. Any other trends you notice in toy selling?
The regulars are mainly men who are serious in collecting but that doesn't mean only men come in. He has patrons of all ages and he says that where kids are concerned, a good toy is a good toy. The younger kids tend to like the older toys, perhaps because of their construction or features. Bobby notices that overall kids get into toys earlier than in previous decades and get out of them earlier too. Board games and puzzles aren't big items with kids now; parents tend to buy these if they're titles they played with as children to share with their own kids,
Q. What are your big sellers?
G1 Transformers, Indiana Jones figures and playsets from the 80s (approx 1982), vintage Star Wars (approx 1977-85), Red Line Hot Wheels, die cast. He said there are quite a few area die cast collectors.
Q. What's the most expensive toy you've sold so far?
A
Ms. Pac-Man
arcade console for $500 that was its' own stand alone arcade in the store for some time before being purchased by a customer from West Virginia.
Q. You have a teenaged daughter and a younger son- do they like the shop or roll their eyes at Dad's hobby?
Bobby says they're pretty tolerant. His daughter likes the Barbies and his son, who is into anime, comes in regularly. He laughs and says he hopes when he is gone they'll tell their kids about "that awful store Dad used to bring us to."
Q. Lastly, the store always has some cool characters on the windows- who does your artwork?
Bobby said the Steel Valley High School Art Club which his daughter is involved in works on them.
Well done keeping it local!
A huge Yello80s thanks to Bobby Novotny and Too Groovy for taking the time out for this interview! I was thrilled to see a SilverHawks Play-Doh playset – I can never find anyone else who remembers Silver Hawks!
Buyers, Sellers and Collectors can reach Too Groovy by:
Email
: toyjedi@verizon.net
Tel:
412-339-4812
Website:
www.toogroovytoys.com
Facebook
:
Too Groovy Pop Culture Toys
Twi
tter: @TooGroovyToys