In 1982 a gentle picture book by Raymond Briggs about a boy's nighttime adventure with his snowman was brought to life to become a beloved 80s animated classic:
the Snowman
. This wordless animation introduced a new classic Christmas tune
Walking in the Air
to the world. When the special aired in the UK it originally had an introduction by Briggs himself speaking about his own boyhood Christmas but in subsequent airings had alternative openers including one with David Bowie, which is the one which aired in the US. For the film's 20th anniversary DVD release yet another, animated opener was recorded. Here is the original special with the Raymond Briggs operning as it was intended to be viewed:
The Snowman courtesy xBeps
Starchaser: The Legend of Orin
(1984, released 1985) is the 2nd animated film be produced in 3D (the first on record being Abra Cadabra 1983). The soundtrack by
Andrew Belling
calls to mind the great
space operas
of the 70s. Ironically, some considered Starchaser to be a blatant Star Ward ripoff.
Courtesy dislexsicknik
We're going to do a little reminiscing about the great movie songs of the 80s. I'm not talking about
Take My Breath Away
(
Top Gun
) or
Oh Yeah
(
Ferris Beuller's Day Off
), I'm talkin' bout the sometimes totally sappy, sometimes completely rocking soundtrack features of the animated movies of the 80s. From cinematic features to TV specials, we're gonna do a little rewind to some musical classics you might have forgotten starting with I Have the Power from He-man and She-Ra: The Secret of the Sword (1985).
Courtesy dj4714tk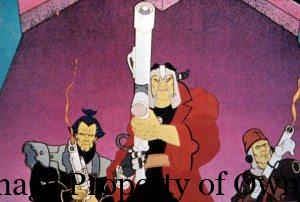 Now, Heavy Metal, featuring
John Candy
contains mainly material we won't be showing on Yello80s but I saw a nod to it on
Tumblr
the other day in the fabulous 80slove's stream and knew I had to include it in tribute to the wonderful Canadian comedian I've watched in
Uncle Buck
waaaaaaaay too many times. A Canadian adult animated production, Heavy Metal consisted of several animated short stories from different animation studios wrapped up into one big romp of sex, guns and rock n roll. Anime fans of
Satoshi Kon
's
Memories
will get the format. Several styles of animation were used and the film featured an unbelievable amount of popular music from the time which also kept it from home release due to rights problems. In 2000, Heavy Metal 2000 was released and as recent as 2013 a remake of the original has been proposed. Repeat: not for children and we are only including this on the site as a tribute to the body of work John Candy left behind.
Shorts in Heavy Metal included:
Soft Landing Grimaldi Harry Canyon Den Captain Sternn Neverwhere Land B-17 So Beautiful and So Dangerous Taarna Epilogue
Road to Avonlea
that US fans would have watched on the
Disney Channel
. I couldn't find any clothed pictures of Katherine so you'll just have to use your imagination but let's just say the character is young, red haired and – naked, lol.