Fisher Price music box radio

McDonald's fry Kids

9″ Rainbow Brite and sprite

Coleco headmold #9 AA

TAF yum yum

Pony Friend Kingsley Lion
Calling all toy fans in the Pittsburgh area! This Saturday October 13th in Munhall Yello80s will be selling lots of 80s goodness along with many other vendors of vintage toy awesomeness at the Too Groovy Toy Show! Check out the times below and make sure to visit the Facebook page! See you there!
Thanks to one collector's careful archiving we now have another huge update on the CPK names page #3, bringing the list to the point we're gonna need another page! Browse all three pages for some awesome CPK history and if you're renaming a 'Kid, customizing a 'Kid or naming an actual kid, there's plenty of names here for inspiration.  On to the names!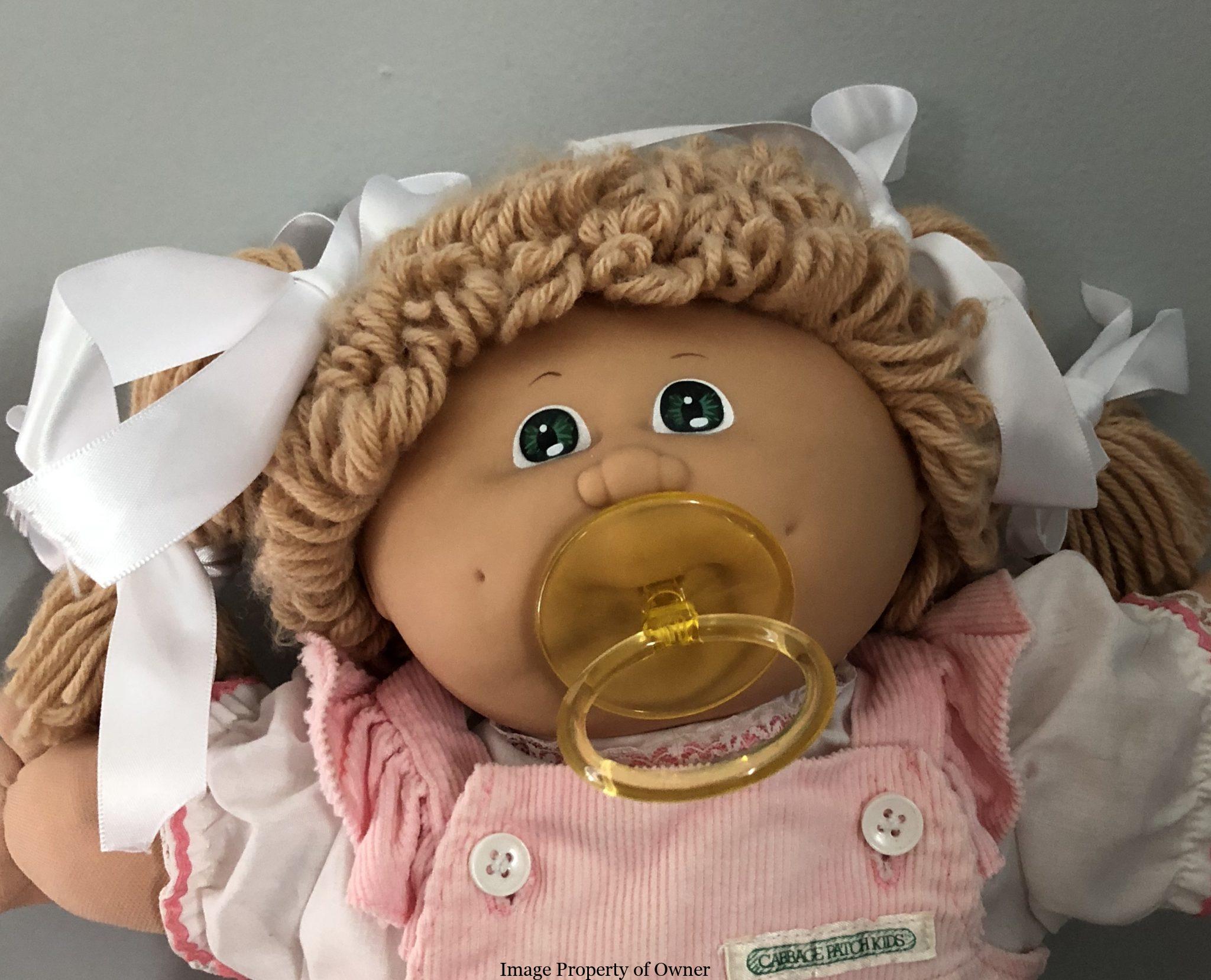 For the many CPK fans who visit Yello80s every month I have some CPK items up on eBay for sale under Seller ID: Aeru2 (individual links to auctions by photos). Check out these vintage poseable cuties from Panosh Place/ Coleco, many more photos on listings:
Football boy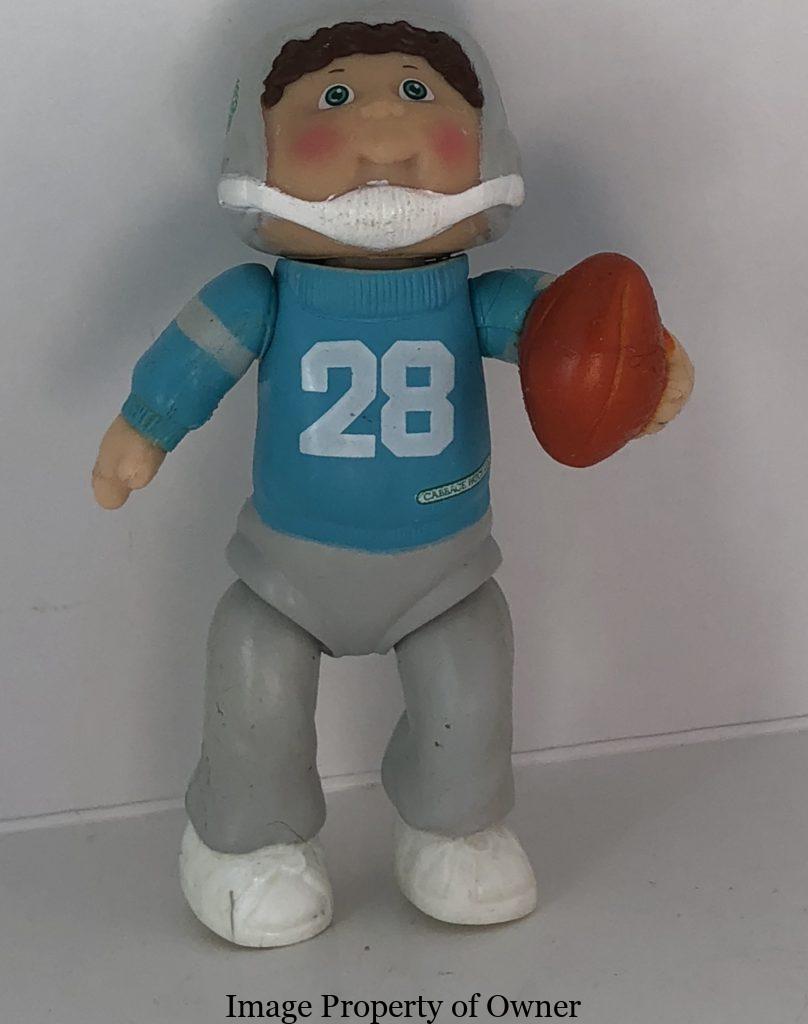 Red-haired girl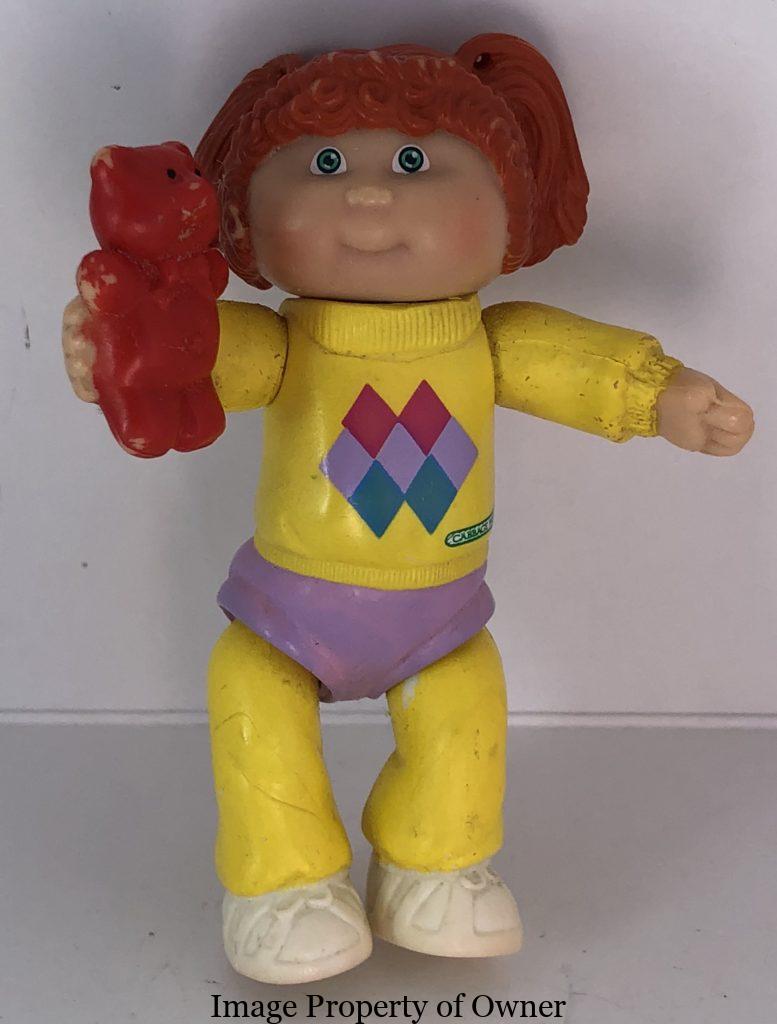 Brunette Girl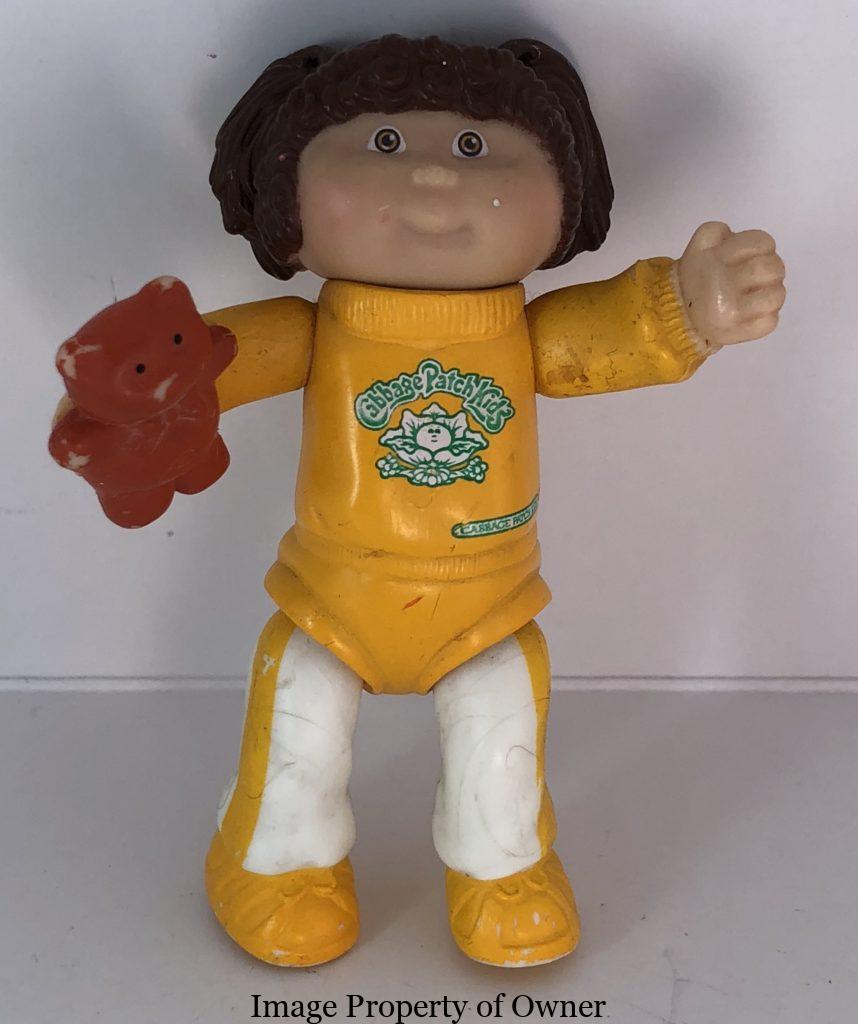 Blonde Girl Variant 1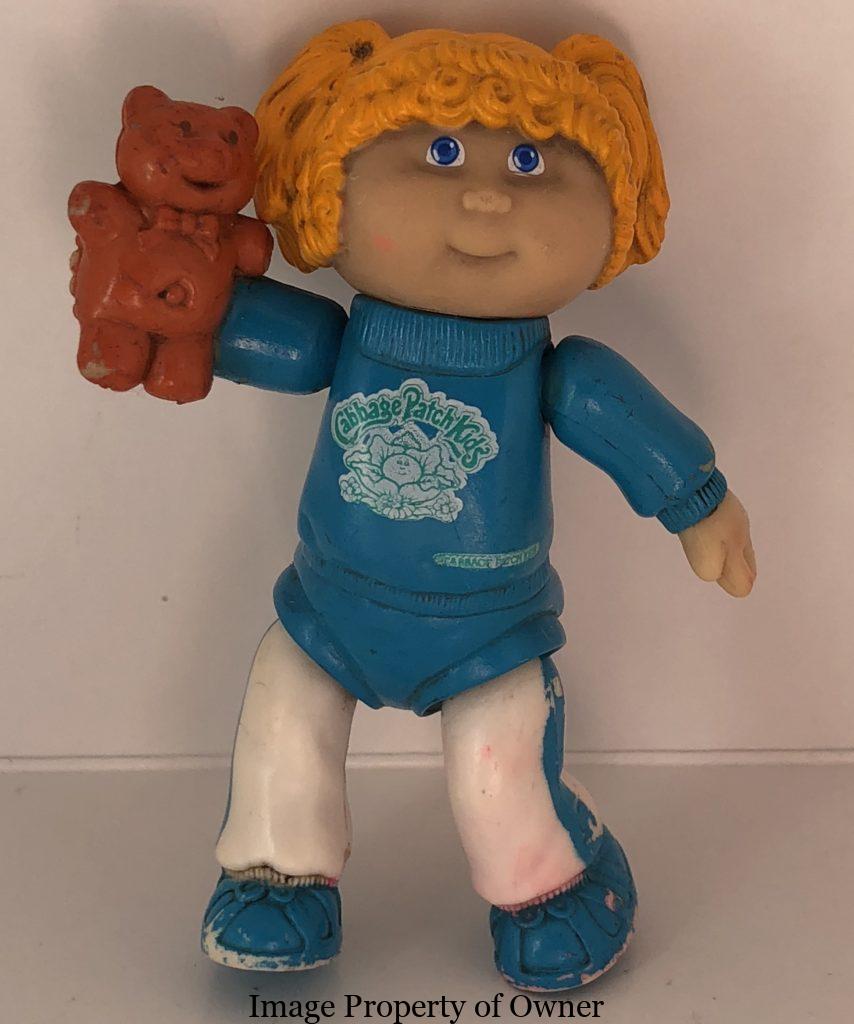 Blonde Girl Variant 2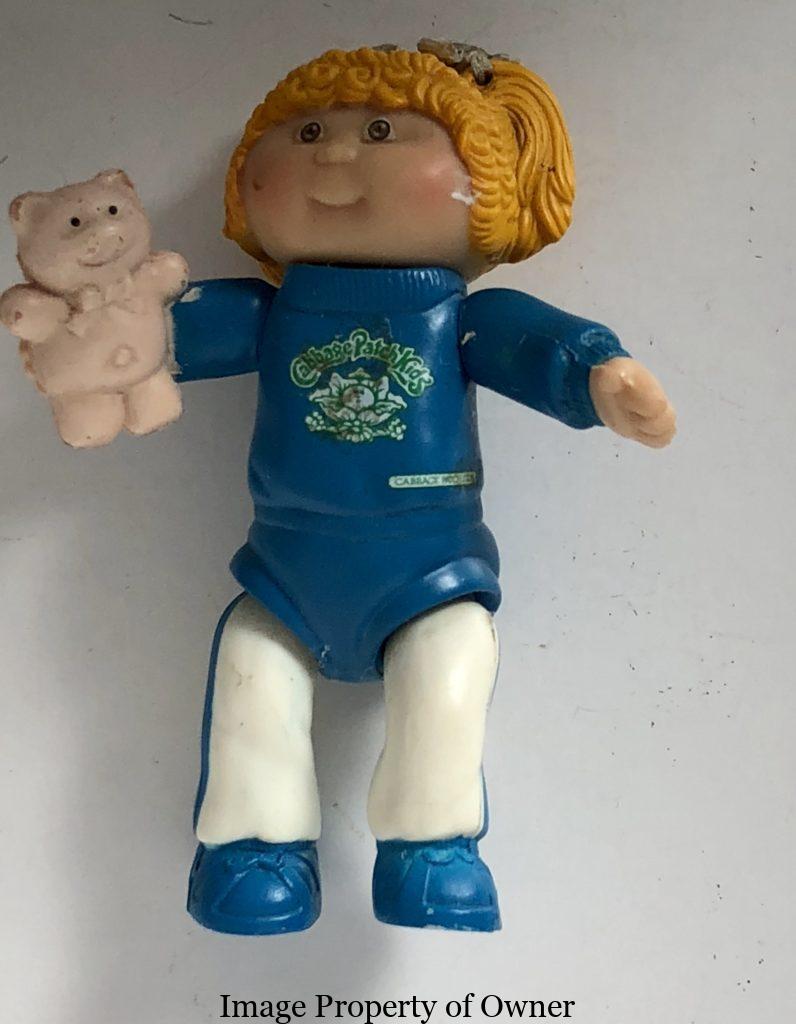 Preemie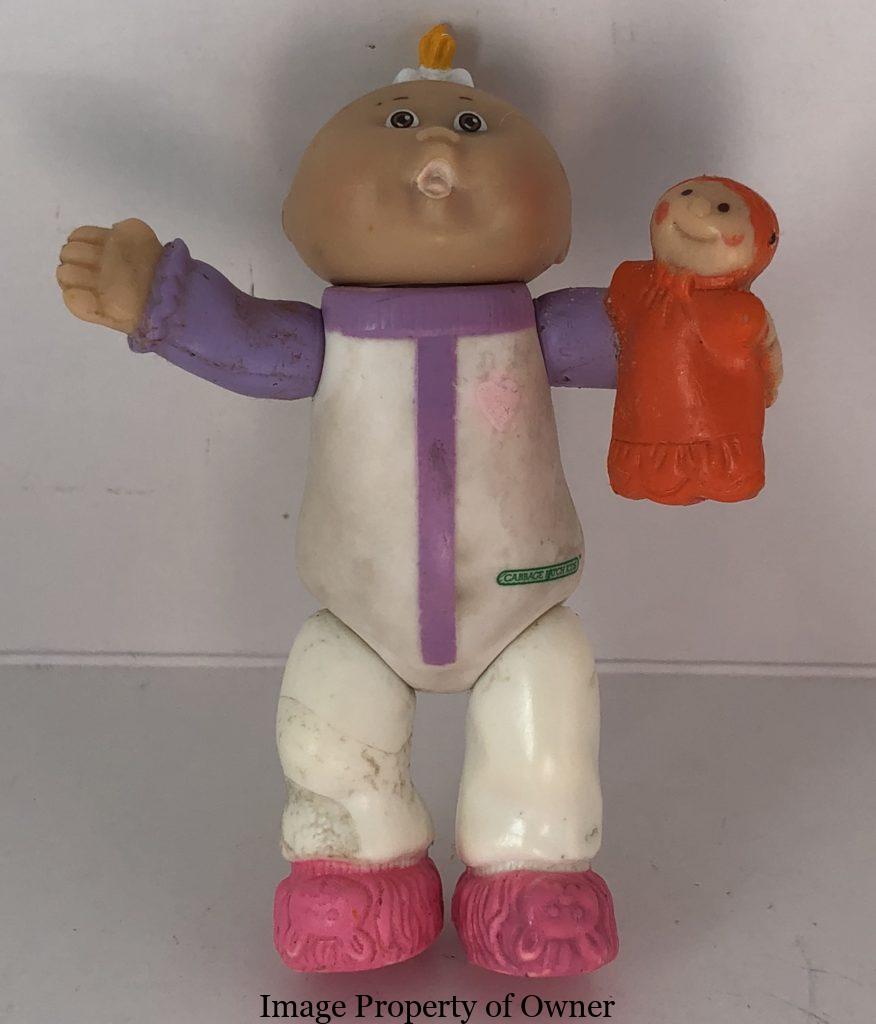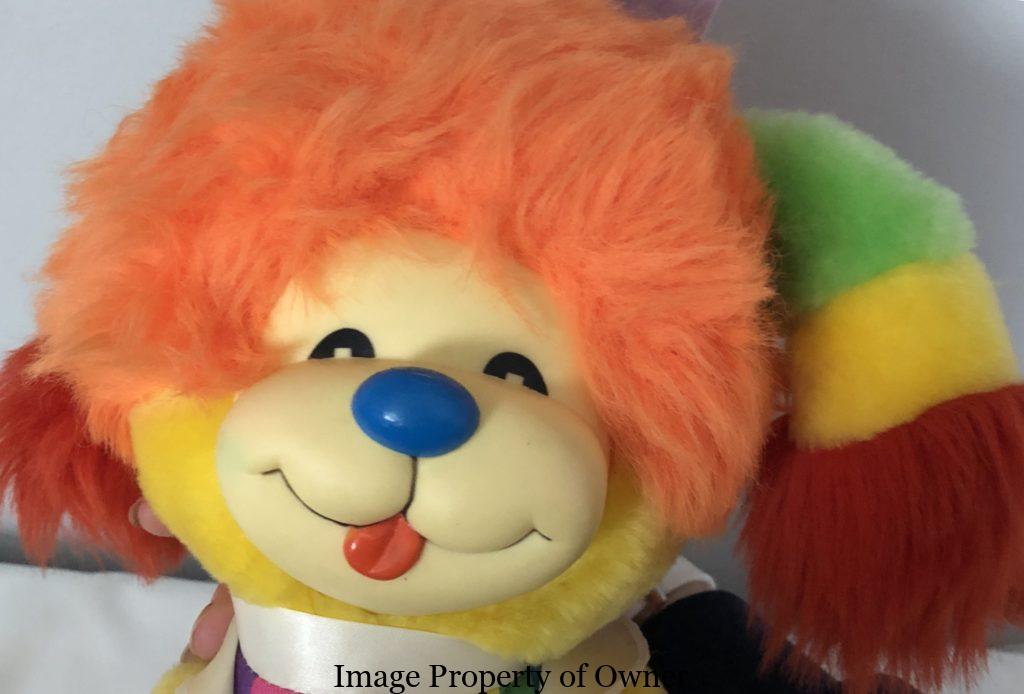 It's so sad to part with toys but the time comes and I have a great vintage Puppy Brite for sale that you can view full pics for on ebay under: Seller
aeru2
Puppy Brite.
Puppy Brite:
"This vintage Puppy Brite plush doll is from the beloved 80s cartoon Rainbow Brite. Manufactured by Hallmark, Puppy Brite first appeared in the Rainbow Brite movie "Rainbow Brite and the Star Stealer" and is friends with Kitty Brite. He even had to work with Rainbow's magnificent horse Starlight to bring the Color Sceptor to her to restore Rainbow Land in "Return to Rainbow Land." Puppy has a soft plushie body and sweet moulded face to brighten anyone's day. From a smoke-free home."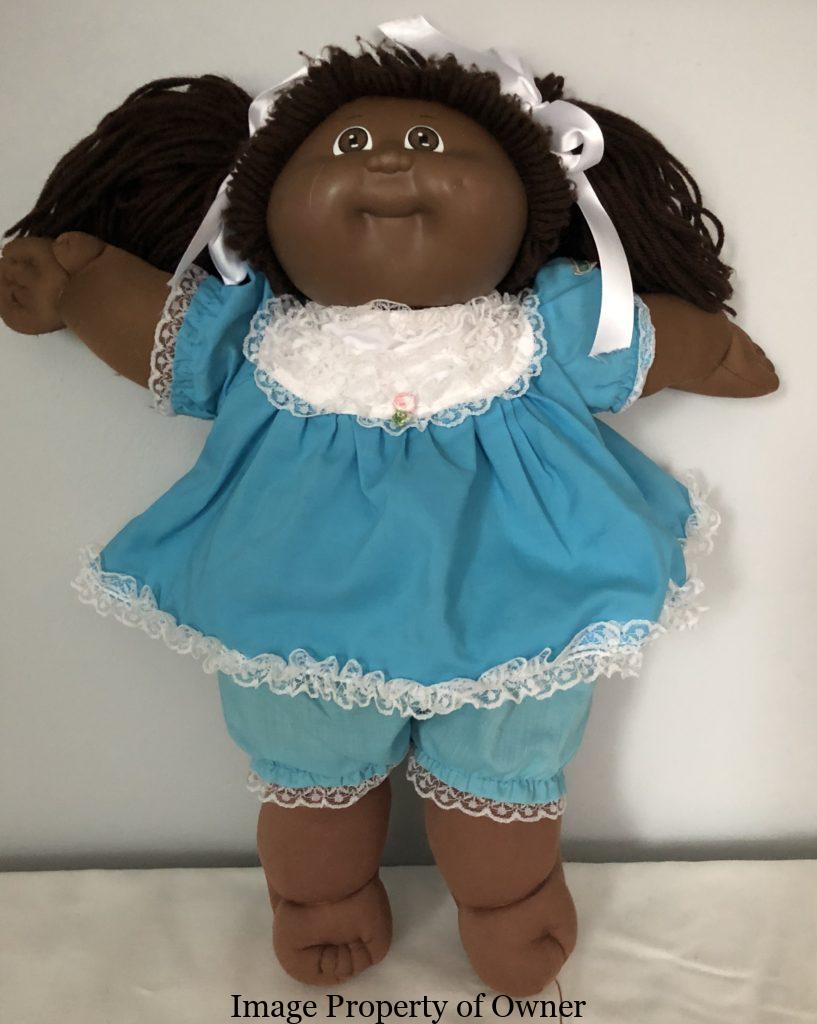 I don't sell my toys often but it's time to part ways. Over on ebay I have auctions going for a sweet
African American
2-pony girl from OK factory who needs a little TLC and a tall, short-haired KT girl with handmade sailor outfit. You can view full pics on the listing: Seller
aeru2
AA girl for sale,
KT girl for sale.
AA OK Girl
:
"Has long ponytails and her original blue dress and bloomers. She comes from the Coleco OK factory and has the typical round face, big eyes and very chubby legs of an OK 'Kid. Her face is clean and she has one sweet little dimple.
Some notes on her clothing and condition: The bloomers' elastic is stretched so they could use a stitch or two to tighten. She does not have a diaper; she is wearing a pair of plain white handmade bloomers underneath her dress. Her hair-ribbons are new and she is a doll who needs a little body TLC just in the foot, her toe thread has come unraveled, nothing a novice sewer can't manage. An excellent pre-loved playdoll or addition to a less-than-mint collection. Thanks so much for looking and for more awesome 80s toys please check out my other auctions!"
KT Girl
:
"Blonde girl is from the KT factory in China (Kam Yeun Toys) which manufactured for Coleco. KT Kids are a little bigger than average CPK so this little blondie is a bit tall for her age. She's in excellent condition with her original hair ribbon and diaper. Her clothes are not the originals- she is wearing a handmade sailor suit with matching bloomers and tam and she has some pretty kicking infant hitops to complete her ensemble. She has been out of her box for about a year in a smoke-free home and has no visible flaws (box is unavailable).
Thanks so much for looking; serious bidders only. For more awesome 80s toys check out my other actions please!"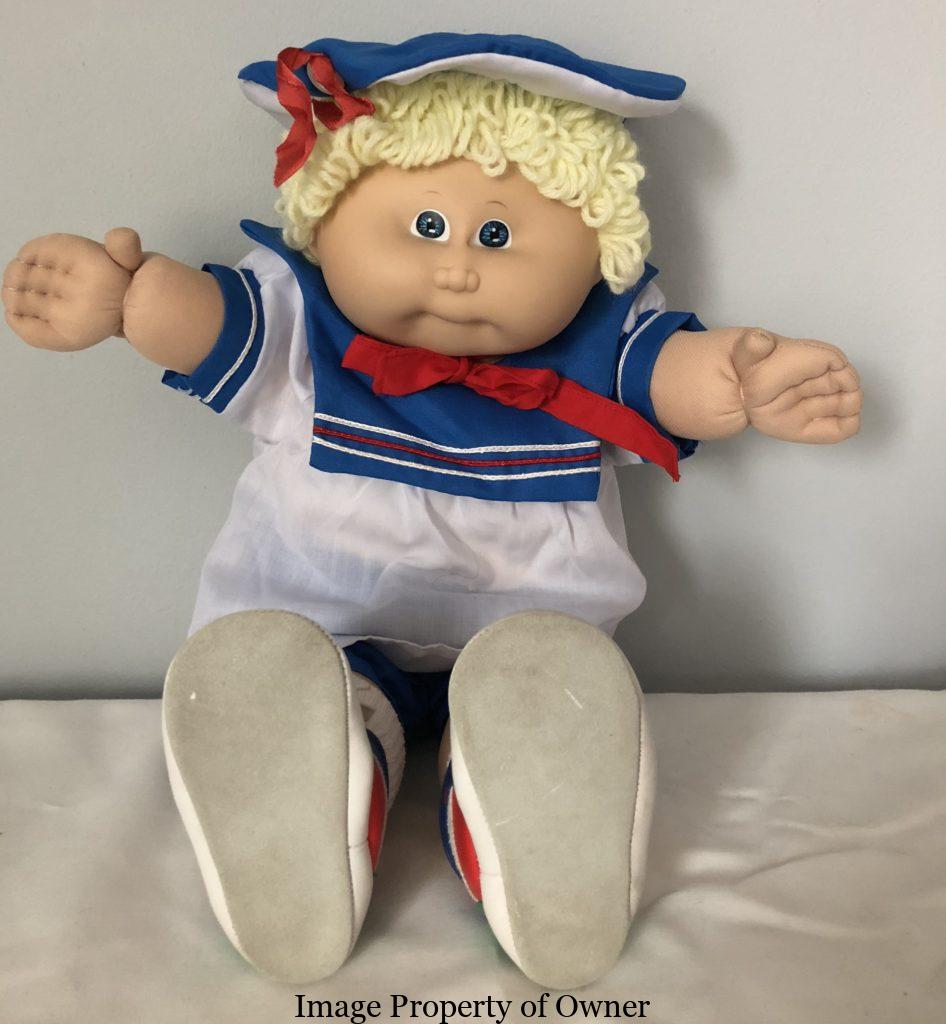 The Puffalumps were a soft toy for young children made in the 80s by Fisher Price. The Christmas Mouse was one of the last Puffalumps released.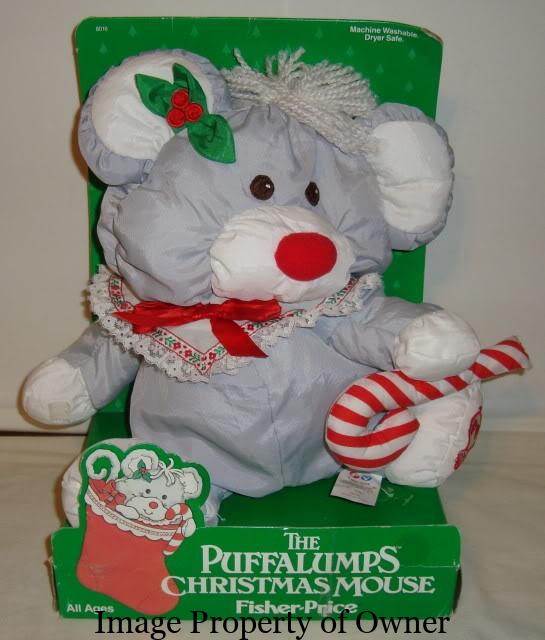 There were only three holiday pony issues in the G1 line; the adults being Merry Treat (pictures) and an earth pony named Stockings and the smaller being the Kellogg's Rice Krispies mail in baby pony which was unnamed but is generally referred to as "Baby Stockings."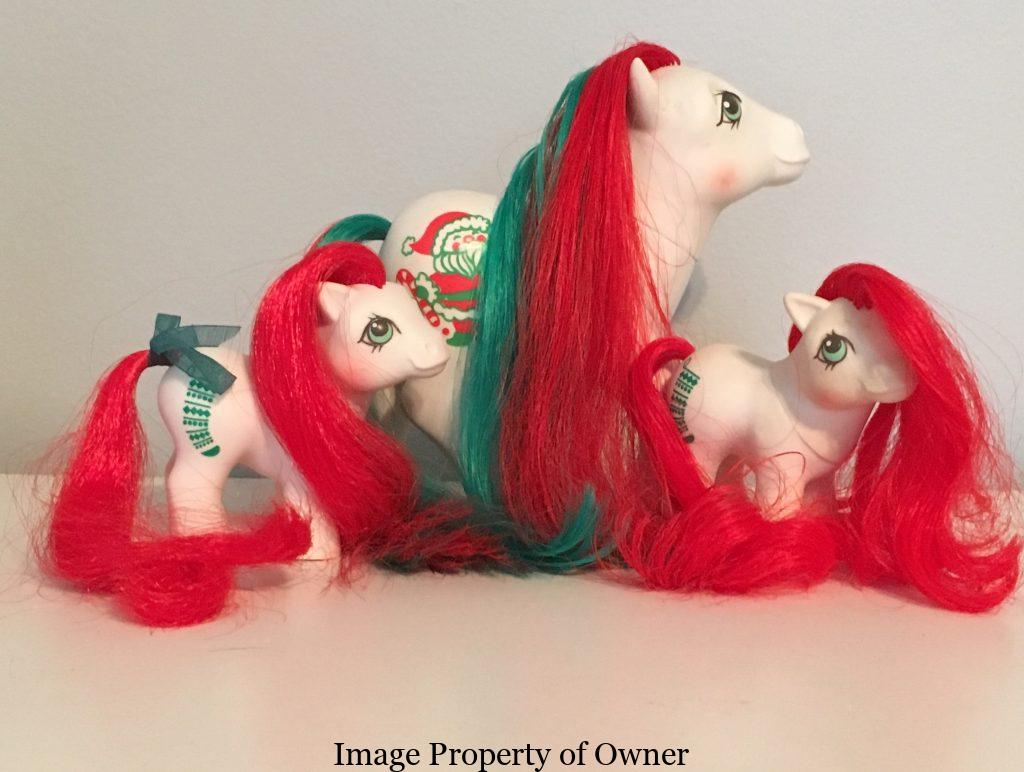 This Russ Berrie brand troll is the perfect Christmas elf.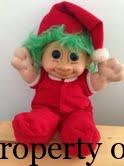 Merry Treat was a special holiday edition G1 My Little Pony.
Well fellow 80s kids, 2017 was yet another bumper year for 80s throwback so let's get to the best of the best for your 80s-themed Christmas hauls and here's this year's big Yello80s Wish List for everybody on your list:
They're pretty roomy and very soft and you can still pick them up through Hot Topic.
Care Bears Polite and Perfect Panda Kidrobot dolls. Very sweet "dunny" renditions of the lost care bears Perfect and Polite Panda
as well as some of their friends can be ordered direct from KidRobot
. Rainbow Brite complete collection on DVD. I can't believe it's taken so long but finally the whole series is in one place!
Catch it at Hallmark.
Rainbow Brite dolls. To date, Rainbow Brite, Tickled Pink, Stormy and their respective sprites and horses are available in full size from Hallmark along with a ton of new paraphanelia including books and ornaments.
All available at Hallmark.
Super Mario Brothers ugly sweaters from Target.
Target has done us proud with a ton of 80s stuff this year but these so-ugly-they're-cute sweaters will do you office-Christmas-party-proud.
Find em at Walmart.
Fat-Bottomed Girls still make the world go round with an ultra deluxe box set of Queen's hits, Queen: News of the World.
Pick it up at Amazon.
Cabbage Patch Kids are back all over the place but for handstitched originals you've got to go right to the patch at
Babyland Ge
neral.
Hallmark took a couple of years off between G1 My Little Pony ornaments after their Cotton Candy issue, but they're back with a real classic-
you can pick up this sweet Moondancer ornament at Kohl's.
Last year the My Little Pony G1 pegasus Firefly mini and book box set was out at Barnes and Noble and featured some nice backcard artwork but was a little skimpy on the likeness of the actual horse.
This year you can get a much nicer Glory and hopefully some more of that awesome artwork in the accompanying book at Barnes and Noble.
Colorforms are out again this year and we've seen Holly Hobbie and Snoopy so far at Target but
you can pick them up at Land of Nod too.
Fisher Price was a huge part of most kids' Christmases from the 1950s and still today.
Pick up some 80s favs at Target including the classic tape recorder, chatter phone and music box record player
.
Best Buy comes out of left field with every boys' favourite stocking stuffer redone by KidRobot: MAD BALLS!
Your kids can still rise to the top of playground-envy with several styles of
BMX bikes found at Dicks Sporting Goods.
If you loved toting around your shackled My Pet Monster on the schoolground, you can be a hit at your next 80s party
with the complete Animated Series on DVD at Amazon.
Those legendary battles between the folks over
Trivial Pursuit can live on in your own home with the Classic Edition from Walmart.
Christmas trees will rejoice with several 80s themed keepsake ornaments including the wacky
Beetlejuice
and
Skeletor from He-Man: Masters of the Universe available in stores and online through Hallmark.
Fans of the 80s old and new who have latched on to Stranger Things will love pulling an all-nighter with
Hasbro's Stranger Things Monopoly Edition at Walmart a
nd rocking out in
Dustin's very own trucker hat available from multiple Ebay sellers.
And last but not least, this year has been inundated with plug and play 8 bit consoles celebrating the glory days of the arcade. Choose from Pacman Connect and Play, Frogger Plug and Play, Space Invaders TV Game, Ms Pacman Plug and Play, Jakks Atari Classics 10 in 1, Commodore 64: 30 Games in 1 Joystick, ColecoVision Flashback,
Atari Flashback 5 and so many more on Amazon.