Happy Christmas from Yello80s! Hope you're spending it with family and friends and your tree is loaded with selection boxes galore!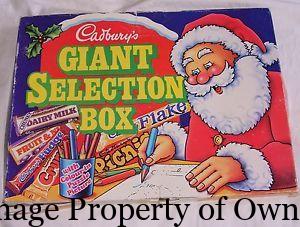 Watch it wiggle, see it jiggle!
The late 80s holiday wasn't complete without Jello Jigglers or at least the intent to make them. Here's the recipe: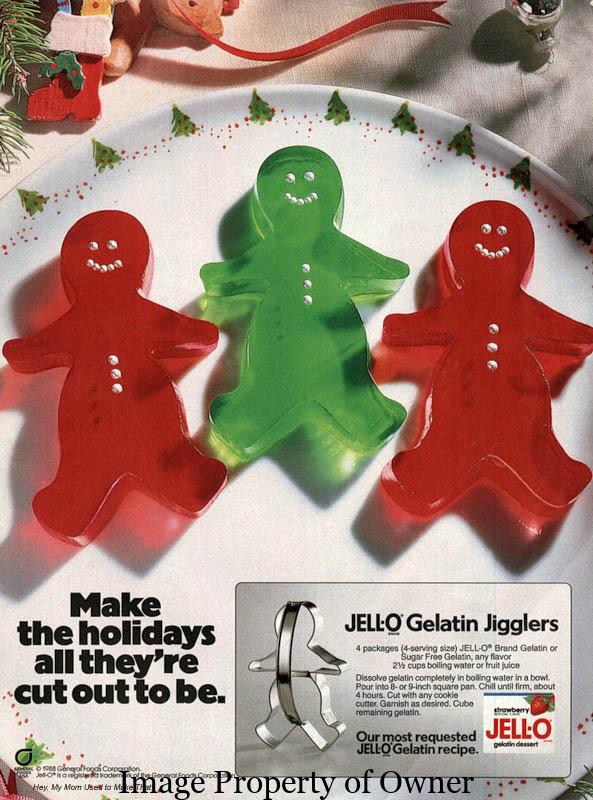 These days boxed drinks are regulated to the preschool set or asian grocery stores (Vitasoy, anyone?) but back in the 80s you could find just about anything in a box ready to pop in a lunchbox – Hi-C, YooHoo, and milk. Ugh. It just sounds horrible to me but when a drink called Sip Ups debuted with its catchy commercial of smiling dancing kids I whistled a different tune. It seems kind of redunant now- I mean, we all drank milk in half-pint boxes at school already- but I can see the straw would have been a draw until Burple and the like came out and blasted the milk box right into the retroverse. Trademarked by Dairymen, Inc., Sip-ups came in Chocolate, Vanilla and Strawberry and may have also had a blueberry flavour but this has been debated.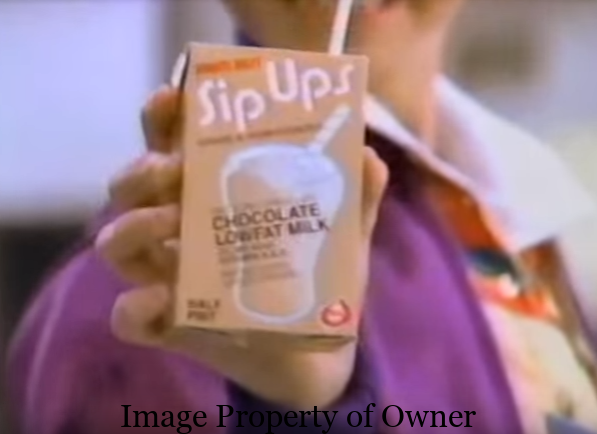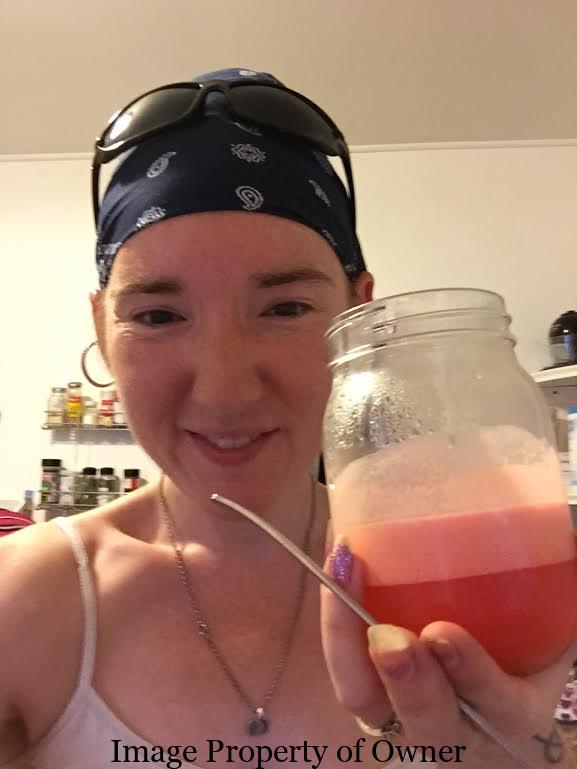 Let's see how good your stomach's memory is: how many of these do you recall eating in the 80s? Arby's Jamocha Shake? Jell-o 1-2-3? Crunch 'n Munch? Chef Boyardi Beefaroni? Nestle Scotcharoos? Cinnabon Rolls? McDonald's Hotcakes? Jell-o Pudding Pops? Entenmann's Louisiana Crunch Cake?
Well you can have all those at home with recipes right here on Yello80s- even Pizza Hut Pan Pizza!
Sure, you can Uber your dinner home these days but get the kids and try out some of these orignal and clone recipes so they and you can have a taste of your childhood as it was yesteryear. New Recipes are always coming and we're always open to any family recipes you'd care to share from the 80s!
Come on over and eat!
****And of course, eat
smart
with these recipes- many were thought up before we knew what we were really eating.
I was in the drug store the other day and noticed amongst the plethora of food items now stocked there was a sale on movie theatre candy. Those slim, 3.5 oz boxes of munching candy fetching $4.25 average at the cinema can be had for as little as $1.00 when the drug and some grocery stores are trying to get rid of stock. Though I've never seen anyone buy a box of Goobers outside the show, Snowcaps, Jujubees or Raisinets for that matter, these items are candy staples around the country. Somewhat better than
gummy candy
and way below boxed chocolates, theatre candy still do their best to expand waistlines and keep the dentist busy. Going to the cinema was a huge deal when I was a kid and I can only recall seeing a handful before high school but getting that special theatre candy as just about as exciting.
Junior Mints
were my mother's favourite, Goobers were more my dad's choice and after being completely crushed that gummy bears didn't actually look like the
Care Bears
on their box, I settled for Reece's Pieces. In the 80s there was much to choose from including: Reece's Pieces Skittles Care Bears Gummi Bears SnoCaps Goobers
M&Ms
Raisinets Jujyfruits
Mike & Ikes
Junior Mints Lemon Heads
Red Hots
Dots Swedish Fish Sugar Babies Whoppers
Milk Duds
Good & Plenty
Chuckles
Sour Patch Kids
What theatre candies did you love in the 80s?
It's the 75th anniversary of M&Ms, the candy that got GIs through WWII, entertained us with their adorable cartoons in the 80s and 90s and took custom candy to a whole new level in the years since. Extremely recognizable, M&Ms as a brand has become one of the great American candies  store shelves couldn't possibly be without.
No matter what weird flavours they come up with, classic and peanut M&Ms seem to never go out of style. M&Ms began in 1941 after the Mars' founder's son Forest Mars took the idea for little round candies in a candy shell from the British classic candy Smarties (Smarties are bigger, flatter and milder flavoured with a more delicate shell.) which he saw British soldiers eating during the Spanish War. The outsides were coated with a candy shell that kept the chocolate inside from melting. Mars developed his oen version and patented the process of coating the candies. Because it was wartime, chocolate was rationed and Bruce Murrie son of the then-president of Hershey Chocolate, struck up a deal to use Hershey Chocolate inside the candies for a 20% profit share. Now you know where the M&M comes from. If you're an 80s kid you'll remember tan M&Ms which were discontinued in 1995  and the triumphal return of red M&Ms in 1987 which were pulled off the market in 1976. 90s kids saw the big nationwide contest to name the next M&M colour (blue, pink or purple) which ended up in the current blue M&Ms included in the mix.
CANDYMAN 75th Anniversary commercial courtesy mmschocolate
You can catch M&Ms in their famous ads on TV, Internet and Radio but are you familiar with all the characters? According to the
Chocolate.wikia
this is the lineup:
Red
:  "Gimme a Break!"
Yellow
: "It's all Good!"
Blue
: "Never let 'em see you Melt"
Green
: "I melt for No-One"
Orange
: "I'm a dead man!"
Ms. Brown:
  "My shell is brown, it just looks like my milk chocolate is showing. Only a fool would think I actually show up naked."
The Minis
Pretzel Guy
Apologies to my fellow children of the 80s! This week we had some technical difficulties on our mobile site that have now been fixed so in case you weren't able to access Yello80s.com on your device, here are this week's links to catch up:
Tekko Pittsburgh 2016: The Good, The Bad, and the Artists
Which Quint Did You Get?
When Phillips Brought CDs to Gaming
80s Fun Facts
Random 80s Foodstuffs
Care Bears Name Quiz
Posse Philosophy on ABC
Only 4 Weeks til the Too Groovy Toy Show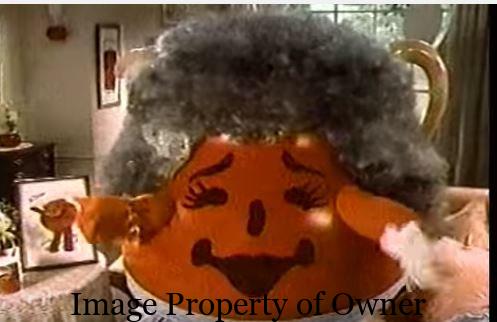 Saw this in passing in an 80s video compilation the other day- it's the Kool-Aid Man's mother! I always thought he'd come from a packet….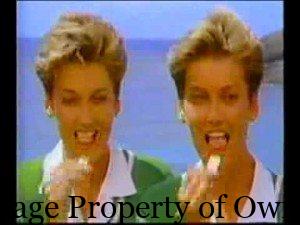 With all the twins in the DoubleMint gum ads who couldn't remember these ads….
DoubleMint Gum ad courtesy panbiscuit