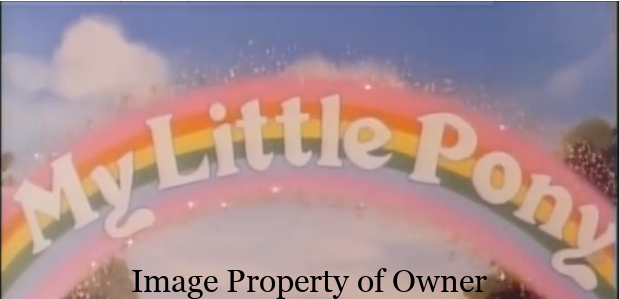 My Little Pony: the first generation years (1982- 1995)
One of the most enduring toy icons of the 1980s, My Little Pony was a little girl's dream come true with its colourful, neverending herds of collectible, combable horses, a tie-in cartoon and movie, and merchandise options to rival that of Kenner's smash seller, the Care Bears. 
What little girl of the 80s didn't have at least one pony friend peeking out from the toy box or dream of owning a whole herd? MLP, friends, was the stuff of my 6 year old dreams and I spent the amount of time other girls spent figuring out their Barbie's wardrobe on combing pony tails and coveting every other little girls' pony collection. Looking back I realise I had a lot of those bitty horses but as a kid there were never enough!
Some MLP history: My Little Pony, described in Hasbro's design patent as an "ornamental design for a toy animal" was filed by the US patent office in 1981 and produced as a toy in 1982 with patent being granted in 1983.  Designed by  Bonnie Zacherle, Charles Muenchinger and Steve D'Aguanno, the original ponies produced until 1983 were 10″ ponies made of hard plastic with moveable ears, eyes and tails that worked by pulling a lever under their chin and were sold under the name My Pretty Pony. My Pretty Pony debuted in Hasbro's Romper Room toy line (Hasbro owned the Romper Room television franchise) as a 10″ blank pony who could wiggle her ears and tail with use of a lever under her chin abd had beddy-bye eyes that closed and opened. The first horse was a natural brown colour with blonde mane/ tail and the second had a pink body and mane/tail and the hearts cutie mark which would later show up on Peachy who came with the Pretty Parlour playset.
Bonne Zacherle, who was chiefly responsible for the design of My Pretty Pony, was a freelance artist for Hasbro in the late 70s. A military child, she had lived for some time in Asia and had a favourite pony that had to stay behind when the family moved back to the States. Having designed a toy pony she tried to pitch to Hasbro and being turned down, Zacherle was asked to design a horse-shaped toy after someone in management had the idea themselves and designed the My Pretty Pony toy in its size and colour for the preschool aged child to maneuver (these ponies came with a cowboy hat, blanket , comb and hair ribbons). Zacherle designed a line of naturally-coloured horses but an executive's wife had the idea to downsize them and make them in pastel colours to be more appealing to older girls and the rest is history. 
 In 1983 the Generation 1 ponies that 80s kids collected and loved were produced out of soft plastic with a myriad of colour combinations. Production for these lasted 10 years and spanned several countries.  A second Generation of ponies was released by Hasbro in 1997 but looked different from the originals and were discontinued in 1999. Then in 2003 the Generation 3 ponies debuted and again in 2009 Generation 3.5 got a facelift from Hasbro and hit the shelves. Generation 4 came out in 2010 and came in strong with a diverse new fan base, tv show, and a collection of merchandise tie-ins followed up in 2018 with a 4.5 facelift. The current generation, 5, which began in 2020 leaves many diehard G1 collectors bemoaning Hasbro's redesigning of the brand but proves once and for all that My Little Pony has kept up with the times and just keeps enchanting new generations of fans.
Information sources:  The World of My Little Pony an unathorized guide for collectors – Debra L. Birge 2nd ed., My Little Pony Trading Post, Etherella.com, Strawberry Reef, Dream Valley, MyLittleWiki, My Little Pony Collection, Where the Rainbow Ends, Inventors.about.com, Wikipedia, The My Little Pony G1 Collector's Inventory – Summer Hayes, My Little Pony Around the World – Debra L. Birge