Hello Kitty, Hello Art
Just took out a book from the library on Hello Kitty-inspired art entitled Hello Kitty, Hello Art: Works of art inspired by Sanrio Characters compiled by Roger Gastman.  There are some pretty slick interpretations of the cultural icon that is Hello Kitty that run the gamut from graffiti to sculpture, tattooes and pop art to just plain bizarre. Check out this sweet poster project by 64 colors:
I'm dying for one of these for my hallway!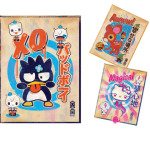 The nice thing about this book is that it includes art featuring the plethora of other classic Sanrio characters such as Lil Twin Stars, My Melody, tuxedo Sam, Kero Kero Keroppi (whom I named my computer after) and Chococat, though Chococat came along a little later in most 80s kids' childhoods. In  America we don't have a lot of background on our beloved Kitty but Hello Kitty Hello Art provides essays from several artists on their experience with the iconic cat such as school yard chums going to the local Sanrio store that were "even stealing money from their parents' wallets to buy the new [Sanrio] goodies! It became a big issue then, and elementary school teachers prohibited us from going there without an adult." – AIKO