Cosplay- it's like
Halloween
on 'roids. I don't mean hide em in your locker 'roids either, I mean " my
insurance company
allowed me to mail order 3 months at a time from
Canada
" 'roids. In the 80s kids pretty much had the option of those plastic 'ventilated' masks in which someone stuck a couple of pinholes somewhere in the area of the face after pouring the plastic with a garbage-bag like covering printed in the image of
Scooby Doo
or whomever. They were a ton of fun, you couldn't see or breathe in them and if you lived in any climate in which the temperature dipped below 100F at night you were forced to wear a sweater or God forbid a full on goose down duffle on top of this so the enture night was spoiled. Like, bummer.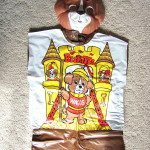 Now for most children that was it, there was no more 'good' dressing up until
Easter
and let's face it, you weren't going to church as
Skeletor
. The masks might have lived on in the toybox for a while but almost guaranteed
the garbage bag
was done the night you wore it. Happiness is fleeting… Then came along cosplay and suddenly there didn't need to be an excuse to be a guy and dress up as
My Little Pony
or be mum and dress up with your kid as – well, Skeletor. That one shot a year at costume greatness melded into anytime, anywhere for the sake of fandom. But the costumes- man they look like something! They cost serious money! Someone is out there stuck in a Halloween time warp chained to their
Singer sewing machine
pumping out the coolest of
Rainbow Brite
moonboots like it's 1986. I've seen some seriously detailed characters come to life particularly in regards to
Japanese anime
characters but buzzfeed brings us some classic
80s and 90s characters
that make me want to find my nearest convention!