Atari Home Computers 1981 courtesy markydkiehl
Grow up playing Space Invaders on your 2600? Swap carts with your friends to play on ColecoVision? Spend weekends with the posse at the mall embroiled in Pac-Man tournaments? If you've ever wondered where video game icon Atari came from,
check out the Atari page on Yello80s
and read all about the company's beginnings and review comprehensive game lists from their most iconic consoles.
Few things garnered as much Christmas excitement in the early 80s than Atari!
Courtesy haikarate4
As a big kid (read- adult not real into adulting), I have been collecting my favourite toys from the 80s, mainly things I didn't get but pined after. Looking for that sort of stuff? Your
local small businesses
selling vintage stuff are a great place to look first as you never know what you can find and shop owners are often very knowledgable about their wares, Salvation Army and Goodwill Thrift stores (whose proceeds go to a great cause), tag and estate sales, eBay and I have recently discovered- Instagram. In case anyone wants to put a bug in Santa's ear on behalf of Yello80s, here's this year's big old Wishlist (I know, I want ALL the toys- take a look, you might too!):
My Little Pony! G1 of course!Cabbage Patch!Care Bears Everything else!
Did you have every version of Mario on every platform? If you're a true Nintendo-geek, try beating our Super Mario Bros Super Quiz! When you're done here, check out the
Fun and Games page
and take our previous trivia challenges!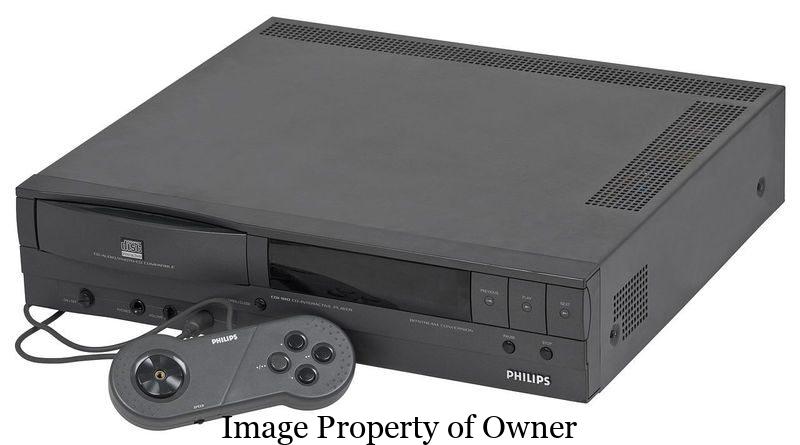 Hailed as the 4th worst console of all time by
PCWorld
, Phillips' CD-i brought in the 90s cd-rom consoles with some lackluster games and a design even larger than the
Atari 5200
. With titles like
Hotel Mario
(which I assume never ran out of hot water), Anime Movie Adventure, and
Link: Faces of Evil
and Zelda's Adventure, the CD-i flopped the big one though it was capable of playing the interactive
CD-i discs, Audio CDs, CD+G, Karaoke CDs, Photo CDs and VCDs
(anybody remember
VCDs
??? I had quite a collection of those…).
Check out the article on AtlasObscura.com
about the CD-i's worst points and relive a little of the device that spawned the phenom that become YouTube Poop. Thanks, Phillips.
Cutscenes from Zelda courtesy AnimeReUploader
sources
:
Crappy Games Wikia
Wikia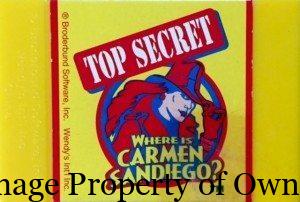 Came across this nifty little
Juicyfruit
-looking pack of gum that opened to reveal it's secret- a Carmen Sandiego compass. This cute little kid-perfect spy toy was included in
Wendy's
Kids Meal s in 1996 as one of 5 toys from the hit show. The 4 others were: !. A passport kit 2. An apple decoder 3. A flashlight spyglass 4. Binoculars hidden inside a travel book 5. And the
little kid
toy for the set: A camera squirter toy
Where in the World is Carmen Sandiego
? debuted as a computer game by
Broderbund
in 1985-
you may recall switching the multiple floppy disks in order to keep playing
– which was followed much later by a kids game show on
PBS
.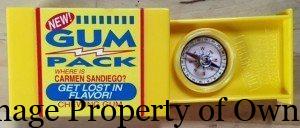 Dear Santa,
We're living in some scary times. Things don't seem to have advenced much beyond that
corporate greed
, terrorist attacks and world hunger playing across our
CRT
,
Standard Definition
tv sets 30 years ago. But one thing hasn't changed- immersing ourselves in video games to turtle down and forget we live here. If you'd get me a
Power Glove
this Christmas I promise to use my power to fight Bad Street Brawlers and solve the Glove Ball maze-
only
.
When I was a kid I'd go to my best friend's house to play
Tetris
with her brother and his friends. These tournaments would go on for hours and inevitably that last hour of begging for just 30 more minutes rolled around and the
NES
was shut off  to everyone's sadness.  Great times. Then came the Game Boy that caused mothers everywhere to start checking under pillows for late-night Tetris games snuck under the guise of going to bed early. In either case, trying to argue to your mother that playing video games is a good thing is a lost cause. Or is it? I've seen references to studies going back to 2012 on the positive effects of playing Tetris for people with
Post Traumatic Stress Disorder
and those addicted to smoking. In a nutshell, persons allowed to pay
Tetris 4 hours after a traumatic event have a much better time coping with it than those who don't.
Of course most of us over 13 don't walk around with a Game Boy in our briefcases but perhaps with more research some of us will. In the case of smoking those who played Tetris had much fewer cravings for cigarettes. I;m not sure if this is just with Tetris itself or other video games. While being very interesting, the research is promising in that it may lead to more non-drug treatments in the future.
Video Arcades (also called
Amusement Arcades
), a staple of the first half of the 80s and a cultural icon supreme, went dark and silent in America in the early 90s (though they had a short uprising again with 3D gaming but then largely fell into icon status with grace). Want to be really scared? Check out these
abandoned Japanese arcades
(my stomach is getting all wobbly thinking about it). But here in Pittsburgh a resurgence is going on. A renaissance perhaps, of pixels. 80s kids and their 70s big brothers and sisters have said emulators are nice and all but nothing beats the experience of holing up in a game cabinet with a
high score
and tons of kids all around you cheering you on. So where can you go in Pittsburgh to relive your
PacMan
glory?  Check it out:
Penn Hills Game Exchange
(video arcade, gaming shop and gamer lounge)
Victory Pointe
(arcade and cafe)
Bradish Street Pinball Parlour
Kickback Pinball Arcade
Nomadic Arcade
(we can't figure out what this is but it involves pinball and Pacman)
Pro Am Pinball Association  
(PAPA)
Games N'At
(arcade, pinball, bowling)
Laser Storm
(laser tag)