As if 2017 wasn't packed to the gills with 80s reboots in cartoons, toys, food and film, 2018 and '19 will be continuing on with another round of re-dos and this time around 80s kids are wondering when we should call it quits and leave the glory days back where they belonged – in the 80s.
1. Muppet Babies – Disney's got their claws all over this one but on first glance they don't look horrible, just computer animated.
2. TMNT – now really, it's about time we stopped all this nonsense as Nickelodeon has yet ANOTHER interpretation of the heroes in a half shell.
3. Transformers– Not exactly Transformers if Optimus Prime is handing the reigns over to Bumblebee…
4. Thundercats– already this one has generated a lot of interwebs anger from the original 80s children in that it takes the comic book style of the original and slaps a CalArts spin on. Think that complete mistake Teen Titans into Teen Titans Go! was…
5. Mega Man– Cartoon Network screws up a whole lot of stuff but this reboot doesn't look so terrible off the cuff.
6. Where in the World is Carmen Sandiego? – Personally I hated this show but I was definitely a fan of the 12 million floppy disk computer game by Broderbund. Looks like Netflix is going on a more anime- themed reboot that might have some promise.
7. She-Ra: Princess of Power– Now I question She-Ra getting a reboot and not He-Man because their universe is codependent and the last big girly reboot Netflix did (looking at you, Rainbow Brite, oh and you too Popples) completely sucked. But you won me over at Voltron….
8. The Magic School Bus– this was a little past my time and even the books annoy me but clearly public television isn't above the reboot cash-in.
9. Dungeons and Dragons – Instead of ruining this one in yet another series, D&D is in the works to go from the vintage animation to a feature film.
10. Clarissa Explains it All- Melissa Joan Heart will reprise as Clarissa, obviously out of her school- locker phase.
And from primetime 80s we'll see updated versions of:
1. Miami Vice
2. Magnum, PI
3. Murphy Brown
4. Lost in Space (now on Netflix and actually pretty good)
5. The Twilight Zone (again?!)
7. Sabrina the Teenaged Witch
8. Cagney and Lacey
9. Sweet Valley High
10.The Greatest American Hero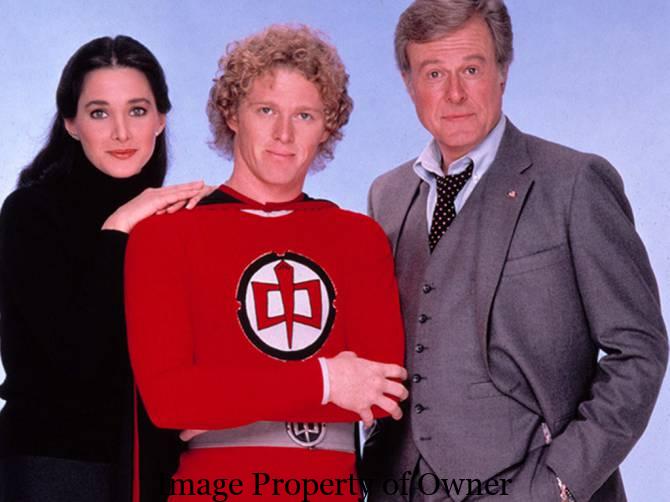 Images property thegamer.com
In 1988 Hasbro released the Loving Family sets including Mummy, Daddy and Baby Brother or Sister with themed cutie marks. All are printed with Twice-as-Fancy style markings, Mummy and Daddy's combining to make Baby's. Baby pony also has striped hair colouring combining both parents'. U.S. sets included one baby but Euro exclusives had both Brother and Sister. All three U.S. sets released are for sale on my eBay page under Seller ID: Aeru2 . Most of the time collectors sell the individual ponies- take this opportunity to pick up a whole family 🙂 All ponies are in played-with condition, see listings for all photos. Lots more ponies and 80s greatness so check it out!
Apple Delight Loving Family (U.S.)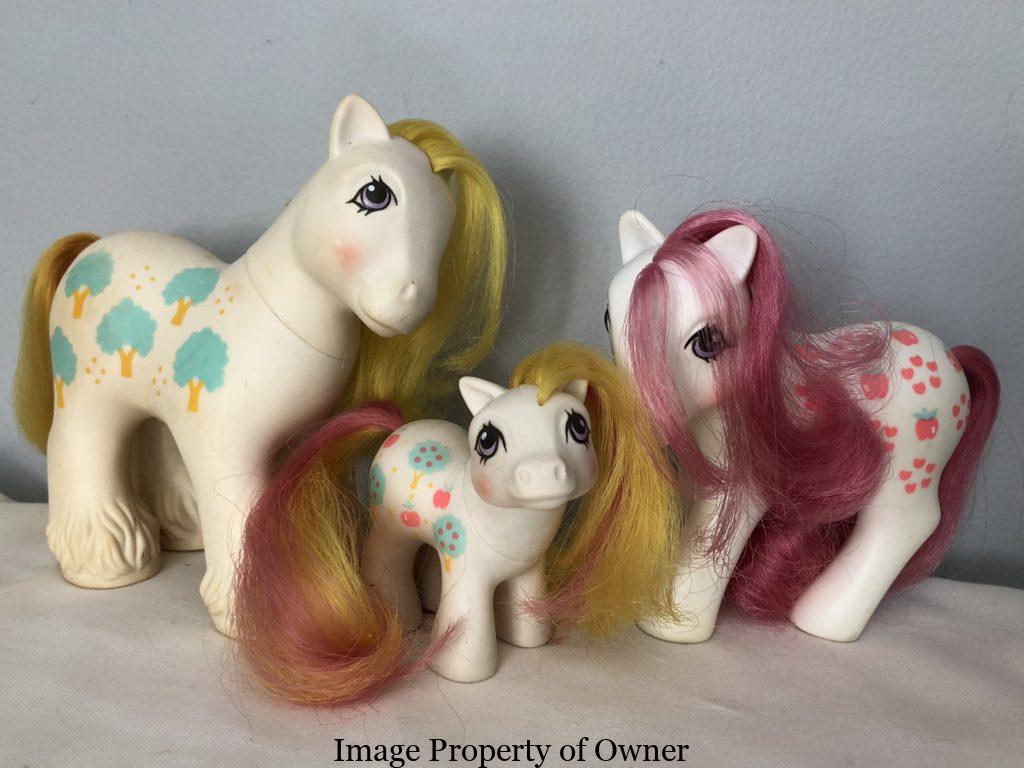 Bright Bouquet Loving Family Euro set
Sweet Celebrations Loving Family U.S. set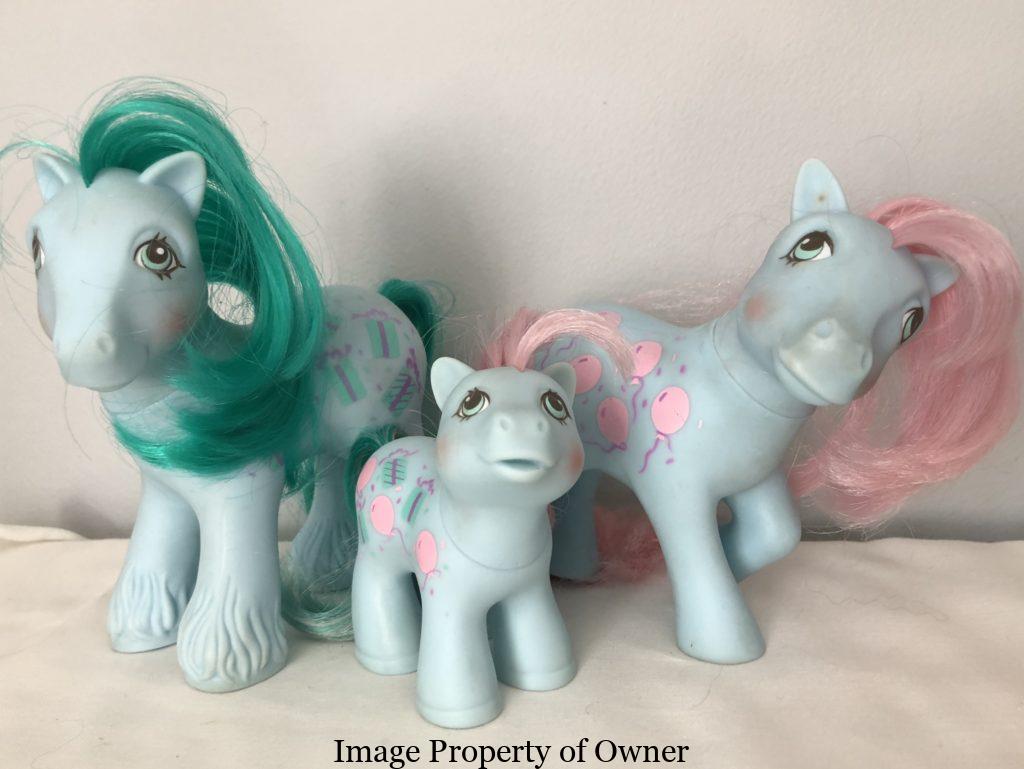 With all these 80s reboots coming out its tempting to write them all off to "they've ruined it" but in some instances new isn't a total wash. While I love the Kenner Care Bear poseable figures I always felt they did Bright Heart Racoon a little bit of an injustice. While really cute, he looks like he's got hip dysplasia. The 2012 reboot of the Care Bears saw Bright Heart redone with several other characters and Just Play's blind bag series captured the spunk of that character. I'm selling off my Kenner and Just Play Bright Hearts as a set, see full pics at the listing on ebay: Seller aeru2 Bright Heart Kenner/ Just Play set.
Bright Heart Raccoon: "You are bidding on a set of 2 Bright Heart Raccoon collectibles from the original Kenner poseable run and the current Just Play release. You can see how much Bright Heart has changed in 35 years yet still stayed the same loveable Care Bear Cousin. Please see photos to compare belly symbols, colour and pose. Kenner Bright Heart features a "real hair" topknot and is fully poseable. Just Play Bright Heart is a smaller figurine from the Care Bears and Cousins series 4 blind bag set and is not poseable but much more expressive. Both feature tummy symbols and the Care Bear tushie heart on their backsides. It's a neat little set for collectors."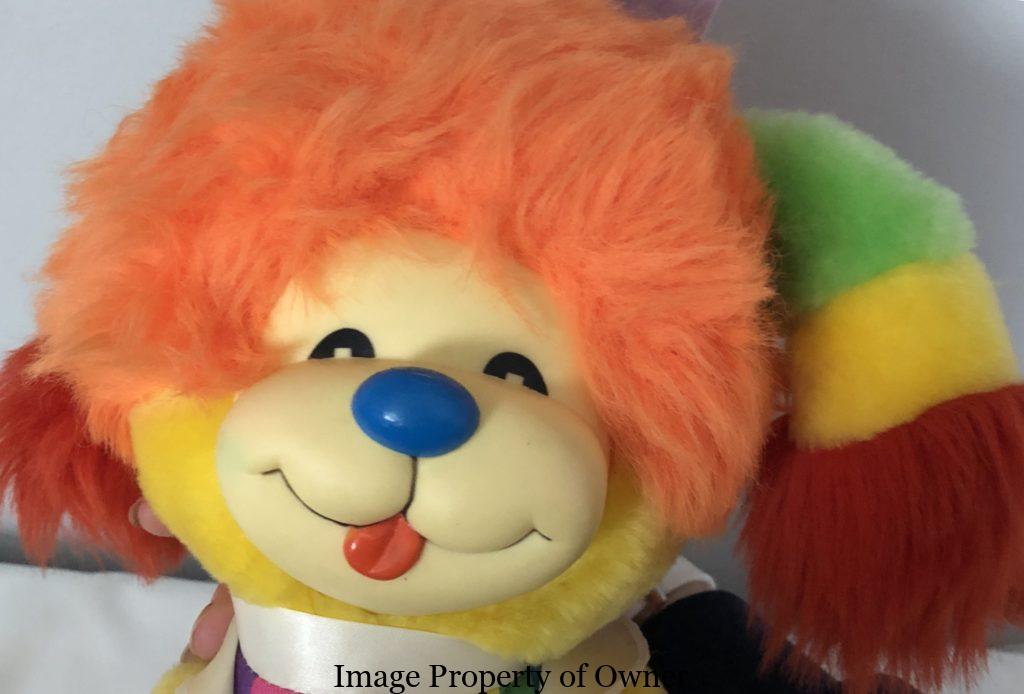 It's so sad to part with toys but the time comes and I have a great vintage Puppy Brite for sale that you can view full pics for on ebay under: Seller aeru2 Puppy Brite.
Puppy Brite: "This vintage Puppy Brite plush doll is from the beloved 80s cartoon Rainbow Brite. Manufactured by Hallmark, Puppy Brite first appeared in the Rainbow Brite movie "Rainbow Brite and the Star Stealer" and is friends with Kitty Brite. He even had to work with Rainbow's magnificent horse Starlight to bring the Color Sceptor to her to restore Rainbow Land in "Return to Rainbow Land." Puppy has a soft plushie body and sweet moulded face to brighten anyone's day. From a smoke-free home."
I don't sell off my toys often but it's time to part with some of my friends. Over on ebay I am selling this wonderful set of 6 unopened MLP 35th anniversary ponies. You can see them at this listing with photos of each box and the corresponding 1983 pony (loose ponies not for sale). Check it out here: seller aeru2 35th Anniversary Set.
'Each box contains 1 pony, 1 brush, 1 hair ribbon and 1 poster. Items are unopened but 2 boxes have slight tears on the top from stacking in store (on Snuzzle and Blossom, see photos). This set contains reproductions of the first set of 6 Generation 1 ponies originally released by Hasbro in 1983 in the Collector's Pose ("Earth" pony type) and includes Cotton Candy, Snuzzle, Blue Belle, Blossom, Butterscotch and Minty. The colouring on these ponies is much closer to the originals than that of the 25th Anniversary set of Collector Ponies. As a collector I was very pleased with this release.
**Please see photos for colour comparison to the originals- note to collectors there is some slight eye colour variation in the newer ponies but otherwise they are of good weight and size (they *feel* right). And man, there's nothing better than opening up a brand new pony box! Thanks for looking and for more great 80s toys please check out my other auctions!
Serious bidders only, I ship worldwide per shipping costs through USPS, buyer to pay all tarifs and fees.
**auction is only for boxed ponies- loose ponies in photos are only for comparison."
Vintage Care Bear art is so superior to the current generation- just look at these cheerful cubs on this set of cards!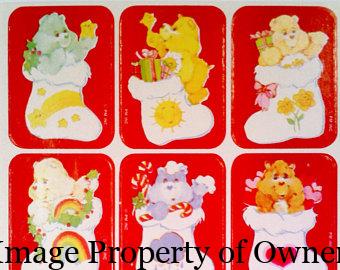 Being a product of the American Greetings company, there was no shortage of Care Bear paper products in the 80s like these Christmas gift bags.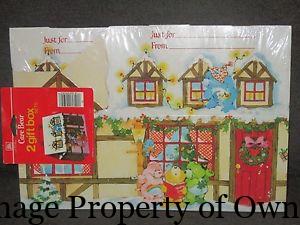 Who could make a more colourful Christmas than Rainbow Brite?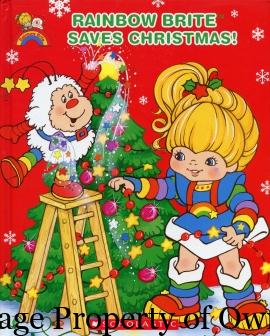 If you were a kid in the 80s you'd definitely want a TMNT guarding those presents all the way to Christmas morn!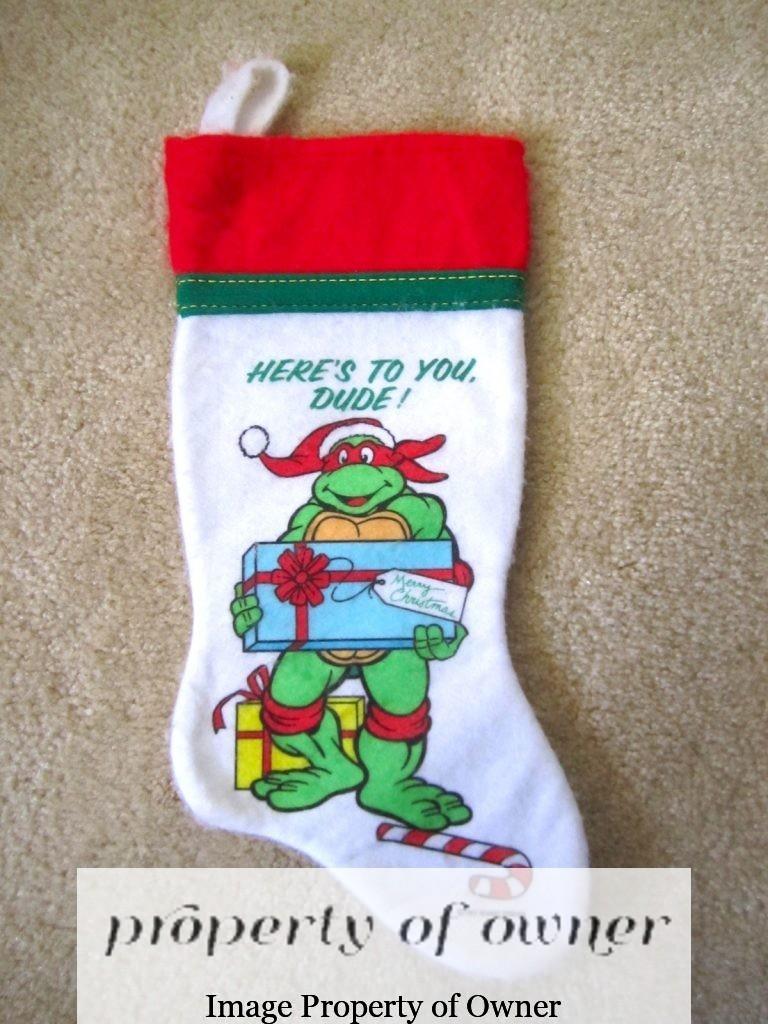 Nothing says holiday cheer like howling out Jingle Bells with the Pound Puppies!