I defy any 80s child to claim they didn't watch the Muppets– if not during the 80s then on the plethora of cable channels that populated the 90s with reruns. I defy you!
Last year I took a weekend trip to NYC to run around and Christmas shop (and let's face it, I'm a Christmas light junkie). I wasn't really buying for kids but stopped into FAO Schwarz on my way to the Apple store and discovered the Muppet Whatnot Workshop on the lower level.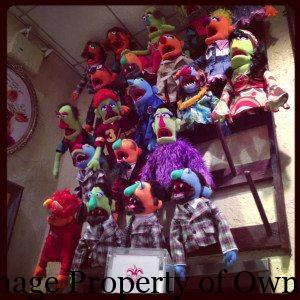 Holy mother of Henson, you can make your own Muppet!
So it works like this: you're making a Whatnot Muppet, not a copy or Kermit. What's a Whatnot? It's one of those 'extras' on the Muppet set you see in the background. You pick your body, hair, eyes, nose and outfit and wa-laa, they make you a Muppet for $99. How freaking cool is that?
You can do it online too- this is mine just for the fun of it (I so don't have $99 for anything I can't eat, see by or warm up to at the moment). I think I'll call her Mabeline.