Fisher Price pre 1980s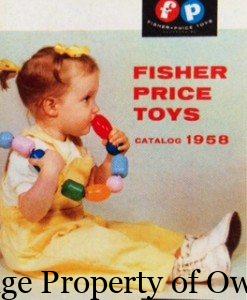 This is a list of classic fisher Price toys issued before 1980 that were still being produced in the 80s and/or are still being produced today. Years listed are the first year the original toy version was sold.
For Fisher Price toys from 1980-1990 click here.
1957
#760 Snap Lock Beads
#870 Pull-a-tune-Xylophone
#785 Corn Popper
Step 1 & 2 Educational Blocks
#617 Whistling Engine
1958
#658 Giant Snap Lock Beads
1959
#139 Tuggy Turtle
#630 Fire Truck
1960
#8 Bouncy Racer
#972 Fisher-Price Cash Register
#627 Rock-A-Stack
1961
#747 Talk-Back Telephone (Chatterphone)
1962
#549 Toy Lunch kit
#997 Musical Tick Tock Clock
#900 Fisher Price Circus
1963
#166 Farmer in the Dell TV Radio
1964
#715 Ducky Flip-Flap
1965
#131 Milk Wagon
1966
#637 Milk Carrier
#969 Musical Ferris Wheel
#165 Roly Poly Chime Ball
1967
#139 Tuggy Tooter
#784 Picture Story Camera
1968
#915 Play Family Farm
#685 Car and Boat
#686 Car and Camper
#998 Music Box Teaching Clock
1969
#952 Play Family House
#935 Tool Box Work Bench
#189 Pull-a-Tune Bluebird Music Box
#910 Change-a-Tune Piano
#164 Chubby Cub roll-a-long bear
1970
#141 Play Family Mini bus
#142 Three Men in a Tub
#183 Fun Jet
#138 Jack in the Box Puppet
#930 Play Family Action Garage
1971
#923 Play Family School
#995 Music Box Record Player w/ 5 records
#448 Mini Copter
#175 Winnie the Pooh TV-Radio
#117 Play Family Barnyard Friends
1972
#111 Play Family Merry Go Round
#985 Play Family Houseboat
#176 / #179 Cloth book for Boys / Girls
#761 Play Family Nursery Set
#994 Play Family Camper
#550 Pick up and Peek wood Puzzles
#176 School Play Desk
1973
#991 Circus Train
#997 Village
#460 Movie Viewer w/ Cartridge
#100 Bowling Game Toy
1974
#464 Pocket Camera
#990 Play Family A-Frame
#993 Play Family Castle
1975
#300 Scoop Loader
#301 Shovel Digger
#302 Dump Truck
#303 Rescue Truck
#305 Rescue Copter
#306 Sport Plane
#938 Play Family Sesame Street
#158 Katie Kangaroo
1976
#939 Play Family Sesame Street little people
#931 Play Family Children's Hospital
#307 Adventure People and Wilderness Patrol
#850 / #851 Kermit the Frog and Fozzie Bear plush
#978 Horse Ride on Toy
1977
#732 Happy Whistlers
#463 Movie Viewer Theatre
#937 Play Family Sesame Street Clubhouse
#177 Oscar the Grouch
#936 Medical Kit
#375 Adventure People Sky Surfer
#210 My friend Mandy
1978
#315 Cement Mixer
#316 Tow Truck
#317 Construction Crew
#250 fisher Price dollhouse
#929 Play Family Nursery School
#934 Lift and Load Railroad
#846 Muppet Show Players
#694 Susie Seal
#919 Toy Stove Top Kitchen (Fun w/ Food)
#156 Turn and Learn Baby Toy
1979
#207 My Sleepy Baby
Fisher Price Kids dolls
#825 Phonograph
#960 The Woodsey's Log House
#932 Play Family Ferry Boat
#404 Security Bunny blankets
Marching Band set