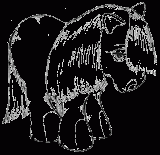 What little girl of the 80s didn't have at least one pony friend peeking out from the toy box? MLP, friends, was the stuff of my 6 year old dreams and I spent the amount of time other girls spent figuring out their Barbie's wardrobe on combing pony tails and coveting every other little girls' pony collection. Looking back I realise I had a lot of those bitty horses but as a kid there were never enough!
Some MLP history: My Little Pony, described in Hasbro's design patent as an "ornamental design for a toy animal" was filed by the US patent office in 1981 and produced as a toy in 1982 with patent being granted in 1983.  Designed by  Bonnie Zacherle, Charles Muenchinger and Steve D'Aguanno, the original ponies produced until 1983 were 10″ ponies made of hard plastic with moveable ears, eyes and tails that worked by pulling a lever under their chin and were sold under the name My Pretty Pony. Some of these ponies came in brown which, to my knowledge, was the last time a natural-coloured My Little Pony was produced. In 1983 the Generation 1 ponies that 80s kids collected and loved were produced out of soft plastic with a myriad of colour combinations. Production for these lasted 10 years and spanned several countries.  A second Generation of ponies was released by Hasbro in 1997 but looked different from the originals and were discontinued in 1999. Then in 2003 the Generation 3 ponies debuted and again in 2009 Generation 3.5 got a facelift from Hasbro and hit the shelves. The latest Generation, 4, came out in 2010 and is going strong with a diverse new fan base, tv show, and a collection of merchandise tie-ins that would make the decade of excess blush.
Generation 1 ponies come in several variations: Earth Ponies, Unicorns, Pegasus, Baby Ponies, Sea Ponies, Flutter Ponies, Rainbow Ponies, Big Brother Ponies and variations of each. International G1 ponies have toys produced and issued specifically for those countries as well as multiple variants of the US ponies. There were also special editions, mail order only offers, playsets, My Little Kitty/ Puppy/ Bunny families, and myriads of merchandise from roller skates to cooking sets. My Little Pony and Friends ruled the airwaves of Saturday morning television and 3 movies were produced.
The My Little Pony pages here on yello80s are for entertainment only, are concentrated only on the Generation 1 toys / TV show and are not meant to be an exhaustive list or a price guide. I ran across several excellent sites and books for the serious collector so please see links below and check them out- you'll definitely learn something new!
For My Little Pony the TV show and movies click here
For My Little Pony G1 years 1-4 click here
For My Little Pony G1 years 5-10 click here
For My Little Pony G1 Special issue ponies click here
For My Little Pony G1 European and Asian issue ponies click here
For My Little Pony G1 South American and African ponies click here
Image credits: Images in all of the MLP pages are from as follows: yello80s personal collection, The World of My Little Pony an unathorized guide for collectors – Debra L. Birge 2nd ed., My Little Pony Trading Post, Etherella.com, Strawberry Reef, MyLittleWiki, Where the Rainbow Ends, Jennifer Black, Reina Scarlet, Miss_Leonie, doopydoos, raymlp.scrater.co.uk, derpiboo.ru,  The My Little Pony G1 Collector's Inventory – Summer Hayes, My Little Pony Around the World – Debra L. Birge
Images property of Debra Birge and Summer Hayes are denoted by "DB" or "SH"
Information sources:  The World of My Little Pony an unathorized guide for collectors – Debra L. Birge 2nd ed., My Little Pony Trading Post, Etherella.com, Strawberry Reef, Dream Valley, MyLittleWiki, My Little Pony Collection, Where the Rainbow Ends, Inventors.about.com, Wikipedia, The My Little Pony G1 Collector's Inventory – Summer Hayes, My Little Pony Around the World – Debra L. Birge