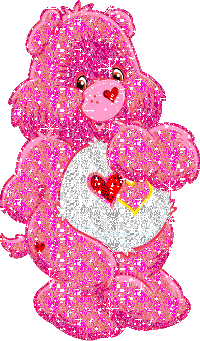 Care Bears
For TV episodes and movie click here.
For Books and other media click here.
Plush Bears (6″, 10″ 13″, 18″, 36″)
Bedtime Bear, Birthday Bear, Cheer Bear, Friend Bear, Funshine Bear, Good Luck Bear, Grumpy Bear, Love-A-Lot Bear, Tenderheart Bear, Wish Bear (and star friend Twinkers), Grams Bear, Baby Hugs Bear, Baby Tugs Bear, Champ Bear, Harmony Bear, Surprise Bear, Share Bear, Care Bear Cubs (hard-faced)- Bedtime Bear Cub, Cheer Bear Cub, Funshine Bear Cub, Share Bear Cub, L'il Proud Heart Cat Cub, L'il Swift Heart Rabbit Cub, L'il Bright Heart Raccoon Cub
Plush Cousins
Braveheart Lion, Bright Heart Raccoon, Gentle Heart Lamb, Lotsa Heart Elephant, Loyal Heart Dog, Playfull Heart Monkey, Proud Heart Cat, SwiftHeart Rabbit, I Love You Bear. Lots more information about UK editions at toyarchive.com
Special Issues
Prize Bear – Runner up prize to a contest in 1985 for children to write an essay on "How you show that you care."  History of this bear can be found on PoseableParadise.com
International Issues
Treat Heart Pig, Noble Heart Horse, Cozy Heart Penguin, Harmony Bear (musical note symbol) True Heart Bear, Daydream Bear, Sea Friend Bear, Forest Friend Bear
Figures and playsets
1st series poseable figures (curl of hair on forehead, no accessories, 3″ high)  Bear, Cheer Bear, Grumpy Bear, Friend Bear, Lov-A-Lot Bear, Wish Bear, Funshine Bear, Good Luck Bear, Baby Hugs, Baby Tugs, Grams Bear, Professor Cold Heart with hat, Cloudkeeper with pushbroom
Miniature Care Bears figures 2″ 48 figures
2nd series poseable figures (curl of hair on forehead, carded with accessories, 3″ high)  Good Luck Bear w/ clover leaf shovel, Friend Bear with watering can, Baby Hugs bear with lollipop, Grumpy Bear with folded umbrella, Bedtime Bear w/ Snooze Alarm, Birthday Bear w/ Happy Birthday banner, Cheer Bear w/ Merry Megaphone, Friend Bear w/ Friendly Sparkler, Funshine Bear w/ Suncatcher, Love-A-Lot Bear w/ bouquet of hearts, Tenderheart Bear w/ Caring heart mirror
International Poseables
Angel Oso (Angel Bears) bears-  (Argentina): Deportistas (Sporty Bear), Goloso (Sweet Tooth Bear), Dormilon (Sleepyhead Bear), Bromista (Prankster Bear)
Other figures
PVC plastic figures by ASC, Bears and Cousins 1 3/4″ – 2 2/3″ 1983
Ceramic 3-4″ figures, Bears and Cousins 1980s
Porcelain 2.5″ – up figures 1980s
Playsets
Care-a-Lot playset, Kenner 1983 w/tummy symbol dial
Cloud Mobile vehicle with umbrella, basket and blanket Kenner
Care Bears Rainbow Roller Kenner
Other Merchandise
Tons of Care Bear merchandise was put out by 80s toy giant Kenner and plenty of other companies too such as Betty Crocker, Wilton and Parker Brothers – everything from nightgowns to Advent Calenders to cake pans. American Greetings, the Care Bears' parent company, filled up card shops with greeting cards, valentines, party supplies and Christmas decor. Here's a sampling of the myriad of Care Bears stuff out there in collectors' shops and eBay.
Sources:
Care Bears Collectibles by Jan Lindenberger
Toonseum