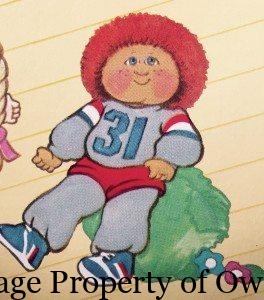 Disclaimer: Yello80s cannot identify or price any Cabbage Patch Kid dolls or products. The information you find on the Cabbage Patch pages is as up to date as possible and for entertainment only. There are many good online guides to help you figure out what year your 'Kid was made in and independent craftsmen/women who do beautiful jobs restoring, rerooting hair and customizing 'Kids. The Cabbage Patch Kid Names lists are gathered from reader submissions of their dolls' names or auctions for vintage dolls or their adoption paperwork as well as found through thrift store and yard sales. The list is compiled as an online source to satisfy curiosity, foster nostalgia and perhaps serve as a guide to rename your 'Kid. Again, Yello80s cannot identify CPKs by names. Yello80s does not participate in selling CPPK through this site.
The Cabbage Patch Kids empire extended from kids' bedtime dreams and daytime playdates to their libraries, schools, livingroom TVs and anywhere else one could think of. Not just satisfied with saturating every inch of a child's life with his ugly dolls,
Xavier Roberts
went right for the throat of moms everywhere with Butterick doll clothing patterns. Putting 2 of the most mom-ish subjects ever together (crafting and dolls) was a killer combo that probably kept many a Pat Cattan's from going bust in the 80s. Even the dolls had their own line of baby products almost to rival that of AmericanGirl.
Music from the 1980s
: Record of songs made by
Parker Brothers
Television and video
: Cabbage Patch Kids Christmas Special, Cabbage Patch Kids First Christmas
Books from the 1980s
: Parker Brothers Cabbage Patch Kids series featuring characters Xavier Robert, The BunnyBees, Colonel Casey, Otis Lee, Lavendar McDade, Cabbage Jack, Beau Weasel Xavier's Fantastic Discovery The Just-Right Family Making Friends The Shyest 'Kid in the Patch The Great Rescue The Big Bicycle Race Cabbage Patch Kids: Xavier's Birthday Surprise (
Little Golden Books
) Cabbage Patch Kids Adventure / Photo Storybook Otis Lee Cabbage Patch Kids Scrapbook Cabbage Patch Kids Sticker Baby Book Cabbage Patch Kids My Photo Album Cabbage Patch Kids My Own Book Cabbage Patch Kids Address Book Cabbage Patch Kids 1985, 1986, 1987, 1988, 1989 Calendar Legend of the Cabbage Patch Kids Cabbage Patch Kids Autograph Book Cabbage Patch Kids Popup Sybil Sadie My
Cabbage Patch Kid
and Me: A Record of Everything that Happens to Us Koosas for the 'Kids Cabbage Patch Kids Babysitter's helper: Notes, Names and Numbers My Cabbage Patch Kids yearbook and Planner 1986 Cabbage Patch Dreams – Tom Chapin, et all
Clothing Patterns and Books from the 1980s
Cabbage Patch Kids Designer Clothes- Xavier Roberts – Plaid #7686 Pony & Western Wear, 16″ Doll Clothes, 12 Outfits -Xavier Roberts – Plaid #7810 Cabbage Patch Kids Career Outfits (Girl Scout, Astronaut, Doctor, Dentist) – Butterick #3728 Cabbage Patch Kids Sleepwear (Sleeper, Nightgown, Pajamas)- Butterick #6507 Cabbage Patch Kids Preemies Layette Clothing (Sleeper,
Komono
) -Butterick #3269 Cabbage Patch Kids Preemies (Dress Coat, Top, Pants, Panties, Bonnet) – Butterick #4331 Cabbage Patch Kids Clothes -Butterick #B6511 Cabbage Patch Kids Preemies – Butterick #6980 Cabbage Patch Kids Fitness Outfits (Aerobic Outfit, Running Suit, Jogging Outfit) – Butterick #3920 Cabbage Patch Kids Clothes (Shirt, Overalls, Jumper and Pants) – Butterick #6508 Cabbage Patch Kids Preemie Designer Doll Clothes: Over 20 Outfits Sewing Patterns – Xavier Roberts – Plaid #7809 Xavier Roberts Presents Cabbage Patch Kids Knitted Sweaters #7866 Cabbage Patch Kids Accessories (Bonnet, Shoes, Bib, Diaper, Bags) – Butterick #3388 Cabbage Patch Kids Carrier – Butterick #6662 Xavier Roberts Presents Cabbage Patch Kids Designer Clothes -Camp Cabbage Patch for Kids! Cabbage Patch Kids Costumes (Santa, Angel, Devil) – Buttericl #4077 Cabbage Patch Kids Preemies Layette (Romper, Hat, Pinafore) -Butterick #3921 Xavier Roberts Presents Cabbage Patch Kids Preemie Designer Clothes – Make over 20 Outfits #7809 Cabbage Patch Kids Wedding Party (Bride, Groom, Bride's Maid) -Butterick #3927 Xavier Roberts Presents Crochet Clothing for Cabbage Patch Kids Cabbage Patch Kids (Dress and Pinafore) – Butterick #3151 Cabbage Patch Kids World Traveler (Scottish, Oriental, Dutch) -Butterick #3729 Cabbage Patch Kids Animal Costumes (Lion, Rabbit, Mouse) – Butterick #3565 Cabbage Patch Kids Clown Costumes – Butterick #4076 Cabbage Patch Kids Dress-up (Policeman, Fireman, Mailman) -Butterick #4333 Xavier Roberts Presents Cabbage Patch Kids Crocheted Outfits Cabbage Patch Kids (Dress and Pinafore) -Butterick #6934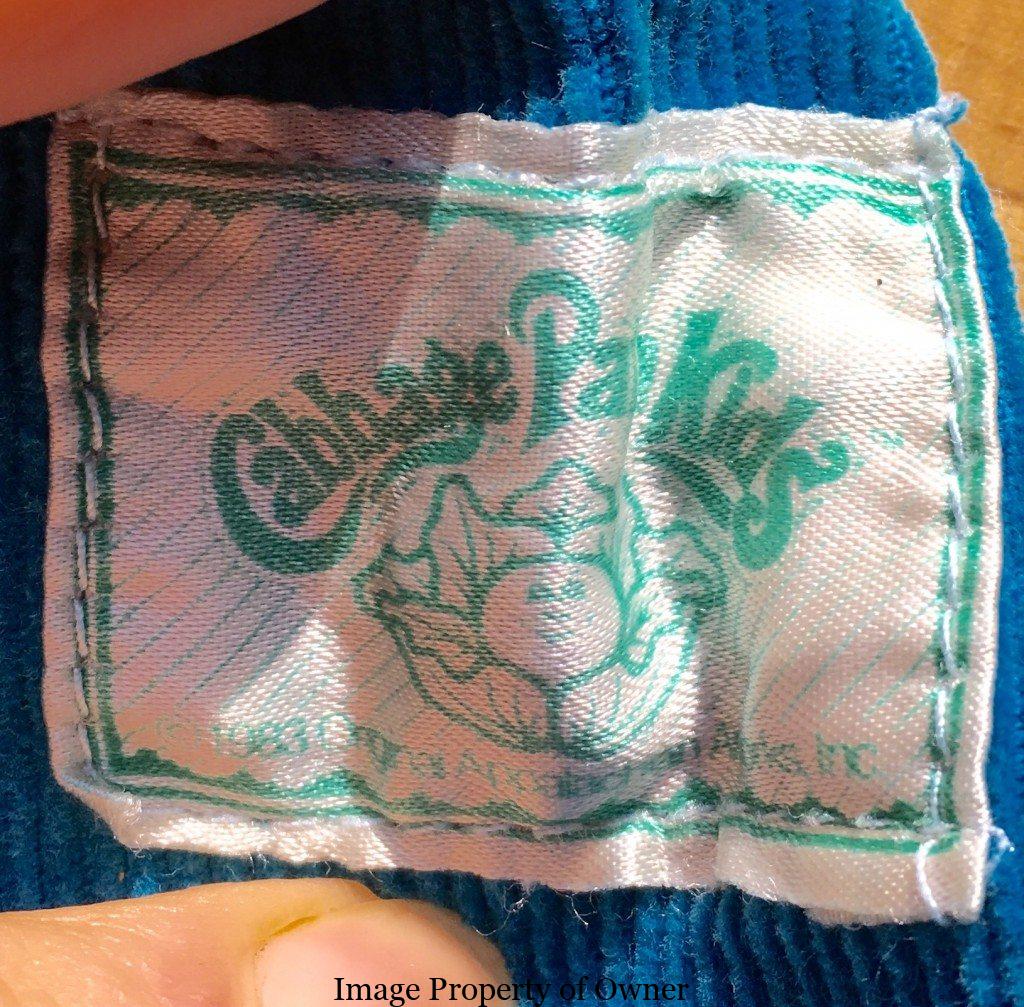 Xavier Roberts Presents Cabbage Patch Kids Crocheted Funwear Xavier Roberts Presents Cross Stitch Designs for Cabbage Patch Kids #7677 Cabbage Patch Kids Cross Stitch a Nursery Craft Book Doll World Holiday Wardrobe for Adopted Kids, Cabbage Patch Kids Sewing Patterns 16″ Doll Clothes – Doll World Cabbage Patch Kids Costume (Halloween Costume for children) -Butterick #6919 Cabbage Patch Kids Sports Outfits (Football, Baseball, Cheerleader, Referee) – Butterick #6827 Giant Wardrobe for Adopted Kids- Cabbage Patch Kids Clothing Patterns by Doll World Cabbage Patch Kids
Hallowe'en
Clown Costume – Butterick #999 Xavier Roberts Presents Cabbage Patch Kids Christmas No-Sew Crafts – Plaid #8052 Cabbage Patch Kids (clown, Witch, Princess, Balerina) – Butterick #6935 Cabbage Patch Kids Designer Clothes – Plaid #7686 Cabbage Patch Kids Stencils- Appalachian Artworks 1984 Cabbage Patch Kids Designer Clothes Stitching Craft Book Cabbage Patch Kids No-Sew Quilting – Plaid #7886 Cabbage Patch Kids Knitted Sweaters – Xavier Roberts Collectors Cabbage Patch Kids – Xavier Roberts 1984 Cabbage Patch Kids Children's Pattern – Butterick #4053 Xavier Roberts Presents Cabbage Patch Kids Bassinets Cabbage Patch Kids patterns Swim Suit, Beach Wear, Summer Wardrobe for Adopted 'Kids Butterick #3270 Cabbage Patch Kids Rain Wear -Butterick #3152 Xavier Roberts Presents Little People Pals and Cabbage Patch Kids Designer Clothes
CPK Items made for children:
CPK 5-piece ice cream set (cups and scoop) 10th, 15th and 20th CPK anniversary
Coke bottles
CPK Tea Party Cupboard tea set Wilton Cake pan – Preemie Ralston Low-Sugar CPK cereal, Post Canadian P'tits Bouts deChoux cereal CPK Candy-making kit Lunch boxes- CPKs in the garden (came as metal and plastic versions), CPKs rock band in pink plastic version, CPK Schoolroom scene in yellow plastic version Printed paper lunch sacks CPK Jewellry- Cloisonne necklaces and pins, plastic necklaces, pins, rings, ponytail holders, barrettes, watches, earrings, Cabbage Head baby (cabbage buds) pins with moulded faces and fabric 'leaves' (some came with Collectors' Club babies, purple and gold pin given at conventions) CPK Beauty items- perfume, vanity sets, cosmetics, light up vanity CPK Bath items- Tub sets, toothbrush holder sets, plasters CPK purses- shoulder bags, purses, wallets CPK Outdoor toys- Bubble Makers, Clean -up set (floor duster, feather duster, mop and dust pan), Poppin' Train Ride-on, Picnic Train Ride-on, CPK playsets for 5 1/2″ dolls-
Musical Merry Go Round
, Musical Buggy, Playhouse, Roller Coaster,
Babyland General Hospital
, Check-up center CPK Activity Sets for kids- Colorforms Puzzleforms, Poster Pen Set, Paper Doll sets, Pretty Pictures Painting set, Sweet Memories Diary Kit, Crayon by Number, Watercolor-by-Number, Storybook Kit, Make Your Own Keepsakes Kit, Quick-Dry Paint-by-Number, CPK Shrinky Dinks, Suncatchers / Lite-Catchers, Go to School Teacher's Kit, CPK Lite Brite picture refills, Sewing Cards, Sweet Sunshine Sewing Kit, Colorforms Needlepoint Kit, Stenciling sets, 3-D Plastic Puzzles, Magnetic Figure Puzzles, Woodboard Puzzles, Jigsaw Puzzles, Tray Puzzles, Paint-a-Figurine sets, CPK Character-shaped Crayons CPK Friends to the Rescue Game CPK stickers – Hologram Solar Glowers stickers, Puffy stickers, Roll stickers CPK School items- Looseleaf binders, 3 ring notebooks, pencil toppers, Coarkboard, Chalkboard, Magic Slate board, pencils, school folders, stamp sets, pencil sharpener, Postalettes CPK BubbleKids bubbles in 'Kid shaped necklace CPK Musical items- Round Hand-held radio with strap, walkman-styles radio w/ headphones, Musical Toy Cassette, Wind-up Radio, Cassette Player and recorder with carry handle, Record player and record tote, Kid Stuff CPK cassette case CPK 110 mm camera CPK OlympiKids pennants CPK Holiday items- Printed Christmas stockings, Flocked Christmas stockings, Christmas wrapping paper and gift tags, Greeting cards, Porcelain Christmas ornaments, School Valentines (32 set), Valentines candy cards, Hallowe'en Costume (blonde girl with ponytails) CPK Birthday items- Birthday cards, Birthday gift wrap, Number cake candles, Party hats, Table decorations (honeycomb style), Party balloons, Candy cups, 12' Party Banner (pennant-style), Tablecover CPK Moneybanks – Plastic kid-shaped banks (girl in variety of colours sitting with a piggy bank in her lap, sitting boy in variety of colours with a ball in lap, baby in blue or pink blanket, girl holding heart or girl in rain slicker holding duck), Furskins shaped banks CPK Bedtime items- Cabbage leaf shaped pillows with printing of kid or baby, doll-shaped pillows (girl in garden or bedroom scene, boy with football and dog), Circus kids printed duvet, CPK stars and Bunnybees printed duvet, baby blanketm Porcelain cabbage head baby shaped nightlight, Plastic cabbage head baby shaped nightlight, Lullaby domed nightlight (projects coloured shapes onto the ceiling), Metal bell alarm clock, 'Kid shaped lamp w/ printed shade CPK Wallpaper CPK Fabric/ Sewing items- Woven lace w/ dolls pattern CPK Clothing items- 3D shirts (printed 'Kid with 3D accessory such as hair or pacifier ring), shoes (sandalls, slippers w/plastic 'Kid faces, trainers), Keep-Me-Clean- Play Apron, Elastic belt with plastic 'Kid clasp CPK Bags and purses- Cabbage Kid Head drawstring purse, winter scarf, Parents' Association mail-order cap, Baby bibs, Shaped button-covers, CPK roller skate bag, Collector's Club green duffel, Canvas tote featuring Norma Jean, Canvas tote bags with 3D 'Kid face, Furskins shoulder bag, Furskin tote, Furskin Collapsible Travel Bag CPK Furniture items- Desk and Chair, Metal Stand, Wheeled Toybox, Wooden Rocking Chair, Printed Metal Trash cans CPK shaped telephone (blonde girl) CPK OlympiKids handheld electronic game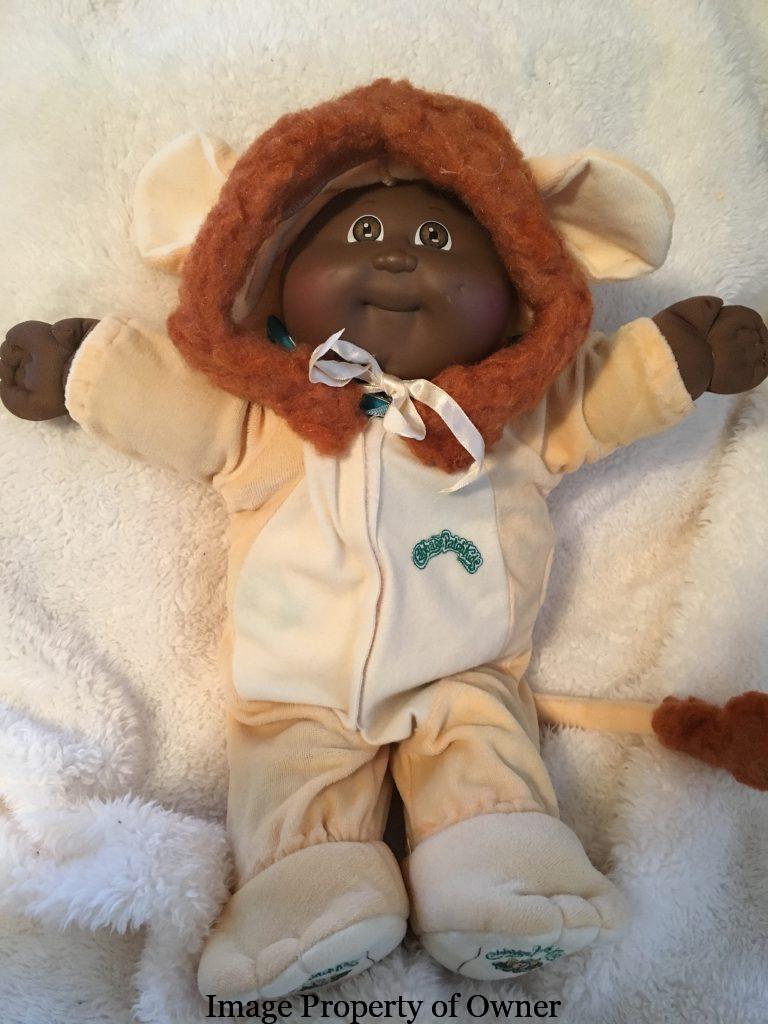 CPK Items made for Dolls:
Coleco CPK outfits –
see a wonderfully curated list at Diana's Patch
CPK Butterick Patterns for doll clothes CPK Shoes Animal sleepers with hoods and footy paws (lion, reindeer, bear, bunny, mouse, elephant, lamb) Poseable Actionwear – wired poseable bodysuits One-Piece rompers Sporting collection outfits Printed Doll t-shirts Accessories- bottles, crayons, international t-shirts Splash 'n See Surprise outfits (came w/dissolvable packet that revealed an accessory when wet) Official CPK Outfits (sized to fit all babies) CPK Deluxe Fashions – boxed CPK Boxed Diapers for babies and preemies CPK Designer Diapers CPK 'Kid carrier- strap on CPK 'Kid soft bed-style carrier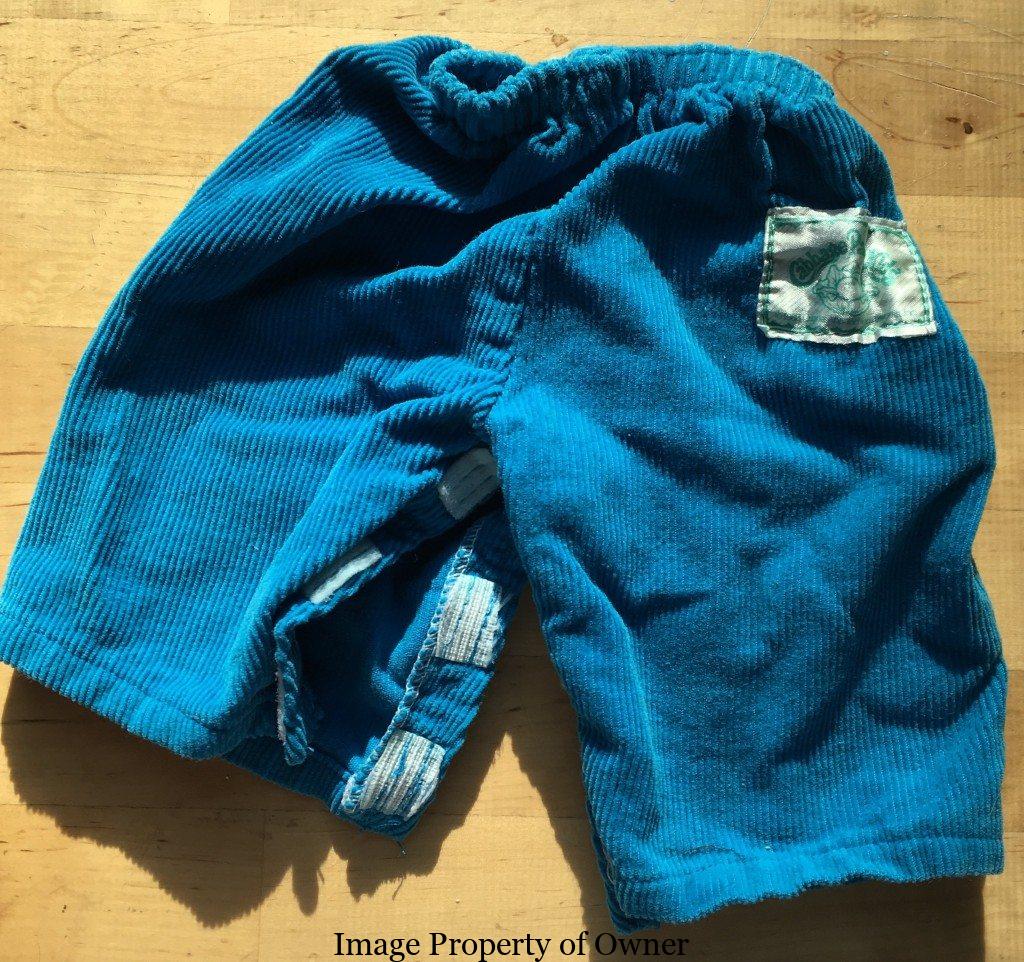 CPK Playmate outfits CPK Rocker Carrier in 3 positions CPK Cloth / Metal wheeled pushchair CPk 3-in-1 Hooded Doll Pram CPK Wheeled Doll Walker w/ 3 beads and tray CPK Mesh Playpen CPK Take-a-Long wheeled accessory trunk CPk Fun Stoller pushcar CPK Battery Potty Chair CPK Doll Washing Machine Wooden Rocking Horse chair rocker Big- wheel styled plastic tricycle Wooden cradle and high chair Chair Storage Bench
Sources
:
see main Cabbage Patch Kids page