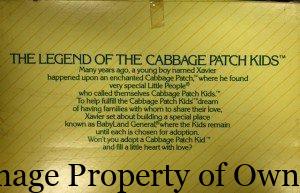 Disclaimer: Yello80s cannot identify or price any Cabbage Patch Kid dolls or products. The information you find on the Cabbage Patch pages is as up to date as possible and for entertainment only. There are many good online guides to help you figure out what year your 'Kid was made in and independent craftsmen/women who do beautiful jobs restoring, rerooting hair and customizing 'Kids. The Cabbage Patch Kid Names lists are gathered from reader submissions of their dolls' names or auctions for vintage dolls or their adoption paperwork as well as found through thrift store and yard sales. The list is compiled as an online source to satisfy curiosity, foster nostalgia and perhaps serve as a guide to rename your 'Kid. Again, Yello80s cannot identify CPKs by names. Yello80s does not participate in selling CPPK through this site.
For Cabbage Patch Kid Names 1/2 click here.
For Cabbage Patch Kids Names 2/2 click here.
For Furskins, Koosas, Show Ponies and Crimp n Curl Ponies click here.
For Cabbage Patch Kids Toy Merchandise click here.
For Cabbage Patch Kids Books, Games, Music, Videos and Butterick Patterns click here.
So ugly they were cute, the Cabbage Patch Kid claim to fame was causing otherwise normal adult human beings to turn into crazed Christmas-stampeding lunatics in the mid-80s.  Turning up not just as dolls but in books, video games, breakfast cereal, trading cards, games and more, they were so popular parodies showed up as Garbage Pail Kids collector cards from Topps and years later as Lettuce Head Kids on Robot Chicken. And you know you've made it when Eddie Murphy sticks baby dolls in lettuce heads and sells knock off CPKs in Mr. Robinson's neighbourhood.
The dolls themselves came in several sizes, every possible skin shade and hair colour known to man, a stamp of their creator's name across the cheeks (nope, further down), and the wierdest, most random names on earth printed on 'adoption certificates' so you knew it was official. Throw in a real baby hospital in Georgia and you have a neverending franchise that paved the way for American Girl.

The 'Kids have been brought to shelves by several manufacturers over the years starting in 1978  under the name  Little People from Xavier Roberts, Schlaifer Nance & Co and Original Appalachian Artworks, Inc. until 1982.  The name Cabbage Patch Kids comes from the children's book The Legend of the Cabbage Patch Kids by  Roger and Susanne Schlaifer, though this seems to have been re-issued as Xavier's Fantastic Discovery in 1984.  The original Little People dolls created in soft sculpture by Xavier Roberts wore clothing he procured from yard sales, thrifts and flea markets. Their birth certificates were based in design on his own birth certificate, listing fellow artist Debbie Moorehead as the 'mother' and were adopted out for $30 at first and then $50 for bald babies and $60 for children with hair. At some point adoption agencies took issue with the dolls being 'adopted' because they felt it trivialized the adoption process for real children.  When purchasing 'Kids at official 'adoption centres' across the country, 'parents' were made to take an oath to care for their new 'Kids, but everyone else had to mail in papers from their 'Kid's box to get adoption papers issued to them. After opening Babyland General, a newsletter detailing prototype kids' adventures was published featuring Tyler Bo, Otis Lee, Sybil Sadie, Amy Loretta and Plain Jane.  Children who wrote into Babyland General to ask new parenting questions were replied to with the most serious of instructions like any hospital would naturally do. Fun fact: there was only ever 1 set of quadruplets delivered in BabyLand General in the 1980s.
Then in 1982 Coleco began putting out from the Cabbage Patch and is the collection of dolls and merchandise most 80s children will remember before Hasbro took over from 1988 – 1994. Mattel acquired the 'Kids and all their accessories from 1995-1996 and then the 'Kids went into hiding for a while, the craze gone silent until Toys R Us picked them back up from 2001-2002 and the current crop comes to us from Play Along Kids through QVC which has been sending 'Kids out all over the world since 2003.
There are all kinds of Kids- seriously, all kinds. There are even animal "kids" called Koosas although those seem to have died out with the 80s. Cabbage Patch Kids are as well traveled and skilled as Barbie- they've even come in Presidential versions. Nancy Reagan was famously documented as presenting South Korean children with 'Kids and presidential daughter Amy Carter could be seen often with her 'Kid.
Cabbage Patch Kids Doll Lines in the 1980s – all came with outfit, diaper and adoption certificate and some came with additional accessories such as pacifiers, crayons, glasses, etc.
Under Original Appalachian Artworks:
Little People cloth soft sculpture dolls
Little People New 'Ears editions – kids who had ears sculpted into the fabric
Little People New 'Ears Preemies
Little People Pals – dolls for the Little People dolls
Character Editions
A Kid for All Seasons
Debonair Xavier Bear
"U" (Unsigned) edition
Under Coleco:
CPK Preemies
CPK Newborns
CPK Bean Bag Babies
CPK Toddlers
CPK Birthday Kids
CPK Splash n Tan Kids
CPK Splashin' Kids
CPK Birthday Kids
CPK Pretty Crimp and Curl Kids
CPK Talking Kids
CPK Twins
CPK Circus Kids
CPK Popcorn Kids (popcorn-style hair)
CPK World Travelers (China, Russia, Scotland, Spain, Holland)
CPK "Tooth" Kids (had toothy grins)
CPK "Crayon" Kids (held a crayon or marker in one hand)
CPK Cornsilk Kids
CPK Growing Hair Kids
CPK Christmas Editions
CPK Babyland Kids
CPK Young Astronauts
CPK All-Stars Baseball (Atlanta Braves, Baltimore Orioles, Boston Red Sox, California Angels, Chicago White Sox, Chicago Cubs, Cincinnati Reds, Detroit Tigers, Houston Astros, Kansas City Royals, Los Angeles Dodgers, Montreal Expos, New York Mets, New York Yankees, Philadelphia Phillies, St. Louis Cardinals, San Diego Padres, San Francisco Giants, Toronto Blue Jays)
CPK Designer Line Kids
Danbury Mint direct mail purchase- Porcelain dolls with cloth bodies
Koosas
CPK Show Ponies
CPK Figurines- vinyl 3″ high figures with painted on clothing and shoes, either bald or with yarn hair. Special Christmas releases and McDonald's released Christmas and Hallowe'en sets.
CPK Poseable Figurines
CPK Bunny Bees plush dolls
CPK Pinups -small CPKs that the dolls themselves could hold
CPK Playmates -more little dolls for the dolls
CPK Porcelain figurines
CPK Deluxe Miniatures w/ accessory sets
Under Tomy
CPK Wind-ups: 'Kids, Crawling Babies, Rocking Babies, Popup 'Kids, Sporting 'Kids
Under Hasbro
CPK Sippin' Babies
CPK Friends
CPK Poseable Kids
Poseable Figurines
PVC Figurines
Semi- Poseable Figurines (head moved only)
Cabbage Patch Kids Doll Lines in the 1990s
OlympiKids (1992 and 1996 Olympics)
Cabbage Patch Fairies
15th Anniversary Dolls
20th Anniversary Dolls
25th Anniversary Dolls
Snacktime Kids
Porcelain Kids
Pullback doll  figures on skateboards
Presidential Kids (2008)- in the image of Presidents and Presidential Candidates Barack Obama, Joe Biden, John McCain, Sarah Palin
Applause/ Danbury Mint/ Babyland Porcelain Dolls
'Friends'
Christmas Angels
Pierrot Edition
Collector's Club
Silver Valentine
Christmas Edition
Newborn Editions
Sprout Editions
Mount Yonah Edition Career Series
International Kids
After Coleco took over production of the Cabbage Patch Kids and outsourced production, 'Kids started popping up all over from foreign distributers.
Coleco, Hasbro, Mattel (USA)
Tsukuda (Japan)
Jesmar (Spain)
Lili-Ledy (Mexico)
Tri-Ang Pedigree (South Africa)
In Canada CPKs were marketed as P'tits Bouts de Choux (french canadian)
In Germany CPKS were marketed as Kuschel Kinder
In Italy CPKs were marketed as I Bamboli del Campo Incantanto
In Mexico CPKS were marketed as Nenes del Huerto de la Col
In France CPKS were marketed as Les Patoufs
In Sweden CPKs were marketed as Kalungarnt
Combined sources for all CPK pages on yello80s:
Fantasy: the Incredible Cabbage Patch Phenomenon – William Hoffman
Amazon.com
Little People Squidoo Lens – excellent source of buying/ selling/ collector identification information
BBC hrg2 Cabbage Patch Kids
Cabbage Patch Kids Official Site
CPK Wiki
Cabbage Patch Kids Collectibles w/ Price Guide – Jan Lindenberger
Encyclopedia of Cabbage Patch Kids – the 1980s – Jan Lindenberger  – excellent source of info for serious collectors on everything from box variations to international dolls to variations on doll tags.
Images: all images on the Cabbage Patch Kids pages are property of Jan Lindenberger or Yello80s unless otherwise noted.
To identify CPK products and other helpful services try these sources:
To have CPK repaired, hair rerooted or customized:  (Soft-faced originals only) Bath Camp , Repairs and Baby Hospital , DIY cleaning ,  Customs, Re-roots and Adoptions ,
To order a customised doll: Pick a baby like your own from Babyland General , Or a big 'Kid ,
To have a soft-faced CPK adoption certificate re-issued: follow the directions on the CPK Names Page here
Identification Helps:  Coleco hairstyles , Head Molds , Foreign and Rare Kids , Buying and Researching