Have you ever looked at that handsome, smiling face on a
Chef Boy-Ar-Dee
tin and wondered if the Chef who don't judge was a real dude? Yes he was and his name was even Boyardee- well, his actual name was Ettore (Hectore) Boiardi to be precise, but he spelled it on his cans as Boy-Ar-Dee for the benefit of his American fans.
Hector Boiardi
,
Head Chef
at the
Plaza Hotel
in
New York City
in 1914 (yes, the very one from Eloise but year before she would be
rawther
enamored of it), Hector emigrated from Italy after his brother to
the US
via Ellis Island (
if you're so out of touch with American history you're Googling Ellis Island you might recall it featuring in An American Tail. We all together now? Ok let's go
.) 10 Years later he opened a restaurant in
Cleveland, OH
where regular customers bothered him for his recipes. It didn't take genius to see a business opportunity and jumped on it, opening up a plant in Pennsylvania where he had room enough to grow his own ingredients fresh. Chef Boy-Ar-Dee spaghetti sauces debuted in 1928. By 1946 the company sold out to
American Home Products
, then
International Home Foods
in 1996 and finally current owner
Con-Agra
. Of course they kept the Chef's smiling face and Boiardi stayed on as a consultant through 1978. I dunno about you but it makes me happy to think of the real chef out there making real pasta and not just made up by some marketing mogul. And our mums are still
thanking goodness for Chef Boy-Ar-Dee
when its time to feed the now-grandkids.
Great-niece Darlena (Wroble) Roberts is glad the Chef was real too- growing up, her school pals never believed the Chef was real or that she was related to him. Inspired by a film festival she attended with her family in Cleveland, Roberts made a 44 minute documentary all about the man himself. Now, some of her info clashes with that of my other sources such as the official Chef Boyardee site but definitely check out the article on Cleveland.com and decide for yourself. The Chef passed on to that big kitchen in the sky in 1988 (or is it 1985??) at age 87 but his famous tinned pastas and pizza kits have remained and are a big part of 80's food culture. Here's a list of 80s hits you may recall:
Dinosaurs Pasta 1988 courtesy ProjectAdHand
Dinosaurs in cheese tomato sauce, Pizza Kits, cheese or pepperoni
Mac n Cheese
, Chili Mac Beefaroni Lasagna Beef Ravioli Smurf Pasta in spaghetti sauce, in spaghetti sauce with meatballs, beef ravioli and pasta in meat sauce
Teenage Mutant Ninja Turtle
pasta shapes with mini meatballs in tomato sauce, tomato and cheese sauce Pac-Man pasts in spaghetti sauce, in spaghetti sauce with mini-meatballs, in golden chicken flavour Tic Tac Toe pasta in cheese and meatball Spaghetti and Meatballs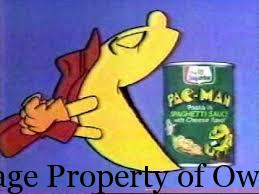 And speaking of food mascots, check out
Lisa Abraham's article at Triblive
separating the myths from the truth on some awesome 80s food giants.
Sources
:
Wikipedia
ChefBoyardee
Cleveland.com
TribLive