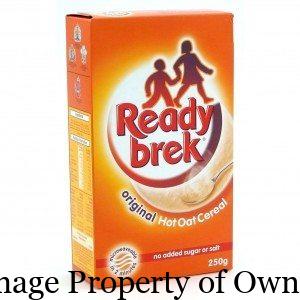 I was first introduced to
Ready Brek
after my I got married and my husband, in a fit of ex-pat hunger pangs, ordered from home an overpriced box of what seemed to me to be glorified
Cream of Wheat
. I mistakenly thought we were just going to add water, pop in the microwave, and ding! cereal. I've never been partial to
hot cereal
(save grits)- oatmeal, porridge,
Coco Wheats
, Cream o Wheat, oatmeal disguised as something tasty with those dinosaur eggs or swirler packets- nope. Imagine my surprise when I discovered that Ready Brek comes packed with a kick- it's one of the most combustible substances on earth- that was nearly the end of our microwave. It would seem that this stuff must be cooked for the exact amount of time down to the millisecond- "Microwave: Measure 5 heaped dessert spoons (30 g) (
no more you glutton or you'll throw off the delicate chemical balance needed to maintain world safety
) into a microwaveable bowl, mix with 150 ml of milk
(no less- are you a fan of osteoporosis??
) and stir, microwave for 1-1/2 minutes (based on 750W category D and 1000W category E microwaves) stirring halfway through, stir and leave to stand for 1 minute before serving. Water may be used instead of milk. Please be careful with hot product or liquid. Once prepared, do not store or reheat."
Ready Brek Central Heating for Kids ad courtesy MacKenzie Rough
For the love of all that's holy, what happens if you leave it on the table or
reheat
?? I'm just nervous even thinking about what its doing in someone's stomach at 98.7F. I can imagine Mrs. Fawkes sent little Guy out to school with a tummyfull of this stuff. Actually, Ready Brek is a pretty popular breakfast food in the
UK
and rightly so- it's made from oats and oat flour with some added vitamins and minerals and is the lowest in added salt and sugar amongst British cereals. Mums all the way back to it's debut year of 1957 have loved it because it keeps the kids warm from the inside out during the colder months (as they say in the old ads, it's '
central heating
' for kids).
Ready Brek 80s ad courtesy 80sAdverts
80s kids will recall that Ready Brek came in flavours Original,
Chocolate
, Honey and Seriously Oaty (which I can only imagine is the variety used to launch space shuttles). But older 80s kids may remember 70s flavours Banana, Strawberry, Butter, Butterscotch, and 'Syrup.' Packaged first as an 'instant porridge' in the 50s, it was rebranded in 1969 as an 'instant hot cereal' when Goldilocks got tired of cleaning the remains off the walls before the bears got home and today is billed as 'super smooth
highly flammable
porridge.' First manufactured by
J. Lyons
& Co (think Lyons Tea and
Mr Kipling
's Cakes), Ready Brek changed hands to Weetabix in 1990 and is now available in Ready Brek (duh), Chocolate,
Golden Syrup
and as instant sachets with squeezy syrup packets sort of like Oatmeal Swirlers.
Get Up and Glow with Ready Break courtesy HallOfAdvertising
Main ads by Ready Brek include the "central heating' theme with the creepy glowing children, the 'get up and go' tagline and oatmeal's most prolific mascot,
Welsh dragon
Ready Eddy who has since flown off into mascot oblivion after a brief comeback in 2011 only. If you're hankering for porridge like Oliver Twist and you live in the US, the
English Tea Store
can fix you up.